A Month To Remember – Clash Of Titans As Wizkid, Davido, Iyanya, Wande Coal, D'Banj, Jesse Jagz, Leriq, Orezi All Get Set To Release Albums
September might just be the most important month in the Nigerian musical calendar this year. This September, legends shall justify their existence, show us why they are forces to be reckoned with, show us that experience sometimes is the greatest addition an artist can have to his talent. September might just be the month everyone has been looking towards, a clash of titans and a revelation of musical trojan horses. In September, the world shall have the privilege of witnessing compilations from Nigeria's biggest and most talented artists.
Wizkid has announced he would be dropping an album, Davido a.k.a Omo Baba Olowo would also be dropping an his sophomore album. These two might have the fiercest rivalry Nigerian music has ever had. They are the Cristiano Ronaldo and Lionel Messi of Nigerian music, though Davido is looking like Messi since he's been bagging all the awards.
Wizkid dropped his Ayo album not too long ago and to be objective the album was nothing compared to his classic 'Superstar' album. Rumour has it that he rushed the release of that album in order to get free of the shackles of his ex record label EME. I'm of the opinion that no matter the excuse an artist should not drop weak stuff ,apparently rolling stone disagrees as the album was featured in the magazine. The 'Ayo' album has some good songs such as Bombay, In My Bed and a few others but it wasn't a crazy album in its entirety. This is why there is so much anticipation for his new album.
This has been basically the opposite of Omo Baba Olowo's recent exploits. Davido can be said to be arguably the most successful Nigerian artist in the last two years without dropping an album. He got all the shows, all the awards and crowned it all with the fan favourite monster jam"Fans Mi' featuring MMG's Meek Mill. Davido who a lot of people used to say had no talent and depended on his affluent background has officially silenced the critics and he will give us another dose with his new album in September.
In September also, Nigerians would be treated to a new album from MMMG superstar Iyanya. This album definitely looks like it would be fire with the singles doing so well such as Applaudise and Gift both featuring superstars Diamond of Tanzania and Don Jazzy. For Iyanya's new album all we can say is anticipate, his last album was incredible , but it was a D'tunes production. Would iyanya be able to do better without the instrumental maestro?…anticipate.
The next on our list is an artist i believe is one of the most talented in this country. He is non other than the singer rapper producer extraordinaire *drum roll* Jesse Jagz Abaga. Jesse jagz is one of the artists in this country that we can say that no matter the tide no matter the storm, the quality of his content never sinks. He fell out with Chocolate City and went on his own and in one year, gave us two albums which were incredible. Chocolate City re-signed him not to long ago and we saw he's still got it from the CBN album. Now Jesse Jags his highness shall bless us with another album in September"All hail the king"
Another album we would be expecting is the long awaited Leriq album. The Aristokrat records producer has shown Nigeria that he is one of the best, with or without Burna Boy . The compilation shall feature Africa's biggest and most talented artists. From Nneka to Cassper Nyovest to Efya ,Wande Coal, Seyi Shay, Bez and so many others. We have heard "Comment Tu T'appelle" we have heard "Say You Love" and judging from just those two, wouldn't u love to hear the whole album? …..anticipate.
The next album has my heart racing. This is the most anticipated, most overdue album Nigerian music has ever experienced. Wande Coal. Wande coal dropped arguably the best album Nigeria has experienced in "Mushin To Mo-hits". Since then his career has been so unstable. He has since dropped some very good jams and has his own record label. He hasn't dropped an album in about 8 years and he is about to drop one and how can we not a anticipate it when the first single from it is "Ashimapeyin". Wande Coal is truly blessed, he has managed to stay as relevant as possible in the music industry where others would have descended into obscurity. Rumour has it that marketers are fighting to market the album, why wouldn't they? Wande Coal is going drop this album on us and we would gladly take the. Anticipate September
In September, we would also be seeing an album from another former member of Mo-Hits, D'Banj. Dbanj who a lot of people have said to be gone with the times is going to attempt a come back in September. Singles like 'Knocking On My Door' and 'Extraordinary' are doing quite well so lets hope for the best.
Alhaji Orezi who says he would compete with the likes of Wizkid and Davido would also most likely drop an album. The alhaji has been doing a extremely well with his singles and one might say this is the best time for him to drop an album.
All we can do is wait, anticipate and clear our playlists because September is really going to be one to remember.
I have my torchlight looking for the artistes that will change their dates based on the extreme competition September will be offering. I WILL NOT HESITATE TO BASH THEM!
Diddy finally reaches out to Niniola after four years of sending him DMs without response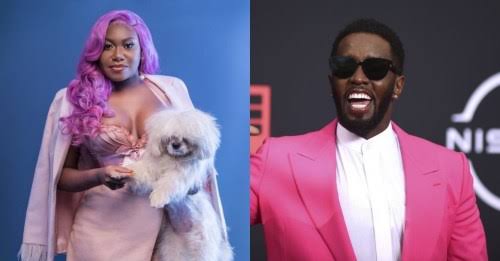 Top Nigerian Afrobeats songstress, Niniola, and American music star cum businessman, Diddy are set to collaborate.
The duo linked up for the very first time via video call after Diddy was informed about her music and he showed interest in working with her.
It is a story of divine providence and destiny as Niniola sent DM to the rapper as far as 2018, but she never got a response until four years later.
Fast-forward to 2022, and faith had beautiful plans for the singer who was eventually connected with the music executive.
Niniola did not only did get a response from Diddy, but also a spoke with him via FaceTime and he explained the whole situation.
According to the Bad Boy Records CEO, he just never saw her messages because of flooded DMs, however, when he started scouting for an artiste to hop on his Afrobeats remix, someone suggested Niniola.
It was when he tried to send her a message via Instagram that he saw tht had previoulsy DM's him but he never knew.
Niniola who shared a video of her speaking with the award-winning musician, noted that dreams do come through.
Ed Sheeran faces trial for plagiarism on 'Thinking Out Loud'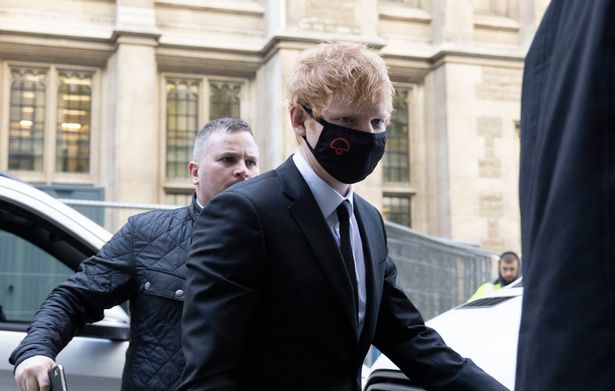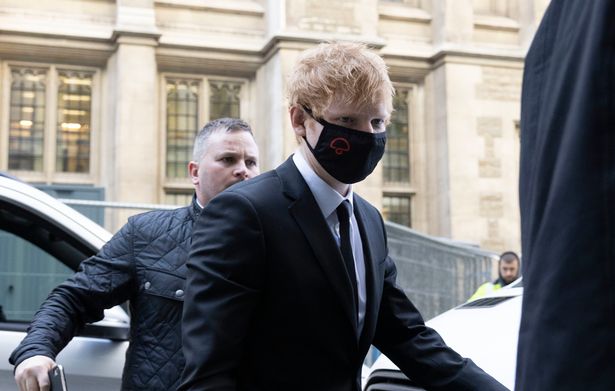 Ed Sheeran, a British megastar, will testify in court to defend himself against claims that he plagiarized Marvin Gaye for his international hit song "Thinking Out Loud."
Ed Sheeran, a top-charting artist and internationally successful pop star, has been informed by a federal judge that he must go to trial in response to claims that he plagiarized Marvin Gaye's 1973 smash song "Let's Get It On" on his 2014 track "Thinking Out Loud."
In his application to the court, Ed Sheeran argued that the copyright claims should be rejected because they were "baseless" and "far too frequent."
The plaintiffs claim that Ed Sheeran and his writing partner Amy Wadge copied and exploited, without authorization or credit the Marvin Gaye song, "including but not limited to the melody, rhythms, harmonies, drums, bass line, backing chorus, tempo, syncopation, and looping." They are seeking $100 million (£90 million) in damages.
A lawsuit was recently filed against Ed Sheeran and his songwriting partners John McDaid and Steven McCutcheon over claims that a chorus from their song "Shape of You" was lifted verbatim from Ross O'Donoghue and Sami Chokri 2015 single "Oh Why."
The High Court Judge ruled that the imitation was "not purposefully nor unconsciously" made during the trial that took place in March 2022. Ed and his co-defendants were given £900,000 in costs.
Ed wrote on his Instagram page following the court decision that he hoped it would put an end to more unfounded claims. Ed Sheeran is not yet getting his desire, though, as he must deal with another lawsuit.
Mr Ibu joins 'Obidient' rally in Jos despite endorsing Tinubu (Video)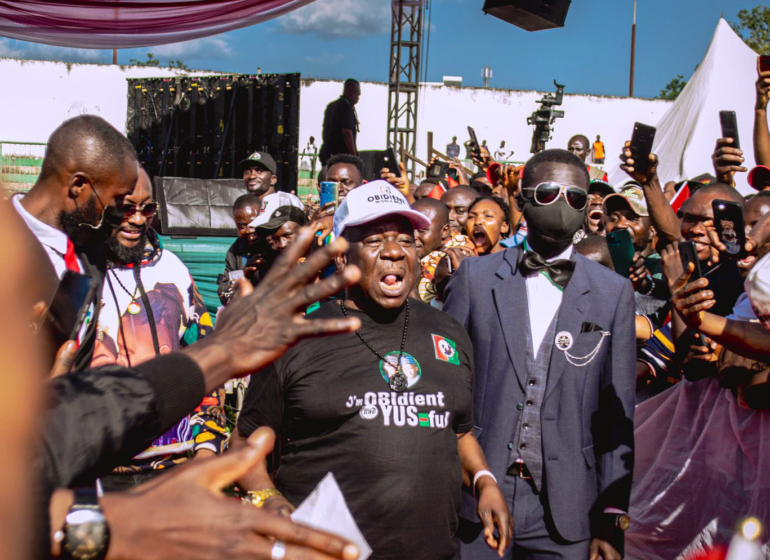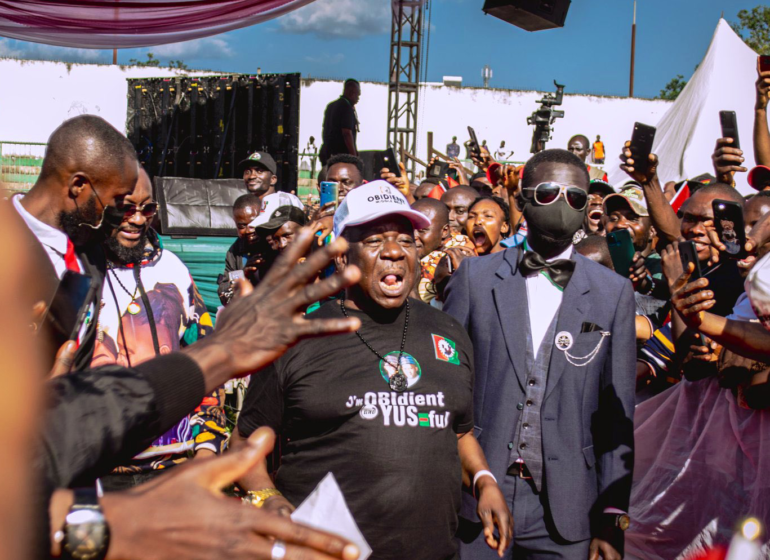 Mr. Ibu, the comic actor, has joined a rally being held in the name of Peter Obi, the presidential candidate of the Labour Party (LP).
A large crowd trooped out on Wednesday evening to receive Obi and Yusuf Datti, his running mate, in Jos.
The visit came as the campaign season for the 2023 election officially kicked off in accordance with the timetable.
The crowd and Obi's team assembled at Rwang Pam township stadium for the rally amid cheers from supporters.
In the crowd was Mr Ibu who would later take to the podium to deliver a short solidarity speech for Obi.
"He is ready to rule us. He is ready to take up the seat of the president. I want you to be obidient," he said.