See Drama That Happened When Policemen Wanted To Rescue Toddler From Insane Woman In Lagos (Photo)
The insane woman hiding under a tree
The Police in Festac division, Lagos State, recently, rescued a toddler from an unidentified insane woman who was roaming the streets with the baby.
The middle-aged woman was carrying two polythene bags and was seen with the toddler who was sometimes clothed and at other times, left naked.It was learned that the woman who was wearing the apron of 'Lord Chosen church' was lying down with the malnourished toddler at the main road around Fagbems filling statioin close to Mile 2 area when she was rescued by policemen.
Crime Alert gathered that when police officers took the woman to the Lord Chosen church at Ijesha, the church attendant rejected her and the infant stating that she is not a member of their church even though she was wearing their apron.
When efforts to get details about the woman turned futile as she could not provide any useful information about herself, the bewildered police officers brought them back to the station and kept her and the child in an open office. It was learned that at a point, the woman became very violent and attacked one of the female officers who was attending to the toddler.
When it became obvious that she wasn't comfortable in the open office, as all attempts to keep her calm were futile, she left the premises abandoning the toddler. The next morning, the toddler who is about a year old was taken to Juvenile and Women Center, Alakara.
When Crime Alert trailed the insane woman, she had relocated her base near a Church located at Alakija bus stop. She was naked but still had the church apron hanging on her shoulders while taking refuge against the scorching sun under a tree
'Your love or hate adds nothing to me' — Kcee finally reacts to Asa's mockery in 2021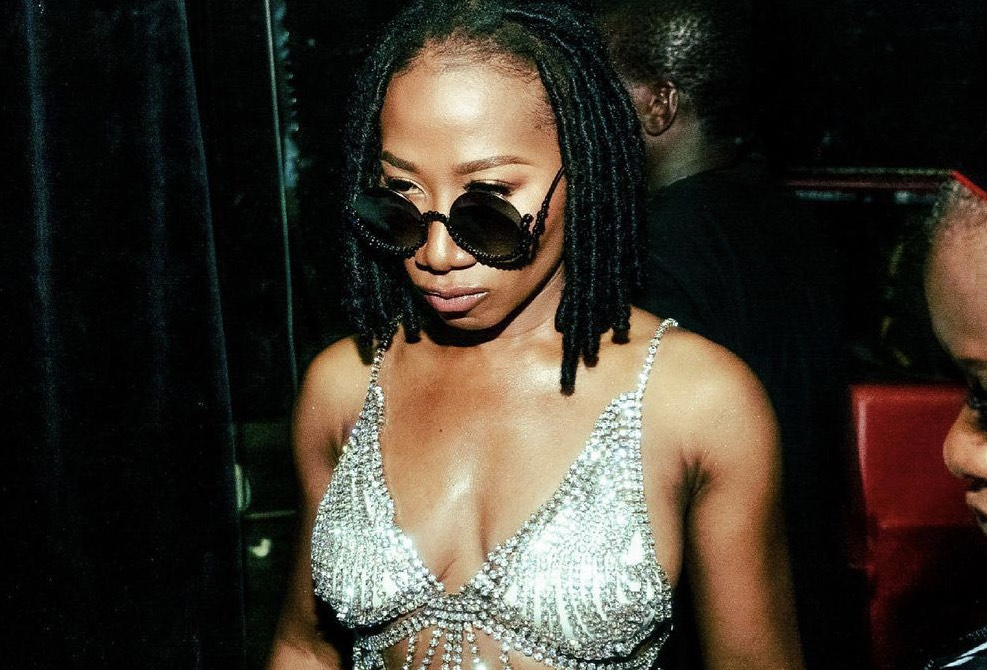 Kcee, the singer, has finally reacted to a video in which Bukola Elemide, the songstress better known as Asa, mocked him in 2021.
Asa had in an interview taunted Kcee, saying he treated a music competition he won over two decades ago as if it were a Grammy award.
The Nigerian-French songstress also described him as an "idiot" for saying she cried over losing the competition to him.
"Kcee, that's like a Grammy award for him, he is such an idiot. I beat Asa, she was crying. When did you see me cry?" Asa had asked.
But in a recent chat with Goldmyne TV, the 'Limpopo' crooner said he wished Asa understood his message which he said might have been misinterpreted by her.
Kcee said despite the fact that he loves Asa's songs, he remains unperturbed by her opinion about him because "it adds nothing to my pocket".
"I wish she heard what I said, maybe someone interpreted something else to her," he said.
"If she heard me, she'll understand she's like an inspiration to a whole lot of people but trust me as you see me, I'm a freaking legend.
"I have a right to say whatever I want to say. I still love her songs. If she loves me or hates me, it adds nothing to my pocket."
Kcee was formerly in the Hip Hop duo group called Kc Presh. He currently has a record deal with Five Star Music.
Portable fumes as Spyro says he can't collaborate with him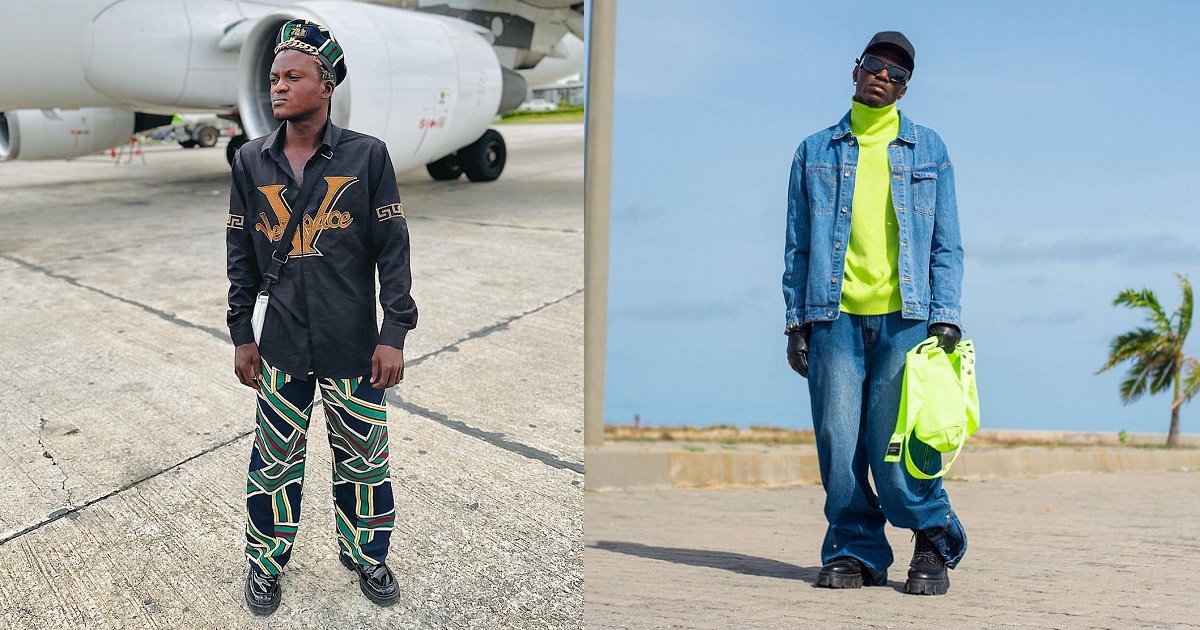 Portable, the street singer, has lambasted Spyro for saying he cannot collaborate with him.
In an interview with Cool FM, Spyro said Portable wouldn't be able to deliver the kind of music that he would write for him because it's not his style.
"Not because I have an issue with him, but because our paths don't cross. Our paths didn't align. He wouldn't be able to deliver the kind of music that I would write for him. Because it's not his style. I think Portable is good o funny enough," Spyro said.
"It's intentional when people do the kind of music that Portable does. It's pretty much intentional. Someone walked up to me and said 'You know, if you wanna make it you have to be at the extreme end. If you want to do good music, do it, let it be good. If you want to do whack music, let it be really whack.
"I think my writing style is different from his kind of music. And I think Portable can actually even do it. Trust me. I have listened to his songs that I am like Portable did this?"
Reacting via Instagram on Sunday, Portable argued that he has more hit songs than Spyro.
Speaking in pidgin English, the 'Zazoo Zeh' crooner also slammed Spryo for writing him off despite the fact that he (Spryo) is not yet an A-lister.
"Are you whining me Apara or Spyro or what do they call you? You never make am you dey form ajebo. How many shows you don go? Don't let them push you against helper," Portable said.
"Come, that's why I don't do too many interviews because I know they will ask too many questions. Make you no go dey loose-guard so as not to misyarn.
"When they are calling the industry, you'll now be forming voice. You are now packaging. See this one o. You this guinea fowl or what are you called? Come and let's give you chorus make you blow more.
"Shey you dey whine ni? Go and ask your oga.
"Make you blow and let everybody see that you have. Nobody can mime your song. I have had too much songs, I blow. Your song cannot be mimed because it's just one.
"I can sing all patterns of songs.
"You are saying no one can sing your pattern. You that they still carry to shows."
It is wrong to hit a policeman – Falz reacts to Seun Kuti's arrest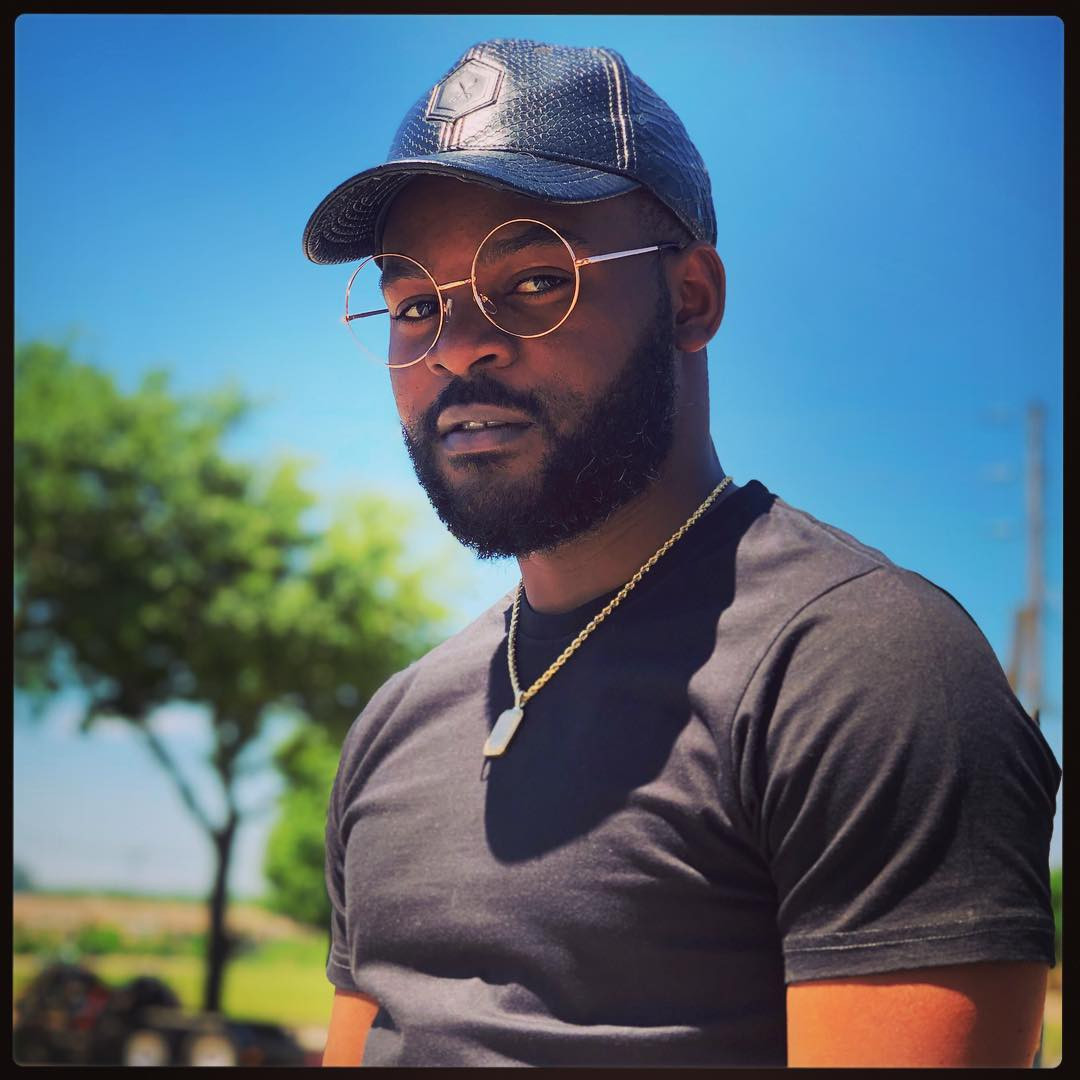 Popular Nigerian rapper, Falz has reacted to the arrest of Afrobeats singer, Seun Kuti by the Nigerian police.
Falz who is presently in the UK recovering from his knee injury confirms in his post that Seun Kuti is wrong to have assaulted the police officer and that was just the beginning.
Just like Mr Macaroni, Falz, the "Mr Yakubu" crooner air out his grievances toward the Nigeria police force over the way they reacted to the case of Seun Kuti.
Speaking further, Falz disclosed that the Nigeria Police Force's action is always on the contrary when a drunk policeman brutalizes and engages in the extra-judicial killings of the people.
He added that on a regular basis, policemen assault, rob, and even extort people at gunpoint.
Flaz however calls on the Nigeria Police Force to have a rethink and then address the root cause of the issue between policemen and citizens making the rounds.
Falz wrote; "Nobody can deny that it is wrong to hit a policeman. For mischief seekers, read that first sentence again. However, these other videos are from the other side of the spectrum. This is not the first, second, third, fourth, fifth, or sixth time.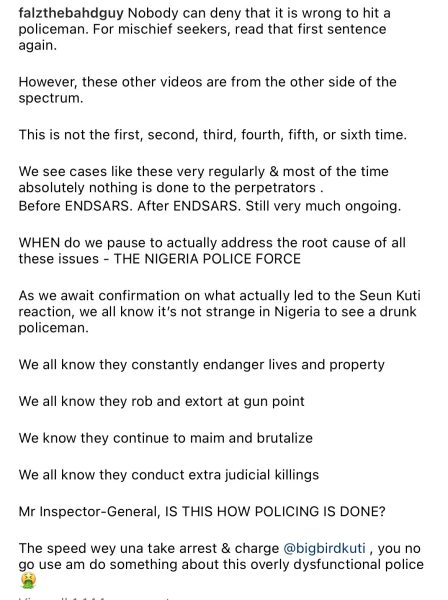 We see cases like these very regularly & most of the time absolutely nothing is done to the perpetrators . Before ENDSARS. After ENDSARS. Still very much ongoing. WHEN do we pause to actually address the root cause of all these issues – THE NIGERIA POLICE FORCE.
As we await confirmation on what actually led to the Seun Kuti reaction, we all know it's not strange in Nigeria to see a drunk policeman. We all know they constantly endanger lives and property We all know they rob and extort at gun point We know they continue to maim and brutalize We all know they conduct extra judicial killings
Mr Inspector-General, IS THIS HOW POLICING IS DONE? The speed wey una take arrest & charge @bigbirdkuti , you no go use am do something about this overly dysfunctional police 🤮
See Falz's post below;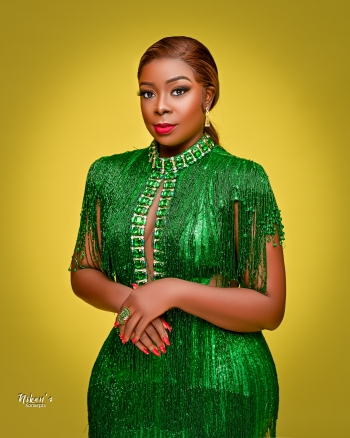 Bodex F. Hungbo, SPMIIM is a multiple award-winning Nigerian Digital Media Practitioner, Digital Strategist, PR consultant, Brand and Event Expert, Tv Presenter, Tier-A Blogger/Influencer, and a top cobbler in Nigeria.
She has widespread experiences across different professions and skills, which includes experiences in; Marketing, Media, Broadcasting, Brand and Event Management, Administration and Management with prior stints at MTN, NAPIMS-NNPC, GLOBAL FLEET OIL AND GAS, LTV, Silverbird and a host of others