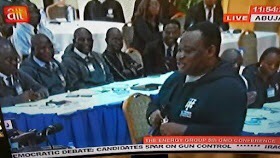 Energy group chairman, Jimoh Ibrahim was live on AIT and NTA during the Energy Group 5th GMD conference lecture when his staff from National Mirror stormed the event and announced their unpaid salaries publicly. During the live disgrace, He said he would pay the salaries of the workers of National Mirror for five months on the condition that the MD and DMD will resign immediately after the conference
The Chairman of Energy Group, Barrister Jimoh Ibrahim, has now announced the sacking of the Managing Director and Deputy Managing Director one of his companies, Newswatch Daily, Moses Jolayemi and Makinde Bankole.
However, both Jolayemi and Makinde had resigned before the public termination of their employments on a live television programme on Monday morning by the chairman. Moreso, Mr Moses resigned last year while Mr Bankole resigned just last week plus he was the acting MD/Editor-in-chief for Newswatch daily when the original MD, Mr Moses exited
Bankole's unannounced resignation, was said to have angered Ibrahim, which resulted to their public termination of their respective appointments on live television without knowing or claiming not to know that they had resigned
During the conference, he pointed at one of the trainees, asking him to go and take over the leadership of Newswatch Daily.
He said anyone who knew Jolayemi and Bankole should tell them that they had been relieved of their duties.
Mr Ibrahim said he has 16 companies and only one of those companies has staff protesting for lack of unpaid salaries and blamed it on the top management of the company. This is however far from the truth as some claimed Newswatch Daily is owing its workers 11 months salary, another of his publications, National Mirror, is also owing staff eight months salary. Staff of NICON Insurance are also being owed salaries.
Ibrahim, however, said he would be willing to assist the newly appointed of Newswatch Daily for the first five months after this, he has to contend solely with running the company.
According to close sources, Jolayemi and Bankole are not the first set of leaders of Ibrahim's companies to resign over his managerial style.
The first MD/Editor-in-Chief of the National Mirror, Abiodun Rauf, resigned in unpleasant manner. Hon. Steve Ayorinde, who is now the Commissioner for Information and Strategy in Lagos State, resigned from National Mirror too.
Popular politician, Kafilat Ogbara, equally resigned from National Mirror over the same issue
*But now we pray we don't hear of another resignation. Lord hear our prayers