Terms and Conditions
Welcome to BodexNG!
These terms and conditions outline the rules and regulations for the use of BodexNG's Website, located at https://bodexng.com/.
By accessing this website we assume you accept these terms and conditions. Do not continue to use BodexNG if you do not agree to take all of the terms and conditions stated on this page.
The following terminology applies to these Terms and Conditions, Privacy Statement and Disclaimer Notice, and all Agreements: "Client", "You" and "Your" refers to you, the person who logs on to this website and is compliant with the Company's terms and conditions. "The Company", "Ourselves", "We", "Our" and "Us", refers to our Company. "Party", "Parties", or "Us", refers to both the Client and ourselves. All terms refer to the offer, acceptance, and consideration of payment necessary to undertake the process of our assistance to the Client in the most appropriate manner for the express purpose of meeting the Client's needs in respect of the provision of the Company's stated services, in accordance with and subject to, prevailing law of Netherlands. Any use of the above terminology or other words in the singular, plural, capitalization, and/or he/she or they, are taken as interchangeable and therefore as referring to the same.
Cookies
We employ the use of cookies. By accessing BodexNG, you agreed to use cookies in agreement with BodexNG's Privacy Policy.
Most interactive websites use cookies to let us retrieve the user's details for each visit. Cookies are used by our website to enable the functionality of certain areas to make it easier for people visiting our website. Some of our affiliate/advertising partners may also use cookies.
License
Unless otherwise stated, BodexNG and/or its licensors own the intellectual property rights for all material on BodexNG. All intellectual property rights are reserved. You may access this from BodexNG for your own personal use subject to restrictions set in these terms and conditions.
You must not:
Republish material from BodexNG
Sell, rent, or sub-license material from BodexNG
Reproduce, duplicate, or copy material from BodexNG
Redistribute content from BodexNG
This Agreement shall begin on the date hereof. Our Terms and Conditions were created with the help of the i800services Terms And Conditions Generator.
Parts of this website offer an opportunity for users to post and exchange opinions and information in certain areas of the website. BodexNG does not filter, edit, publish, or review Comments prior to their presence on the website. Comments do not reflect the views and opinions of BodexNG, its agents, and/or affiliates. Comments reflect the views and opinions of the person who posts their views and opinions. To the extent permitted by applicable laws, BodexNG shall not be liable for the Comments or for any liability, damages, or expenses caused and/or suffered as a result of any use of and/or posting of and/or appearance of the Comments on this website.
BodexNG reserves the right to monitor all Comments and to remove any Comments which can be considered inappropriate, offensive, or causes a breach of these Terms and Conditions.
You warrant and represent that:
You are entitled to post the Comments on our website and have all necessary licenses and consents to do so;
The Comments do not invade any intellectual property right, including without limitation copyright, patent, or trademark of any third party;
The Comments do not contain any defamatory, libelous, offensive, indecent, or otherwise unlawful material which is an invasion of privacy
The Comments will not be used to solicit or promote business or custom or present commercial activities or unlawful activity.
You hereby grant BodexNG a non-exclusive license to use, reproduce, edit and authorize others to use, reproduce and edit any of your Comments in any and all forms, formats, or media.
Hyperlinking to our Content
The following organizations may link to our Website without prior written approval:
Government agencies;
Search engines;
News organizations;
Online directory distributors may link to our Website in the same manner as they hyperlink to the Websites of other listed businesses; and
System-wide Accredited Businesses except soliciting non-profit organizations, charity shopping malls, and charity fundraising groups which may not hyperlink to our Web site.
These organizations may link to our home page, to publications, or to other Website information so long as the link: (a) is not in any way deceptive; (b) does not falsely imply sponsorship, endorsement, or approval of the linking party and its products and/or services; and (c) fits within the context of the linking party's site.
We may consider and approve other link requests from the following types of organizations:
commonly-known consumer and/or business information sources;
dot.com community sites;
associations or other groups representing charities;
online directory distributors;
internet portals;
accounting, law, and consulting firms; and
educational institutions and trade associations.
We will approve link requests from these organizations if we decide that: (a) the link would not make us look unfavorably to ourselves or to our accredited businesses; (b) the organization does not have any negative records with us; (c) the benefit to us from the visibility of the hyperlink compensates the absence of BodexNG; and (d) the link is in the context of general resource information.
These organizations may link to our home page so long as the link: (a) is not in any way deceptive; (b) does not falsely imply sponsorship, endorsement, or approval of the linking party and its products or services; and (c) fits within the context of the linking party's site.
If you are one of the organizations listed in paragraph 2 above and are interested in linking to our website, you must inform us by sending an e-mail to BodexNG. Please include your name, your organization name, and contact information as well as the URL of your site, a list of any URLs from which you intend to link to our Website, and a list of the URLs on our site to which you would like to link. Wait 2-3 weeks for a response.
Approved organizations may hyperlink to our Website as follows:
By use of our corporate name; or
By use of the uniform resource locator being linked to; or
By use of any other description of our Website being linked to that makes sense within the context and format of content on the linking party's site.
No use of BodexNG's logo or other artwork will be allowed for linking absent a trademark license agreement.
iFrames
Without prior approval and written permission, you may not create frames around our Webpages that alter in any way the visual presentation or appearance of our Website.
Content Liability
We shall not be held responsible for any content that appears on your Website. You agree to protect and defend us against all claims that are rising on your Website. No link(s) should appear on any Website that may be interpreted as libelous, obscene, or criminal, or which infringes, otherwise violates, or advocates the infringement or other violation of, any third-party rights.
Your Privacy
Please read Privacy Policy
Reservation of Rights
We reserve the right to request that you remove all links or any particular link to our Website. You approve of immediately removing all links to our Website upon request. We also reserve the right to amend these terms and conditions and its linking policy at any time. By continuously linking to our Website, you agree to be bound to and follow these linking terms and conditions.
Removal of links from our website
If you find any link on our Website that is offensive for any reason, you are free to contact and inform us at any moment. We will consider requests to remove links but we are not obligated to or so or to respond to you directly.
We do not ensure that the information on this website is correct, we do not warrant its completeness or accuracy; nor do we promise to ensure that the website remains available or that the material on the website is kept up to date.
Disclaimer
To the maximum extent permitted by applicable law, we exclude all representations, warranties, and conditions relating to our website and the use of this website. Nothing in this disclaimer will:
limit or exclude our or your liability for death or personal injury;
limit or exclude our or your liability for fraud or fraudulent misrepresentation;
limit any of our or your liabilities in any way that is not permitted under applicable law; or
exclude any of our or your liabilities that may not be excluded under applicable law.
The limitations and prohibitions of liability set in this Section and elsewhere in this disclaimer: (a) are subject to the preceding paragraph; and (b) govern all liabilities arising under the disclaimer, including liabilities arising in contract, in tort, and for breach of statutory duty.
As long as the website and the information and services on the website are provided free of charge, we will not be liable for any loss or damage of any nature.
Bad Bunny sued for $40m by ex-lover over unauthorised voice recording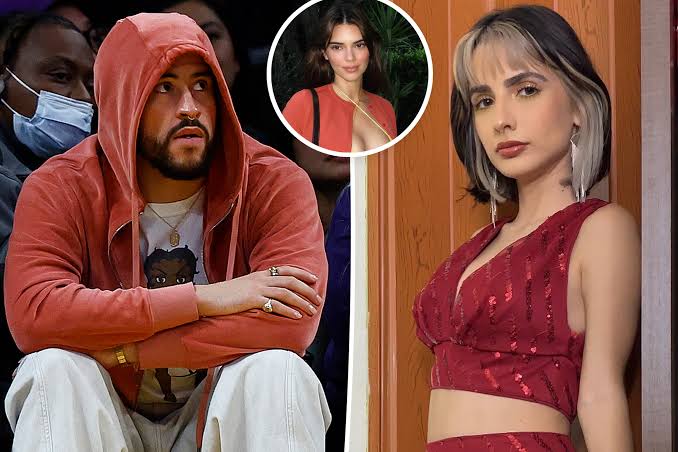 Carliz De La Cruz, the ex-lover of Bad Bunny, the Puerto Rican rapper, has sued him, claiming a voice recording she provided him before he became famous has been used without her permission.
Cruz argued that she is entitled to $40 million in compensation for "negligence and attack on her privacy and dignity."
According to BBC, Carliz filed a lawsuit against the rapper, claiming he used the catchphrase "Bad Bunny baby" — which she recorded on her phone in 2015 — in two of his songs without her consent.
The line is said to have appeared on the rapper's 2017 single 'Pa Ti' and his 2022 song 'Dos Mil 16'.
'Pa Ti' has raked in more than 355 million views on YouTube and over 235 million plays on Spotify, while 'Dos Mil 16' has over 60 million YouTube views and more than 280 million Spotify plays.
According to the legal documents by Carliz's lawyers, prior to the release of 'Un Verano Sin Ti', Bad Bunny's recent album, the rapper had offered to buy the rights to the line from his ex-lover for $2,000.
She was said to have declined the offer but the album was, however, released with her line on it. 'Un Verano Sin Ti' was then nominated for album of the year at the Grammy Awards.
Carlos also said that her recordings have been used in concerts, adding that it is a "gross negligence, bad faith and, worse still, an attack on her privacy, morals and dignity."
In the legal documents, Carliz said harassment from supporters of the 29-year-old rapper has made her "overwhelmed and anxious" while she seeks "psychologists for help".
The duo dated in 2011 and both worked in a supermarket while Bad Bunny also made music by the side.
They, however, parted ways in 2016.
The rapper's former lover is also suing Rimas Entertainment, his record label, and Noah Assad, Bad Bunny's manager.
I never asked Mo Bimpe sex for movie role, Yomi Fabiyi insists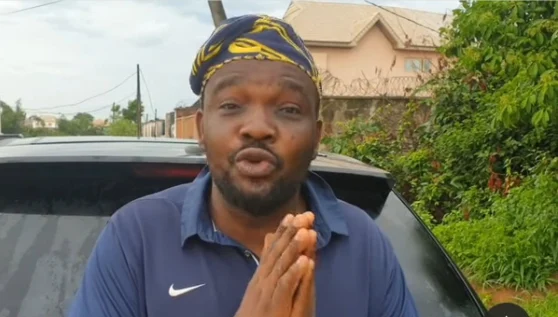 Yomi Fabiyi, the actor, has once again dismissed claims of sexual harassment against Adebimpe Oyebade.
In 2021, the actress — better known as Mo Bimpe — accused Fabiyi of subjecting her to "constant harassment, bully and threats."
Her claim had come as a response to the release of 'Oko Iyabo', a movie by Fabiyi on the sexual assault allegations against Baba Ijesha.
"I didn't make myself available for his sexual needs despite how much he tried. Yomi Fabiyi needs to be stopped. Thank God for grace, I would have given up on this dream because of his constant harassment, bully and threats," she had said.
But in a recent interview, Fabiyi denied claims that he demanded sex from Mo Bimpe before enlisting her in his movie.
"I starred her in my movie when nobody knew her and I never asked her for sex before I put her in the movie," he said.
"I always tell her that whenever she is chanced, she should come to Lagos so that I can brush her up and keep her up to speed before shooting.
"We shot the movie and we were there together, I didn't say before I give you this role I must have sex with you. People who do such things, that will be their first condition before they even give you that kind of role.
"I didn't demand anything from you, I didn't say come and have sex, I just wanted to help you. After we finished shooting and she noticed I didn't ask her for anything, she came to tell me she's following another man, Gabriel to Lagos.
"Why is she saying that I sexually assaulted her when many men have slept with her before she settled down with who she's with today."
Fabiyi had previously addressed the allegation against him.
Rita Dominic and Omoni Oboli call out INEC for moving polling units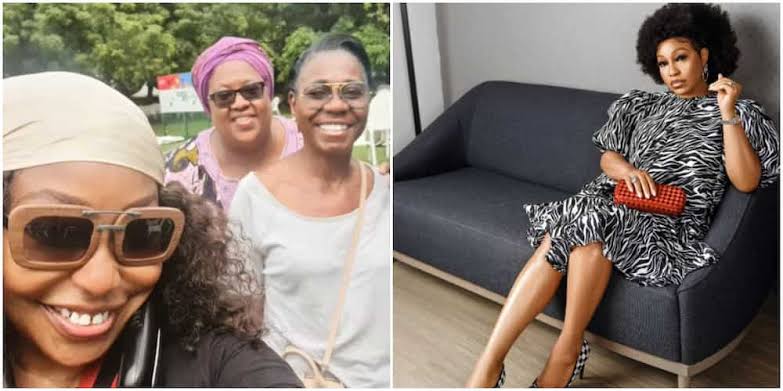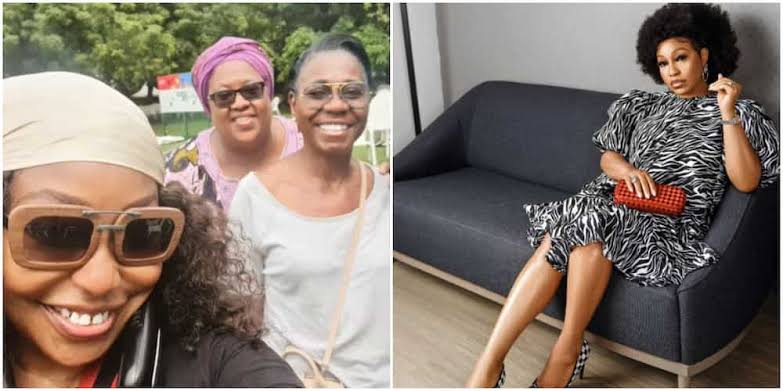 Rita Dominic and Omoni Oboli have called out the Independent National Electoral Commission (INEC) for allegedly moving their polling units.
The movie stars took to their social media pages to express their shock over the decision by INEC officials.
Dominic took to Instagram to state that she had been voting inside Victoria Garden City (VGC) for the last 10 years.
The actress, however, wondered why "the INEC staff came to move the centre outside the gate."
She lamented that the decision has denied several people the opportunity to cast their votes.
"At my polling unit in VGC with fam but @inecnigeria @ineclagos decided to move our polling unit and set up outside the estate on the main road without prior notice," she wrote.
"I have voted in the same polling unit for over 10 years and did so just about 3 weeks ago for the presidential election. I can't fathom why INEC officials will decide to move this outside?
"There are many senior citizens who live inside the estate, who want to exercise their civic duty but as it stands now might not be able to do that because of this decision.
"What reason would you move thousands of voters from somewhere that is organised to a chaotic place that would obstruct traffic? I just can't wrap my head around it!"
Similarly, Oboli claimed that their polling units have been reduced to three, instead of eight. She also alleged that they were asked to vote outside VGC.
"INEC has come to set up outside. There's an uproar going on here. It is a mess. There's some sort of military outside. But guys I don't think it's safe. I just said I should come outside. I am just gonna go right back into VGC. It is what it is. INEC, is this what we've reduced ourselves to?" she asked.
"We voted the last time and everything went reasonably okay. Why are we voting outside? There are eight polling stations inside. And you set up three canopies out here."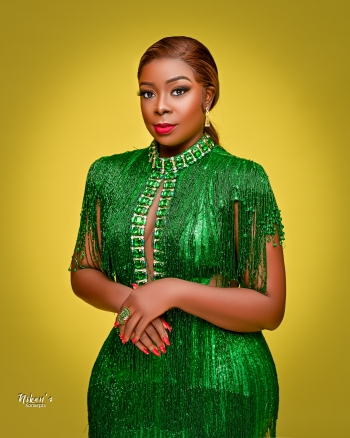 Bodex F. Hungbo, SPMIIM is a multiple award-winning Nigerian Digital Media Practitioner, Digital Strategist, PR consultant, Brand and Event Expert, Tv Presenter, Tier-A Blogger/Influencer, and a top cobbler in Nigeria.
She has widespread experiences across different professions and skills, which includes experiences in; Marketing, Media, Broadcasting, Brand and Event Management, Administration and Management with prior stints at MTN, NAPIMS-NNPC, GLOBAL FLEET OIL AND GAS, LTV, Silverbird and a host of others