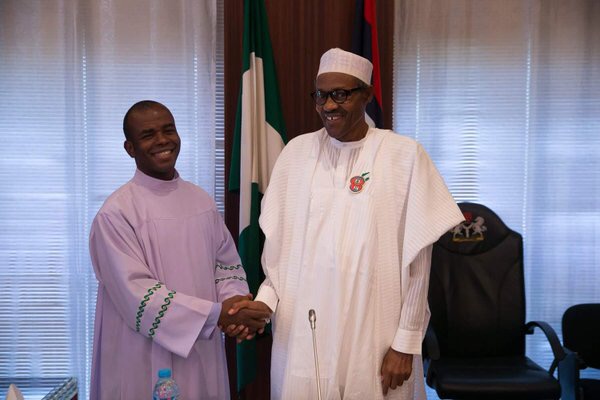 Speaking in his New Year message to Nigerians during an end-of-year adoration service in Enugu yesterday,
He said,
"I am not a sycophant, but I want to tell you that so far God is happy and he who God has blessed none can curse. Many people are planning to kill Buhari – there are many plans on how to eliminate his life so that corruption will continue, so that embezzlement will continue. But I speak to Buhari that God who put you there will protect you; be firm, remain resolute, don't be intimidated."
"President Buhari, God and his people are behind you, you are the answer to the prayer of His people. Nigeria, as we speak now, economically, security wise is in the intensive care unit. If the oxygen is removed, Nigeria will die. People of God prayed, from here and there and God gave us Buhari. God has told us that Buhari is prayer answered.
"President Buhari is an answered prayer; whether you hate him or like him, Buhari is prayer answered. The Bishops of Nigeria, the Catholic bishops prayed against bribery and corruption and this President came with a charter that has to do with war against corruption,"
He added,
"My beloved Nigerians, those who led us from last year downwards, they have killed this country. "None of them is qualified to stay in this country by now, both the President, the senators, the representatives, the chairmen of local governments, the governors, they are wicked. "It doesn't matter the man of God they worship with, I tell you, before God and man, all of them are wicked.
"They hate this country, they succeeded in removing the liver, kidney and cardio vascular system of this country and handed over to President Buhari, shambles, skeletal organs of this country; a nation that is in comatose."
He continued;
"Many have died because of a few people, and these same people want to use you to engineer crisis that Igbo are marginalised, nobody is marginalised.
"The Yoruba are not marginalised; the Hausa are not marginalised, Efik people are not marginalised.
"In the present political scenario, the Igbo have the position of Minister of External Affairs in the person of Onyeama; the Igbo people have the position of Science and Technology Minister in the person of Ogbonnaya Onu."