SEE FULL LIST: Messi named Forbes' 2022 best-paid athlete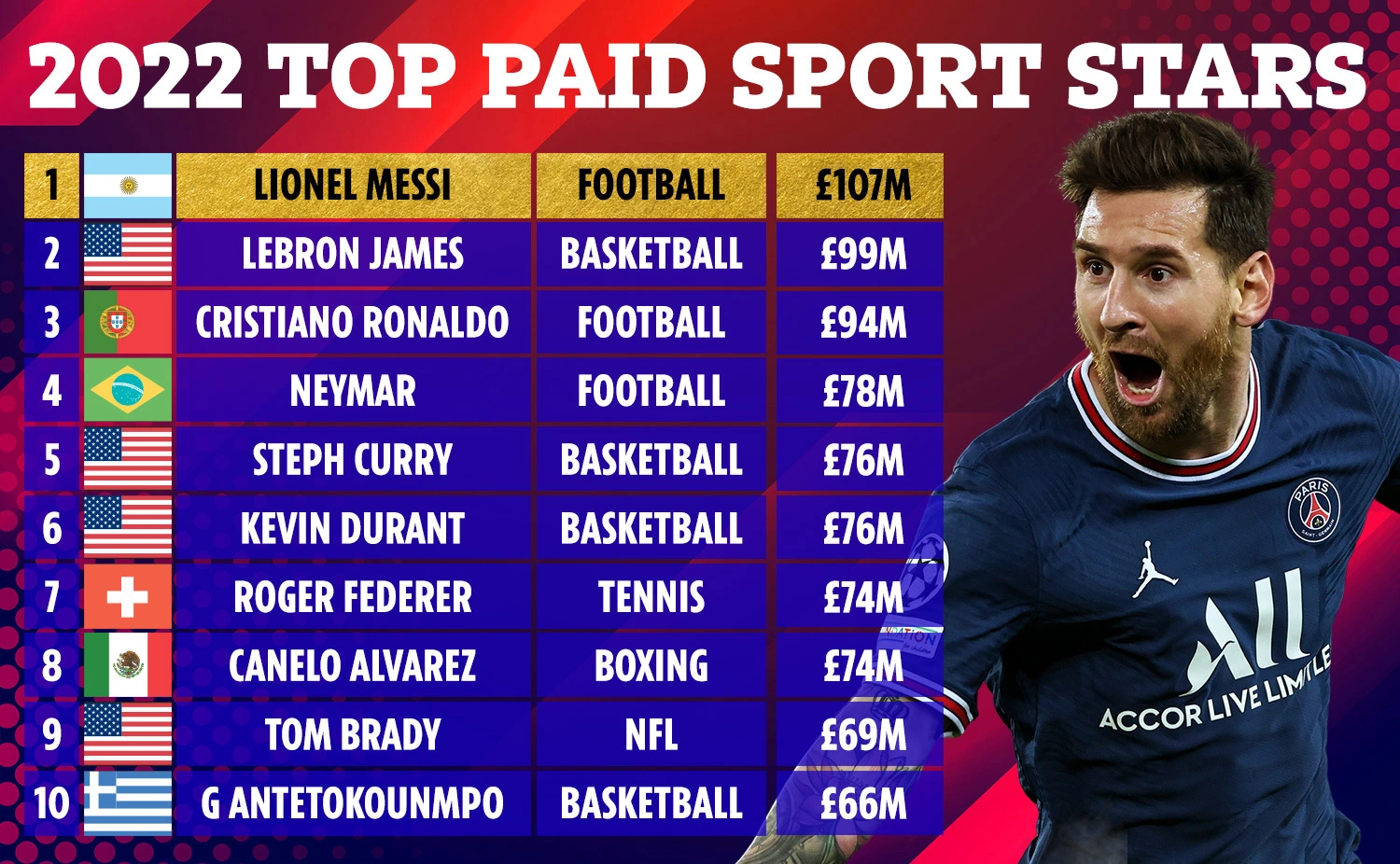 Lionel Messi, Argentina and Paris Saint-Germain (PSG) star, was the highest-paid athlete in the world over the last 12 months, according to Forbes.
The former Barcelona forward topped the list released on Wednesday with pre-tax gross earnings of $130 million, ahead of Lebron James, the Los Angeles Lakers basketball player ($121.2m); and Cristiano Ronaldo, his fierce rival ($115m).
Forbes said its on-the-field earnings figures include all prize money, salaries, and bonuses earned during the 12-month period while off-field earnings are an estimate of sponsorship deals, appearance fees, and licensing income.
It added that the year's list covers the period from May 1, 2021, to May 1, 2022.
Messi, who moved to PSG after almost two decades in Barcelona, earned $130 million during the period in view, a figure that includes $55 million in endorsements.
However, his earnings dropped by $22 million due to a reduced salary package from what he was paid at Barcelona.
James, on the other hand, increased his earnings to $121.2 million, breaking the $96.5 million record for an NBA player on the list he set last year.
FORBES' TOP 10 BEST-PAID ATHLETES 2022
Lionel Messi $130 million
Lebron James $121.2 million
Cristiano Ronaldo $115 million
Neymar Jr. $95 million
Steph Curry $92.8 million
Kevin Durant $92.1 million
Roger Federer $90.7 million
Carnelo Alvarez $90 million
Tom Brady $83.9 million
Giannis Antetokounmpo $80.9 million
D'Tigress call on FG to reverse basketball ban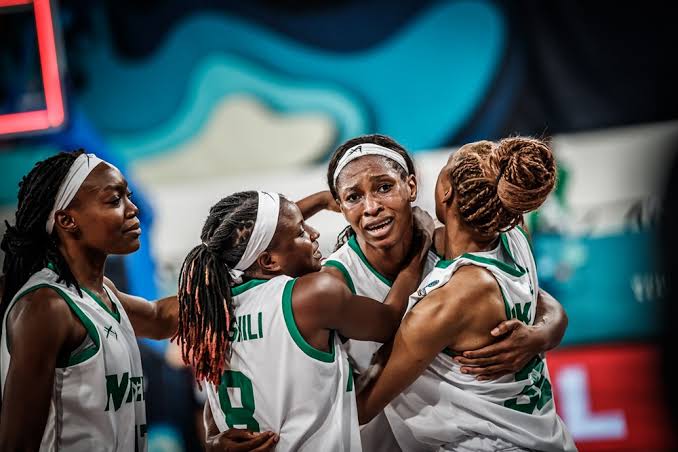 D'Tigress have called on the federal government to reverse its decision to withdraw Nigeria from international basketball competitions for two years.
Last week, Sunday Dare, minister of sports and youth development, announced the ban, adding that it was part of efforts by the government to revamp the sport from the grassroots.
The development came amid the ongoing power tussle within the Nigeria Basketball Federation (NBBF).
Reacting to the FG's resolution on basketball via a Twitter thread on Friday, D'Tigress said they "do not agree with this ban."
The team also said it would take "away all our future competitions, accomplishments and goals to elevate, inspire, and make Nigeria proud!"
The African champions added that they have worked hard to be "Afrobasket Champions" and will "passionately love to represent in this upcoming FIBA Women's World Cup competition."
"We, as the Women's national team of Nigeria, would like to speak on the government's recently placed two-year ban on all Nigerian Basketball International competitions," D'Tigress wrote.
"The D'Tigress team would like to state that we do not agree with this ban. This ban is taking away all our future competitions, accomplishments and goals to elevate, inspire, and make Nigeria proud!
"We would like to be given the opportunity to play for our country that we passionately love to represent in this upcoming FIBA Women's World Cup competition.
"We have worked very hard to be 3x Afrobasket Champions, Olympians, and now we are blessed with another opportunity to continue that representation for Nigeria.
"We want Nigerian basketball to continue to grow and succeed on every level, from the local leagues, grassroots and even on the international stage!
"We believe that all levels of Nigerian basketball can excel with the proper attention, togetherness, and organization. Our team is a testament to how successful Nigerian basketball can be and how we have been an inspiration to all Nigerian athletes across the globe.
"We wish to express our gratitude to all the coaches, medical staff, organizers, and fans. This ban not only penalizes us but you all as well. Your commitment and loyalty to our team will never go unnoticed.
"Our goal is to play and represent Nigeria proudly! We, as the Nigerian Women's National team, plea for the reversal of the International Basketball ban for Nigeria. We hope to be heard! Thank you."
US Soccer announces equal pay for men and women teams
The US men's and women's national soccer teams will receive equal pay under a landmark collective bargaining agreement announced by the US Soccer Federation on Wednesday.
"This is a truly historic moment. These agreements have changed the game forever here in the United States and have the potential to change the game around the world," said US Soccer president Cindy Parlow Cone.
Oshoala becomes first African woman to win golden boot in Spanish Primera Division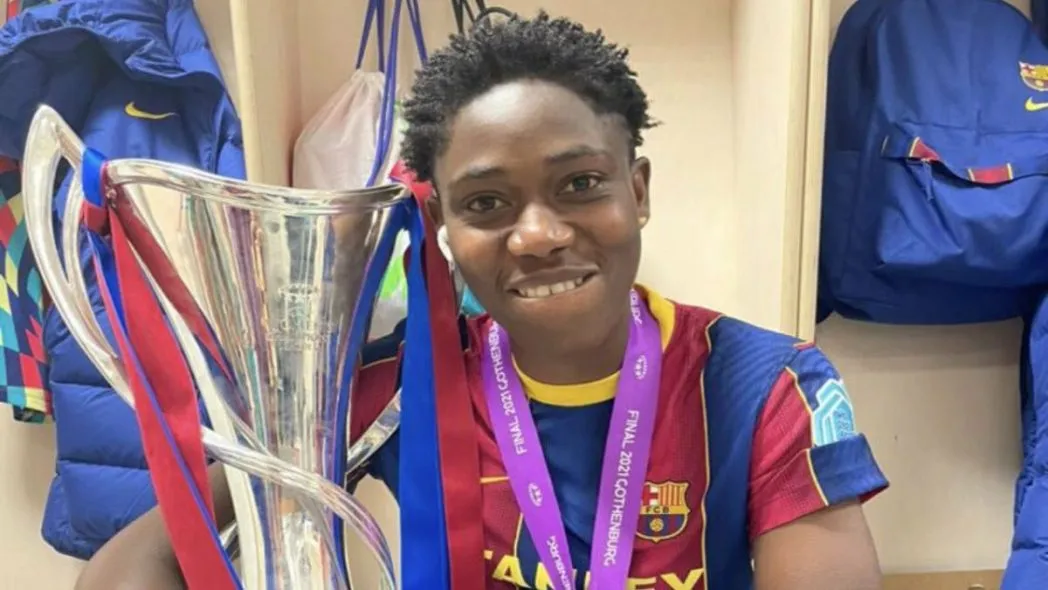 Asisat Oshoala, Super Falcons striker, is the joint top scorer in the women's Spanish Primera Division.
The 27-year-old Nigerian achieved the feat despite missing three months of the season due to recurring injuries.
She scored 20 goals in 19 league appearances for Barcelona Femeni and will share the award with Geyse Ferreira of Madrid CFF, who netted 20 goals in 27 appearances.
Oshoala is now the first African woman to win the highest goalscorer gong in the Spanish Primera Division since it began in 2011.
ᴘɪᴄʜɪᴄʜɪ
⚽⚽⚽⚽⚽⚽⚽⚽⚽⚽
⚽⚽⚽⚽⚽⚽⚽⚽⚽⚽
⚡ @AsisatOshoala pic.twitter.com/kPiEekKy6j

— FC Barcelona Femení (@FCBfemeni) May 15, 2022