Some of those buying forms for presidential hopefuls are struggling to pay rent, says Nnamani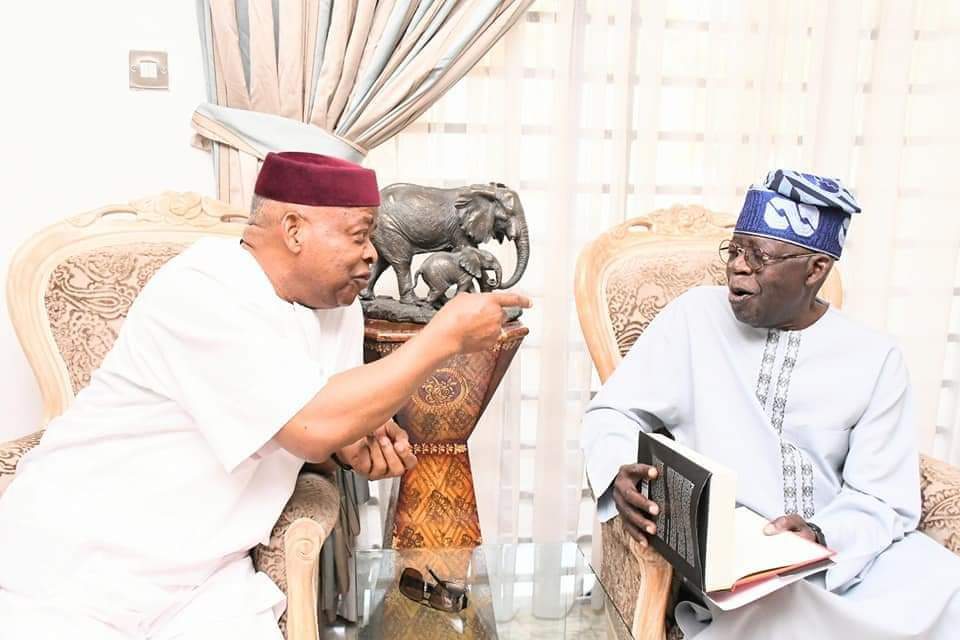 Ken Nnamani, presidential hopeful on the All Progressives Congress (APC) platform, has described the trend of support groups buying the party's presidential nomination forms for some contenders as "a big lie".
The former president of the senate spoke in a chat with AriseTV on Wednesday.
Over 20 aspirants have declared their interest in the APC presidential ticket to become the successor of President Muhammadu Buhari in 2023.
While some aspirants have gone to the party secretariat in Abuja to pick up the nomination forms themselves, several support groups bought for others.
On May 6, a coalition of three groups acquired the form for Godwin Emefiele, governor of the Central Bank of Nigeria (CBN), and, the following day, 28 support groups did the same for Akinwumi Adesina, president of the African Development Bank (AfDB).
The latest is the procurement of the party's nomination form for former President Goodluck Jonathan by a northern coalition.
Speaking about the situation, Nnamani said the seat of the president of the federation is "serious business" and "does not require somebody who is being persuaded to go".
He added that "the shadowy groups going about saying they are purchasing forms for people is a laughing situation," adding that the trend should be discouraged.
"Our history is replete with reluctant leaders. This concept of collecting forms by proxy — people who go and collect forms for someone. We are talking about serious business; leading a country as complicated and complex as Nigeria requires someone who is prepared for the primetime. It does not require somebody who is being persuaded to go. It means the person is not even ready," the former president of the senate said.
"The discussion so far as being on people for who shadow groups have gone to obtain forms and claim to have contributed money for somebody. But if you take a close look at those buying forms for people, some of them appeared to be having difficulty paying their house rent. We are starting on a wrong footing –telling lies. Anybody who is serious about contesting should go and buy the form and not send people while claiming reluctance.
"The shadowy group going about saying they are purchasing forms for people is a laughing situation. It's a big lie and it should be discouraged."
If I become president, I will live in Sambisa forest, says Al-Mustapha
Hamza Al-Mustapha, former aide to the late Sani Abacha, says he will end Boko Haram in six months and will stay in Sambisa forest, if he becomes the president of Nigeria.
Al-Mustapha who is running for president on the platform of the Action Alliance (AA) pledged that his administrstion will do whatever it takes to tackle insecurity in the country.
Al-Mustapha said this during an interview with BBC Hausa on Friday.
He said he will rework how the military operates and responds to security threats.
"There will be a military with renewed vigour and committment under his admunistration," he said.
"If I become the President, I will live in Sambisa; I will stay there during weekends, holidays and see if anyone will touch me. I will deal with the problem of insecurity no matter whose ox is gored.
"Look at the silly act of Boko Haram, I swear if it is not possible in 6 months to deal with them, I will demote all these senior officers and send them home. They would be prosecuted and must return the money given to them. I will probe them.
"Nigerian soldiers have now become policemen and you know how corrupt our police are. So, within these six months, I will bring sanity into the way the Nigerian military operates to be able to confront emerging security threats with renewed vigour and commitment."
Support groups to hold 'one-million-citizen march' for Peter Obi, asks PDP delegates to vote him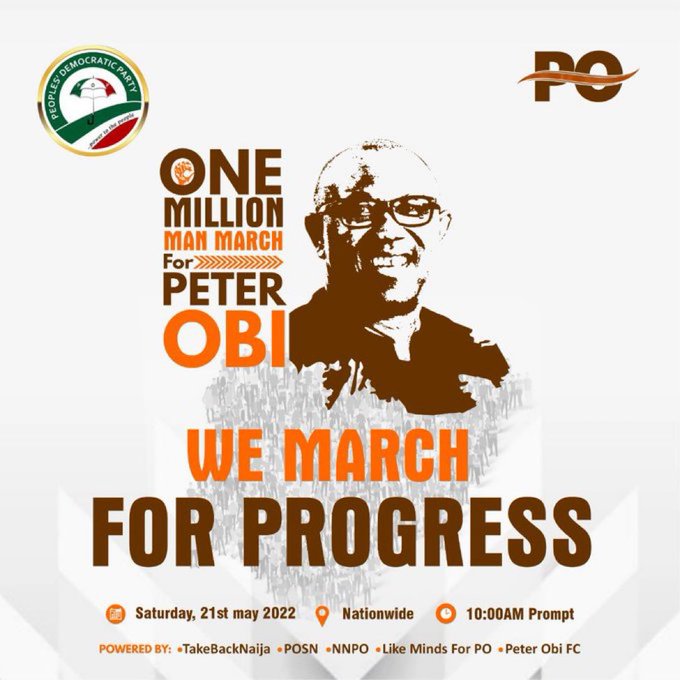 A coalition of Peter Obi support groups has fixed Saturday to hold a one-million-citizen march for the former governor of Anambra and presidential hopeful.
In a statement on Friday, Marcel Ngogbehei, chairman of the coalition, said the exercise is to show solidarity and support for "our principal's divine mandate" and to ask Peoples Democratic Party (PDP) delegates to vote for him.
Ngogbehei said the march would be held across the country, adding that they have obtained the necessary permission for the event.
"We as support groups for Peter Obi are organizing a One-Million-Man March on Saturday, May 21, 2022, across the 36 States of the federation and FCT in a bid to show maximum solidarity, love, and support for our principal's divine mandate for the 2023 presidency," he said.
"The one million man march is to ensure that Nigerians of like-minds come out en masse in all the states of the federation and FCT in solidarity with the presidential aspirant.
"The one million-man-march is anchored by Coalition for Peter Obi (CPO), which is made up of more than a dozen different support groups for Mr Peter Obi.
"All supporters of Peter Obi will participate fully in the march all over Nigeria. The one-million-match is a show of solidarity and love for the credible candidature of Mr Peter Obi.
"Various routes have been chosen for the march in all the 36 States and FCT. The march will start by 10:00 am prompt and we have obtained police permits to ensure security.
"The take-off points for all states have been shared on various social media platforms, and all great supporters of Peter Obi should reach out to their respective coordinators and WhatsApp group admins to ensure familiarity and easy locations to the routes.
"This is a peaceful solidarity march, and all are encouraged to portray a patriotic spirit, be of good conduct and avoid actions that will give us bad names, neither should we allow hoodlums to hijack our peaceful march. Let's be very conscious and alert in the exercise."
Some of the groups include Peter Obi Support Network (POSN), Like Minds for Peter Obi (LMPO), Nigeria Needs Peter Obi (NNPO), TakeBackNaija (TBN), Women for Peter Obi (WPO), Associates of Peter Obi (APO), Peter Obi FC (POFC) and Peter Obi movement for president (POMP).
Don't dare hold rallies in Abia, IPOB warns APC aspirant, Ikechi Emenike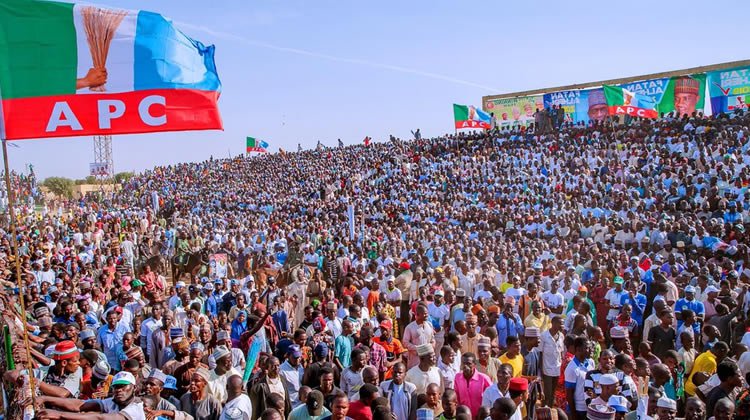 The Indigenous People of Biafra has warned an All Progressives Congress, APC governorship aspirant, Ikechi Emenike, and his party not to hold any rally in Umuahia on May 20, 2022.
This was contained in a press release by IPOB's spokesperson, Emma Powerful.
IPOB said the Emenike cannot hold rallies "while keeping quiet when bandits kidnapped and are still holding our sisters at Uturu".
The statement read, "We want to advise Chief Ikechi Emenike and his APC people not to hold any political rally in Umuahia tomorrow, Friday May 20, 2022, while they kept quiet and did nothing when Fulani bandits kidnapped passengers including female students along Okigwe/ Uturu road.
"We cannot allow Emenike and his APC co-travellers to be dancing and singing at Chidiebere Park while our daughters are still in captivity.
"It is hypocrisy for the political elite to show no concern about the plights of our people who they claim to be seeking their welfare. It is wickedness for Emenike and his co-travellers to keep mute and do nothing about the incessant abductions of Igbo sons and daughters by Fulani herdsmen around Uturu and its environs. Ikechi Emenike should keep away from Chidiebere Park Umuahia tomorrow.
"We won't allow APC and other political parties to continue to hold their rallies in our land while Fulani bandits operative with impunity Kidnapping and rapping our people, yet the politicians do nothing about it. All they care about is 2023. Enough is enough!
"Fulani bandits are holding Igbo girls and are demanding N10 million as ransom per person, Emenike and APC to be dancing at a rally when the families of the victims are in painful mood. He should not dare us."