Naira gains against dollar by 0.52%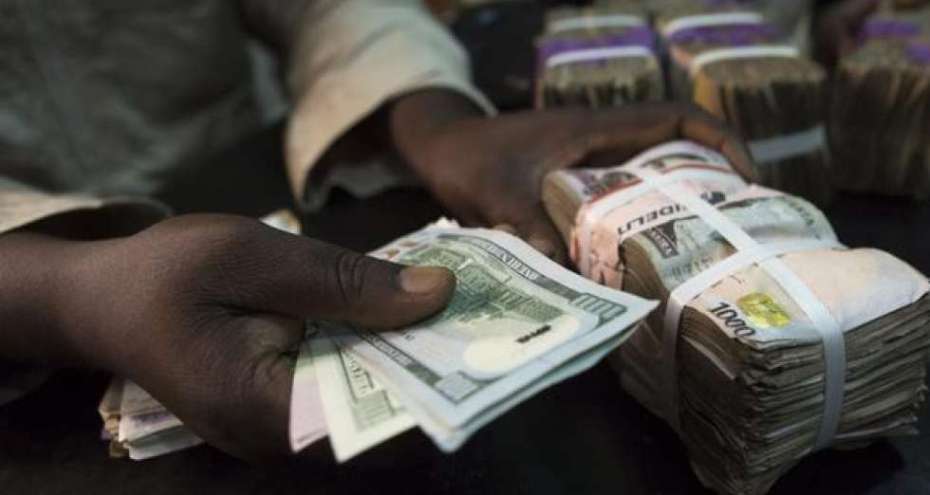 The Naira on Tuesday appreciated against the dollar at the Investors and Exporters window, exchanging at N428.75.
The figure represented an increase of 0.52 per cent compared with the N431 it exchanged for the dollar on Monday.
The open indicative rate closed at N429.58 to the dollar on Tuesday.
An exchange rate of N444.00 to the dollar was the highest rate recorded within the day's trading before it settled at N428.75.
The Naira sold for as low as N417 to the dollar within the day's trading.
A total of 113. 64 million was traded in foreign exchange at the official investors and exporters window on Tuesday.
Naira falls big at the black market (See exchange rate)
The exchange rate between the naira and the US dollar has fallen further to a record low on the black market, trading at a minimum of N740/$1 on Tuesday morning.
This is according to information from black market operatives interviewed by Nairametrics.
According to FX traders, the fallen currency can be attributed to the continuous scarcity of forex and increased demand in the market. In a discussion with Mr. Saheed, an FX trader around the Lagos International Airport, he stated that they sell dollars for an average of N740/$1 and buy for a maximum of N730/$1.
He also added that it sold for as high as N745/$1 yesterday, Monday, and has just moderated. He explained that the rising demand and continuous liquidity crunch continue to drive the exchange rate upward in the unofficial market, considering the price is determined by demand and supply.
The exchange rate has maintained a downward trend, following the move by the apex bank to raise the interest rate to a 20-year high of 15.5%, representing 150 basis points increase from the 14% stated at the previous MPC meeting.
Shareholders approve Private Placement of unissued Fidelity Bank Shares
L – R: Chidi Agbapu, Non-Executive Director; Nneka Onyeali-Ikpe, Managing Director/Chief Executive Officer; Mustafa Chike-Obi, Chairman; and Ezinwa Unuigboje, Company Secretary; all of Fidelity Bank PLC at the Bank's Extraordinary General Meeting held in Lagos on Thursday, 29 September 2022.
Leading financial institution, Fidelity Bank Plc, has secured the approval of its shareholders to issue, by way of private placement, the unissued ordinary shares of the Bank.

This was approved at the Bank's Extra-Ordinary General Meeting (EGM) which held at Four Points by Sheraton Hotel, Victoria Island, Lagos on Thursday, 29 September 2022.

Addressing shareholders at the event which had the representatives of various regulators in attendance including the Central Bank of Nigeria, Nigeria Exchange Group, Securities and Exchange Commission and Corporate Affairs Commission, Mustafa Chike-Obi, Chairman, Fidelity Bank Plc, said the EGM was called to ensure the Bank complies with Section 124 of the Companies and Allied Matters Act, 2020 (CAMA) and Regulation 13 of the Companies Regulations 2021 which require companies with unissued shares at the time of commencement of CAMA 2020 to issue such shares by December 31, 2022.

"After considering the options, the Board resolved that the Company's outstanding 3,037,414,308 unissued Ordinary Shares of 50Kobo each should be disposed of by way of Private Placement to strategic investors to enable the Bank generate additional capital for continued growth in line with its objectives" explained Chike-Obi.

"Fidelity Bank is growing in leaps and bounds and we need to expand our capital base to take advantage of emerging opportunities.
We will also use the additional capital to enhance our technology infrastructure to enable us serve more customers", explained Nneka Onyeali-Ikpe, Managing Director/Chief Executive Officer of the Bank.

It would be recalled that the Bank recently paid an interim dividend of 10 Kobo per 50 Kobo ordinary share, the first interim dividend payment in the Bank's 34 year history, on the back of its remarkable H1 2022 results.

Fidelity Bank is a full-fledged commercial bank operating in Nigeria with over 7 million customers serviced across 250 business offices and digital banking channels.
The Bank was recently recognized as the Best SME Bank Nigeria 2022 by the Global Banking & Finance Awards.
The Bank also won the awards for "Fastest Growing Bank" and "MSME & Entrepreneurship Financing Bank of the Year" at the 2021 BusinessDay Banks and Other Financial Institutions (BAFI) Awards.
Why Kim Kardashian is paying U.S SEC $1.26 million fine over crypto promotion
In order to resolve the US Securities and Exchange Commission's claims that she promoted a cryptocurrency on Instagram without revealing that she had been paid $250,000 to do so, Kim Kardashian has agreed to pay $1.26 million. The American socialite and businesswoman consented to assist the SEC's continuing investigation, the agency announced on Monday.
According to the SEC, Kardashian did not disclose that she received payment to post on her Instagram account promoting EMAX tokens, EthereumMax-offered digital asset security.
In Kardashian's Instagram post, she included a link to the EthereumMax website, where users could find instructions on how to buy EMAX coins.
Gurbir Grewal, director of the SEC's division of enforcement, stated in a prepared statement that "the federal securities laws are clear that any celebrity or other individual who promotes a crypto asset security must disclose the nature, source, and amount of compensation they received in exchange for the promotion."
Kardashian has consented to refrain from endorsing any cryptocurrency-related securities for three years.
"Ms. Kardashian is pleased to have resolved this matter with the SEC. Kardashian fully cooperated with the SEC from the very beginning and she remains willing to do whatever she can to assist the SEC in this matter. She wanted to get this matter behind her to avoid a protracted dispute. The agreement she reached with the SEC allows her to do that so that she can move forward with her many different business pursuits," a lawyer for Kardashian said in an email.
Kim Kardashian is well-known for reality TV, she is also a successful entrepreneur. Currently, she may be seen on "The Kardashians" on Hulu. Her companies include SKIMS, which sells loungewear, shapewear, and other goods, and SKKN, a skincare line.
For anyone trying to promote a product, Kardashian provides a massive megaphone with 330 million followers on Instagram. With a net worth of $1.8 billion dollars, the fine may not affect her a lot.
Kim Kardashian is hardly the first famous person to draw authorities' notice due to their participation in cryptocurrencies. In 2018, the agency reached a resolution with Floyd Mayweather Jr., a professional boxer, and DJ Khaled, a music producer, for failing to declare the money they received for advocating cryptocurrency investments.
The US Congress is paying more and more attention to cryptocurrency. Following dramatic fluctuations in cryptocurrency prices, dozens of frauds, and hundreds of billions of dollars won and lost, a bipartisan proposal last month would transfer the Commodities Futures Trading Commission's regulatory authority over Bitcoin and Ether, two well-known cryptocurrencies.
Investors in cryptocurrencies have seen prices collapse this year, businesses collapse, and fortunes and employment vanish overnight. Some organisations have even been charged by federal officials with operating an unauthorised securities exchange.