Chimaroke Nnamani, PDP chieftain, makes APC presidential campaign council list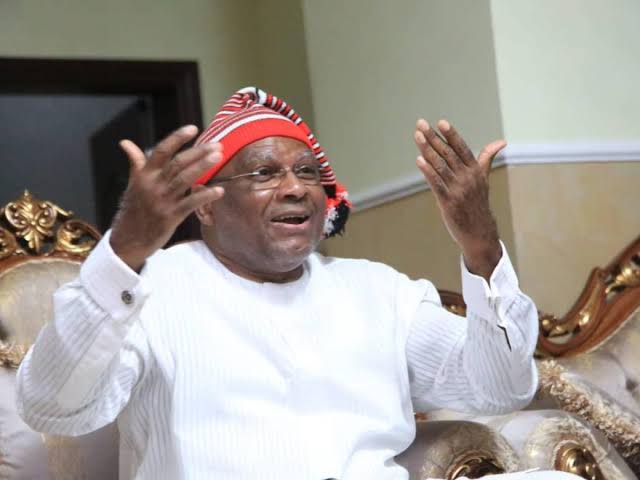 Chimaroke Nnamani, a chieftain of the Peoples Democratic Party (PDP) and senator representing Enugu east senatorial district, has been listed a member of the All Progressives Congress (APC) presidential campaign council.
In a 422-man committee released by James Faleke, secretary, APC presidential campaign council, on Friday, Nnamani is the 350th on the list as a member.
Prior to his announcement, Nnamani did not announce his exit from the PDP.
But in August, Nnamani, in a long-thread tweet, said he is in opposition to the "shameless campaigns and parodies" aimed at the health of Bola Tinubu, the presidential candidate of the APC.
Nnamani, a medical doctor, said he is appalled by the "extreme and unprofessional" forms of attacks directed at the former Lagos state governor over his health.
"I vigorously oppose, protest and detest the shameless campaigns and parodies targeting Tinubu's health," he wrote.
"As a health worker, I am amazed by ignorance, foolishness, wickedness and callousness of these idiotic operators. I believe they are unwarranted, extremely unprofessional, and have no place in our polity.
Nnamani also cited Tinubu's works in the criminal justice sector, education, and health, adding that he left a "lasting legacy of hard work in Lagos infrastructure".
He did not answer or return calls and SMS sent to his mobile phone.
But Felix Morka, APC national publicity secretary, said he would respond later.
Dogara appointed PDP campaign council member — days after endorsing Atiku
Yakubu Dogara, former speaker of the house of representatives, has been appointed a member of the Peoples Democratic Party (PDP) presidential campaign council (PCC).
Aminu Tambuwal, director general of the PDP PCC and governor of Sokoto, announced Dogara's appointment in a statement on Sunday.
Dogara's appointment comes two days after he declared support for Atiku Abubakar, PDP's standard bearer.
The Northern Leaders Consultative Forum, which Dogara is a part of, had endorsed Atiku and termed him "the best."
It is not clear if the former speaker has renounced his membership of the All Progressives Congress (APC).
As a member of the APC, the former speaker of the house of representatives, who is one of the party's leaders of the Christian faith, kicked against the Muslim-Muslim ticket adopted by the party.
Bola Tinubu, APC presidential candidate and Kashim Shettima, his running mate are both Muslims.
Members of a group of northern Christians in the APC had also expressed reservations over the Muslim-Muslim ticket of the APC, and said it would adopt a consensus candidate.
Babachir Lawal, former secretary to the government of the federation (SGF) and leader of the group, had said Obi would be the group's choice.
Dogara, however, alongside other members of the group, distanced themselves from Lawal's endorsement.
Peter Obi finally releases manifesto, promises to build world-class infrastructure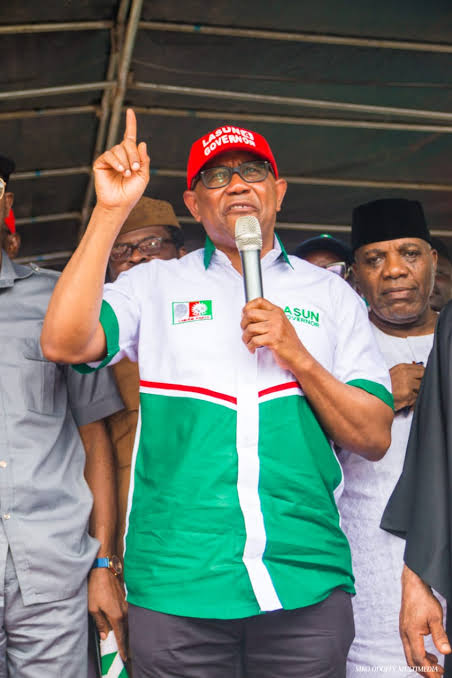 Peter Obi, the presidential candidate of the Labour Party (LP), has unveiled his manifesto.
Obi unveiled the 72-page manifesto via his Twitter handle on Sunday.
The manifesto is titled "It's POssible: Our Pact with Nigerians".
In the manifesto, the former Anambra governor listed seven priorities his administration would concentrate on if elected president in 2023.
Over the past few days, Obi had come under criticism in some quarters, especially among members of the All Progressives Congress (APC), for not having a manifesto.
In October, the LP presidential distanced himself from a manifesto attributed to him.
Obi had said he would personally release the LP manifesto to the public when it is ready.
In the manifesto released on Sunday, the former Anambra governor promised to move Nigeria from a consumption economy to a production-centred economy.
The LP presidential candidate said he would end banditry and insurgency if elected president.
"Restructure the polity through effective legal and institutional reforms to entrench the rule of law, aggressively fight corruption, reduce cost of governance, and establish an honest and efficient civil service," the manifesto reads.
"Leapfrog Nigeria into the 4th Industrial Revolution (4IR) through the application of scientific and technological innovations to create a digital economy.
"Build expansive and world-class infrastructure for efficient powers supply, rail, road and air transportation, and pipeline network, through integrated public-private partnerships, and entrepreneurial public sector governance.
"Enhance the human capital of Nigerian youths for productivity and global competitiveness through investment in world-class scholarship and research, quality healthcare, and entrepreneurship education.
"Conduct an afro-centric diplomacy that protects the rights of Nigerian citizens abroad and advances the economic interests of Nigerians and Nigerian businesses in a changing world."
Sanwo-Olu campaigns in Lagos (Photos)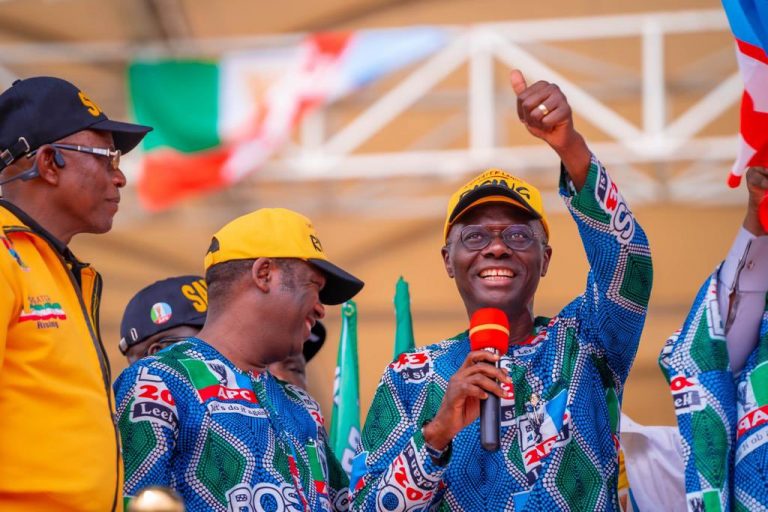 The Lagos State governor, Babajide Sanwo-Olu, on Saturday, began the campaign for his re-election bid at the Mobolaji Johnson Arena, Onikan.
Sharing pictures on Twitter, Sanwo-Olu said, "Lagos, today, it begins.
In a powerful show of support, our party leaders and members came out to join me in kicking off the journey to our second term which I have called a #GreaterLagosRising. I am humbled but energised for the vision that was written and is now in motion.
"With exemplary handling of #COVID19 and the many other health emergencies of our current world and the launch of a health insurance scheme that is non-discriminatory and truly citizen-focused, we are positioned to deliver the next best steps. #GreaterLagosRising means more.