Ogun state government warns residents against drinking water from well, borehole in flooded areas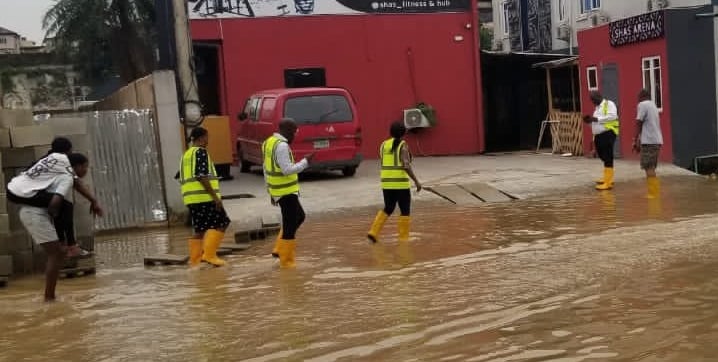 The Ogun government has asked residents in areas affected by flooding to be careful about their sources of drinking water.
The areas affected include border towns of Isheri, Warewa, Magboro, and Arepo.
Nigeria is experiencing its worst flooding in a decade with Benue, Delta, Bayelsa, Rivers, Kano, Edo, and Ogun as the worst-hit.
In a statement on Friday, Ola Oresanya, the state's commissioner for environment, said avoiding water from well and borehole sources in flooded areas would help residents prevent cholera and other waterborne diseases.
While inspecting the flooded areas, the commissioner said the appeal became necessary as flooding has contaminated the water sources.
Some of the contaminants were listed as fuel, pesticides, metals as well as pathogens from sewage, cemeteries, septic tanks and dead animals.
He said the state will embark on another round of dredging and clearing of drainage channels and waterways of silts in the affected areas.
The National Emergency Management Agency (NEMA) had earlier warned that the excess water released from the Lagdo dam in Cameroon will increase flooding, in addition to anticipated heavy rainfalls.
Oresanya, however, blamed the flooding on uncontrolled development and carefree attitude of some residents.
"Some residents are so inconsiderate that they built on waterways on the guise of having approvals. Even if they have the approvals, it would have been given in error through bad advice to the approving authorities," he said.
"The present government is, however, determined to correct these anomalies as the identified buildings and structures would be removed in the larger interest of other residents."
He asked the residents to heed the government's environmental advisory and ensure their surroundings are safe and healthy at all times.
Gridlock builds as trailer overturns on Otedola bridge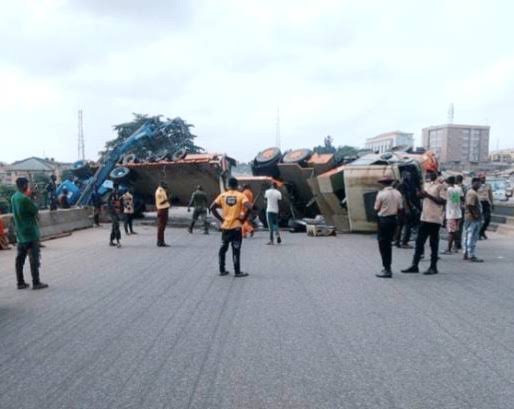 A trailer carrying a crane on Thursday overturned on the Otedola bridge near the Alausa secretariat in Lagos causing traffic to build in the area.
Our correspondent who passed by the bridge noticed that security operatives consisting of the Nigerian Police Force, Nigerian Army, Lagos State Traffic Mananagement Authority were present at the scene
All vehicular movement from secretariat have been diverted from the Lagos-Ibadan expressway to CMD-Magodo road to link underneath Otedola bridge back to Lagos-Ibadan expressway.
According to reports, there was no death recorded but the driver of the trailer sustained an injury on his right ankle
The accident occured while the driver of the trailer was trying to avoid collision with a broken-down vehicle.
'Cars, computers missing' — Adeleke gives ex-appointees 48 hours to return state properties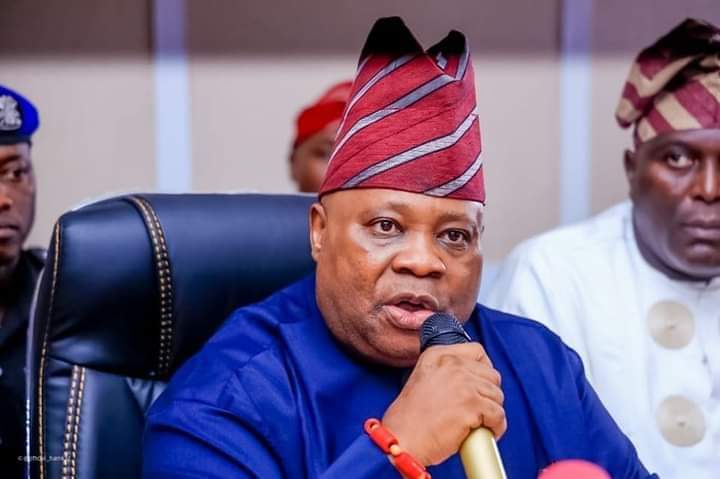 Ademola Adeleke, the Osun governor, has asked former appointees of the state to return all government properties in their possession.
The directive was issued on Wednesday in a statement by Olawale Rasheed, spokesperson to the governor.
The directive comes hours after Adeleke revoked the appointments of some appointees of the previous administration, and dissolved all non-statutory boards of ministries, departments, and agencies (MDAs).
According to Rasheed, the governor said any affected official who fails to comply with the order will face the wrath of the law.
"The Government of Osun State has directed former appointed officials to return government properties in their possession within 48 hours," the statement reads.
"The directive was sequel to large scale diversion of government assets by top officials of the immediate past administration.
"Several official vehicles are missing while official records indicated that two third of former state officials left with fleet of car in their office.
"Most Ministries, Departments and Agencies (MDAs) were stripped of operational assets like vehicles, computers and even residential fittings. Residences of some top officials were equally pillaged even to lamp fitting.
"Any former official who refuses to comply with the directive will face the full weight of the law."
I did not sack 12,000 workers and 3 monarchs, says Adeleke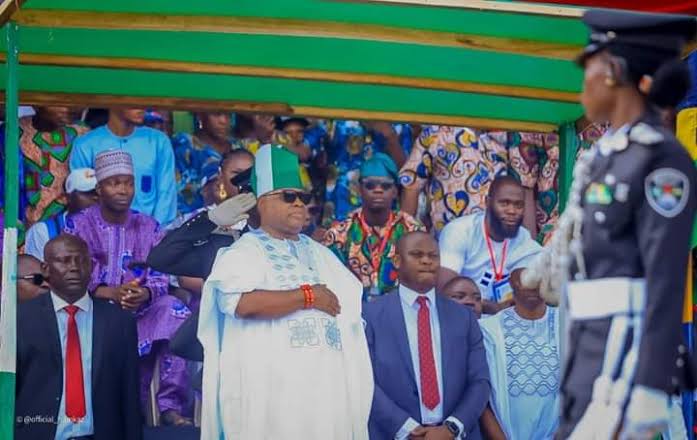 Governor Ademola Adeleke of Osun state has denied sacking 12,000 workers and dethroning three monarchs in the monarchs.
Speaking on Rave FM in Osogbo during a talk show programme, "Frank Talk," the spokesperson of the governor, Olawale Rasheed, said Adeleke has neither sacked 12,000 workers nor dethroned any monarch.
According to Rasheed, the appointments and employment by the administration of Oyetola will be reviewed to ensure due process.
According to him: "There was never sack of any worker or traditional ruler. We only set up a review panel. It is impossible to sack and put a review panel in place.
"The review panel is to look at the numbers of the people that were employed, due processes of the employment, and qualification among other things.
''Before our taking over, there were issues of backdating of employment, even till last year. So order 1-5 will be operationalized by order 6 which are the panels.
"Those that were employed from July 17 till our takeover are still at work presently, they have not been sacked. The staff audit will review the employment. Within 4 hours, Adeleke has dismantled the illegality of 4 months, all the bobby traps he has dismantled them."
Recall that Adeleke signed Executive Orders 3, 4, and 5, nullifying all employment and appointments by his predecessor Gboyega Oyetola from July 17 till his inauguration on Monday.
He issued another Executive Order dethroning three of the monarchs installed by Oyetola.
He explained that executive order one to five shows the intentions of the administration to review, nullify, and set aside, and the instrumentality to effect the orders was order six which is the composition of the panel.
The order states: "All employments in the service of Osun State Government made in any capacity into any capacity in all the Ministries, Departments, Agencies, Commissions, Boards and Parastatals after July 17th, 2022 be and are hereby nullified.
"All appointments in the service of Osun State Government made in any capacity into any capacity in all the Ministries, Departments, Agencies, Commissions, Boards and Parastatals after 17th July, 2022 be and are hereby reversed.
"Executive Order number five on Chieftaincy Affairs and appointment of traditional rulers. All appointments of traditional rulers made by Osun State Government after 17th July, 2022, are hereby ordered to be reviewed to ensure there was strict compliance with due process of chieftaincy declarations and native law, custom and tradition relating to such chieftaincies.
"In the case of Ikirun, Iree and Igbajo, to avoid further breakdown of law and order, the appointments of Akinrun of Ikinrun, Aree of Ire and Owa of Igbajo are hereby put on hold pending review.
Subsequently, the palaces of Akinrun of Ikirun, Aree of Iree and Owa of Igbajo should remain unoccupied, while security agencies are hereby ordered to take charge."