Security operatives raid brothels in Port Harcourt, rescue 50 girls forced into prostitution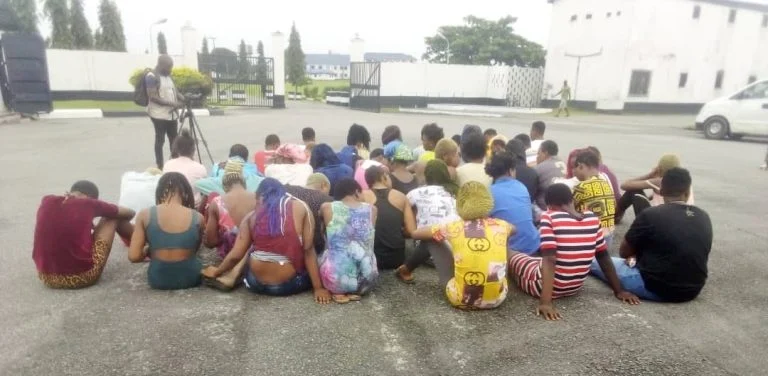 The Nigeria Navy says 50 girls allegedly forced into prostitution in Port Harcourt, the Rivers capital, have been rescued from two brothels in the state.
Three suspected sex traffickers were also arrested during the raid on the brothels in Port Harcourt.
Richard Iginla, base information officer, Nigerian Navy Ship (NNS) Pathfinder, paraded the suspects on Sunday.
He also said the operation was carried out in collaboration with the Nigeria Agency for the Prohibition of Trafficking in Persons (NAPTIP) and Nigeria Security and Civil Defence Corps (NSCDC).
"We got the intelligence from NAPTIP, who had been tracking the brothels that camped juveniles with some of them as young as 14 years of age. So, after NAPTIP shared intelligence with us, a joint team was set up and we immediately went into action to rescue the victims," he said.
"No fewer than 50 young girls forced into prostitution were rescued, while three recruiters and operators of the brothels were arrested."
Iginla identified the brothels as Royal Brothel and Cool Breeze Brothel, both located on Azikiwe road in Diobu area of Port Harcourt, had been shut down.
He added that efforts are ongoing to effect the arrest of the leaders of the sex-trafficking ring, who recruits children from villages.
"Children are gifts from God, and we must do everything humanly possible to protect them from all forms of abuse and exploitation," he said.
"The Nigeria Navy will continue to collaborate with relevant agencies to bring to justice criminal elements that traffic persons either on land or through the waterways.
"On conclusion of our investigation, the suspects and victims will be handed over to NAPTIP for further investigation and possible prosecution."
Speaking on the development, Nwa-Amaka Ikediashi, head of NAPTIP in Rivers, said the agency would rehabilitate the victims and reintegrate them into the society.
"NAPTIP, as the focal agency mandated to fight all forms of human trafficking and sexual exploitation, will conduct proper investigation, to ensure justice is served," she said.
One of the girls rescued, who narrated her experience, said she was brought from her village.
"One of my village women brought me and two other girls from our village with the impression that we are coming to serve in a hotel," the girl said.
"Shortly after we arrived at the hotel, she went outside and collected money from one woman (brothel operator). That was the last time I saw her.
"Later, the woman, simply known as madam, put us in a room and told us that we would work as prostitutes.
"In a day, I sleep with more than 10 men, and whatever money I make, I give it to my madam. We hustle by wearing pants to seduce the men. After admiring what they see, they take us into the room, have sex with us and give us money.
"We do a daily account of any money we collect to our madam's sister, who calculates and gives us our cut."
Gridlock builds as trailer overturns on Otedola bridge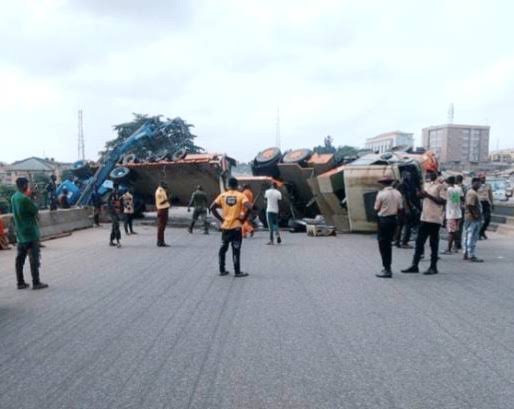 A trailer carrying a crane on Thursday overturned on the Otedola bridge near the Alausa secretariat in Lagos causing traffic to build in the area.
Our correspondent who passed by the bridge noticed that security operatives consisting of the Nigerian Police Force, Nigerian Army, Lagos State Traffic Mananagement Authority were present at the scene
All vehicular movement from secretariat have been diverted from the Lagos-Ibadan expressway to CMD-Magodo road to link underneath Otedola bridge back to Lagos-Ibadan expressway.
According to reports, there was no death recorded but the driver of the trailer sustained an injury on his right ankle
The accident occured while the driver of the trailer was trying to avoid collision with a broken-down vehicle.
'Cars, computers missing' — Adeleke gives ex-appointees 48 hours to return state properties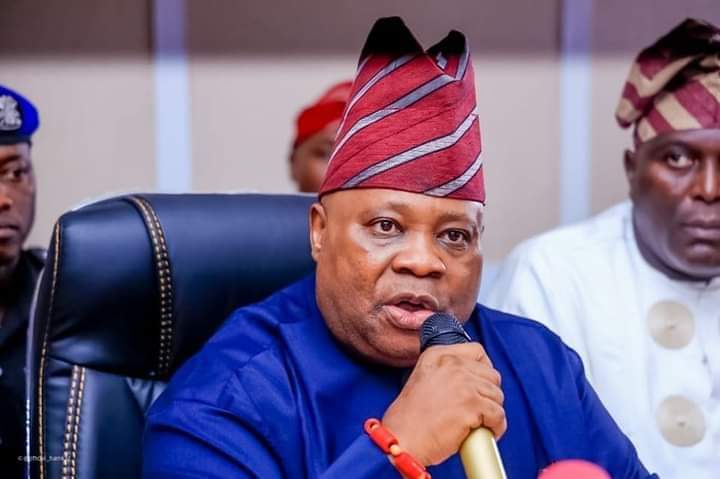 Ademola Adeleke, the Osun governor, has asked former appointees of the state to return all government properties in their possession.
The directive was issued on Wednesday in a statement by Olawale Rasheed, spokesperson to the governor.
The directive comes hours after Adeleke revoked the appointments of some appointees of the previous administration, and dissolved all non-statutory boards of ministries, departments, and agencies (MDAs).
According to Rasheed, the governor said any affected official who fails to comply with the order will face the wrath of the law.
"The Government of Osun State has directed former appointed officials to return government properties in their possession within 48 hours," the statement reads.
"The directive was sequel to large scale diversion of government assets by top officials of the immediate past administration.
"Several official vehicles are missing while official records indicated that two third of former state officials left with fleet of car in their office.
"Most Ministries, Departments and Agencies (MDAs) were stripped of operational assets like vehicles, computers and even residential fittings. Residences of some top officials were equally pillaged even to lamp fitting.
"Any former official who refuses to comply with the directive will face the full weight of the law."
I did not sack 12,000 workers and 3 monarchs, says Adeleke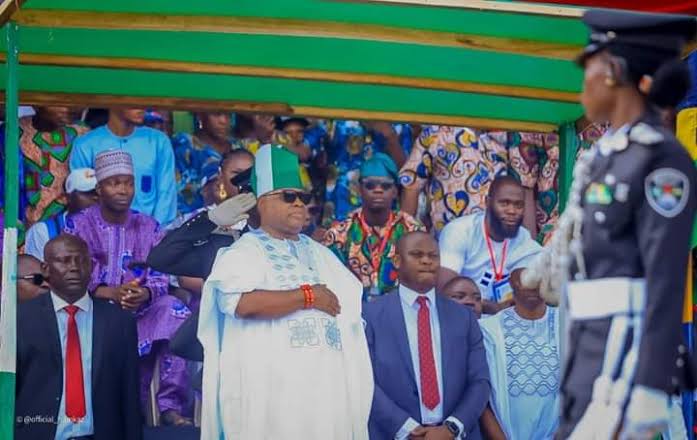 Governor Ademola Adeleke of Osun state has denied sacking 12,000 workers and dethroning three monarchs in the monarchs.
Speaking on Rave FM in Osogbo during a talk show programme, "Frank Talk," the spokesperson of the governor, Olawale Rasheed, said Adeleke has neither sacked 12,000 workers nor dethroned any monarch.
According to Rasheed, the appointments and employment by the administration of Oyetola will be reviewed to ensure due process.
According to him: "There was never sack of any worker or traditional ruler. We only set up a review panel. It is impossible to sack and put a review panel in place.
"The review panel is to look at the numbers of the people that were employed, due processes of the employment, and qualification among other things.
''Before our taking over, there were issues of backdating of employment, even till last year. So order 1-5 will be operationalized by order 6 which are the panels.
"Those that were employed from July 17 till our takeover are still at work presently, they have not been sacked. The staff audit will review the employment. Within 4 hours, Adeleke has dismantled the illegality of 4 months, all the bobby traps he has dismantled them."
Recall that Adeleke signed Executive Orders 3, 4, and 5, nullifying all employment and appointments by his predecessor Gboyega Oyetola from July 17 till his inauguration on Monday.
He issued another Executive Order dethroning three of the monarchs installed by Oyetola.
He explained that executive order one to five shows the intentions of the administration to review, nullify, and set aside, and the instrumentality to effect the orders was order six which is the composition of the panel.
The order states: "All employments in the service of Osun State Government made in any capacity into any capacity in all the Ministries, Departments, Agencies, Commissions, Boards and Parastatals after July 17th, 2022 be and are hereby nullified.
"All appointments in the service of Osun State Government made in any capacity into any capacity in all the Ministries, Departments, Agencies, Commissions, Boards and Parastatals after 17th July, 2022 be and are hereby reversed.
"Executive Order number five on Chieftaincy Affairs and appointment of traditional rulers. All appointments of traditional rulers made by Osun State Government after 17th July, 2022, are hereby ordered to be reviewed to ensure there was strict compliance with due process of chieftaincy declarations and native law, custom and tradition relating to such chieftaincies.
"In the case of Ikirun, Iree and Igbajo, to avoid further breakdown of law and order, the appointments of Akinrun of Ikinrun, Aree of Ire and Owa of Igbajo are hereby put on hold pending review.
Subsequently, the palaces of Akinrun of Ikirun, Aree of Iree and Owa of Igbajo should remain unoccupied, while security agencies are hereby ordered to take charge."