You are not a man of the house if your woman asks for N500k and you don't have it – Socialite Francis Van-Lare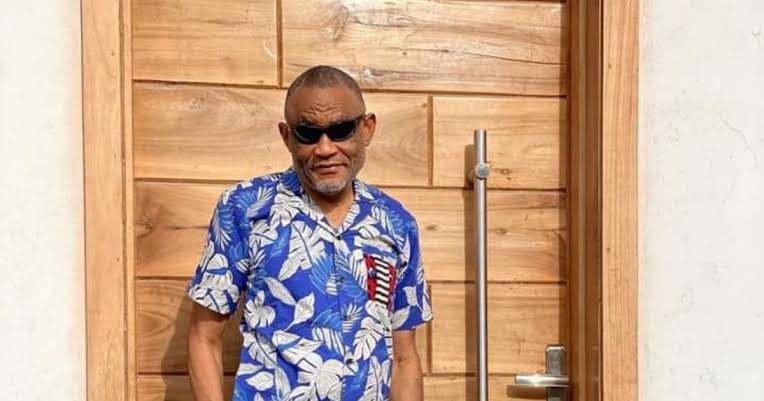 US-based Nigerian businessman, Francis Van-Lare, has said that a man who can't afford to give his woman N500k is not a "man of the house"
"You are not a man of the house if your woman asks you N500k and you don't have it . Men are supposed to be the pillar not the pillow." he said on Wednesday, October 19.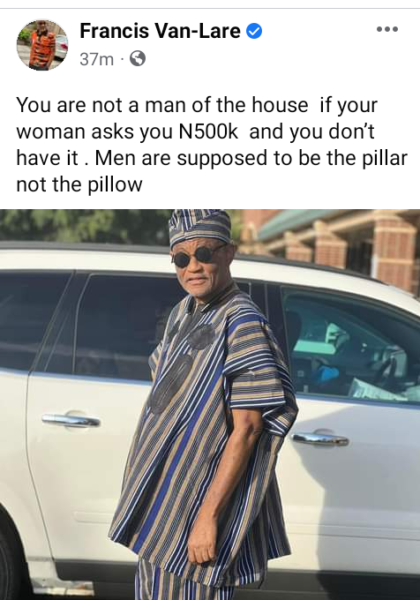 Just recently, Francis claimed that one of his ex-wives used to photoshop his picture to make people think that she married a younger man.
The Businessman, who has gotten married to five different women which all ended in divorce, took to his Facebook page to make this claim.
"I used to be married to someone who will 'photoshop' my face to make me look 20 years younger . I was like why marry me and be deceiving the world that you married a man in his 30s? See her work her" he wrote.
Don't leave your man if he cheats… men are born to, Funke Adesiyan advises women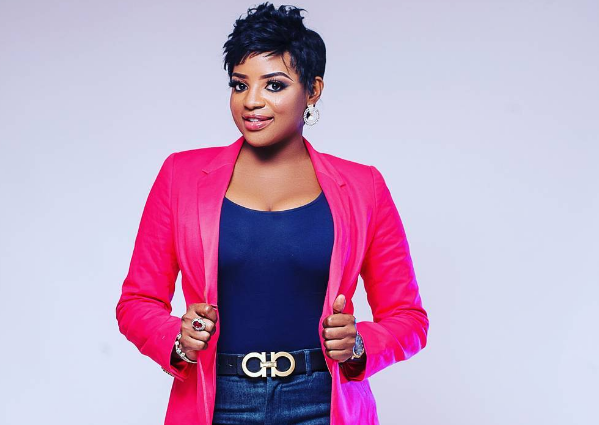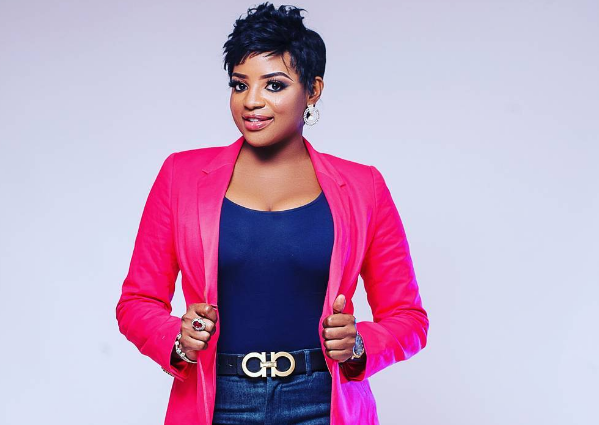 Funke Adesiyan, Nollywood actress, says that women should not leave their husbands when they cheat on them because men are naturally inclined to cheat.
In a post on her Instagram page, the actress, who represented the People's Democratic Party in the 2015 house of assembly election in Oyo likened leaving a man because he cheats to leaving a place because it rains.
"Leaving a man because he cheats is like relocating from Nigeria to America because of rain. News flash: it rains everywhere. Find a good man who loves you and appreciates you.
"Every other thing can be worked on. Men are naturally born to cheat. Look beyond this flaw and focus on how he treats you."
The post did not go down well with some people and this earned the actress a tongue lash in the comment section.
In response, she wrote: "I read many comments from my last post and I couldn't stop laughing. It's funny that it's women who are answering for their men that the men don't cheat on them.
"My sisters, let the men answer for themselves. The truth is a bitter pill to swallow. You cannot answer for people. I stand by my position 100%.
"I know that as modern women, we aim to break away from the norm and be as westernised as possible but believe me, it happens everywhere.
"It's only those who got caught that are referred to as offenders. Not many men can sincerely say they have been with only their partner for 10 years without "playing". It doesn't make them bad people, it just makes them men."
Reality TV star Porsha Williams marries Nigerian fiancé, Samuel Guobadia
American Reality TV star, Porsha Williams, has tied the knot with Nigerian entrepreneur, Samuel Guobadia, in a traditional wedding on Friday.
The couple held the event at the Four Seasons Hotel Atlanta in front of 250 guests, People reports. They will afterwards have a white wedding on Saturday evening.
In an exclusive interview with People, The Real housewives of Atlanta star said she was "ridiculously excited" for the big step she was taking.
"I am just so ready. I'm not even nervous. I mean, I know I'm marrying the love of my life, and it's just going to solidify our relationship and our family bond. I'm calm and excited," she said.
Guobadia, while also expressing his excitement, said he was a little nervous but for another reason.
"When you say you're a little nervous, and you're about to walk down the aisle, people are thinking, 'Uh-oh,'" he said. "But my nervousness comes from the family members and friends who I haven't seen in a long time coming into Atlanta!," added Guobadia.
Williams and the Nigerian entrepreneur announced their engagement in May 2021 shortly after Guobadia announced his split from ex-wife Falynn, another star from the Real Housewives of Atlanta show.
British model, Katie Price and Carl Woods split over infidelity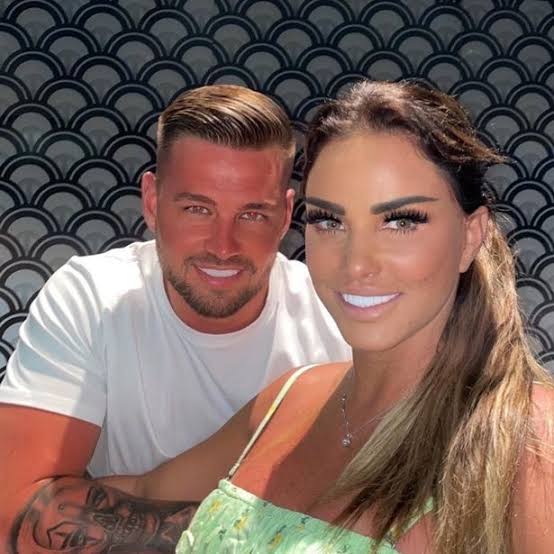 Popular British model, Katie Price, and her lover, Carl Woods, have split over the model's alleged infidelity.
Woods, a 33-year-old car salesman, announced the split on his Instagram story on Tuesday, where he revealed that the 44-year-old model confessed to cheating on him.
His announcement marked the end of their two-year relationship, which had been marred with rumours of breakup.
However, this is the first time Woods publicly announced that he was no longer with Price.
Woods said in the video, "So, there's no easy way for me to say this and to be honest with you, it's quite embarrassing. But me and Kate are not together anymore.
"I found out yesterday that Katie cheated on me. She's admitted that she cheated on me. She slept with somebody else.
"So yeah, that's the end of that. I guess I'm just gonna focus on rebuilding myself and get my life back on track. And concentrating on me but that's done."
Price and Woods started dating in June 2022 after they met through TV work and mutual friends.
Though Price was yet to comment on the split, she, however, shared a picture of herself and her 20-year-old son, Harvey on her Instagram page.
"Morning cuddles with my @officialharveyprice," she captioned the picture.