Pretty Mike narrates how he battled depression and fathered six kids from different women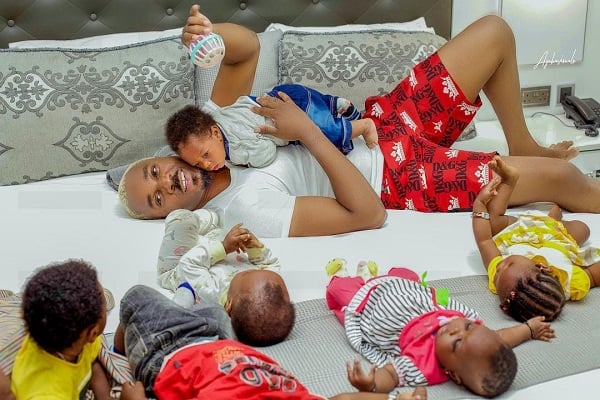 Pretty Mike agrees he fathered six kids from different ladies whose conceptions weren't from him.
The socialite spoke of his relationship life in an interview with Chude Jideonwo, the media entrepreneur.
Mike, while making an analogy, clarified that a man of kind can father a child who isn't necessarily his biological.
He spoke of this when he was asked if the claims are true that he had up to six children with different women.
"To me, it's real life. Yes. [I fathered six kids for six women at the same time.] It's a mystery. You can father six kids or more and they are not biologically your kids. I get shocked when people think the way they think," Mike said.
"Let's assume, technically, that you have six girlfriends and you impregnated them the same month or within a two or three-month period. Women, as notorious as they are, will never agree to come up and follow you in public.
"No matter how rich you are, two will say no. I'm an introvert. If the money is out there, I can switch. The only thing that makes me an extrovert is business. Why I do this because relevance is key. I don't want to be sidelined."
Pretty Mike also spoke of how he battled depression after people within his tight-knit circle disappointed him.
"One of the things that trigger that is, sometimes, you let people get to you. Don't let people get to you, or someone close disappoints you. Someone like me has a lot of friends but also doesn't have a lot of friends," the socialite said.
"When someone in your intimate camp disappoints, it hurts. That's not the people in the comments. It's the people in your circle. At that point, you go into some kind of depression. I speak of short-term emotional depression.
"You have to shake it off. I had to stand up and just keep moving. The question you have to ask yourself is, ' are you done? Is this the end of the world?' I have to remind myself that I haven't had sex in Monaco yet. Still things to do."
I'm confident in APC's plans for Nigeria, says Mercy Johnson at Tinubu's rally (Photos)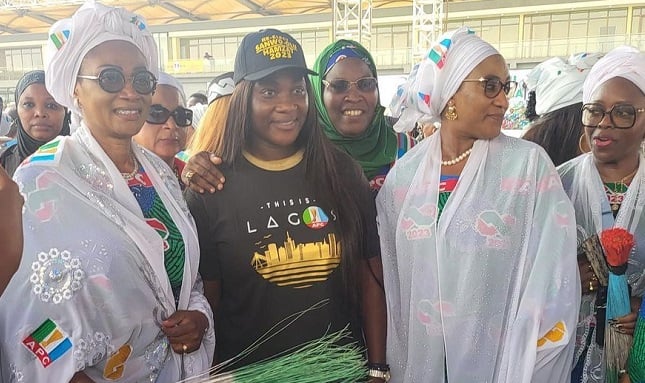 Mercy Johnson, the actress, says she is confident in the plans of the All Progressive Congress (APC) for women and Nigerians.
The film star spoke on Wednesday when she attended the APC women's rally for Bola Tinubu, presidential candidate of the party.
In a social media post, the actress shared photos from the event alongside Babajide Sanwo-Olu, governor of Lagos state.
The movie star said activities at the event have renewed her hope that the APC has good intentions for the country.
"Earlier today, I joined His Excellency, Babajide Sanwo-Olu @jidesanwoolu and the incredible women leaders that make up the APC women presidential campaign Team' at the APC women south-west rally," she wrote.
"As a woman, wife to an APC candidate @princeodiokojie and mother, I am confident in the APC plan for women which is in line with the 35% affirmative action for women.
"From the goodwill messages and conversations with the women leaders, I was opportuned to hear from the horse's mouth and I have renewed hope and confidence in the good intentions, great plans and actions to follow for the women of Nigeria and for the people of Nigeria."
D'banj breaks silence on arrest by ICPC over 'N-Power fraud'
D'banj, the singer, has denied any complicity in the fraud allegations against him by the Independent Corrupt Practices and Other Related Offences Commission (ICPC).
On Tuesday, the singer was detained by the ICPC — a few weeks after he was summoned by the commission.
The ICPC confirmed he is under investigation for allegedly diverting funds released for the federal government's N-Power project.
In 2016, FG initiated the N-Power project to address the country's unemployment challenges.
It was said that the stipends meant for beneficiaries of the initiative were paid to accounts linked to D'banj.
In a statement on Wednesday, Maryam El-Yakub Musa, a legal representative of the singer, denied that D'banj had any connection to the fraud or its orchestrators.
"We acknowledge the fact that the ICPC is currently investigating allegations of diversion of N-POWER funds as already stated by the commission," the statement reads.
"We continue to hold the expectation that the Commission will stay the course of professionalism in this matter.
"For the record, D'banj has no such contractual or incidental relationship whatsoever with any group or persons within or outside government in relation to the disbursement, operations, access, or control of the operation of any government fund through an agency or its subsidiaries.
"Emphatically and as a matter of policy, Dbanj and his management do not engage in business dealings unless they are legitimate, properly documented, and obtainable in law."
On the allegation that D'banj failed to honour ICPC's invitations, the lawyer said the singer was out of the country.
"He sent in letters through his attorneys to the commission in respect of his schedule in South Africa and promised to visit the Commission when he returned," the lawyer added.
"On Monday the 5th of December, 2022, D'banj freely and of his law-abiding accord went to the Commission at about 2 pm immediately after he arrived in Abuja.
"D'banj has encouraged the commission to carry out its investigation thoroughly to ensure that characters attempting to bring him into such ridiculous activities must be brought to book.
"It is inconceivable that D'banj whose very career is a reference point for hard work, diligence and honesty would lend his reputation built steadfastly over the years to acts of such accusations."
JUST IN: ICPC arrests and detains D'banj
The Independent Corrupt Practices and other Related Offences Commission, ICPC, has arrested and detained Oladapo Oyebanji, known by his stage name, D'banj, over alleged diversion of N-Power fund.
The musician was arrested and detained Tuesday after ICPC operatives closed in on him, to surrender himself at the Agency's headquarters in Abuja.
A source told newsmen that D'banj had dodged summons for weeks, claiming to be overseas for scheduled concerts each time he was invited to appear for interrogation over fraud allegation.
The pop star, a wealthy Nigerian celebrity, is accused of fraudulently diverting hundreds of naira earmarked by the Nigerian government for N- Power project, an empowerment programme set up by the Nigerian government in 2016 to address youth unemployment and increase social development.
Investigators allege that D'banj colluded with some compromised government officials to introduce ghost beneficiaries into the payroll of the scheme. The stipend paid to those beneficiaries are then paid to accounts that have now allegedly been linked to the pop star.
After the musician failed to show up for interrogation despite multiple invitations, the ICPC moved to arrest him, forcing him to show up at the commission's office on Tuesday.
Sources say, on arrival, D'banj was subjected to a prolonged interrogation session after which he was detained. His plea for administrative bail was rejected by officials who said the musician could not be trusted to attend his trial if released on bail.
Our sources said the ICPC might approach the court on Wednesday for an extended remand order to enable the agency complete its investigation before charging the musician to court.
The spokesperson for the ICPC, Azuka Ogugua, could not be reached to comment for this story, as calls and text messages sent to her telephone line have not been responded too. She is said to be attending a programme abroad.