South African court sends Zuma back to jail, says parole was unlawful
South Africa's Supreme Court of Appeal has ordered Jacob Zuma, the former president, back to prison to finish his sentence for contempt of court.
The court, on Monday, said the decision to release Zuma on early medical parole was unlawful.
In June 2021, Zuma was sentenced to 15 months in prison after he was found guilty of contempt of court following his refusal to appear before a graft panel.
The former president had defied an order by the constitutional court in January to appear at an inquiry into corruption while he was president.
However, in September 2021, he was released on medical parole but a high court ruling set aside the parole decision and ordered him to return to jail.
Zuma appealed the ruling, and on October 7, the department of correctional services said he had completed his sentence and, subsequently, he was freed.
But Tati Makgoka, the presiding judge, ruled that the decision to grant Zuma medical parole against the advice of the Medical Parole Advisory Board, a specialist body, was unlawful.
"The effect of setting aside this declarator is that once the order in this appeal is handed down, Mr Zuma's position as it was prior to his release, medical parole will be reinstated," the judge said.
"In other words, Mr Zuma, in law, has not finished serving his sentence. He must return to the Escourt Correctional centre to do so.
"On any conceivable basis, the commissioner's decision was unlawful and unconstitutional. The high court was correct to set it aside."
Donald Trump's Organization found guilty of tax fraud
Two The Trump Organization companies have been found guilty on multiple charges of criminal tax fraud and falsifying business records connected to a 15-year scheme.
The Trump Corp. and Trump Payroll Corp — the two companies — are owned by former United States President Donald Trump.
Juan Merchan, the justice who presided over the trial in state court in New York on Monday, said the Trump Organization — which operates hotels, golf courses, and other real estate outfits around the world — was found guilty on all charges of tax fraud.
The case centred on charges that the company paid personal expenses like free rent and car leases for executives — including Allen Weisselberg, former chief financial officer — without reporting the funds.
Trump was not charged in the case.
However, according to testimony during the four-week trial, the former president had a hand in the fraud as he reportedly signed bonus checks annually, paid private school tuition for Weisselberg's grandchildren, authorised the lease for his luxury Manhattan apartment and approved a salary deduction for another executive.
While the company is not at risk of being dissolved, the charges could impact its ability to do business such as obtain loans or contracts.
"This was a case about greed and cheating," said Alvin Bragg, Manhattan's district attorney.
"The Trump Corporation and the Trump Payroll Corporation got away with a scheme that awarded high-level executives with lavish perks and compensation while intentionally concealing the benefits from the taxing authorities to avoid paying taxes.
"Today's verdict holds these Trump companies accountable for their long-running criminal scheme."
Peru's president, Pedro Castillo impeached and arrested after attempting to dissolve congress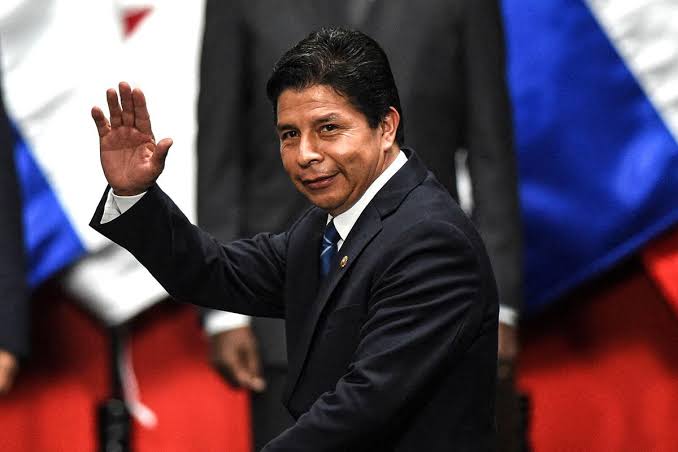 Peru swore in a new president on Wednesday following a day of political turbulence that saw former President Pedro Castillo arrested after making a last-ditch bid to cling to power.
Dina Boluarte, Castillo's vice, was eventually sworn in, making her Peru's first female president.
She was elected after a majority of 101 members in the country's 130-person legislative body voted to impeach Castillo.
Earlier on Wednesday, the former president said he would shut down the opposition-controlled congress, launch a "government of exception," and call for new legislative elections.
In a televised speech, he said "a new congress with constituent powers to draw up a new constitution" would be convened "within no more than nine months".
"In response to citizens' demands throughout the length and breadth of the country, we have decided to establish an exceptional government aimed at re-establishing the rule of law and democracy," the leftist leader said.
His speech sparked outrage and angry accusations from both opposition politicians and his allies that he was attempting a coup. Many ministers also resigned from their positions.
Castillo attempted to dissolve congress hours before it was scheduled to begin the third round of impeachment proceedings against him since he took office in July 2021, but he was unsuccessful.
Boularte called for a political truce in her acceptance speech as the nation's new leader.
She also announced the formation of a new cabinet that would include members of all major parties.
German police arrests 25 people on suspicion of plotting coup
The police in Germany have arrested 25 individuals across the country over an alleged plot to overthrow the government.
The suspects were alleged to be members of the Reichsbürger (Citizens of the Reich) movement.
The Reichsbürger is a far-right movement that does not believe in the legitimacy of the modern German state.
According to the BBC, reports from Germany suggest that the far-right group was planning to attack the Reichstag, the parliament building, and seize power.
Heinrich X111, a 71-year-old man, is alleged to have been at the heart of the movement's alleged plot to overthrow the government.
Marco Buschmann, Germany's justice minister, posted on Twitter saying the federal prosecutor-general is investigating a suspected terrorist network with ties to the Reichsbürger movement.
Buschmann said there is suspicion that the movement is planning an armed attack on constitutional bodies.
"Democracy is well defended: Since this morning, a major anti-terror operation has been taking place," the minister said.
"The Federal Public Prosecutor is investigating a suspected terrorist network from the Reich citizen milieu. There is a suspicion that an armed attack on constitutional bodies was planned."