Indonesia parliament approves ban on extra-marital sex
Indonesia's parliament on Tuesday approved legislation that would outlaw sex outside marriage in a move critics said was a huge setback to rights in the world's most populous Muslim country.
After the new criminal code was endorsed by all nine parties in a sweeping overhaul of the legal code, deputy house speaker Sufmi Dasco Ahmad banged the gavel to signal the text was approved and shouted "legal".
A revision of Indonesia's criminal code, which stretches back to the Dutch colonial era, has been debated for decades.
Rights groups had protested against the amendments, denouncing a crackdown on civil liberties and political freedoms, as well as a shift towards fundamentalism in Muslim-majority Indonesia, where secularism is enshrined in the constitution.
"We have tried our best to accommodate the important issues and different opinions which were debated," Yasonna Laoly, Minister of Law and Human Rights, told parliament.
"However, it is time for us to make a historical decision on the penal code amendment and to leave the colonial criminal code we inherited behind."
A provision in the text, which still needs to be signed by the president, states the new criminal code will be applicable in three years.
– 1 year in prison –
Some of the most controversial articles in the newly passed code criminalise extra-marital sex, as well as the cohabitation of unmarried couples.
According to the text seen by AFP, illegal cohabitation will have a maximum sentence of six months imprisonment, and sex outside of marriage will be punished with one year in prison.
There are also fears these rules could have a major impact on the LGBTQ community in Indonesia, where same-sex marriage is illegal.
The spokesperson of the Law and Human Rights Ministry's criminal code bill dissemination team, Albert Aries, defended the amendments before the vote and said the law would protect marriage institutions.
He said acts of extra-marital sex could only be reported by a spouse, parents or children, limiting the scope of the amendment.
The article on extra-marital sex has been criticised by Indonesian business organisations as detrimental to tourism, though authorities insisted foreigners travelling to Bali would not be affected.
At a business conference before the vote on Tuesday, US ambassador to Indonesia Sung Yong Kim said he was concerned about "morality clauses" in the criminal code that can have "negative" impact on businesses.
Before the vote, a shouting match erupted between a lawmaker from the Prosperous Justice Party or PKS and the deputy house speaker.
"Don't be a dictator", shouted Iskan Qolba Lubis, the lawmaker from the Islamist party, after he was prevented from speaking.
Bambang Wuryanto, head of the commission that oversaw deliberations on the text, acknowledged "this is a product by humans and hence it will never be perfect".
But he invited critics to "file a judicial review to the constitutional court" instead of demonstrating.
Rights groups slammed the legislation as morality policing.
"We are going backward… repressive laws should have been abolished but the bill shows that the arguments of scholars abroad are true, that our democracy is indisputably in decline," Amnesty International Indonesia director Usman Hamid told AFP.
About a hundred people protested against the bill Monday and unfurled a yellow banner that read "reject the passing of the criminal code revision", with some dropping flower petals on the banner as is done for a funeral.
Another protest to reject the new law was scheduled to be held on Tuesday in front of the parliament building.
Turkey-Syria earthquake: Rescuers battle snowstorm to find survivors as death toll nears 4500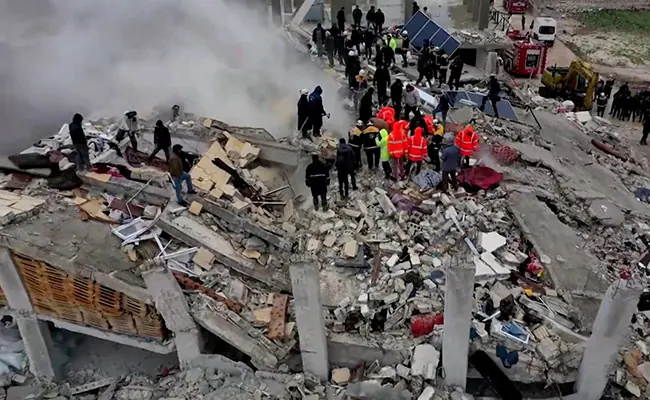 The death toll from the 7.8 magnitude earthquake that ripped through Turkey and Syria on Monday has now climbed past 4,300 people.
Yunus Sezer, Turkey's head of disaster services, said at least 2,921 people were killed and more than 15,800 others injured.
In neighboring Syria, at least 1,451 people have died, SANA, the Syrian state news agency, reports.
After the initial earthquake, a series of aftershocks reverberated throughout the day with the largest coming about nine hours after as a second quake that measured 7.5 in magnitude.
Nearly 1,000 search and rescue volunteers have been deployed from Istanbul, Turkey's largest city, along with dogs, trucks, and aid.
A host of countries have also sent rescue workers to help the disaster-struck region where a frantic effort to find and free trapped civilians is underway but a raging rain and snowstorm is hampering efforts.
Poor internet connections and damaged roads between some of the worst-hit Turkish cities, homes to millions of people, have also hindered efforts to assess the impact and plan help.
Residents of the southern Turkish province of Hatay told Reuters that they have had little help since Monday's earthquakes.
Weeping in the rain, a resident who gave his name as Deniz wrung his hands in despair.
"They're making noises but nobody is coming," Reuter quoted him to have said.
"We're devastated, we're devastated. My God … They're calling out. They're saying, 'Save us' but we can't save them. How are we going to save them? There has been nobody since the morning."
Rescuers are working around the clock leaving them "very exhausted" as they wait for more aid.
Second earthquake hits Turkey as death toll nears 1500
More than 1,300 people have died in Turkey and Syria after a 7.8 magnitude earthquake hit Turkey early Monday.
BODEX BLOG had reported a death toll of at least 400 people and about 2,000 others injured earlier in the day.
Hundreds of buildings were completely destroyed in the quake, with tremors felt as far as Cyprus, Lebanon, Israel, and Egypt.
Hours later, there had been reports of major tremors in the affected region.
The European Mediterranean Seismological Centre confirmed that a second earthquake of at least 7.5 magnitude hit Turkey.
The earthquake came as the middle eastern country is experiencing a snowstorm that is expected to continue until Thursday.
Hundreds of thousands of Syrian refugees, displaced by the war in their home country, are settled in the regions of Turkey that have been worst hit by this morning's earthquake.
Turkey shelters more than 3.6 million Syrian refugees, according to data from Human Rights Watch.
So far, the Turkish government has received offers of assistance from the North Atlantic Treaty Organization (NATO), the European Union, and 45 countries including embattled Ukraine.
Turkish President Recep Erdogan said rescue teams have rescued over 2,400 people from under the rubble of buildings flattened by the quake, the worst to hit the country in 100 years.
JUST IN: Over 400 killed, others trapped as earthquake hits Turkey and Syria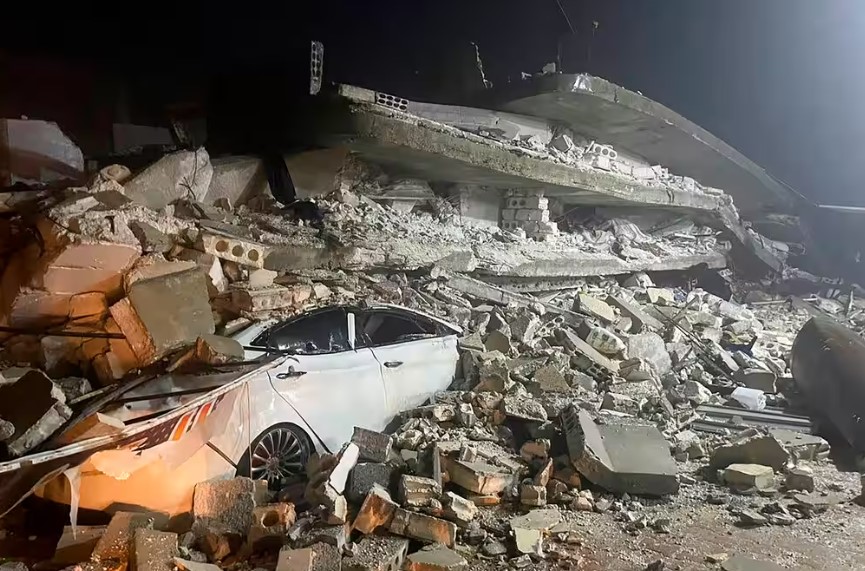 At least 400 people have been killed and about 2,000 others injured in Turkey and Syria after a 7.8 magnitude earthquake hit southern Turkey early Monday.
With a rising death toll, the earthquake is one of the strongest to hit Turkey in more than 100 years.
The earthquake sent tremors across the region that caused buildings to collapse.
Multiple aftershocks were felt in Cyprus, Lebanon, and Israel.
The earthquake came as the middle eastern country is experiencing a snowstorm that is expected to continue until Thursday.
Rescue teams are carrying out a frantic search for survivors trapped under chunks of concrete in cities and towns across Turkey and Syria.
Videos shared on social media showed dozens of collapsed buildings, while frightened residents huddled on the darkened streets amid the chaos.
There were also videos of the only runway at Hatay airport in southern Turkey torn open as a result of the earthquake.
Turkish President Recep Erdogan said the quake was felt in many parts of the country.
"I convey my best wishes to all our citizens who were affected by the earthquake that occurred in Kahramanmaraş and was felt in many parts of our country. All our relevant units are on alert under the coordination of AFAD," Erdogan said.
"Our search and rescue teams were immediately dispatched to the areas affected by the earthquake. Our Ministry of Interior and Health, AFAD, Governorships, and all other institutions started their work rapidly.
"We hope that we will get through this disaster together as soon as possible and with the least damage, and we continue our work.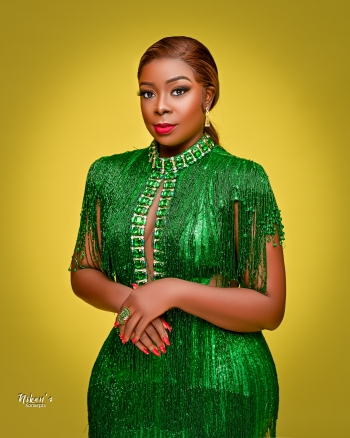 Bodex F. Hungbo, SPMIIM is a multiple award-winning Nigerian Digital Media Practitioner, Digital Strategist, PR consultant, Brand and Event Expert, Tv Presenter, Tier-A Blogger/Influencer, and a top cobbler in Nigeria.
She has widespread experiences across different professions and skills, which includes experiences in; Marketing, Media, Broadcasting, Brand and Event Management, Administration and Management with prior stints at MTN, NAPIMS-NNPC, GLOBAL FLEET OIL AND GAS, LTV, Silverbird and a host of others