Customs seizes N13bn drugs, military hardware at Lagos airport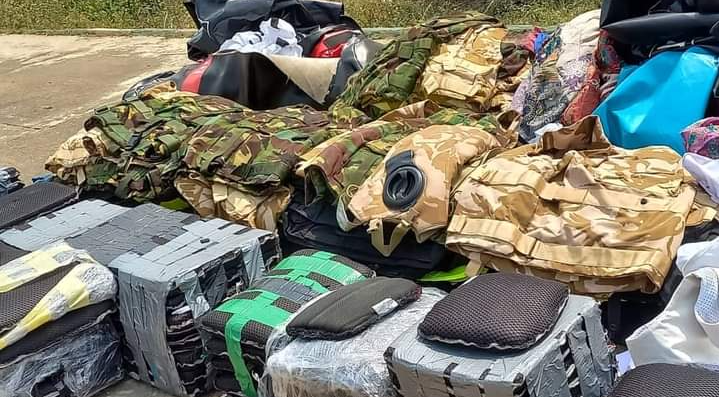 The Nigeria Customs Service (NCS) says it has intercepted some military hardware and uniforms at the Murtala Muhammed International Airport, Lagos.
The items were seized by customs officers attached to the airport cargo command.
Sambo Dangaladima, customs area controller, paraded the seized military hardware at the command in Ikeja on Tuesday.
Dangaladima said the hardware was imported from South Africa by a suspect identified as Olaolu Marquis, who had been arrested.
The customs area controller disclosed that the suspect failed to produce the end-user certificate, which is the lawful prerequisite for such importation.
The seized hardware are 309 pieces of military helmets, 106 pieces of military armless jackets, 352 pieces of ballistic body armoured pad, 119 pieces of police badges, five pieces of bulletproof jackets, 33 pieces of body side ballistic pad, and 105 pieces of ballistic chest plates.
In another development, the command intercepted 162 cartons of tramadol hydrochloride of 225 and 250 milligrams.
Giving details of the seizure, Dangaladima said the hard drugs originated from India and Pakistan and were routed through Addis-Ababa to Lagos.
The customs area controller said the seized drugs with a duty-paid value of N13,827,775,560 have been handed over to the National Drug Law Enforcement Agency (NDLEA).
"We are very much mindful of the fact that 2023 is an election year in Nigeria; the inflow traffic of these hard drugs that induce our youths to do extraordinary things (when taken) are bound to increase," he said.
"But I can assure the unscrupulous importers that MMAC is the most dangerous route for their illicit trade because we are always here to catch them and ensure that they face the wrath of the law.
"In total obedience to the directives of our able CGC – Rtd Col Hameed Ibrahim Ali, we are poised to continue intercepting and seizing the illicit products – especially hard drugs as they come."
EFCC arrests bank manager for hoarding N29m new notes in Abuja
The Economic and Financial Crimes Commission (EFCC) says it has arrested the operations manager of a commercial bank in the federal capital territory (EFCC) for hoarding N29 million of the new naira notes.
The anti-graft agency shared details of the arrest in a statement released on Monday.
The EFCC said the operations manager was arrested after refusing to load the bank's automated teller machines (ATMs) despite having N29 million in the vault.
"Before he was whisked away for further questioning, the operatives ordered the loading of all the ATMs and the payment of the stipulated amount across the counter to the delight of the distraught customers who had spent hours in queues without getting the new notes," the statement reads.
"This discovery, which indicates sabotage of the government's monetary policy by some banks, was made by the EFCC in continuation of the ongoing surveillance and visit to banks across the country to access their vaults and verify whether they were deliberately refusing to dispense the redesigned Naira notes.
"More than five bank branches were covered today by the operatives in Abuja. Similar exercises are ongoing in zonal commands across the country."
Fidelity Bank MD, Nneka Onyeali-Ikpe and secretary, sentenced to six weeks imprisonment
Nneka Onyeali-Ikpe, the Managing Director of Fidelity Bank has been sentenced to six weeks in prison.
A chief magistrate's court in Ogba, Lagos sentenced Onyeali-Ikpe on Monday for disobeying a court order.
According to FIJ, the court, presided over by Magistrate Lateef Owolabi, extended the same sentence to Ezinwa Unuigboje, the bank's secretary, after finding both guilty of disobeying a garnishee order of court restraining the bank from allowing a judgment debtor access to his account.
Owolabi had on December 6, 2022, issued the garnishee order for 17 banks to not grant Enabulele Ozaze, a judgement debtor, access to his bank accounts until he paid a judgement debt of N2.8 million.
Ozaze was on October 13, 2022, ordered to refund one Jibrin Ahmed the sum of N2.8 million. This sum was money Ahmed had earlier paid to Ozaze for the purchase of a Toyota Corolla car.
Two months after Ozaze failed to refund, Owolabi ordered 16 banks to not allow him transact on any account.
On January 25, 2023, Ahmed told the court, via an affidavit, that Fidelity Bank had flouted the garnishee order.
He showed the court how Ozaze had been withdrawing funds from his account. He claimed that Ozaze had N3,165,759.05k in his account with Fidelity Bank as of January 12, 2023, when the garnishee order was served.
Three days after the order was served, Ozaze withdrew N725,547.80k from the account. The following day, he transferred another N251,305.90 out of the bank.
On January 17, Obianuju Nwosu, Zenith Bank's legal officer, confirmed they received the garnishee order on December 22, 2022, and apologised to the court for the transactions on the account.
On January 18, the court ordered that the managing director and the bank's secretary to appear before it to explain why they should not be sentenced to prison.
Both were absent on Monday. Owolabi ordered their immediate remand and instructed the Lagos State Commissioner of Police to effect their arrest.
Europe-bound Cocaine, Heroin, Meth consignments intercepted at Lagos airport
..As NDLEA seizes 75.75kg skunk from Canada; arrests pregnant woman, school teacher, others over 2 tons of drugs seized in 8 states
Attempts to export large consignments of illicit drugs especially cocaine, heroin, methamphetamine and ephedrine to Dubai, UAE and Europe through various disingenuous modes of concealment by desperate drug cartels via the Murtala Muhammed International Airport, MMIA Ikeja Lagos have again been frustrated by operatives of the National Drug Law Enforcement Agency, NDLEA, who intercepted them and arrested those behind the bids.

Top on the list of those so far arrested in connection with the seizures is a Nigerian based in Athens, Greece, Iwuozor Edward Chinedu. He was debarked from an Ethiopian airline flight on Friday 3rd February after officers in the tarmac team of NDLEA intercepted two bags during a secondary check exercise at the foot of the aircraft.

When the bags were searched in the presence of Chinedu and other airport stakeholders, two big pellets wrapped with foil papers and some sprinkles of pepper were recovered from each of the two sides of one of the bags.
The pellets were used to construct false walls at the sides of the bag.

The two parcels contained substances that tested positive to cocaine and heroin with a gross weight of 1.30kgs and 900grams respectively.
During preliminary interview, Chinedu claimed he came to Nigeria three months ago to do a surgery, which he was not comfortable doing in Athens. He further claimed he was given the bag to deliver in Greece for a fee of two million naira (N2,000,000).

Similarly, NDLEA operatives at the NAHCO export shed of the airport on Monday 30th January arrested a pregnant woman, Mrs. Sylvester Gloria Onome after 800grams of skunk were discovered concealed in two small radio sets she was sending to Dubai, United Arab Emirate.

On the same day, operatives also intercepted a consignment going to Congo Kinshasa, containing 111 bottles of body cream that were used to conceal 24.50kgs of ephedrine, a chemical precursor and active ingredient to produce methamphetamine.
The cargo was later traced to a trader at Alaba trade fair complex, Ojo area of Lagos, Onyekachukwu Uduekwelu after the initial arrest of two freight agents.

Another housewife, Mrs. Okpara Chizoba Victoria was arrested at her residence at 37 Obashola street, Ijesha area of Lagos on Friday 27th Jan. following the seizure of 300grams of skunk hidden in a bag of crayfish she was sending to Dubai, UAE through a freight agent.

In the same vein, operatives at the SAHCO export shed of the airport on Thursday 26th Jan. intercepted a sack of new clothes going to Sierra Leone.
During a thorough search of the consignment, a parcel of white crystalline substance that tested positive to methamphetamine with a gross weight of 1kg, as well as 300grams of skunk and 100grams ecstasy (MDMA) were recovered.
A freight agent, Mfonabasi Victor Joseph was already arrested in connection with the seizure.

No fewer than 255,500 pills of tramadol and diazepam were recovered from an Italy based suspect, Duru Josephat who concealed the drugs in two of the bags he was travelling with to Milan, Italy on an Ethiopian airline flight.
He confessed he bought the drugs in Onitsha, Anambra state and was taking them to Italy to sell.
Barely a month after operatives at the Tincan seaport intercepted a consignment of 24.5kgs of cannabis indica concealed in used vehicles imported from Canada, they have again seized 75.75kgs of the same substance, which came from Montreal, Canada, hidden in a container of four used vehicles with number MSCU 5336680.
Coincidentally, the consignment has also been traced to a suspect already in custody in connection with the earlier seizure, Steve Adigwe and his accomplice, Cedrick Maduweke who is still on the run.

In Bauchi state, a suspect Clement Ekweozor, was nabbed at Rafin Zurfi area, Bauchi town with 28,088 pills of tramadol and other opioids, while 12,000 capsules of the same drug were among others recovered from four suspects when their commercial bus marked UGH 978 KS was intercepted at Koka junction, Asaba, Delta state by NDLEA operatives on Wednesday 1st January.

A 40-year-old secondary school teacher, Sani Isah was arrested by operatives at a house in Jekadefari area of Gombe on Thursday 2nd Jan. for dealing in new psychoactive substance,
Akuskura. 2,198 bottles of the substance concealed in six bags were recovered from him while he claimed to have started the illicit business since 2018.

In Ogun state, 190kgs of cannabis were recovered from a dealer, Emmanuel Ibrahim in
Lafenwa area of Abeokuta following credible intelligence, while three suspects: Mohd Sani Alasan, Yusif Musa and Musa Musa were arrested at Maidile area of Kano with 2,400 bottles of codeine-based syrup.
Another dealer, Bako Ibrahim, 55, was also arrested on Saturday 4th February in Sharada area of Kano with 420 blocks of cannabis weighing 282kgs.

Another dealer of the same substance, Akeem Azeez, 39, was nabbed with 612kgs recovered from him in Akure, Ondo state.
Following a follow up operation in Minna, Niger state, operatives of the Kogi state command of the Agency now have in their custody a suspect, Michael Ikechukwu Ofili, 30, over the interception of his consignment containing 106,800 pills of tramadol sent to him from Onitsha, Anambra state, along Okene-Lokoja highway.

While appreciating the efforts and commitment of the officers, men and women of the MMIA, Tincan, Bauchi, Delta, Gombe, Ogun, Kano, Ondo and Kogi state commands of the Agency towards ridding Nigeria of the menace of illicit drugs, Chairman/Chief Executive Officer of NDLEA, Brig. Gen. Mohamed Buba Marwa (Retd) urged them and their compatriots across the country not to relent.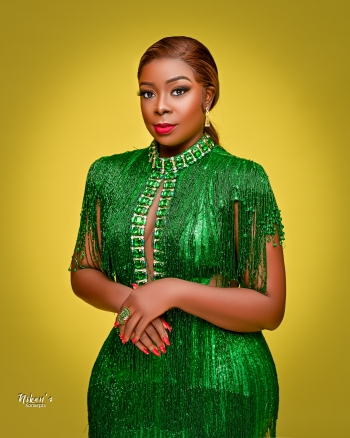 Bodex F. Hungbo, SPMIIM is a multiple award-winning Nigerian Digital Media Practitioner, Digital Strategist, PR consultant, Brand and Event Expert, Tv Presenter, Tier-A Blogger/Influencer, and a top cobbler in Nigeria.
She has widespread experiences across different professions and skills, which includes experiences in; Marketing, Media, Broadcasting, Brand and Event Management, Administration and Management with prior stints at MTN, NAPIMS-NNPC, GLOBAL FLEET OIL AND GAS, LTV, Silverbird and a host of others