NDLEA discovers cocaine hidden in packs of sweets at Lagos airport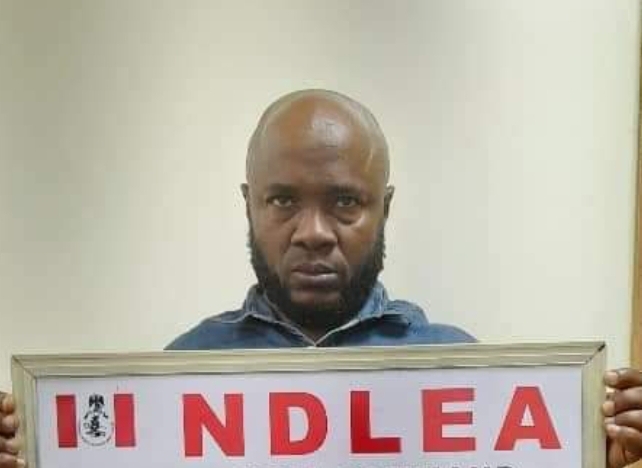 The National Drug Law Enforcement Agency (NDLEA) says it has arrested one Prosper Chux, a Nigerian returning from Brazil, with cocaine and cannabis hidden inside packs of sweets at the airport in Lagos.
According to a statement on Sunday by Femi Babafemi, the agency's spokesperson, Chux was arrested on December 25, 2022, at the 'D' arrival hall of the Murtala Muhammed international airport in Lagos.
The NDLEA said the suspect had just returned from Brazil, adding that the concealed cocaine parcels weighed 2.8 kilogrammes.
"Operatives of the National Drug Law Enforcement Agency, NDLEA, have intercepted a Brazil returnee, Agbasi Prosper Chux with 105 parcels of cocaine concealed in candies at the Murtala Muhammed International Airport, Ikeja, Lagos on Christmas Day," the statement reads.
"The suspect was arrested at the D arrival hall of the MMIA during inward clearance of passengers from Sao Paulo, Brazil via Doha on Qatar Airways on Monday, 25th December 2022 following credible intelligence.
"An initial search of the suspects' two checked-in bags almost made him a free man as there was nothing incriminating found there, until the NDLEA officers took a second look at the duty-free shopping nylon bags containing packs of candies he was holding in his hands.
"A thorough examination of the duty-free shopping bags revealed the packs of candies inside were actually used to conceal 105 parcels of cocaine weighing 2.8 kilograms and 43 grams of cannabis.
"Preliminary test conducted on a plastic bottle of body lotion also found in possession of the suspect also tested positive to cocaine with a total weight of 472 grams.
"Married to a Brazilian lady with a daughter, Prosper who claimed to be into clothing business in Brazil, was hoping to sell the drug in Enugu, his state."
The agency also said between December 24 and 27, 2022, its officers arrested three suspects in Kwara, Kogi, and Niger states, with illicit substances.
"Three other traffickers were arrested by operatives with a total of 256 kilograms of illicit substances seized from them during interdiction operations in Kwara, Kogi and Niger states in the past week," the agency said.
"While a team of NDLEA officers on stop and search duty along Ilorin-Jebba highway on Monday 26th Dec arrested a suspect, Idris Saeed, 19, with 60 blocks of compressed cannabis sativa weighing 30kgs, their colleagues in Niger state on similar operation along Jebba-Mokwa road also recovered 240 blocks of the same substance weighing 168 kilograms, from multi-colour sacks loaded in a Peugeot J5 bus, with registration number MAG 146 XA, coming from Lagos and going to Kano for delivery.
"In Kogi state, operatives intercepted a truck coming from Onitsha, Anambra state, to Maiduguri, Borno, along Okene-Abuja highway, where 9,900 ampoules of pentazocine injection (42kgs) were recovered on Saturday 24th Dec.
"In the same vein, a suspect, Ibrahim Jibril, 20, was arrested on the same route with 40 blocks of cannabis sativa weighing 16kgs coming from Lagos to Jigawa in a Toyota Hiace commercial bus on Tuesday 27th December."
Europe-bound Cocaine, Heroin, Meth consignments intercepted at Lagos airport
..As NDLEA seizes 75.75kg skunk from Canada; arrests pregnant woman, school teacher, others over 2 tons of drugs seized in 8 states
Attempts to export large consignments of illicit drugs especially cocaine, heroin, methamphetamine and ephedrine to Dubai, UAE and Europe through various disingenuous modes of concealment by desperate drug cartels via the Murtala Muhammed International Airport, MMIA Ikeja Lagos have again been frustrated by operatives of the National Drug Law Enforcement Agency, NDLEA, who intercepted them and arrested those behind the bids.

Top on the list of those so far arrested in connection with the seizures is a Nigerian based in Athens, Greece, Iwuozor Edward Chinedu. He was debarked from an Ethiopian airline flight on Friday 3rd February after officers in the tarmac team of NDLEA intercepted two bags during a secondary check exercise at the foot of the aircraft.

When the bags were searched in the presence of Chinedu and other airport stakeholders, two big pellets wrapped with foil papers and some sprinkles of pepper were recovered from each of the two sides of one of the bags.
The pellets were used to construct false walls at the sides of the bag.

The two parcels contained substances that tested positive to cocaine and heroin with a gross weight of 1.30kgs and 900grams respectively.
During preliminary interview, Chinedu claimed he came to Nigeria three months ago to do a surgery, which he was not comfortable doing in Athens. He further claimed he was given the bag to deliver in Greece for a fee of two million naira (N2,000,000).

Similarly, NDLEA operatives at the NAHCO export shed of the airport on Monday 30th January arrested a pregnant woman, Mrs. Sylvester Gloria Onome after 800grams of skunk were discovered concealed in two small radio sets she was sending to Dubai, United Arab Emirate.

On the same day, operatives also intercepted a consignment going to Congo Kinshasa, containing 111 bottles of body cream that were used to conceal 24.50kgs of ephedrine, a chemical precursor and active ingredient to produce methamphetamine.
The cargo was later traced to a trader at Alaba trade fair complex, Ojo area of Lagos, Onyekachukwu Uduekwelu after the initial arrest of two freight agents.

Another housewife, Mrs. Okpara Chizoba Victoria was arrested at her residence at 37 Obashola street, Ijesha area of Lagos on Friday 27th Jan. following the seizure of 300grams of skunk hidden in a bag of crayfish she was sending to Dubai, UAE through a freight agent.

In the same vein, operatives at the SAHCO export shed of the airport on Thursday 26th Jan. intercepted a sack of new clothes going to Sierra Leone.
During a thorough search of the consignment, a parcel of white crystalline substance that tested positive to methamphetamine with a gross weight of 1kg, as well as 300grams of skunk and 100grams ecstasy (MDMA) were recovered.
A freight agent, Mfonabasi Victor Joseph was already arrested in connection with the seizure.

No fewer than 255,500 pills of tramadol and diazepam were recovered from an Italy based suspect, Duru Josephat who concealed the drugs in two of the bags he was travelling with to Milan, Italy on an Ethiopian airline flight.
He confessed he bought the drugs in Onitsha, Anambra state and was taking them to Italy to sell.
Barely a month after operatives at the Tincan seaport intercepted a consignment of 24.5kgs of cannabis indica concealed in used vehicles imported from Canada, they have again seized 75.75kgs of the same substance, which came from Montreal, Canada, hidden in a container of four used vehicles with number MSCU 5336680.
Coincidentally, the consignment has also been traced to a suspect already in custody in connection with the earlier seizure, Steve Adigwe and his accomplice, Cedrick Maduweke who is still on the run.

In Bauchi state, a suspect Clement Ekweozor, was nabbed at Rafin Zurfi area, Bauchi town with 28,088 pills of tramadol and other opioids, while 12,000 capsules of the same drug were among others recovered from four suspects when their commercial bus marked UGH 978 KS was intercepted at Koka junction, Asaba, Delta state by NDLEA operatives on Wednesday 1st January.

A 40-year-old secondary school teacher, Sani Isah was arrested by operatives at a house in Jekadefari area of Gombe on Thursday 2nd Jan. for dealing in new psychoactive substance,
Akuskura. 2,198 bottles of the substance concealed in six bags were recovered from him while he claimed to have started the illicit business since 2018.

In Ogun state, 190kgs of cannabis were recovered from a dealer, Emmanuel Ibrahim in
Lafenwa area of Abeokuta following credible intelligence, while three suspects: Mohd Sani Alasan, Yusif Musa and Musa Musa were arrested at Maidile area of Kano with 2,400 bottles of codeine-based syrup.
Another dealer, Bako Ibrahim, 55, was also arrested on Saturday 4th February in Sharada area of Kano with 420 blocks of cannabis weighing 282kgs.

Another dealer of the same substance, Akeem Azeez, 39, was nabbed with 612kgs recovered from him in Akure, Ondo state.
Following a follow up operation in Minna, Niger state, operatives of the Kogi state command of the Agency now have in their custody a suspect, Michael Ikechukwu Ofili, 30, over the interception of his consignment containing 106,800 pills of tramadol sent to him from Onitsha, Anambra state, along Okene-Lokoja highway.

While appreciating the efforts and commitment of the officers, men and women of the MMIA, Tincan, Bauchi, Delta, Gombe, Ogun, Kano, Ondo and Kogi state commands of the Agency towards ridding Nigeria of the menace of illicit drugs, Chairman/Chief Executive Officer of NDLEA, Brig. Gen. Mohamed Buba Marwa (Retd) urged them and their compatriots across the country not to relent.
Police arrests two suspects with 180k fake new naira notes in Enugu
The Enugu police command says its operatives arrested two suspects with fake redesigned notes in Ibagwa-Aka community of Igbo-Eze LGA of the state.
Daniel Ndukwe, the command's spokesperson, announced the development in a statement on Friday.
Ndukwe said the suspects, Joseph Chinenye and Onyeka Kenneth Ezeja were caught at a filling station with fake redesigned N1000 in 180 pieces "where they used the notes to purchase petrol".
"Acting on credible information, police operatives serving in Igbo-Eze South Division of Enugu state command, on 02/02/2023 at about 9.05 pm, arrested one Joseph Chinenye aged 39 and Onyeka Kenneth Ezeja aged 29, both male and respectively of Iheakpu-Awka in Igbo-Eze south LGA and Onicha Enugu-Ezike in Igbo-Eze north LGA," the statement reads.
"They were in possession of suspected counterfeit one hundred and eighty (180) pieces of the Central Bank of Nigeria (CBN's) newly redesigned one thousand naira (N1,000) notes, with face value of one hundred and eighty thousand naira (N180,000.00).
"Preliminary investigation shows, among other things, that the notes, which are in three separate batches, bear the same serial numbers of A/34:282656, A/46:578759, and 8/93:852942; while the suspects claimed to have secured the counterfeited naira notes from an unidentified woman in Benin, Edo state.
"In addition, they confessed to having attempted to sell the notes to a point-of-sale (POS) operator, who rejected them, before the operatives arrested them at a filling station in Ibagwa-Aka community of Igbo-Eze LGA, where they used the notes to purchase petrol.
"The duo will be arraigned in court upon consolidation and conclusion of the investigation into the case by the state criminal investigation department (CID) Enugu."
Ahmed Ammani, commissioner of police, reassured the commitment of the police to fish out and bring to book, criminal elements hellbent on perpetrating such acts of economic sabotage.
Ammani also urged the public to support the police in its quest, while being vigilant and wary of who or how they obtain and carry out transactions with naira notes, especially the new ones.
ICPC arrests FCMB manager for preventing ATMs from dispensing cash to customers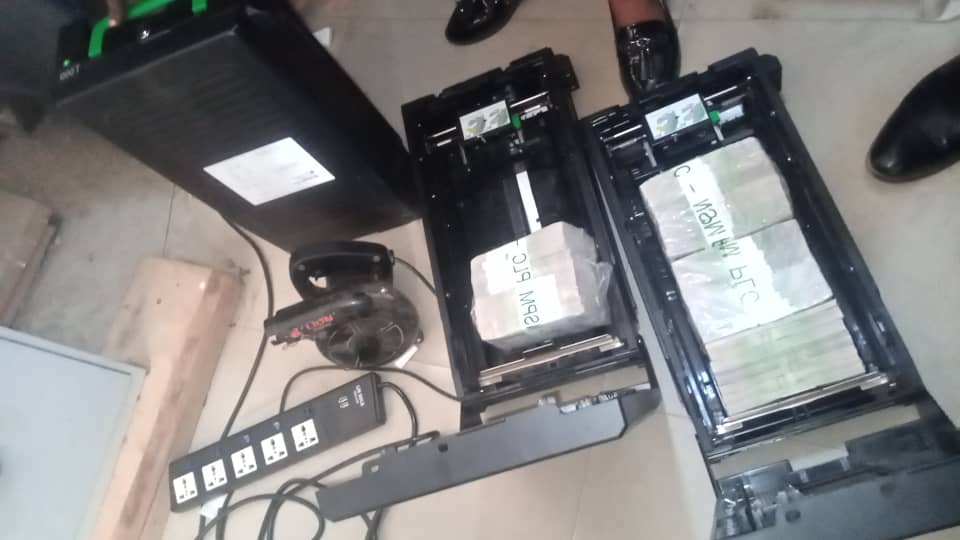 The Independent Corrupt Practices and Other Related Offences Commission (ICPC) says it has arrested the manager of a bank in Osogbo, the Osun capital, over ATMs loaded with naira notes that were blocked from dispensing.
In a statement on Friday by Azuka Ogugua, the ICPC spokesperson, the commission said the cash bundles were loaded into the ATMs while still wrapped, and as such, could not be dispensed through the machines.
"The ICPC Compliance Team in Osogbo has busted an FCMB in Osogbo, Osun State, where some ATMs were loaded with cash with their wrappers un-removed, thus preventing the cash from being dispensed," the statement reads.
"The Team therefore directed that the wrappers be removed, and the cash loaded properly.
"However, when a follow-up visit was undertaken the following day to ascertain the level of compliance, the Team discovered that one of the ATMs was still loaded with the wrappers un-removed. The Operation Manager of the Bank was arrested and taken in for questioning."
In another development, the commission said the branch service head of Stanbic IBTC Bank in Deidei, Abuja, was taken into custody over the "deliberate refusal to upload cash into the branch's Automated Teller Machines (ATM) even when the cash was available, and people were queuing at the ATMs".
"When the ICPC monitoring team stormed the bank at about 1:30pm to ensure compliance, and demanded explanation as to why all the ATMs were not dispensing cash, it was informed by the branch's Head of Operations that the bank just got delivery of the cash," the commission said.
"However, facts available to the ICPC operatives indicated that the branch took delivery of the cash around 11:58am and either willfully or maliciously refused to feed the ATMs with the cash.
"Against this backdrop, the ICPC team compelled the bank to load the ATMs with the redesigned Naira notes and ensured that they were all dispensing before arresting the culprit.
"Investigations are still ongoing, and the Commission will take appropriate actions as soon they are concluded."
Seven Point of Sale (POS) operators and a security guard were also said to have been arrested in Osun state over alleged extortion of residents.
The ICPC said a probe into the activities of the POS operators revealed that they got the cash from filling stations, "but they then resell the cash to the public at exorbitant rates".
"The arrested persons are helping the Commission with information to assist investigations and bust any syndicates involved in the hoarding or sales of the redesigned notes," ICPC added.