Ex-Boko Haram fighter, traditional ruler, 35 others arrested for drug trafficking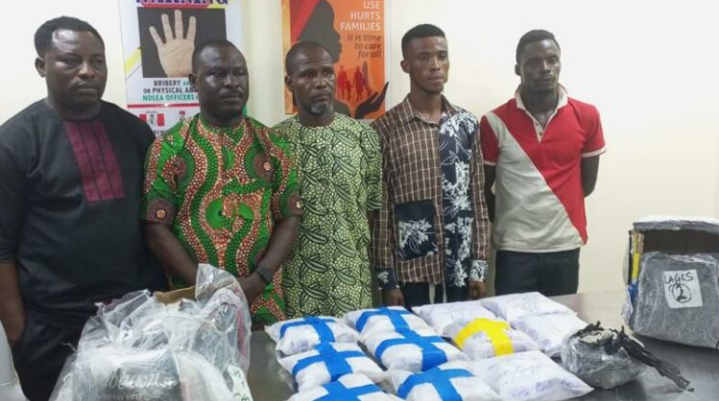 . As NDLEA intercepts heroin, skunk in deep freezers, cooking gas cylinders at Lagos airport, Idiroko; destroys 39.8 hectares of cannabis farms in Edo, Ondo
A rehabilitated ex-fighter of the Boko Haram terror group, Alayi Madu and the traditional ruler of Kajola, a border community between Ondo and Edo state, Baale Akinola Adebayo are among 37 persons arrested over 2.2 tons of illicit drugs seized by operatives of the National Drug Law Enforcement Agency, NDLEA at the Murtala Muhammed International Airport, MMIA Ikeja, Lagos and in raids across 12 states in the past week.
As part of ongoing operations to mop up illicit drugs across the country ahead of the next round of elections, NDLEA officers in the early hours of Friday 10th March, stormed Kajola forest in Kajola community, a border town between Edo and Ondo state where they destroyed three cannabis farms measuring 39.801546 hectares. The owner of the farms who claims to be the Ba'ale of Kajola, Akinola Adebayo, 35, was arrested on the farm at 2:30am, while two other suspects believed to be his workers: Arikuyeri Abdulrahman, 23 and Habibu Ologun, 25, were also nabbed in a hut near the farms.
In the same vein, a 26-year-old Alayi Madu, who was a Boko Haram fighter for 15 years before he surrendered to the Nigerian military in 2021 was intercepted by NDLEA operatives on Thursday 9th March along Abuja-Kaduna express road with 10 kilograms of skunk, which he said he bought in Ibadan, Oyo state and was taking the consignment concealed in a sack to Maiduguri, Borno state.
In his statement, Madu said he is from Banki town, Borno State and joined the notorious terrorist organisation, in 2006 when he was nine years old. He said he repented and surrendered to the military in 2021, after which he underwent rehabilitation and de-radicalisation processes at Umaru Shehu rehabilitation centre, Maiduguri and Malam Sidi de-radicalization centre, Gombe before he was discharged after spending six months. Thereafter, he traveled to Ibadan, Oyo state where he worked as commercial motorcycle rider (Okada rider) before going into drug trafficking and his eventual arrest along Abuja-Kaduna express road.
At the Lagos airport in Ikeja, operatives acting on intelligence intercepted a consignment of 11.90 kilograms of heroin and 500grams of skunk concealed in deep freezers, which were part of a cargo that arrived from South Africa on Tuesday 7th March onboard Ethiopian airline via Addis Ababa, Ethiopia. The Agencys sniffer dogs were deployed to locate where the illicit drugs were hidden in the cargo and in no time, they identified the cartons packed in the deep freezers.
A total of four suspects that played active roles in the movement of the drugs and a truck driver have been arrested so far in connection with the seizure. They include: Dairo Quam; Oluwaseun Ogunmene; Adeleke Abdulrasaq; Bamidele Adewale and Oluwafemi Ogunmeru.
Meanwhile, NDLEA operatives attached to the Gate C departure hall of the MMIA on Thursday 9th March intercepted a passenger, Aigbedion Philomena heading to Italy via Addis Ababa on an Ethiopian Airline flight. When her bags containing body cream, hair attachments, drinks, and some food items were searched, a total of 1.20kg tramadol capsules concealed inside gift wrapping sheet and covered with old daily newspapers were discovered.
At the Idiroko land border, NDLEA operatives acting on intelligence on Thursday 9th March
intercepted a commercial Toyota Camry Salon Car with reg. number JJJ 756 HB (Lagos) along Ilase-Akoko road, Idiroko with 34 compressed jumbo size wraps of imported skunk weighing 17kg and concealed in two cooking gas cylinders. Two suspects in the car, Benjamin Ajose, 48 and Oluwatobiloba Ajayi, 37, were arrested.
In Akwa Ibom state, Mrs. Hope Iniobong David, 42, was arrested with bags of cannabis sativa weighing 1,112kg (1.1 tons) in her house at Ediene Abak in Abak LGA, while operatives in Kogi state on Thursday 9th March recovered 25 cartons, containing 50,000 ampoules of pentazocine injection weighing 200kg in a Toyota Hiace bus marked LAM 652 LG, Kogi, travelling from Lagos to Abuja.
Also, in Ogun state, operatives arrested a female drug dealer, Bola Egbebi in Ota LGA, with different quantities of Cannabis Sativa, Methamphetamine, Tramadol 225, Skuchies, Molly and Codeine cough syrup, while in Gombe state, another female drug dealer, Fatima Hassan (a.k.a Boss) was arrested on Saturday 11th March in her house at New Mile 3 area of Akko LGA with three and half blocks of skunk weighing 3.245kg. Two other female drug dealers: Folake Ladipo and Adeola Babatunde were arrested with 49.5kg skunk on Friday 10th March in Mushin area of Lagos state.
In Kwara, operatives on patrol along along Ilorin-Jebba highway on Tuesday 7th March arrested two suspects: Ismaila Saidu and Dahiru Abdullahi with 50 bags of cannabis sativa weighing 578 kilograms, while in the FCT Abuja, 15 suspects were transferred by the Nigerian Army with 35 bags of cannabis weighing 384.3kg.
A 56-year-old suspect, Shinayemà Kelenku was arrested at Tse-kelenku village, Logo LGA, Benue with 36.7kg skunk, while in Delta state, operatives intercepted a suspect, Chimeze Ndukaire, 56, conveying psychotropic substances worth over N30 million in a white Toyota Hiace bus with registration number Lagos FST 279 XS coming from Onitsha to Warri. The vehicle was intercepted on Friday 10th March at G.S.M junction, Asaba based on a tip-off.
Recovered from the bus include 267.3 litres of codeine (2,673 bottles); 25,110 pills of tramadol and other opioids.
In Kano state, NDLEA operatives on Saturday 11th March raided the Sabon-gari area of Kano where they arrested a suspect, Chukwuebuka Christopher and recovered from him 7,740 bottles of Codeine based syrup, measuring 774 litres, concealed inside 43 sacks of garlic.
Chairman/Chief Executive Officer of NDLEA, Brig. Gen. Mohamed Buba Marwa (Retd) commended the officers, men and women of MMIA, Idiroko, Edo, Kaduna, Akwa Ibom, Kogi, Ogun, Gombe, Lagos, Kwara, FCT, Benue, Delta and Kano Commands of the Agency for their diligence and commitment to work. He charged them and their compatriots across other commands not to rest on their oars.
NDLEA intercepts cannabis concealed in dried onions at Lagos airport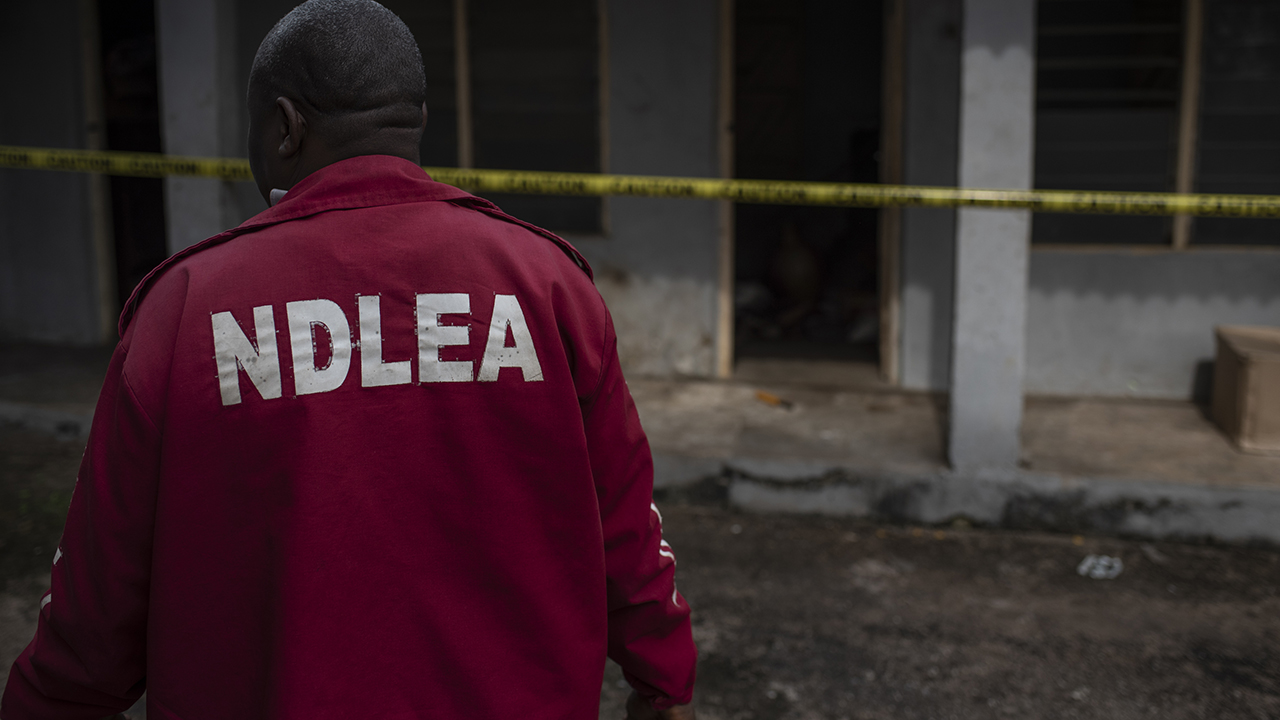 The National Drug Law Enforcement Agency has intercepted 2.7kg of cannabis concealed in dried onions which was to be exported to Dubai through a postal firm.
It also said no fewer than 1, 205, 260 pills of opioids were seized in two interdiction operations in Kogi and Gombe states by operatives of the agency.
The spokesperson for the anti-narcotic agency, Femi Babafemi, in a statement on Sunday also revealed that officers at the Murtala Muhammed International Airport, Ikeja Lagos, disrupted the activities of a drug syndicate that operated between Nigeria, East Africa and Europe.
The agency arrested two members of the cartel.
He said, "Operatives at the Lagos airport had on Monday, March 13, intercepted a member of the drug syndicate, Ejezie Ifeanyi, during screening of inward passengers on Ethiopian Airline flight from Malawi via Addis Ababa at the arrival hall.
"When a search was conducted on him, it was discovered that one of his two bags had a false bottom concealment.
"During preliminary interview of the suspect, he confessed that a member of the syndicate was waiting at the airport car park to pick him. An immediate follow-up operation led to the arrest of Chukwu Bright, who was waiting in a grey colour Mercedes Benz C180 coupe, marked EKY 973 GQ to receive the drug consignment."
Babafemi noted that after the arrest, a proper search of the bag was conducted before the two suspects leading to the recovery of three kilograms of heroin.
He added that findings revealed that the drug syndicate networked between Nigeria, and Malawi, Mozambique in East Africa and Europe.
"While Chukwu who lives in Lagos is responsible for the recruitment and coordination of the activities of mules on behalf of other members of the cartel based in Mozambique and Malawi, another set operates from the southeastern part of Nigeria.
"Meanwhile, the NDLEA operatives at the SAHCO export shed of the MMIA on Wednesday, March 15, intercepted a jerry can of palm oil going to Dubai, United Arab Emirates. At the point of examination, it was discovered that 600 grams of cannabis sativa were concealed inside the jerrycan of palm oil. A suspect, Tunde Ogunbowale, who presented the consignment for export to Dubai was immediately arrested."
Babafemi stated that "an attempt to export 2.7kg cannabis packaged as part of dried onions to Dubai through a postal service firm was frustrated by the NDLEA officers attached to the courier company, who seized a carton filled with colourful sachets of dried onions, used to conceal the illicit consignment."
"In Kogi State, a total of 530,160 pills of tramadol and 99,000 tabs of diazepam were seized along Okene-Abuja highway from a bus driver, Suleiman Oyedokun, 41, coming from Onitsha, Anambra State and going to Kontagora in Niger State on Monday, March 13.
"Same day, 576, 100 pills of tramadol concealed in bags of rubber slippers were intercepted by NDLEA officers at trailer garage, old mile 3 road area of Gombe metropolis, Akko LGA, Gombe State. Four suspects: Usman Suleiman; Ya'u Yusuf; Saidu Suleiman and Abubakar Umar have so far been arrested in connection with the seizure.
"In Kaduna, 367 kilograms of cannabis sativa were recovered from a vehicle with registration number FKJ141DX," he added.
According to him, two suspects: Monday Suleiman, 62, and Sama'ila Mohammed, 30 were arrested while a bribe of N1,200,000 offered to the NDLEA officers was documented as part of exhibits to prosecute the suspects.
The statement said operatives in Delta State also on March 15 arrested a local female distiller of cannabis sativa and dry gin, Ebi Akpotudua, 52. The distilling process is used to produce a cocktail drink popularly known as monkey tail. She was arrested at Ugbrooke by River Road, Warri with 19.5 litres of monkey tail and 22.2kg of cannabis.
NDLEA arrests party agents with credit cards in Ogun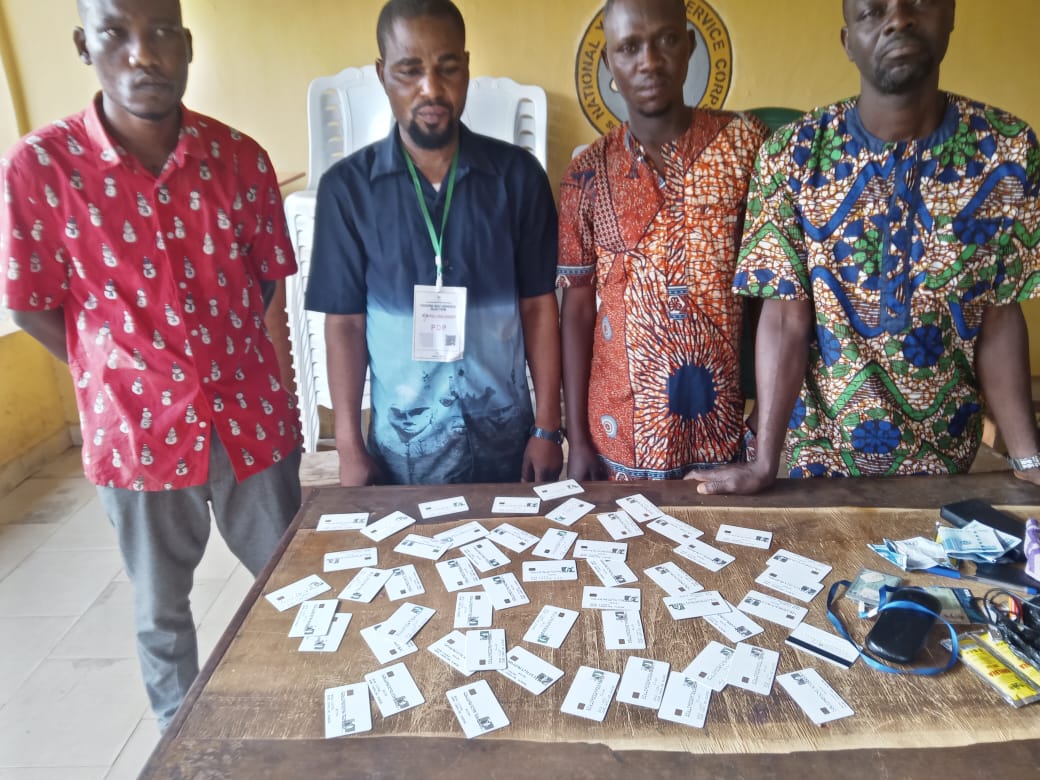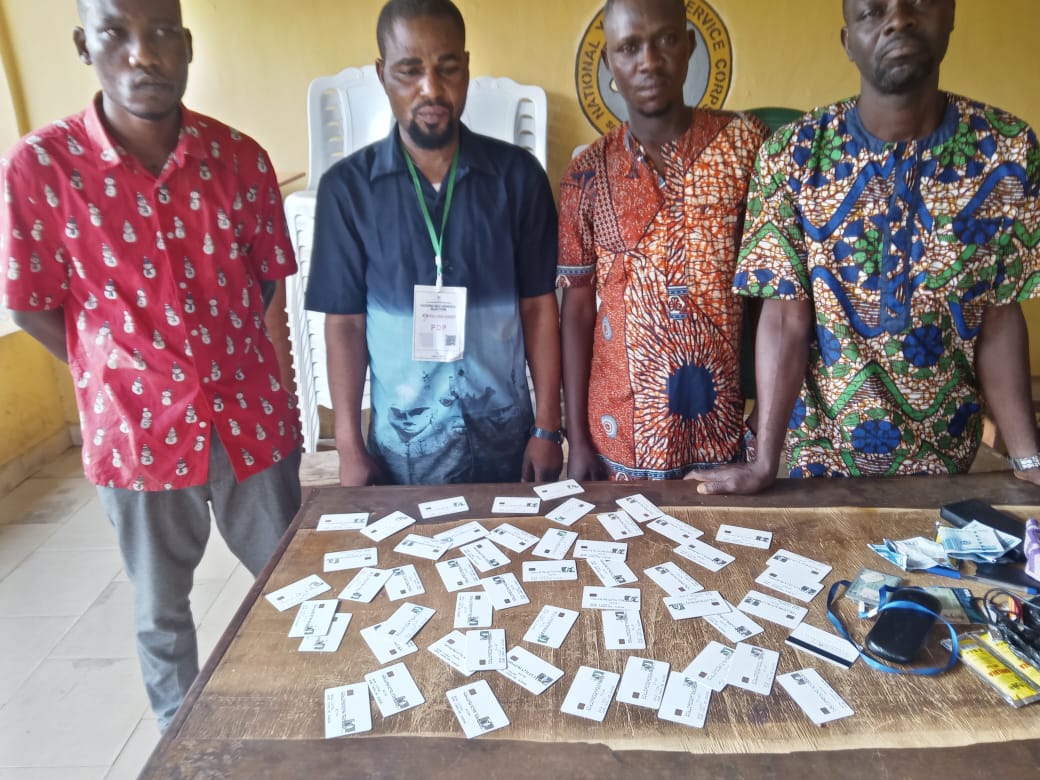 Operatives of the National Drug Law Enforcement Agency (NDLEA) have arrested four party agents in the Ibara axis of Ogun state with hundreds of credit cards intended for vote buying.
The NDLEA announced the arrest of the agents in a statement released on Saturday.
The anti-drug agency did not mention the name of the political party to which the arrested party agents belong.
However, a closer look at the photograph of the suspects shows that one of the agents wore an identity card branded "PDP".
Buba Marwa, the chairperson of the NDLEA, has directed that they should be handed over to the police after proper documentation.
"Operatives of NDLEA on election duty stop and search, just intercepted four party agents with hundreds of money credit cards, to buy votes at Ibara housing estate, Ogun state," the agency writes.
"Each card contains 10k and activated to cash with a code."
Security operatives intensified the war against vote buying during the presidential and national assembly elections.
Suspected vote buyers were arrested across the country during the elections.
EFCC arraigns professor Uche Edwin over N1.4bn fraud in Lagos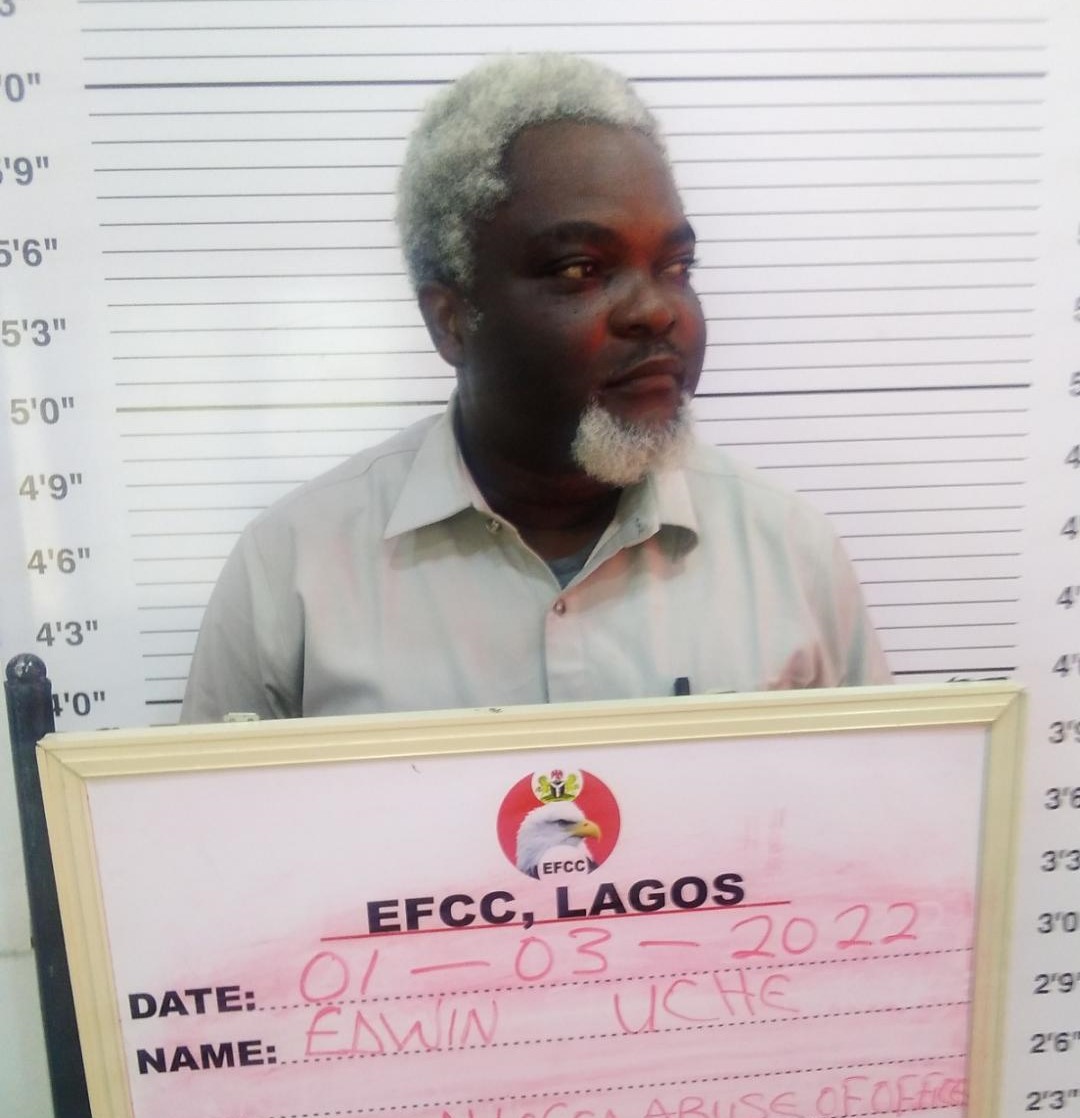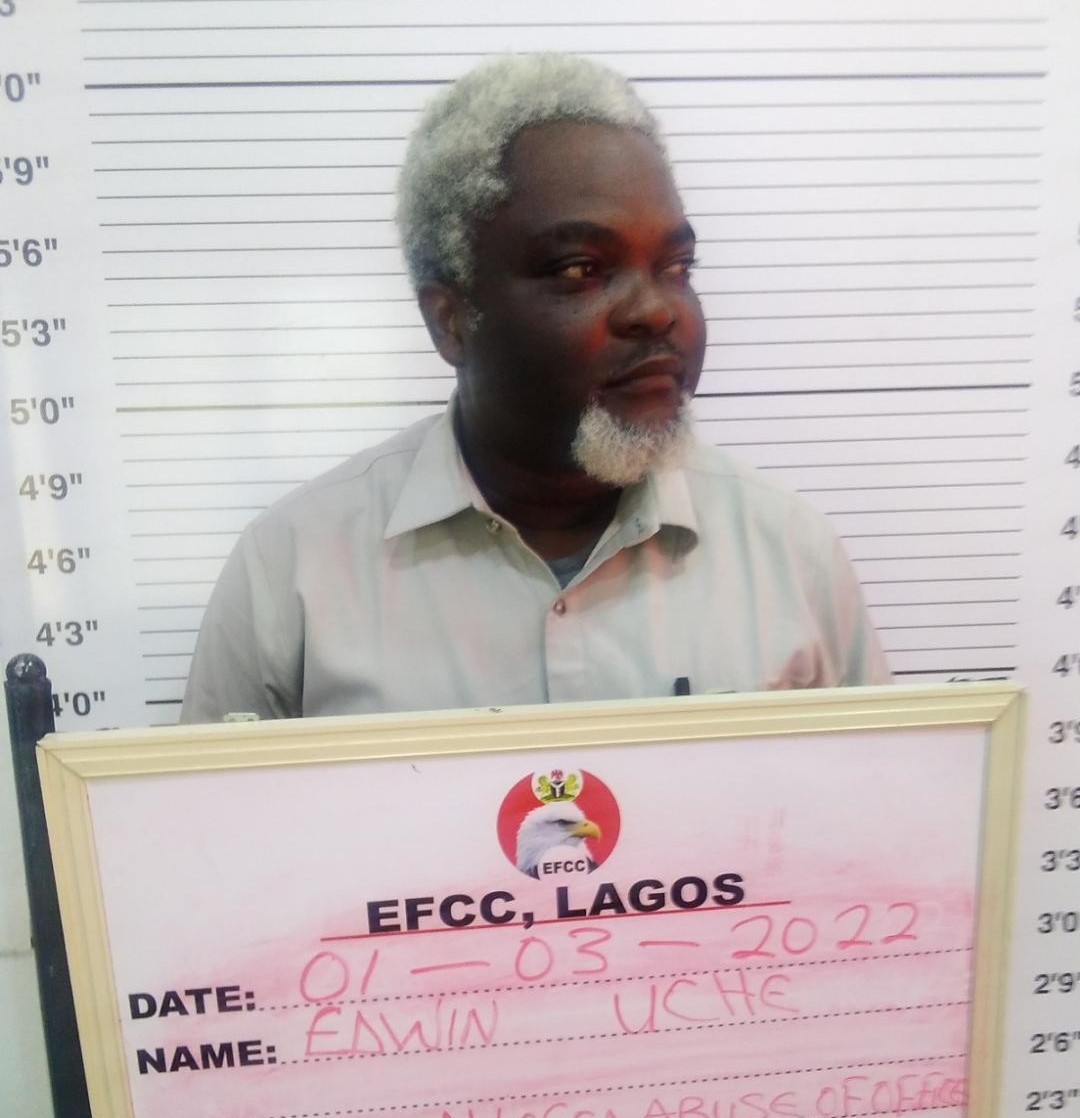 The Lagos zonal command of the Economic and Financial Crimes Commission (EFCC) has arraigned Uche Edwin, a professor, for alleged N1.4 billion fraud.
In a statement on Thursday, the commission said Edwin was arraigned at the federal high court sitting in Ikoyi.
The professor was arraigned alongside his three companies namely Visionary Integrated Consulting Limited, NEMAD Associates Limited, and Revamp Global Enterprise on an 11-count charge bordering on conspiracy, retention, and conversion of funds.
"That you, professor Uche Chigozie Edwin, Visionary Integrated Consulting Limited, Nemad Associates Limited, and Revamp Global Enterprise, sometime in 2021 in Lagos, within the jurisdiction of this Court, conspired amongst yourselves to use the sum of N1, 473,367,046.04 (one billion, four hundred and seventy-three million, three hundred and sixty-seven thousand, forty-six naira, four Kobo), property of the Maize Growers, Processors, and Marketers Association of Nigeria (MAGPAMAN), which sum you reasonably ought to have known forms part of the proceeds of your unlawful activity to wit: fraud; and you thereby committed an offence, contrary to Section 18(a) of the Money Laundering (Prohibition) (Amendment) Act, 2012 and punishable under Section 15(3) of the same Act," one of the charges reads.
But during the arraignment, Edwin pleaded not guilty to the charges against him.
Following his plea, C.C.Okezie, the prosecution counsel, asked the court for a trial date. He also prayed the court to remand the defendant.
Reacting, however, Mobolaji Akintunde, the defence counsel, prayed the court to admit his client to bail.
Akintunde added that his client should be remanded in EFCC custody pending the perfection of the bail.
In his ruling, Nicholas Oweibo, the judge, admitted the defendant to bail in the sum of N1 million and two sureties in like sum.
The judge ruled that the sureties must possess landed property within the jurisdiction of the court, and show a tax clearance certificate of three months as well as their passport photographs.
He also ordered the defendant to deposit his passport with the court and adjourned the case till June 27 for the commencement of trial.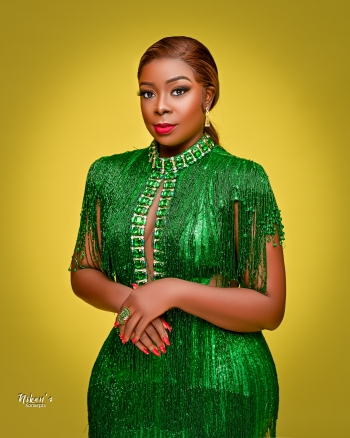 Bodex F. Hungbo, SPMIIM is a multiple award-winning Nigerian Digital Media Practitioner, Digital Strategist, PR consultant, Brand and Event Expert, Tv Presenter, Tier-A Blogger/Influencer, and a top cobbler in Nigeria.
She has widespread experiences across different professions and skills, which includes experiences in; Marketing, Media, Broadcasting, Brand and Event Management, Administration and Management with prior stints at MTN, NAPIMS-NNPC, GLOBAL FLEET OIL AND GAS, LTV, Silverbird and a host of others