Lizzo says dancers' sexual harassment claims are false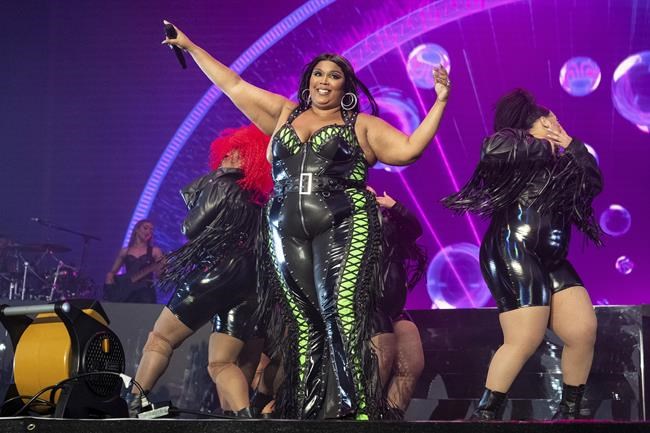 US pop star Lizzo has said allegations by three of her ex-dancers, including sexual harassment and creating a hostile work environment, are "false".
The singer called the last few days "gut-wrenchingly difficult and overwhelmingly disappointing".
"Usually I choose not to respond to false allegations but these are as unbelievable as they sound and too outrageous to not be addressed."
The lawsuit also includes accusations of religious and racial harassment.
Discrimination, assault and false imprisonment are also listed in the legal case.
Arianna Davis, Crystal Williams and Noelle Rodriguez are the former dancers bringing the case against the singer, her dance captain and her production company Big Grrrl Big Touring (BGBT).
Ms Davis and Ms Williams were fired from the dance team, while Ms Rodriguez later resigned over the alleged treatment of her fellow colleagues.
On Wednesday Ms Williams told CBS she wanted to ensure that other dancers who work with Lizzo "don't have to go through that same experience".
The legal action, filed in Los Angeles on Tuesday, includes allegations the dancers were pressured into attending sex shows and interacting with the dancers at the shows between 2021 and 2023.
Among the claims against Lizzo – whose real name is Melissa Viviane Jefferson – are that she "pressured Ms Davis to touch the breasts" of a performer in a nightclub in Amsterdam, and Ms Davis – after resisting – eventually acquiesced "fearing it may harm her future on the team" if she didn't do so.
"These last few days have been gut wrenchingly difficult and overwhelmingly disappointing. My work ethic, morals and respectfulness have been questioned. My character has been criticized.
Usually I choose not to respond to false allegations but these are as unbelievable as they sound and too outrageous to not be addressed. These sensationalized stories are coming from former employees who have already publicly admitted that they were told their behavior on tour was inappropriate and unprofessional.
"As an artist, I have always been very passionate about what I do. I take my music and my performances seriously because at the end of the day I only want to put out the best art that represents me and my fans.
With passion comes hard work and high standards. Sometimes I have to make hard decisions but it's never my intention to make anyone feel uncomfortable or like they aren't valued as an important part of the team.
"I am not here to be looked at as a victim, but I also know that I am not the villain that people and the media have portrayed me to be these last few days. I am very open with my sexuality and expressing myself but I cannot accept or allow people to use that openness to make me out to be something I am not.
There is nothing I take more seriously than the respect we deserve as women in the world. I know what it feels like to be body shamed on a daily basis and would absolutely never criticize or terminate an employee because of their weight.
"I'm hurt but I will not let the good work I've done in the world be overshadowed by this. I want to thank everyone who has reached out in support to lift me up during this difficult time."
Lizzo – who is known for celebrating her body and self-love – is also accused, along with dance choreographer Tanisha Scott, of fat-shaming Ms Davis on tour.
Ms Davis alleges the two questioned whether she was "struggling with something as she seemed less committed to her role on the dance cast", the case details.
"In professional dance, a dancer's weight gain is often seen as that dancer getting lazy or worse off as a performer. Lizzo's and Ms Scott's questions about Ms Davis's commitment to the tour were thinly veiled concerns about Ms Davis's weight gain," the documents allege.
The case also alleges that staff working for BGBT scolded dancers for "unacceptable and disrespectful" behaviour while working on the tour, without specifying what that behaviour was.
The dancers allege that "only the dance cast – comprised of full-figured women of colour – were ever spoken to in this manner, giving [the dancers] the impression that these comments were charged with racial and fat-phobic animus".
Ibadan chef, Peniel Idowu attempts to break Hilda Baci's cooking record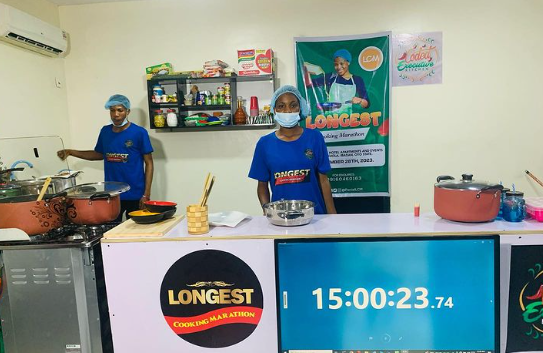 A Nigerian chef simply identified as Peniel Idowu is attempting to break the Guinness World Record (GWR) for the longest cooking marathon by an individual.
The Ibadan-based cook shared a flier on her Instagram page to announce the attempt.
Peniel, who is assisted by another chef, however, did not state how long she plans to cook.
She also did not reveal whether she got approval from the GWR before embarking on the cooking stint.
The cooking marathon commenced at Omooke Hotels Apartments and Events Centre, Kuola area of Ibadan, Oyo state, on Thursday.
As of the time of this report, Peniel has surpassed 29 hours of cooking.
"Neat and Highly cautious. Peniel has been preparing for a long time," she wrote in one of her posts.
Burna Boy tops Apple Music's biggest Nigerian artistes of all time
Nigerian music is enjoying huge commercial success as Nigerian superstars are appearing on international charts, selling out concerts in multiple countries, and reaching millions of listeners globally through streaming platforms.
In the list of the most streamed Nigerian artists of all time on Apple Music, international megastar Burna Boy tops the list.
The Grammy-winning hitmaker has enjoyed a speedy ascension to the top since breaking into the international scene in 2018.
Here are the top 5 biggest Nigerian artists of all time on Apple Music.
Burna Boy
The number one (No. 1) most-streamed Nigerian artist of all time on Apple Music, has smashed record after record with his blockbuster albums, and his latest was no exception: 'I Told Them'… not only broke the African record for first-week streams but also topped the albums chart in 69 countries simultaneously worldwide, a new record for the genre.
Wizkid
The Grammy winner still holds the record for the most-streamed African song of all time with 'Essence' featuring Tems, which has reached the Daily Top 100 in more than 100 countries worldwide and continues to reach the charts three years after its release.
Davido
Africa's foremost hitmaker, Davido enjoyed a record-breaking release with his 2022 album Timeless which shattered multiple streaming records on Apple Music. He continues to be a force to be reckoned with as his hit single 'Unavailable' is enjoying international success.
Rema
The superstar has had one of the biggest songs of the summer on Apple Music worldwide with the Afrobeats hit 'Calm Down,' which now holds the record for the African single with the longest run in the top 15 of the Global Daily Top 100.
Asake
Asake's surreal rise to the top has made him one of the biggest stars in Nigerian music. The talented superstar has seen an impressive 11 songs reach the Global Daily Top 100.
Police detain Sam Larry amid probe into Mohbad's death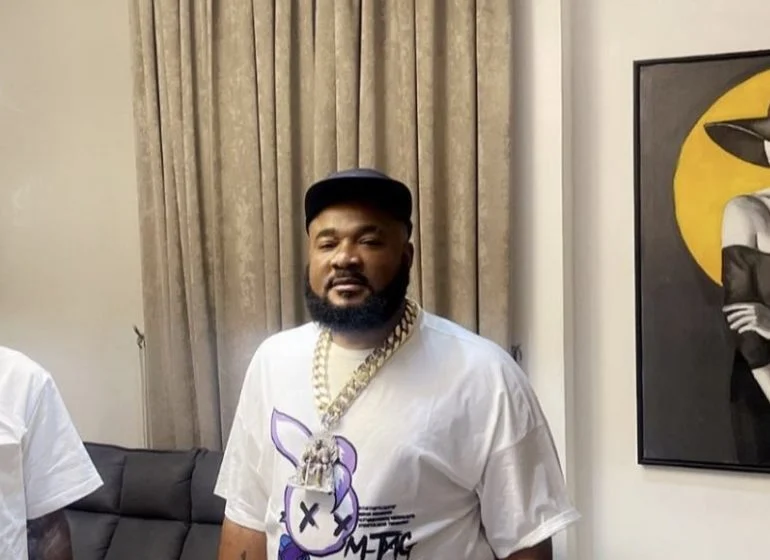 The Nigeria police say they now have Sam Larry, the music promoter, in their custody — amid an investigation into the death of Mohbad.
The law enforcement agency broke the news in a short statement on Thursday night.
"Balogun Olamilekan Eletu aka Sam Larry is now in our custody. He is currently assisting with ongoing investigation," the statement reads.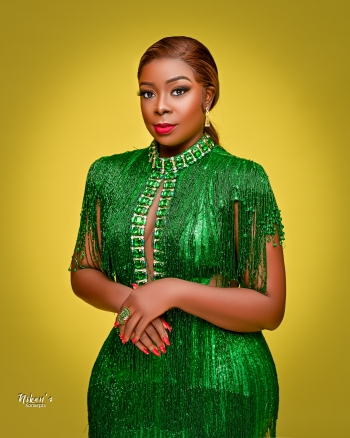 Bodex F. Hungbo, SPMIIM is a multiple award-winning Nigerian Digital Media Practitioner, Digital Strategist, PR consultant, Brand and Event Expert, Tv Presenter, Tier-A Blogger/Influencer, and a top cobbler in Nigeria.
She has widespread experiences across different professions and skills, which includes experiences in; Marketing, Media, Broadcasting, Brand and Event Management, Administration and Management with prior stints at MTN, NAPIMS-NNPC, GLOBAL FLEET OIL AND GAS, LTV, Silverbird and a host of others