Lagos state government to arraign 14 LASTMA officers over extortion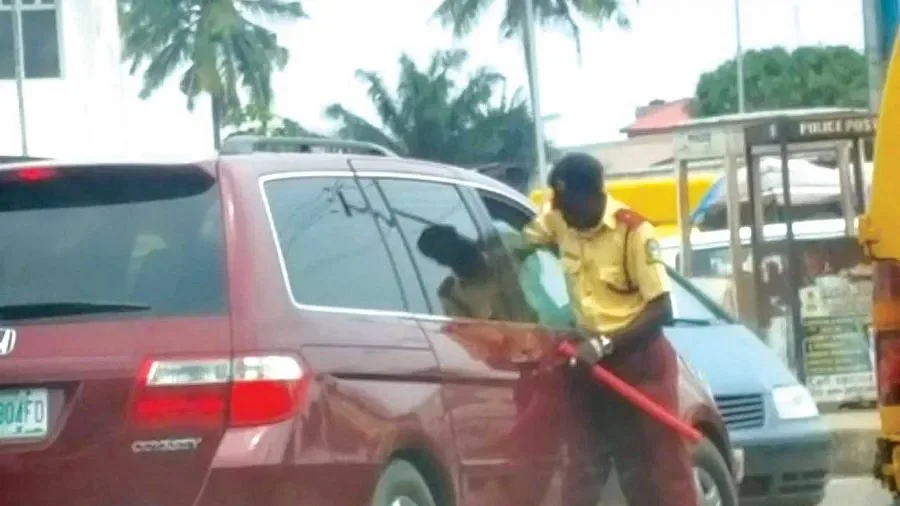 The Lagos State Government has announced its intention to bring 14 LASTMA personnel before a disciplinary panel for allegations of extortion and high-handed behaviour, by the state's established rules and regulations.
Bolaji Oreagba, the General Manager, conveyed the traffic regulatory body's announcement through a statement signed by Adebayo Taofiq, Director of the Public Affairs and Enlightenment Department, over the weekend.
Oreagba reported that 11 Senior and 3 Junior LASTMA Officers were apprehended at various locations throughout the state for allegedly accepting bribes from motorists.
"These 14 male Officers (11 Seniors & 3 Juniors) were caught at different locations across the State extorting money (bribes) from motorists.
"The Agency would continue to meet stiff and severe punishment on Officers and men in its effort to weed the agency of few bad elements tarnishing its image," the statement reads.
Kano governor's aide arrested over diversion of food palliatives meant for PWDs and widows
The Kano state government says it has discovered a warehouse filled with diverted food palliatives.
Tasiu Al'amin Roba, a senior special assistant (SSA) of the governor, has been arrested by the Kano police command in connection with the diversion of the palliatives.
It was understood that the SSA and Abdulkadir Muhammad, his alleged accomplice, are expected to be transferred to the criminal investigation department (CID) for further investigation.
Abba Yusuf, governor of Kano, led government officials and journalists to the warehouse at Sharada Industrial Estate on Saturday.
The governor, who said the culprits would be punished, directed the commissioner of police to take over the warehouse and conduct an investigation to identify all the suspects.
While briefing the governor during the visit, Rabiu Amour, a community leader, said thousands of bags — branded with the governor's portrait and designed as palliatives — were discovered to be repackaged.
"We know these food items are meant to be distributed to less privileged people, therefore we decided to make a whistle blow. This is our contribution to the good efforts of the governor, he is trying his best to help the downtrodden but some people within the system are sabotaging him," Amour said.
Danjuma Mahmoud, the agriculture commissioner, said the food items were meant to be distributed to persons with disabilities (PWDs) and widows of deceased members of the armed forces and other security agencies.
"You will recall that after the official unveiling of the distribution of food items meant for the less privileged as palliatives to crush the impact of fuel subsidy removal, the government later set aside another large portion of the palliatives specifically to be distributed to people with special needs like in the society," Mahmoud said.
"Besides people with special needs, the last round of palliatives were also meant for families and widows of members of the armed forces, the army, navy, airforce, police, and that of the sister agencies like immigration, prison services, customs, civilians defence, road safety, and Hisbah vigilante."
NDLEA uncovers meth, opioid consignments in jeans hems, dolls and buttons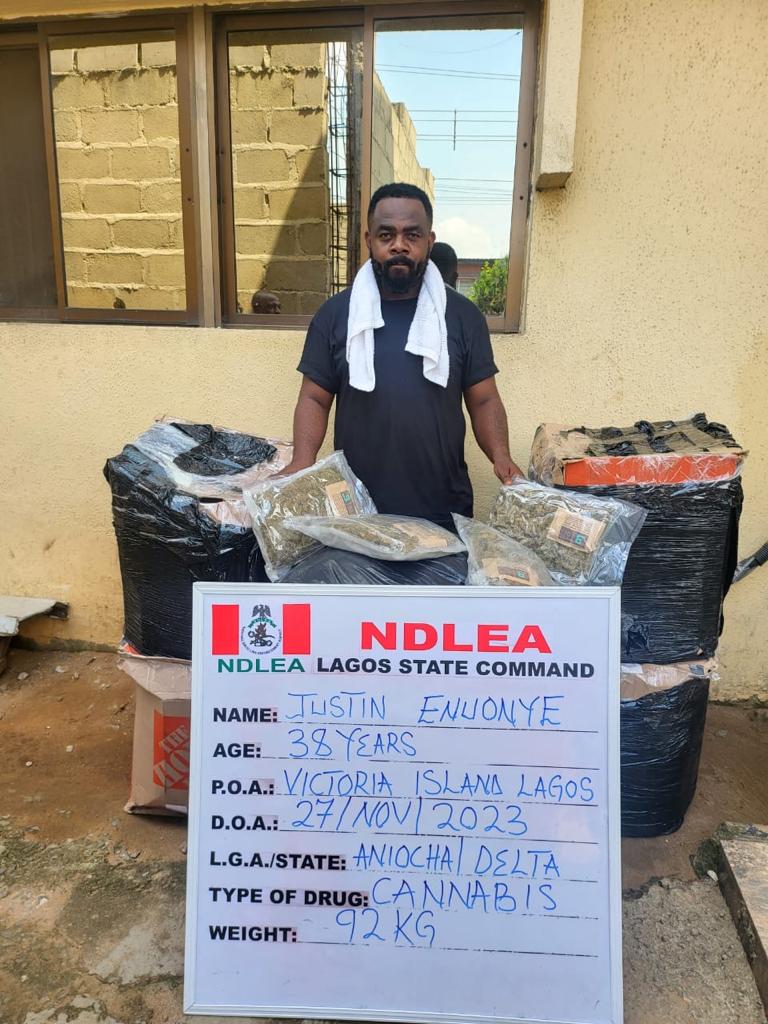 Nabs drug kingpin in Lagos hotel; recovers 8 tons of cannabis, 8,000 bottles of codeine in Edo, Delta, Bauchi, FCT, Kaduna, Gombe, Kogi raids
Crooked attempts by drug syndicates to export illicit substances including various quantities of methamphetamine and opioids concealed in hems of new jeans trousers, dolls, buttons, local soap and tins of milo beverage to Europe, United Arab Emirate and Asia have been thwarted by operatives of the National Drug Law Enforcement Agency, NDLEA, at some courier firms in Lagos.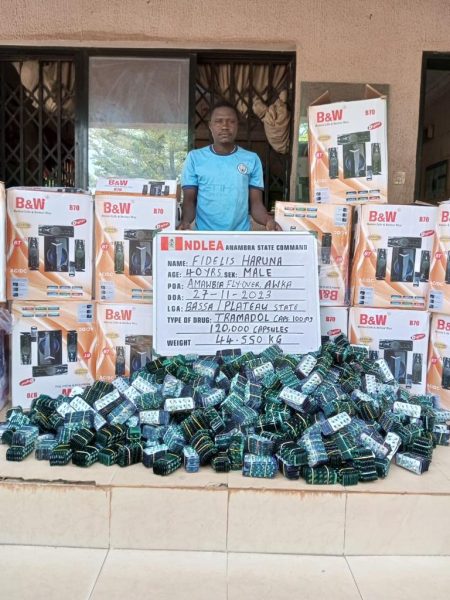 Some of the consignments intercepted by NDLEA operatives of the Directorate of Operations and General Investigation, DOGI, at courier houses in Lagos include: tramadol 225mg concealed in hems of new jeans trousers heading to Cyprus; shipment of cannabis sativa hidden in heads of dolls going to Dubai, UAE; sachets of tramadol 225mg buried in tins of milo beverage going to UAE and another set of same drug hidden in local soap also going to UAE, as well as a consignment of methamphetamine concealed in buttons heading to Hong Kong.
A shipment of another illicit substance coming from Florida, USA was equally intercepted at a courier firm while the recipient, Daniel Ogi was tracked by NDLEA officers and arrested at 5 Akeem Shittu street, Ajao Estate Lagos on Friday 24th November 2023.
Operatives in Lagos on Friday 1st December also arrested a drug kingpin, Okechukwu Ogala, 56, who specialises in exploiting and recruiting young citizens to export meth to Asian countries.
He was arrested at Blue Moon Hotel in Okota area of Lagos with 60 wraps of methamphetamine weighing 1.009 kilograms.

In another operation in Lagos, operatives on Friday 1st December recovered 393kgs of cannabis in a shop at Akala, Mushin while a suspect, Justin Enuonye, who deals in Canadian Loud was arrested by the police at Victoria Island and transferred to Lagos Command of NDLEA on Friday 1st December with 154 parcels weighing 92kgs.
A team of NDLEA operatives also intercepted a vehicle at Oyingbo area of Lagos and recovered 108kgs of cannabis from it, while 675 kilograms of the same substance were recovered from the store of a wanted dealer, Wahab Olota at Adedoja area of Mushin, Lagos.
In Edo, NDLEA operatives on Wednesday 29th November stormed the Ujiogba forest, Esan West LGA where they recovered 5,988 kilograms of cannabis already processed and ready for distribution while a 22-year-old, Mson Bunde, (a.k.a Tete Peter Joseph) found in a hut on the cannabis farm was arrested.
No less than 120,000 capsules of tramadol concealed in new sound systems packed in a Jos, Plateau state-bound bus were seized by NDLEA officers acting on intelligence along Onitsha-Awka road, Anambra state on Monday 27th Nov.
While 123 blocks of cannabis weighing 73kgs were recovered from a suspect, Abdullahi Muhammad Bello along Gombe-Bauchi road, Gombe state on Wednesday 29th Nov, operatives in Abuja seized 168 blocks of same psychoactive substance with a total weight of 101kgs from the store of a fleeing drug dealer in Kabusa area of the FCT.
No fewer than 8,000 bottles of codeine syrup were recovered by NDLEA operatives on Friday 1st December when they intercepted a vehicle transporting the opioid along Abuja- Kaduna road, with the driver, Shamsu Isiyaku and his conductor, Muhammad Maina arrested. Same day, operatives also arrested Ernest Esechie, 30, with 44.4 kilograms of compressed cannabis sativa along Gwantu- Sanga road, Kaduna.
In Kogi, NDLEA officers arrested Ahmad Umar, 18, with 46.4kgs cannabis at a check point in Kabba, while Jamilu Zakari, 32, was nabbed at Kofar Idi, Kandahar, Bauchi town, Bauchi state with 125 blocks of same substance that weighed 146kgs.
At least, 542.3kgs of cannabis were recovered from a suspect, Festus Egeogoli, 32, when his base at Jakpa road, Warri, Delta state was raided by NDLEA operatives on Wednesday 29th Nov, while 125.9kgs of same substance were also seized from a store in the same area.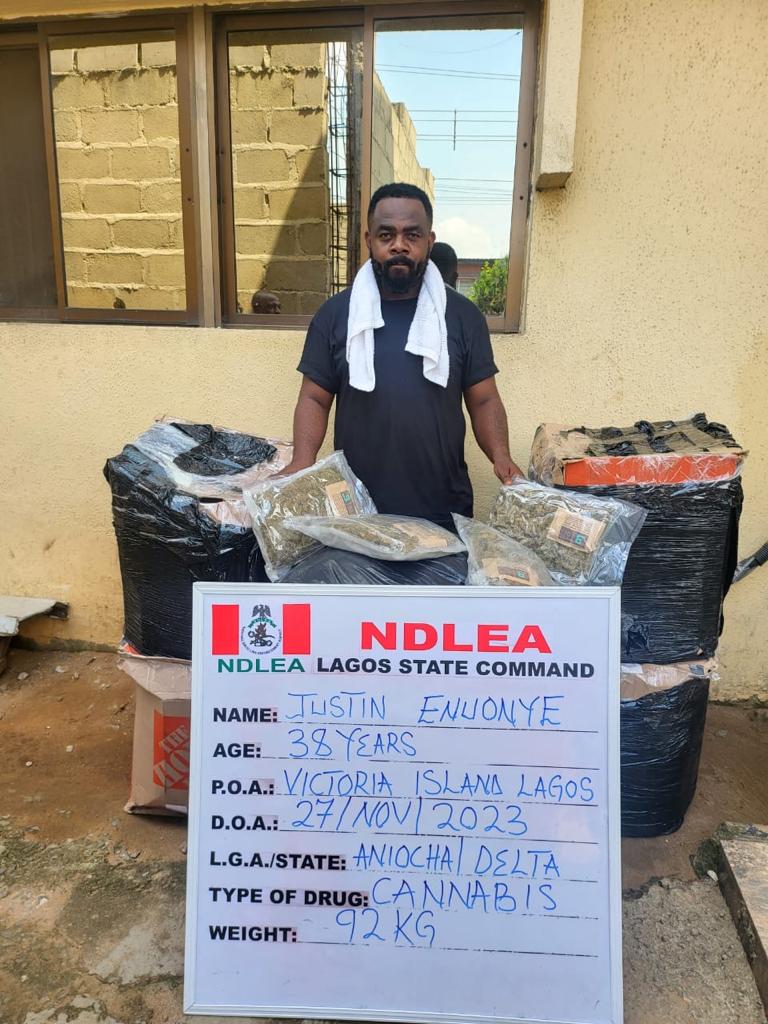 With the same vigour, the various commands of the Agency across the country continued with the War Against Drug Abuse, WADA, advocacy campaign in the past week. Some of them include: WADA sensitisation lecture for students of Phrankstars School, Awka, Anambra; students of Taskar Alkairi Primary and Secondary Schools, Goburawa, Dala LGA, as well as Natsugune Primary and Secondary Schools, Ungogo LGA, Kano; students of Kevqueen College, Itanla, Ondo West LGA, Ondo; students of Unibek Group of Schools, Port Harcourt, Rivers; students of The Apostolic High School, Ilesa, Osun, and students of Usman Jidda Shuwa Memorial Secondary School, Gamboru, Borno state.
While commending the officers and men of the Lagos, Edo, Anambra, Gombe, FCT, Kaduna, Kogi, Bauchi and Delta Commands of the Agency as well as DOGI for their outstanding feats in the past week, Chairman/Chief Executive Officer of NDLEA, Brig. Gen. Mohamed Buba Marwa (Retd) equally applauded their counterparts in all the commands across the country for intensifying their WADA advocacy lectures thus creating parity between their drug supply reduction and drug demand reduction activities.
Femi Babafemi
Director, Media & Advocacy
NDLEA Headquarters Abuja
Sunday 3rd December 2023
NDLEA discovers Cannabis plantation in Sokoto, arrests farmer
The National Drug Law Enforcement Agency, Sokoto State office, on Friday, arrested one Anas Sani, 32, discovered to be an Indian hemp farmer in the state.
The agency's state Commander, Iro Adamu, in his remarks, said the discovery was made last Friday night at the Sanyinna area in Tambuwal Local Government Area of the state, following an intelligence report.
"It was planted on the maize farm so that only experts could understand what it is.
"It was a foreign variety which is very effective and costly," he said.
Adamu noted that this was the first time such a farm was discovered in the state, which he said, called for a rigorous campaign and patrol to discourage locals from venturing into the unlawful business.
The suspect, a father of two, while speaking with newsmen, said he learnt the business while owning a provision shop in Lagos State.
"I am a first-timer in the business. I learnt it while living in Lagos and decided to give it a trial in my hometown of Sanyinna.
"My elder brother tried his best to discourage me but I ignored his advice.
"I thank God that I am arrested before starting reaping of my benefit business.
"I am ready to face the consequences of my action because it will discourage others who are interested in the business," he said.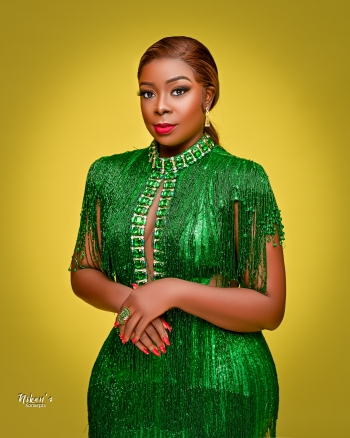 Bodex F. Hungbo, SPMIIM is a multiple award-winning Nigerian Digital Media Practitioner, Digital Strategist, PR consultant, Brand and Event Expert, Tv Presenter, Tier-A Blogger/Influencer, and a top cobbler in Nigeria.
She has widespread experiences across different professions and skills, which includes experiences in; Marketing, Media, Broadcasting, Brand and Event Management, Administration and Management with prior stints at MTN, NAPIMS-NNPC, GLOBAL FLEET OIL AND GAS, LTV, Silverbird and a host of others