Wanted murderer Killaboi arrested in Sierra Leone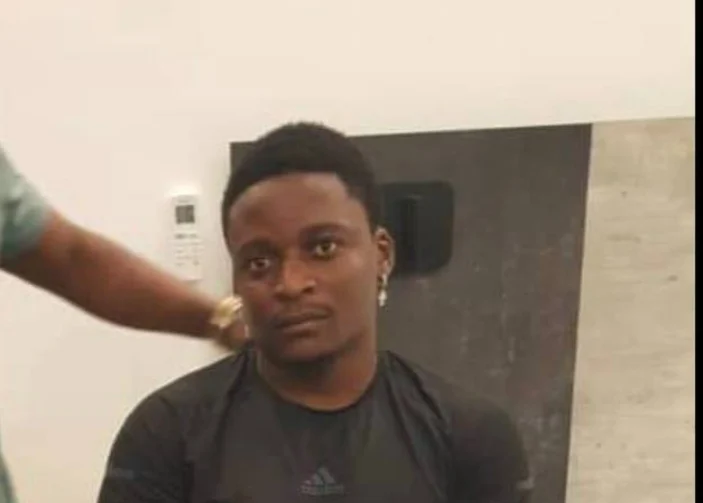 Benjamin Best Nnanyereugo, the gambler better known as Killaboi, who was declared wanted by the Nigerian police for allegedly killing his girlfriend, has been arrested in Sierra Leone.
Benjamin Hundeyin, the Lagos state police spokesperson, confirmed Killaboi's arrest on Saturday.
Nnanyereugo was said to have been apprehended at a nightclub on Friday in Freetown.
The Lagos state police command declared Killaboi wanted on October 10 for the death of Augusta Osedion.
This was after Nnanyereugo confessed to the murder of his 21-year-old lover.
Osedion was allegedly murdered on July 13 in Killaboi's home at Oral Estate in the Ajah area of the state.
On July 17, the gambler said he "mistakenly" stabbed her to death during an argument and never intended to kill Osedion.
"What is life now I want to turn myself in I'm not a bad person I swear I'm not a bad person But with what has happened I think I deserve nothing but death I will gladly die, by hanging, by shooting, whichever way fate has for me," he had said.
"I'm willing I can't live with this guilt knowing the girl I loved so much died in my own hands oh Gooooooood why this What do I do now I deserve death, I want to die."
Hundeyin earlier revealed that the police had been unable to apprehend the gambler through other means, so they had to issue the public declaration.
He also urged the public to contact the police if they have any information about Killaboi's whereabouts.
Robbers kill Governor Abiodun's Office Finance Director, cart away huge sums of money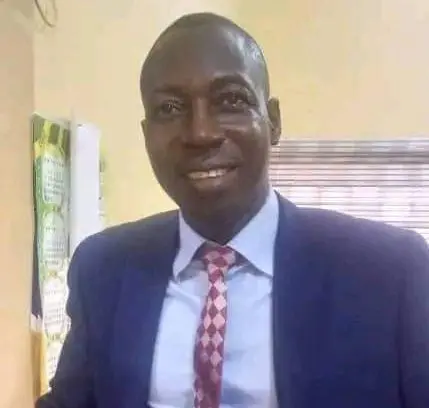 Gunmen, suspected to be armed robbers on Wednesday afternoon reportedly shot dead Director of Finance and Accounts, attached to the Ogun State Governor's office at Oke-Mosan, Abeokuta, Mr. Taiwo Oyekanmi.
Our Correspondent reliably gathered that Mr. Oyekanmi was gunned down on top of the NNPC Bridge, along Oke-Mosan road, while returning from the bank where he had gone to make withdrawals in preparation for Thursday's budget presentation by the governor.
He was said to have been rushed to the State Hospital, Ijaye, Abeokuta, where he was pronounced dead.
Two top civil servants at the Governor's Office in Abeokuta, who spoke with newsmen under the condition of anonymity, said the incident has thrown the Secretariat into a mourning mood.
Confirming the incident, the State Commissioner of Police, Mr. Abiodun Alamutu, said police is on the trail of the hoodlums.
Alamutu said, "This afternoon, the accountant, the Director of Finance with driver and one other person left for Fidelity Bank to make some withdrawal. They went with a homemade bullion van. They were supposed to have a police escort, but for certain reasons, the person was permitted to travel to attend to some issues, so consequently he was not part of the movement.
"According to the story, after making the withdrawal, and on their way back to the office, they were accosted. A vehicle blocked them on top of the NNPC bridge, five occupants of the vehicle came down, shot at the Director and from their vehicle, brought out a sledge hammer to force the receptacle where the money was kept open and they left with the money.
"As at that time, there was no information, the police escort was not with the team and they sped off.
"The driver claimed to have trailed them to a point along Conference Hotel where he lost contact with them.
"The director that was shot was thereafter taken to the State Hospital, Ijaye, Abeokuta, where he eventually gave up the ghost.
"For our investigation, I have directed the Area Commander to get in touch with the bank and request for the CCTV footage which will give us insight into the vehicle in question and possibly identify the culprits if they ever ventured to step out of the vehicle or maybe they just maintained their position in the vehicle.
"I have reached out to Lagos and everywhere in the command to block all the exits out of the state, while we are trying to identify them because they said they were five and they used hood."
NDLEA raids Osun illicit drug party tagged 'unholy alliance', arrests organisers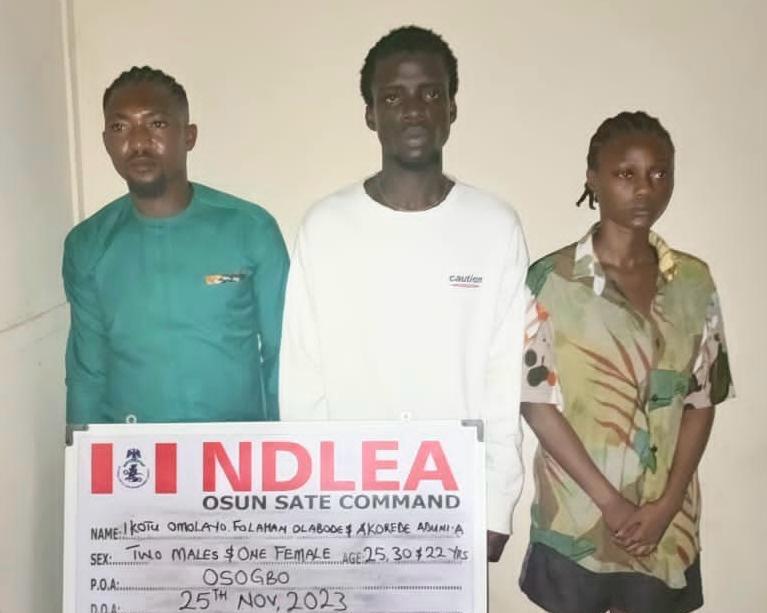 ..Recovers over 2 tons of illicit substances in Lagos, Ogun, Edo, Ekiti, Anambra, Ondo, Kogi operations
Operatives of the National Drug Law Enforcement Agency, NDLEA on Saturday 25th November raided a lounge in Osogbo, the Osun state capital where a night party organized for illicit substance abuse was to going to hold and arrested some of the organisers who were found with drug exhibits.
The raid followed credible intelligence that some persons were going to hold a night party tagged "Unholy Alliance…for Stoners and Drunkards" where different types of illicit substances were going to be sold and consumed by patrons.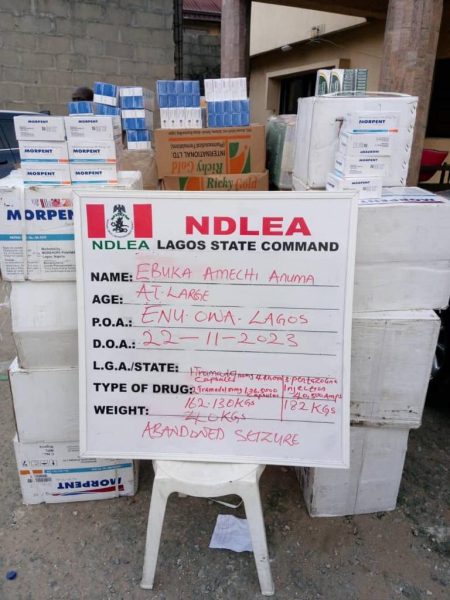 Soon after the organisers began to gather at Berrymist Lounge located at Ofatedo area of Osogbo to start the party, NDLEA operatives swooped on them, arrested them and recovered illicit substances of abuse and drug paraphernalia from them. Those arrested include: Ikotu Omolayo, 25; Fola Olabode, 30, and Akorede Adunni Ajibola, 22.
The management of the Lounge has also been invited for further investigation.
This comes on the heels of an earlier raid on Thursday 23rd Nov. at Area 5 forest reserve, Ile-Ife where operatives recovered 156kgs of cannabis sativa.
Meanwhile, operatives in Ogun state on Friday 24th November arrested two suspects: Adamu Ibrahim and Nura Sani at Ileke trailer garage, along Lagos-Ibadan expressway, where 859 kilograms of cannabis sativa concealed among bags of sugar in a truck for onward transportation to Mokwa, Niger state.
The consignment was loaded in Ogbese, Ondo state and hidden among bags of cement in a truck before being transloaded into another trailer bearing sugar in Ogun state.
In Edo state, operatives on Monday 20th Nov. stormed a warehouse at Obi Camp in Owan West LGA where they recovered 338kgs of cannabis concealed in sacks of charcoal, while in another operation in Ikhin forest, Owan East LGA, NDLEA officers seized 235kgs of the same psychoactive substance on Saturday 25th Nov.
A suspect, Onah Kenneth Ikechukwu, 32, was arrested at Jattu, Etsako West LGA with 11,690 capsules of tramadol, 295 bottles of codeine syrup and various quantities of Molly, Cannabis and Methamphetamine on Wednesday 22nd Nov.
A similar raid in Lagos on Wednesday 22nd Nov. at Enu Owa Street, Lagos Island led to the recovery of 40,500 ampoules of pentazocine injection; 440,000 pills of tramadol in a store belonging to a suspect, Ebuka Amechi who is currently at large. Not less than 135,600 capsules of tramadol and 950grams of cannabis were seized from two suspects: Afamefuna Ibekwe, 37, and Sunday Onweh, 41, at Nkpor, Akuzor and Ose-Ogbaijo, Onitsha, respectively.
While 37,360 pills of different opioids and 250 bottles of codeine syrup coming from Onitsha, Anambra enroute Abuja were recovered from Muhammed Abba Khamis, 22, on Thursday 23rd Nov. along Okene- Lokoja-Abuja expressway, operatives in Ekiti state seized a total of 288kgs of cannabis at Odo-Owa forest in Ijero LGA on Saturday 25th Nov. At least, 116kgs of same psychoactive substance were seized from a suspect, Chinagoram Obaru, 24,
who was arrested at Iju forest on Thursday 23rd Nov.
In the same vein, Commands across the 36 states and the FCT equally continued their War Against Drug Abuse, WADA, sensitisation lectures in schools, communities, work places and others.
Some of these include: WADA sensitisation lecture for students and staff of Comprehensive High School, Abia, Udi LGA, Enugu; teachers and students of Dr. Nuhu Sanusi Junior/Senior Secondary School, Dutse, Jigawa; students of Haneef High School, Jos, Plateau; students of Akinorun Muslim Grammar School, Ikirun, Osun; students of Zaibadari Michika Primary, Junior and Senior Secondary School, Michika, Adamawa; and students of Madarasatul-Islamiya Baichin Kako, Marna Gusau, Zamfara state, among others.
Commending the arrests and seizures of the past week by officers and men of the Osun, Ogun, Ondo, Edo, Anambra, Ekiti, Kogi and Lagos Commands, Chairman/Chief Executive Officer of NDLEA, Brig. Gen. Mohamed Buba Marwa (Retd) charged them and their compatriots across all formations of the Agency to continue to remain vigilant and double their efforts especially with the desperation of criminal networks to make money by all means as the yuletide season approaches.
Femi Babafemi
Director, Media & Advocacy
NDLEA Headquarters Abuja
Sunday 26th November 2023
Police arrests former governorship candidate, Wilfred Bonse over N607m Patricia cyber attack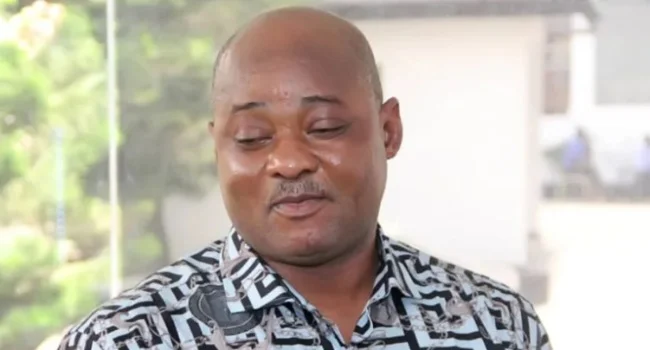 The Nigerian Police Force (NPF) says it arrested Wilfred Bonse, former Cross River governorship candidate, in connection to the security breach and financial fraud suffered by Patricia, a cryptocurrency firm.
He contested the Cross River governorship election in 2023 on the platform of the New Nigeria People's Party (NNPP).
Bonse, according to Muyiwa Adejobi, NPF public relations officer (PRO), conspired to launder the sum of N50 million that originated from the fraudulent diversion of N607 million from Patricia.
In a statement on Friday, Adejobi said Bonse received the funds with his bank account through a cryptocurrency wallet.
The fund is part of the N2 billion Patricia lost to a security breach on its crypto processing platform in May 2023.
Adejobi said after painstaking efforts, the police trail led to the arrest of Bonse.
He said the police, through its national cybercrime center (NPF-NCCC) made significant strides in the investigation of the complex financial fraud case reported by Patricia.
"The case involves a criminal conspiracy, unauthorised modification of computer systems, network data, and the unlawful diversion of funds amounting to over Two hundred million naira (N200,000,000:00k) as contained in a petition to the inspector general of Police," the PRO said.
"Outlining the details of the alleged theft, conversion of cryptocurrency wallets, and unauthorised fund diversion from the company's Flutterwave account, the petition specifically mentioned some individuals currently at large.
"Having registered his involvement in the complex crime. Wilfred Bonse conspired in laundering the sum of fifty million naira (N50,000,000:00k) originating from the fraudulent diversion of six hundred and seven million naira (N607,000,000:00k) from Patricia Technology company's account to his bank account through a cryptocurrency wallet.
"While the investigation is ongoing, the Nigeria Police Force wishes to assure the public that all individuals involved in this criminal conspiracy will be brought to justice."
This is not the first case of Bonse's involvement in cyber fraud.
In February, the politician was accused of benefitting at least N40 million from a cyber fraud scheme executed by a group of hackers identified as 'The Syndicate'.
"BONSE WAS USED TO STEAL FROM PATRICIA"
Commenting on Bonse's arrest, Hanu Agbodje, founder of Patricia, said the politician was used "to steal N607,000,000 from Patricia".
"This is not all the monies lost, but recovery from this would go a long way to soothe Patricia users," Agbodje said.
"The case is still being investigated, the hackers used politicians to launder the stolen money. All of whom would be brought to the book. One by One.
"My commitment remains to Patricia users, Repayment started on the 20th of November, and it would continue. Until every user is reached."
Agbodje said he takes the new development as a win even though the company still has some grounds to cover.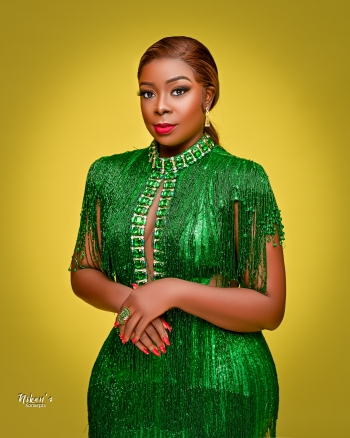 Bodex F. Hungbo, SPMIIM is a multiple award-winning Nigerian Digital Media Practitioner, Digital Strategist, PR consultant, Brand and Event Expert, Tv Presenter, Tier-A Blogger/Influencer, and a top cobbler in Nigeria.
She has widespread experiences across different professions and skills, which includes experiences in; Marketing, Media, Broadcasting, Brand and Event Management, Administration and Management with prior stints at MTN, NAPIMS-NNPC, GLOBAL FLEET OIL AND GAS, LTV, Silverbird and a host of others