14.4 million pills of opioids seized in Lagos raids as trafficker excretes 86 wraps of heroin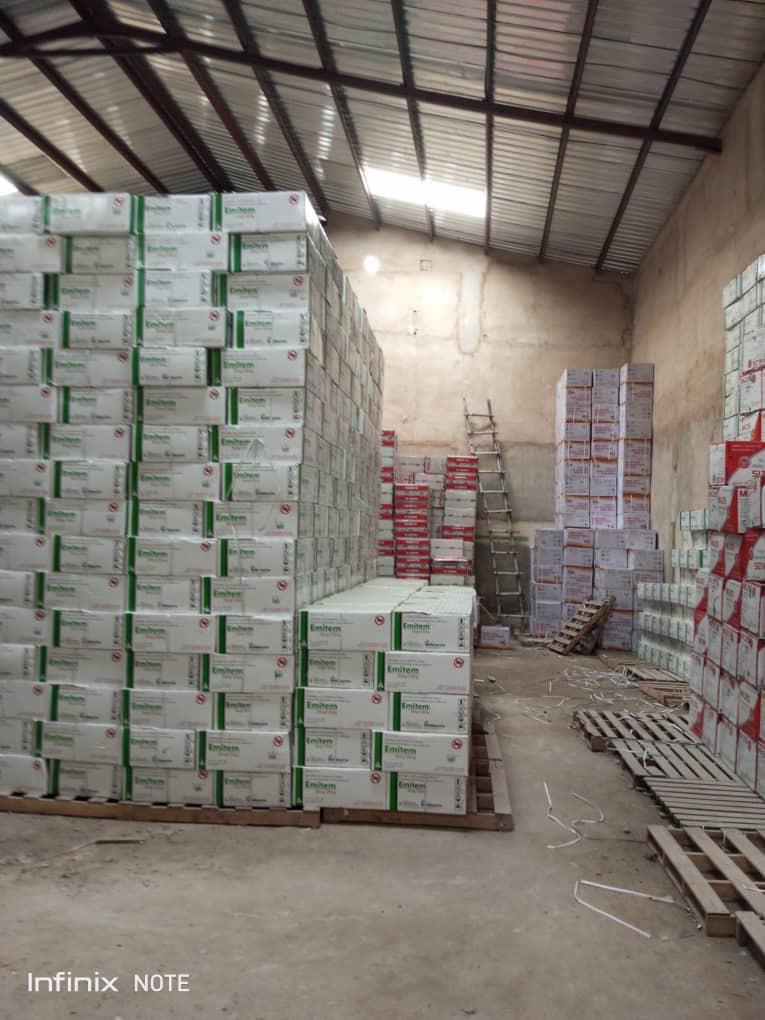 ..NDLEA arrests 3 blind members of drug syndicate; intercepts 3.2kgs Saudi-bound cocaine
No less than Fourteen Million, Four Hundred and Eighty One Thousand, Five Hundred and Nineteen (14, 481, 519) pills of Tramadol and bottles of codeine syrup worth over Thirteen Billion Naira (N13,000,000,000) in street value have been recovered by operatives of the National Drug Enforcement Agency, NDLEA, in three major busts of drug cartels operating in Amuwo Odofin, Idumota and the SAHCO shed of the Murtala Muhammed International Airport, Ikeja Lagos.

The three intelligence-led operations began with the raid of House 8/10 Hon. Wahuha Avenue, Divine Estate, Ago Palace area of Amuwo Odofin on Sunday 29th October, where 490,000 pills of tramadol and 81,519 bottles of codeine syrup measuring 4, 510, 000mls were recovered.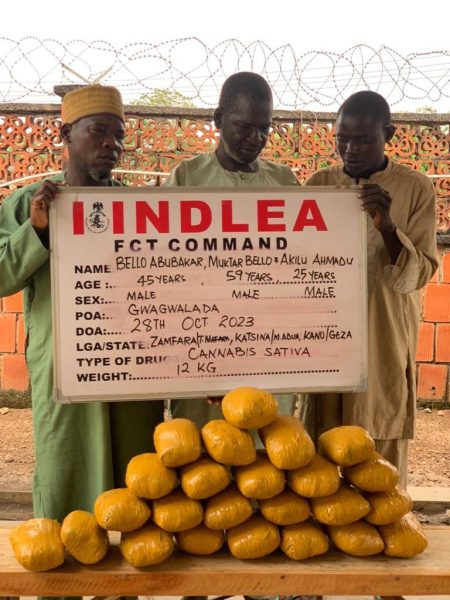 In a similar operation on Tuesday 31st October, NDLEA operatives swooped on a secret warehouse operated by a billionaire Idumota trader, Nwaoha Anayo located at Onitire, Aguda area of Surulere where Twelve Million Seven Hundred Thousand (12, 700, 000) pills of tramadol were recovered.

In the same vein, at least six members of a syndicate using their official cover to facilitate the smuggling of illicit drugs through the Skyway Aviation Handling Company (SAHCO) warehouse at the Lagos airport into the country have been arrested and One Million Two Hundred and Ten Thousand (1, 210, 000) pills of tramadol seized from them in a painstaking operation that lasted for weeks.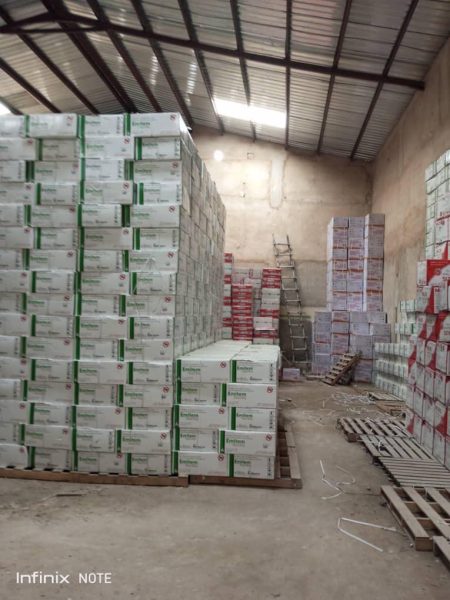 The six suspects already in NDLEA custody include: Oladele Sanya-Olu; Lawal Itunu Temitope; Sanamo Alla Daniel; Udeh Felix Monday; Musa Mutalib and Unege Evans Icibor, while three other suspects: Sarki Mubarak Salami; Abdullahi Aliyu (aka Aboki); and Monday Anwal, are now on the run and wanted by NDLEA.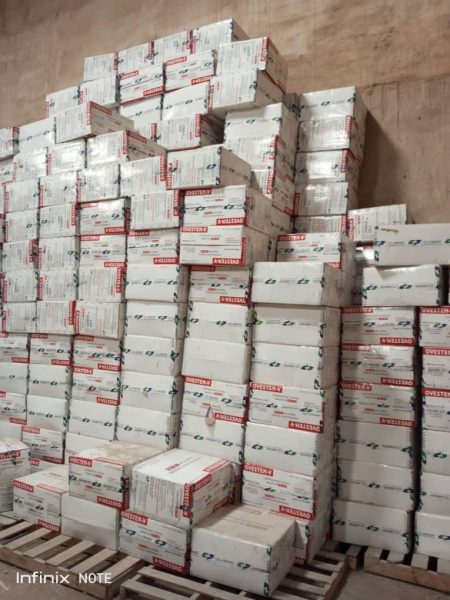 At the Nnamdi Azikiwe International Airport, NAIA, Abuja, NDLEA operatives on Sunday 29th October intercepted yet another businessman, 50-year-old Nwokolo Ifeanyi Anthony during the outward clearance of Air France flight AF 878 to Amsterdam, Netherlands via Paris, France at the boarding gate and was body scanned.
The result turned out to be positive for illicit drug ingestion.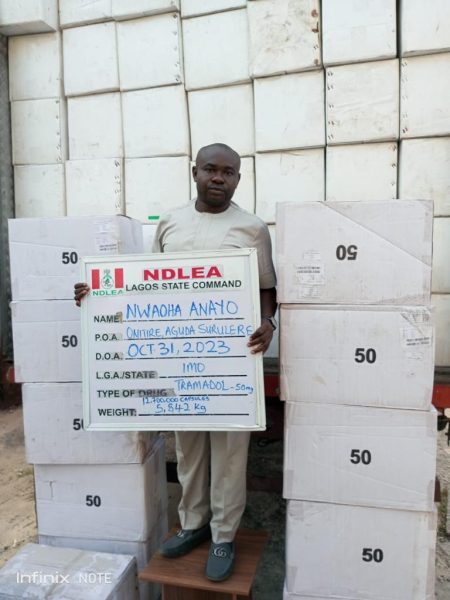 The suspect who travelled from Lagos to board the flight was subsequently kept under observation for some days during which he excreted a total of 86 pellets of heroin weighing 1.330kilograms.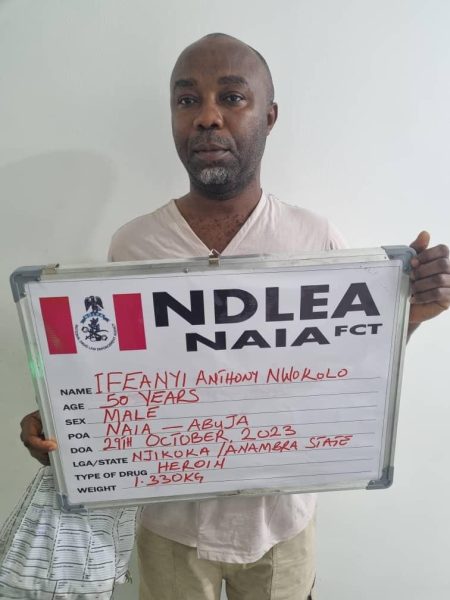 Similarly, NDLEA operatives of the Directorate of Operations and General Investigation, DOGI, attached to courier firms on Monday 30th October intercepted 22 parcels of cocaine concealed in the walls of a carton containing sewn local fabrics popularly called Aso Oke, heading to Jeddah, Saudi Arabia.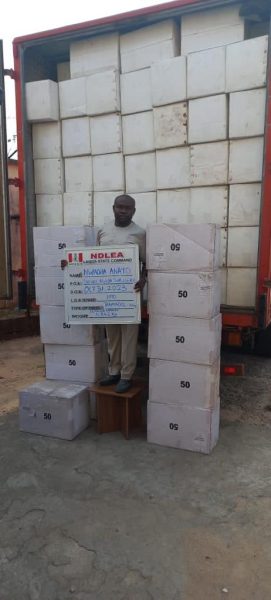 Meanwhile, NDLEA operatives have arrested three blind men operating an illicit drug ring between Lagos and Kano, while another blind member of the syndicate is still at large.
The lid was blown off the group following the arrest of a blind suspect, Adamu Hassan, 40, along Gwagwalada expressway Abuja with 12kgs of skunk on his way from Lagos to Kano on Saturday 28th October.
Investigations however established that he was totally oblivious of the content of the bag handed to him to deliver in Kano.

Follow up operations then led to the arrest of the arrowhead of the syndicate, Bello Abubakar, 45, who is also blind. In his statement, Bello who is married with five children said he has been living in Lagos for 30 years but started the illicit drug business five years ago.

Another suspect, Muktar Abubakar, 59, who is equally blind has been living in Lagos for 40 years and married to three wives with 14 children.
Both Muktar Abubakar and Bello Abubakar are joint owners of the business, while the third suspect, Akilu Amadu, 25, also blind equally contributes money to the criminal trade and was indeed the one who delivered the consignment to Adamu at the motor park in Lagos to deliver in Kano.
Another blind suspect who is the expected receiver of the consignment in Kano, Mallam Aminu is currently at large.

While operatives in Osun on Saturday 4th November stormed the Obada sawmill forest in Owena-Ijesa, Oriade LGA where they arrested a suspect, Monday Sylvester, 37, on a 6.01 hectares of cannabis farm which was destroyed and 489.8kgs already processed plant recovered, their colleagues in Edo raided a trans-loading point inside Avbiosi forest, Owan West LGA where 603 kilograms of the illicit substance were seized.

Also, NDLEA officers in Ogun state on Friday 3rd November recovered a Toyota Sienna bus from a ditch, at Ajebo Area, along the Lagos-Ibadan expressway.
A search of the vehicle led to the seizure of 460kgs of the same substance, while a total of 116.5kgs of cannabis sativa belonging to a suspect at large were seized at Olagunju, Mushin area of Lagos.

The Commands and formations of the Agency continued their war against drug abuse, WADA, advocacy lectures across the country.
Some of the sensitization lectures in the past week were organized by: Zone N command of NDLEA in collaboration with the Akwa Ibom state command for principals of secondary schools in the state;
Kano state command at Government Science and Technical College, Wudil; Gombe state command for students of Haruna Rasheed College of Health Sciences, Dukku; Anambra state command for students of Community Secondary School, Ezi-Awka; Zone I command in collaboration with Osun command of the Agency and the State Ministry of Education for over 320 secondary school principals in the state; Oyo State command at Anglican Grammar School, Starlight, Ogbomoso with 2,032 students in attendance and Ogun state command for students and staff of Gateway Junior Secondary School, Abeokuta.

While commending the officers and men of the NAIA, MMIA, Lagos, Osun, Edo and FCT Commands as well as those of DOGI for the arrests and seizures of the past week, Chairman/Chief Executive Officer of NDLEA, Brig. Gen. Mohamed Buba Marwa (Retd) charged them and their compatriots across the country to remain focused as the Agency expands its operations against drug cartels.
Femi Babafemi
Director, Media & Advocacy
NDLEA Headquarters Abuja
Sunday 5th November 2023
NDLEA raids Osun illicit drug party tagged 'unholy alliance', arrests organisers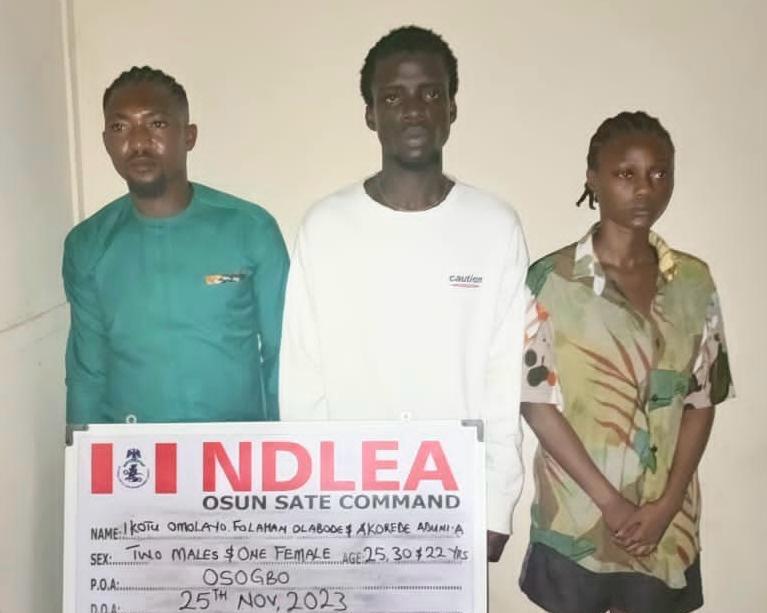 ..Recovers over 2 tons of illicit substances in Lagos, Ogun, Edo, Ekiti, Anambra, Ondo, Kogi operations
Operatives of the National Drug Law Enforcement Agency, NDLEA on Saturday 25th November raided a lounge in Osogbo, the Osun state capital where a night party organized for illicit substance abuse was to going to hold and arrested some of the organisers who were found with drug exhibits.
The raid followed credible intelligence that some persons were going to hold a night party tagged "Unholy Alliance…for Stoners and Drunkards" where different types of illicit substances were going to be sold and consumed by patrons.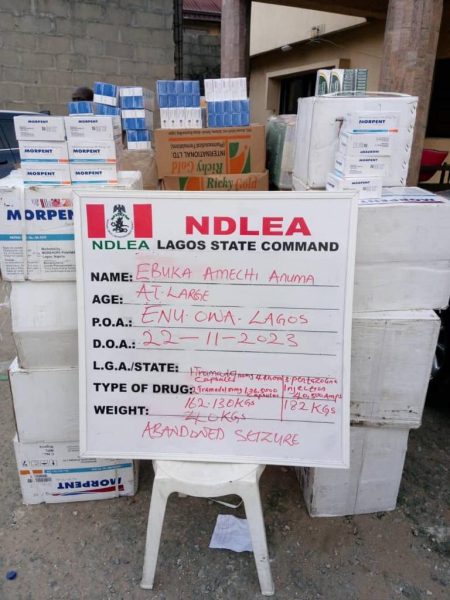 Soon after the organisers began to gather at Berrymist Lounge located at Ofatedo area of Osogbo to start the party, NDLEA operatives swooped on them, arrested them and recovered illicit substances of abuse and drug paraphernalia from them. Those arrested include: Ikotu Omolayo, 25; Fola Olabode, 30, and Akorede Adunni Ajibola, 22.
The management of the Lounge has also been invited for further investigation.
This comes on the heels of an earlier raid on Thursday 23rd Nov. at Area 5 forest reserve, Ile-Ife where operatives recovered 156kgs of cannabis sativa.
Meanwhile, operatives in Ogun state on Friday 24th November arrested two suspects: Adamu Ibrahim and Nura Sani at Ileke trailer garage, along Lagos-Ibadan expressway, where 859 kilograms of cannabis sativa concealed among bags of sugar in a truck for onward transportation to Mokwa, Niger state.
The consignment was loaded in Ogbese, Ondo state and hidden among bags of cement in a truck before being transloaded into another trailer bearing sugar in Ogun state.
In Edo state, operatives on Monday 20th Nov. stormed a warehouse at Obi Camp in Owan West LGA where they recovered 338kgs of cannabis concealed in sacks of charcoal, while in another operation in Ikhin forest, Owan East LGA, NDLEA officers seized 235kgs of the same psychoactive substance on Saturday 25th Nov.
A suspect, Onah Kenneth Ikechukwu, 32, was arrested at Jattu, Etsako West LGA with 11,690 capsules of tramadol, 295 bottles of codeine syrup and various quantities of Molly, Cannabis and Methamphetamine on Wednesday 22nd Nov.
A similar raid in Lagos on Wednesday 22nd Nov. at Enu Owa Street, Lagos Island led to the recovery of 40,500 ampoules of pentazocine injection; 440,000 pills of tramadol in a store belonging to a suspect, Ebuka Amechi who is currently at large. Not less than 135,600 capsules of tramadol and 950grams of cannabis were seized from two suspects: Afamefuna Ibekwe, 37, and Sunday Onweh, 41, at Nkpor, Akuzor and Ose-Ogbaijo, Onitsha, respectively.
While 37,360 pills of different opioids and 250 bottles of codeine syrup coming from Onitsha, Anambra enroute Abuja were recovered from Muhammed Abba Khamis, 22, on Thursday 23rd Nov. along Okene- Lokoja-Abuja expressway, operatives in Ekiti state seized a total of 288kgs of cannabis at Odo-Owa forest in Ijero LGA on Saturday 25th Nov. At least, 116kgs of same psychoactive substance were seized from a suspect, Chinagoram Obaru, 24,
who was arrested at Iju forest on Thursday 23rd Nov.
In the same vein, Commands across the 36 states and the FCT equally continued their War Against Drug Abuse, WADA, sensitisation lectures in schools, communities, work places and others.
Some of these include: WADA sensitisation lecture for students and staff of Comprehensive High School, Abia, Udi LGA, Enugu; teachers and students of Dr. Nuhu Sanusi Junior/Senior Secondary School, Dutse, Jigawa; students of Haneef High School, Jos, Plateau; students of Akinorun Muslim Grammar School, Ikirun, Osun; students of Zaibadari Michika Primary, Junior and Senior Secondary School, Michika, Adamawa; and students of Madarasatul-Islamiya Baichin Kako, Marna Gusau, Zamfara state, among others.
Commending the arrests and seizures of the past week by officers and men of the Osun, Ogun, Ondo, Edo, Anambra, Ekiti, Kogi and Lagos Commands, Chairman/Chief Executive Officer of NDLEA, Brig. Gen. Mohamed Buba Marwa (Retd) charged them and their compatriots across all formations of the Agency to continue to remain vigilant and double their efforts especially with the desperation of criminal networks to make money by all means as the yuletide season approaches.
Femi Babafemi
Director, Media & Advocacy
NDLEA Headquarters Abuja
Sunday 26th November 2023
Police arrests former governorship candidate, Wilfred Bonse over N607m Patricia cyber attack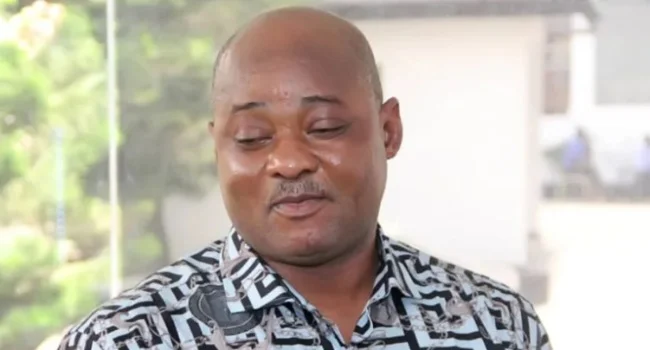 The Nigerian Police Force (NPF) says it arrested Wilfred Bonse, former Cross River governorship candidate, in connection to the security breach and financial fraud suffered by Patricia, a cryptocurrency firm.
He contested the Cross River governorship election in 2023 on the platform of the New Nigeria People's Party (NNPP).
Bonse, according to Muyiwa Adejobi, NPF public relations officer (PRO), conspired to launder the sum of N50 million that originated from the fraudulent diversion of N607 million from Patricia.
In a statement on Friday, Adejobi said Bonse received the funds with his bank account through a cryptocurrency wallet.
The fund is part of the N2 billion Patricia lost to a security breach on its crypto processing platform in May 2023.
Adejobi said after painstaking efforts, the police trail led to the arrest of Bonse.
He said the police, through its national cybercrime center (NPF-NCCC) made significant strides in the investigation of the complex financial fraud case reported by Patricia.
"The case involves a criminal conspiracy, unauthorised modification of computer systems, network data, and the unlawful diversion of funds amounting to over Two hundred million naira (N200,000,000:00k) as contained in a petition to the inspector general of Police," the PRO said.
"Outlining the details of the alleged theft, conversion of cryptocurrency wallets, and unauthorised fund diversion from the company's Flutterwave account, the petition specifically mentioned some individuals currently at large.
"Having registered his involvement in the complex crime. Wilfred Bonse conspired in laundering the sum of fifty million naira (N50,000,000:00k) originating from the fraudulent diversion of six hundred and seven million naira (N607,000,000:00k) from Patricia Technology company's account to his bank account through a cryptocurrency wallet.
"While the investigation is ongoing, the Nigeria Police Force wishes to assure the public that all individuals involved in this criminal conspiracy will be brought to justice."
This is not the first case of Bonse's involvement in cyber fraud.
In February, the politician was accused of benefitting at least N40 million from a cyber fraud scheme executed by a group of hackers identified as 'The Syndicate'.
"BONSE WAS USED TO STEAL FROM PATRICIA"
Commenting on Bonse's arrest, Hanu Agbodje, founder of Patricia, said the politician was used "to steal N607,000,000 from Patricia".
"This is not all the monies lost, but recovery from this would go a long way to soothe Patricia users," Agbodje said.
"The case is still being investigated, the hackers used politicians to launder the stolen money. All of whom would be brought to the book. One by One.
"My commitment remains to Patricia users, Repayment started on the 20th of November, and it would continue. Until every user is reached."
Agbodje said he takes the new development as a win even though the company still has some grounds to cover.
Court sentences man to death for killing seven DSS officers in 2015
An Ikeja high court has convicted two men over the death of seven officers of the Department of State Services (DSS).
Hakeem Oshodi, presiding judge, sentenced Clement Ododomu to death by hanging and Tiwei Monday to 16 years in prison.
The convicts were said to have committed the offences on September 14, 2015, in Ishawo Creek, Ikorodu, Lagos.
They were arraigned on a 10-count charge bordering on conspiracy to commit murder, murder and illegal possession of firearms, contrary to section 223 and 298 (3) of the criminal law of Lagos state, 2015.
The Lagos state government had submitted that DSS received a distress call from an editor of Sun newspaper (name withheld) on September 14, 2015, about the kidnap of his wife at their residence.
It was said that the state command of the DSS dispatched a nine-man team to carry out surveillance to ascertain the location of the kidnappers who were negotiating for a ransom.
In the evening of that day, Martins Ajayi, one of the officers in the team, sent a distress text message to the command headquarters saying that the men had been ambushed by vandals and their weapons seized.
The defendants, however, pleaded not guilty to the crime while submitting that they were in Lagos to attend the burial of their grandmother.
But in the judgment, Oshodi held that the defence failed to provide essential witnesses to corroborate the claim.
The judge also noted that the defendants did not show remorse for their crimes.
"The court has considered the allocutus of the defence counsel, but the position of the law is binding to us all," the judge said.
"As noted, the first defendant was convicted on counts one, five, seven, nine and ten, while the second defendant was convicted on counts one and ten."
He held that the prosecution was not able to prove that the second defendant was guilty of murder.
Oshodi said that evidence before the court showed that it was one Agbala and the first defendant who killed the operatives.
He held that the prosecution was able to prove that the two defendants participated in the ambush of the operatives.
He discharged and acquitted the convicts on counts two, three, four, six and eight because the prosecution was unable to prove the allegations against them.
"The court has observed the demeanour of the defendants and came to the conclusion that they felt no remorse with regard to the allegations they were facing," Oshodi said.
"They informed the court that they do not understand English language, whereas, in the recording, they both were conversing in English.
"The first and second defendants are hereby sentenced to imprisonment for 14 years for count 10 and the first and second defendants are hereby sentenced to imprisonment for two years for count 9.
"The first defendant is hereby sentenced to imprisonment for 20 years. The terms of imprisonment for both defendants will run concurrently.
"For count five and seven, which the court has found the first defendant guilty, the sentence of the court upon you is that you be hanged by the neck until you be dead and may God have mercy on your soul."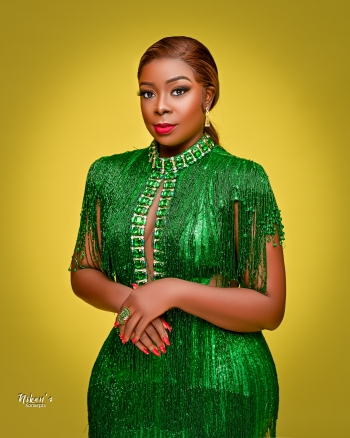 Bodex F. Hungbo, SPMIIM is a multiple award-winning Nigerian Digital Media Practitioner, Digital Strategist, PR consultant, Brand and Event Expert, Tv Presenter, Tier-A Blogger/Influencer, and a top cobbler in Nigeria.
She has widespread experiences across different professions and skills, which includes experiences in; Marketing, Media, Broadcasting, Brand and Event Management, Administration and Management with prior stints at MTN, NAPIMS-NNPC, GLOBAL FLEET OIL AND GAS, LTV, Silverbird and a host of others