Footballers Use Charms To Win Matches Says Taribo West
Former Super Eagles defender turned pastor Taribo West has revealed that most footballers including coaches use charms in order to win matches.
The 41 year old founder of Shelter in The Storm Miracle Ministries of All Nations said prior to his new life he used to consult traditional doctors. He also wonders why other players don't talk about their involvement;
"Of course yes (I was involved). I don't know why people decline to talk about their involvement with charms. Football has to do with a lot of powers. When there are big events, you look at the stadium, you see people, fans invoking all kinds of things; magicians are there, voodooists are there.
In my playing days, when I was ignorant, I used to get some mallams and babalawos (traditional doctors) to make charms for us, which we took to (national) camp. Sometimes it worked, sometimes it didn't.
In some clubs, before every game, the president or leader of the club will give you a lucky charm to play with. They will tell you to put it in your boots or socks and play. It's their superstitious belief; that it can help them win matches.
There are some coaches who are connected to African magicians and soothsayers from Senegal, Burkina Faso, Zaire or even Nigeria. These people are consulted to give these coaches results of games even before the matches are played.
Mr Ibu joins 'Obidient' rally in Jos despite endorsing Tinubu (Video)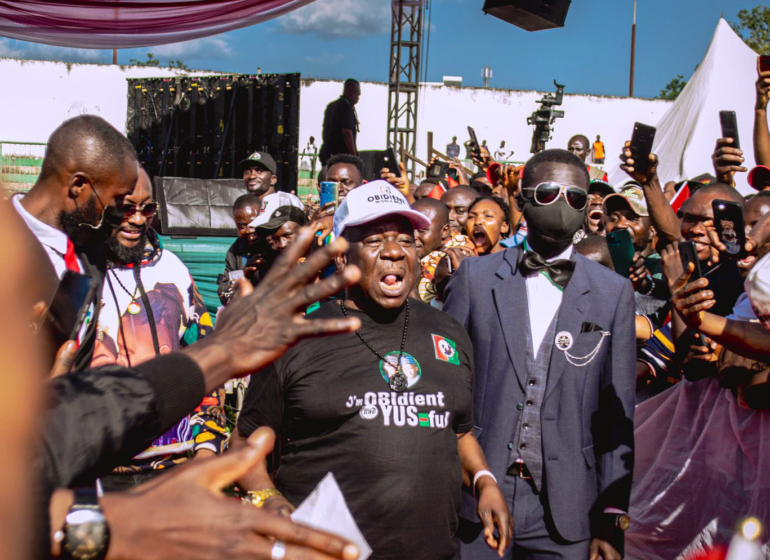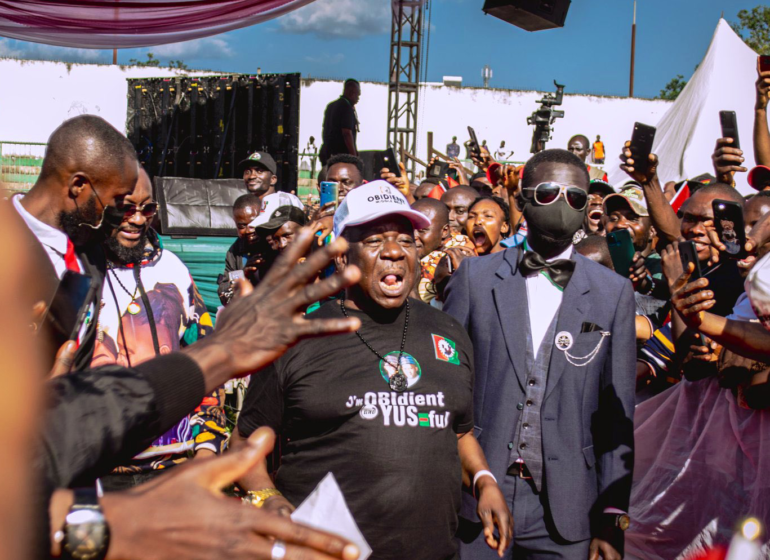 Mr. Ibu, the comic actor, has joined a rally being held in the name of Peter Obi, the presidential candidate of the Labour Party (LP).
A large crowd trooped out on Wednesday evening to receive Obi and Yusuf Datti, his running mate, in Jos.
The visit came as the campaign season for the 2023 election officially kicked off in accordance with the timetable.
The crowd and Obi's team assembled at Rwang Pam township stadium for the rally amid cheers from supporters.
In the crowd was Mr Ibu who would later take to the podium to deliver a short solidarity speech for Obi.
"He is ready to rule us. He is ready to take up the seat of the president. I want you to be obidient," he said.
Okon Lagos and Frank Ufomadu disagree over arrest of Bayelsa kidnapper, John Lyon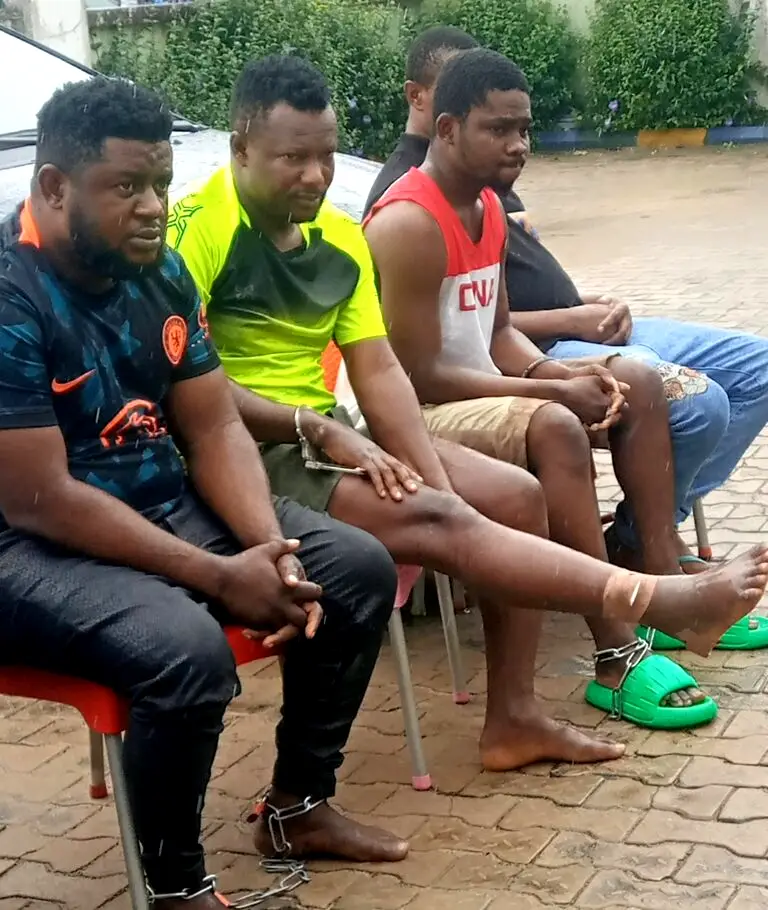 Okon Lagos, the Nollywood actor, and Frank Ufomadu, the filmmaker, have clashed over the arrest of John 'Lyon' Ewa, the alleged kidnapper who operates in Bayelsa.
Lyon was said to have been arrested on Saturday in the federal capital territory (FCT) by officers of the Bayelsa police command.
Until his arrest, the socialite was popular for flaunting luxurious items and posting motivational quotes about success.
The dispute over his arrest started when Paul Okoye lamented the obsession some ladies have towards wealth even without knowing its source.
In an Instagram post, Okoye wondered if any of the ladies seen with Lyon in viral videos ever questioned his occupation or source of money.
Weighing into the conversation, Okon Lagos supported Okoye's viewpoint.
The comedian said women who hang around people with questionable wealth are "enablers and should be given equal treatment with the actual culprit".
But reacting to the post, Ufomadu argued that the actor and singer have "no moral justification" for calling out any lady dating "criminals" for not questioning their source of income.
The filmmaker asked the pair if they ever made any attempt to probe the wealthy individuals who pay N5 million or more just to attend their shows.
Ufomadu added that some shows by comedians and singers are usually graced by "corrupt politicians and drug pushers".
He also tackled the actor for deleting his comment.
But Okon Lagos fired back, saying Ufomadu is not "worth the trouble".
He also berated him for "giving lame justifications for aiding, abetting and enabling crime".
Below are screenshots of their verbal exchanges: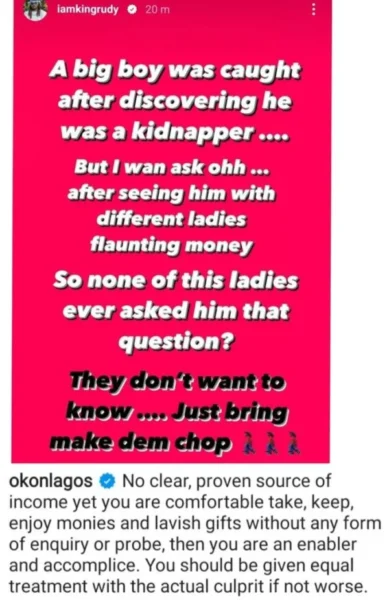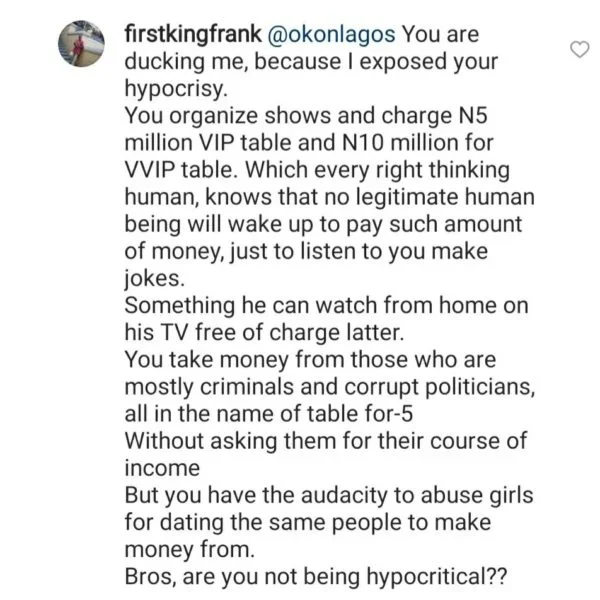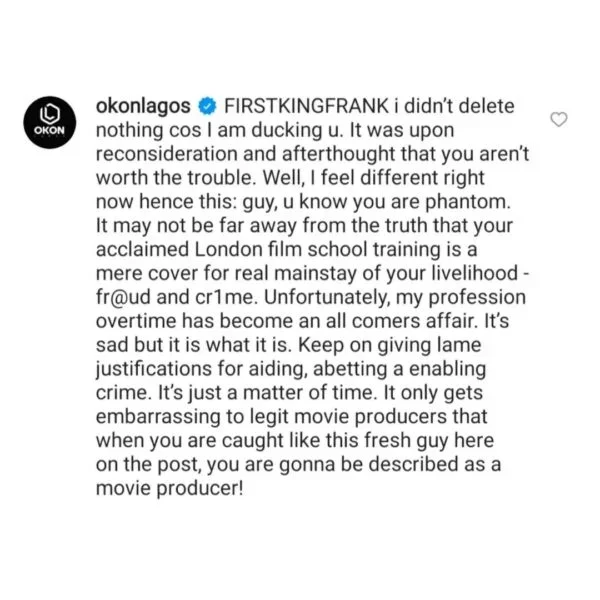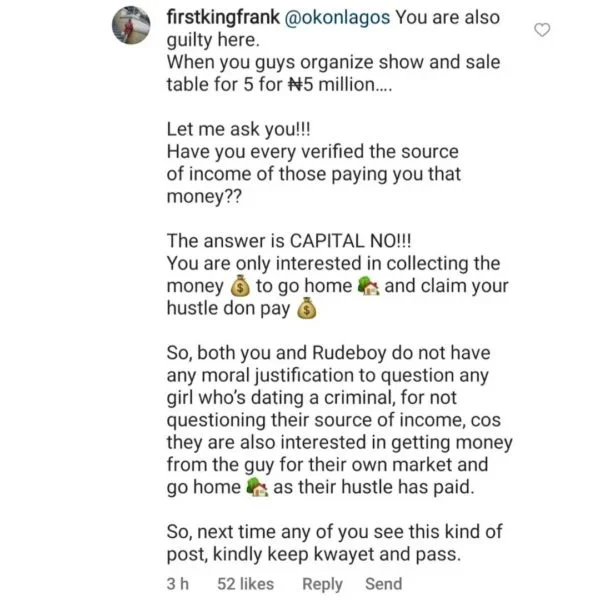 85% of Nigerian women are lesbians but men don't know – Actress Uju Mandy reveals
Nollywood star, Uju Mandy has made an intriguing remark regarding the sexual orientation of the majority of Nigerian women.
Uju Mandy in a recent post on her Instagram story claimed that roughly 85% of Nigerian women practice lesbianism but cover it by marrying a man as their husband.
"For girls on this comment section will be forming saint. Lesbianism is what they do low-key. In fact 85 percent of Nigerian girls are l3sbians," she wrote.
Interestingly, there are a number of comments that back up her assertions, and the majority of them argue that the proportion is higher than 85, possibly even 95 or 90.
Remember that Uju Mandy disclosed reasons why she is not wanting to settle down anytime soon after claiming she is still unmarried and not prepared to get married.
The mother of one added the criteria under which she would consent to becoming a second wife.
Hear her: "I am very scared of marriage. It is not easy. In fact, I am not just ready for now because I am scared of divorce. Men will always cheat because they are polygamous in nature. Even jazz can not stop a man from cheating. I am not a saint though, I have also cheated on my partner. I caught him cheating on me, so I reiterated. If I get married and my husband cheats, I'll not leave the union. I'll forgive him and we iron things out. Even married women cheat too."