Mrs Toyin Nwosu narrates how she was kinapped and how she was returned  
It was thanksgiving time at the home of Mr. Steve Nwosu, the Deputy Managing Director of The Sun Piblishing Limited as family, friends and well-wishers kept trooping to his house at Amuwo Odofin to celebrate with him over the return of his wife Toyin who was abducted last Monday by unknown gunmen.
The gunmen, who were said to have earlier raided several houses in the neigh­bourhood, gained entrance into Mr Nwosu's apartment by pulling down the burglary proof on one of the windows.
Not satisfied with what they got, the gun­men decided to take Mrs Nwosu into their waiting boat and disappeared through the canal directly facing the community.
Home at last but still recovering in an undisclosed location in Lagos, Mrs. Toyin Nwosu was seen surrounded by her chil­dren, her excited mother and some immedi­ate members of her family. They were obvi­ously grateful to God for the safe return of their daughter.
Not left out in the excitement were her kids who are yet to understand why the gunmen took her away. They grabbed their mother, insisting that she should play with them.
Laughing out loud but still visibly shak­en by the horrible experience, Mrs. Nwosu in an interview with Saturday Sun corre­spondents, said: "I thank God for my life and I believe that no amount of threat will stop me from doing good."
"We were woken up by the banging on the window and before my husband could make a distress call, they were already in the house. They ransacked the whole house and took all the valuables on sight. I was hoping that at the end of the raid, they would go, but I got the shock of my life when they ordered me to follow them. When I realised that they were about to kidnap me, I quickly took an extra wrap­per and tied it around my waist. The entire plea by my husband and I fell on deaf ears as they bundled me out, tied my hands and dragged me into their boat."
"It was very dark, maybe that was why they did not blindfold me. We drove for about 30 min­utes till we got to their camp which is in a thick forest. We walked into the bush for several minutes till we got to a point where they stopped. They assured me that if I cooperate with them, that no harm will come my way. They also asked me to pray to God that my husband will pay my ransom and on time. It was in that jungle that I spent four days and three nights."
"I tried to find out why they chose to kidnap me and they said that someone paid for my life. They insisted that they were hired to kill me but will spare my life if my husband will pay good money.
I also learnt that some persons in the community conspired against our family. I cannot confirm who or why but the truth is that no amount of threat will stop me from doing what I know how to do best, which is helping people. I will continue to do good."
"They asked me to eat and I refused. They promised to give me any kind of food that I wanted and I told them that all I wanted was to go home. Anytime the leader of the gang came around, he would be begging me to name whatever I wanted. I do not know why they were so kind to me. I guess they were kind because they were expecting money but I thank God for taking over their evil mind. I give God the glory that I came out of that place alive. They did not beat me. The only time I got a blow from them was when I tried to defend my son. He is a big boy and those boys were in­timidated by his size, so when they wanted to slap him, I blocked them and the hot slap landed on my face."
"No other new person came to that forest. I was always in company of one person while some of them will go out and come back. As soon as they return, they will give me update on whether my husband had paid the ransom or not.
"I kept begging them to help me by re­leasing me to my family. I told them that my husband does not have money but a bloody journalist. They said that they have been monitoring the area and that policemen were in our house. They also said that a lot of rich people were visiting the house which means that we are very rich. I told them that my husband is a good man, which is why a lot of people love to identify with him. It was possible that those persons only came to console him because of what happened.
"The younger man, who was always with me, kept assuring me that nothing will hap­pen to me. The one that was communicating with my husband called me and begged me to eat that he learnt that I have refused to eat. It was in the process of begging me that he said that I will be going home on Thurs­day. I was still scared but I prayed to God that it could be true that I was going home."
"On Wednes­day night, I became restless and kept re­minding them of their promise to take me home. They told me to hold on that they did not want to bring me out during the day­time. When it was very dark, we boarded a boat and they dropped me off at FESTAC new bridge at about 2.15am on Thursday.
"They also gave me a phone and asked me to call my husband to come and pick me. I do not know why they treated me that way but I strongly believe that that it was God who chose to answer our prayers. It was God that made them treat me nicely but no matter how nice they may be, a criminal will always be a criminal. It was God that took over the situation while I was in captivity." All through the interview session, Mrs. Nwosu smiled and kept thanking God for His mercies.
"The trauma was much but I thank God for His mercies. Today (Thurs­day) is my mother's 69th birthday anniver­sary and you can imagine how happy she is. What other gift can a mother ask from God but the safe return of her daughter? "I thank God and every other person that prayed and supported my family while I was in the lion's den. I am grateful to the president of our great country, Muham­madu Buhari, the governor of Lagos State, Akinwunmi Ambode, the former governor of Abia State and publisher of The Sun newspapers, Dr Orji Uzor Kalu, my col­leagues from Amuwo Odofin Local Gov­ernment Area, my professional colleagues from NIPR, The Sun staff and all the media houses who gave enormous coverage which I believe played a major role in softening the hearts of my abductors.
"I also thank the Nigerian police for the role they played in ensuring my safe return. May God bless all Nigerians who prayed for my safe return. May almighty God re­member you and bless you.
"Irrespective of what happened, I will keep doing good. I believe that the good that I did and will still do in the future will get me to a higher place. I wish to encourage Nigerians that they should not be discour­aged by the possibility that some persons who they assisted in the past will repay them with evil. It is God that will repay us."
Extracted from Saturday sun
Bad Bunny sued for $40m by ex-lover over unauthorised voice recording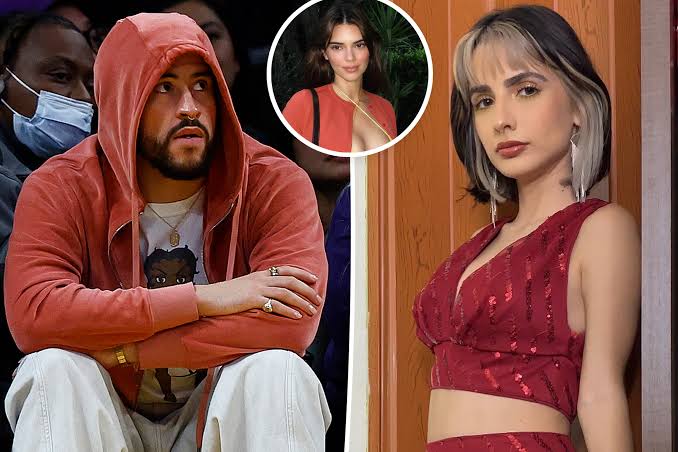 Carliz De La Cruz, the ex-lover of Bad Bunny, the Puerto Rican rapper, has sued him, claiming a voice recording she provided him before he became famous has been used without her permission.
Cruz argued that she is entitled to $40 million in compensation for "negligence and attack on her privacy and dignity."
According to BBC, Carliz filed a lawsuit against the rapper, claiming he used the catchphrase "Bad Bunny baby" — which she recorded on her phone in 2015 — in two of his songs without her consent.
The line is said to have appeared on the rapper's 2017 single 'Pa Ti' and his 2022 song 'Dos Mil 16'.
'Pa Ti' has raked in more than 355 million views on YouTube and over 235 million plays on Spotify, while 'Dos Mil 16' has over 60 million YouTube views and more than 280 million Spotify plays.
According to the legal documents by Carliz's lawyers, prior to the release of 'Un Verano Sin Ti', Bad Bunny's recent album, the rapper had offered to buy the rights to the line from his ex-lover for $2,000.
She was said to have declined the offer but the album was, however, released with her line on it. 'Un Verano Sin Ti' was then nominated for album of the year at the Grammy Awards.
Carlos also said that her recordings have been used in concerts, adding that it is a "gross negligence, bad faith and, worse still, an attack on her privacy, morals and dignity."
In the legal documents, Carliz said harassment from supporters of the 29-year-old rapper has made her "overwhelmed and anxious" while she seeks "psychologists for help".
The duo dated in 2011 and both worked in a supermarket while Bad Bunny also made music by the side.
They, however, parted ways in 2016.
The rapper's former lover is also suing Rimas Entertainment, his record label, and Noah Assad, Bad Bunny's manager.
I never asked Mo Bimpe sex for movie role, Yomi Fabiyi insists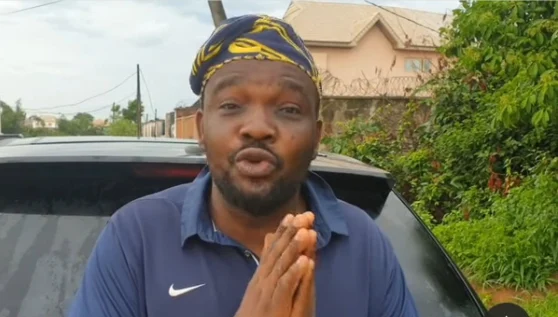 Yomi Fabiyi, the actor, has once again dismissed claims of sexual harassment against Adebimpe Oyebade.
In 2021, the actress — better known as Mo Bimpe — accused Fabiyi of subjecting her to "constant harassment, bully and threats."
Her claim had come as a response to the release of 'Oko Iyabo', a movie by Fabiyi on the sexual assault allegations against Baba Ijesha.
"I didn't make myself available for his sexual needs despite how much he tried. Yomi Fabiyi needs to be stopped. Thank God for grace, I would have given up on this dream because of his constant harassment, bully and threats," she had said.
But in a recent interview, Fabiyi denied claims that he demanded sex from Mo Bimpe before enlisting her in his movie.
"I starred her in my movie when nobody knew her and I never asked her for sex before I put her in the movie," he said.
"I always tell her that whenever she is chanced, she should come to Lagos so that I can brush her up and keep her up to speed before shooting.
"We shot the movie and we were there together, I didn't say before I give you this role I must have sex with you. People who do such things, that will be their first condition before they even give you that kind of role.
"I didn't demand anything from you, I didn't say come and have sex, I just wanted to help you. After we finished shooting and she noticed I didn't ask her for anything, she came to tell me she's following another man, Gabriel to Lagos.
"Why is she saying that I sexually assaulted her when many men have slept with her before she settled down with who she's with today."
Fabiyi had previously addressed the allegation against him.
Rita Dominic and Omoni Oboli call out INEC for moving polling units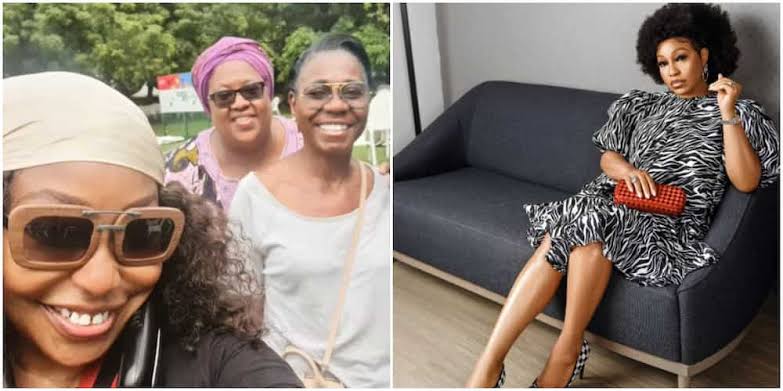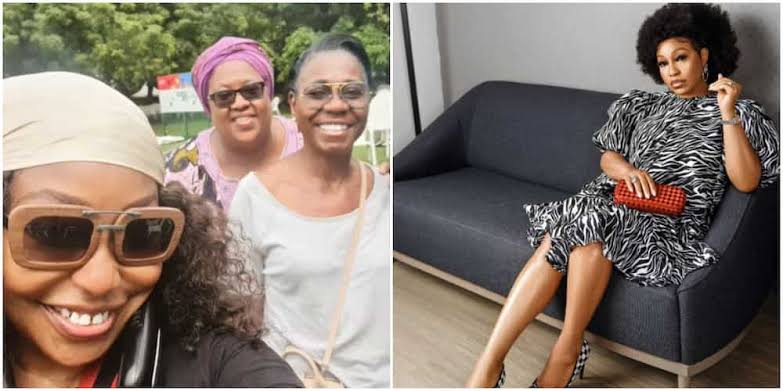 Rita Dominic and Omoni Oboli have called out the Independent National Electoral Commission (INEC) for allegedly moving their polling units.
The movie stars took to their social media pages to express their shock over the decision by INEC officials.
Dominic took to Instagram to state that she had been voting inside Victoria Garden City (VGC) for the last 10 years.
The actress, however, wondered why "the INEC staff came to move the centre outside the gate."
She lamented that the decision has denied several people the opportunity to cast their votes.
"At my polling unit in VGC with fam but @inecnigeria @ineclagos decided to move our polling unit and set up outside the estate on the main road without prior notice," she wrote.
"I have voted in the same polling unit for over 10 years and did so just about 3 weeks ago for the presidential election. I can't fathom why INEC officials will decide to move this outside?
"There are many senior citizens who live inside the estate, who want to exercise their civic duty but as it stands now might not be able to do that because of this decision.
"What reason would you move thousands of voters from somewhere that is organised to a chaotic place that would obstruct traffic? I just can't wrap my head around it!"
Similarly, Oboli claimed that their polling units have been reduced to three, instead of eight. She also alleged that they were asked to vote outside VGC.
"INEC has come to set up outside. There's an uproar going on here. It is a mess. There's some sort of military outside. But guys I don't think it's safe. I just said I should come outside. I am just gonna go right back into VGC. It is what it is. INEC, is this what we've reduced ourselves to?" she asked.
"We voted the last time and everything went reasonably okay. Why are we voting outside? There are eight polling stations inside. And you set up three canopies out here."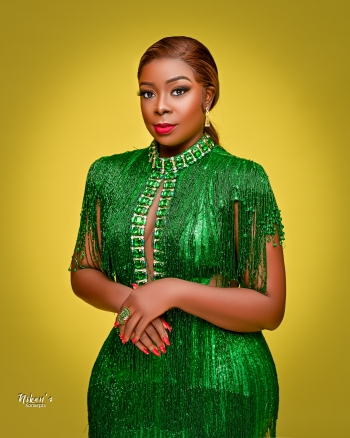 Bodex F. Hungbo, SPMIIM is a multiple award-winning Nigerian Digital Media Practitioner, Digital Strategist, PR consultant, Brand and Event Expert, Tv Presenter, Tier-A Blogger/Influencer, and a top cobbler in Nigeria.
She has widespread experiences across different professions and skills, which includes experiences in; Marketing, Media, Broadcasting, Brand and Event Management, Administration and Management with prior stints at MTN, NAPIMS-NNPC, GLOBAL FLEET OIL AND GAS, LTV, Silverbird and a host of others