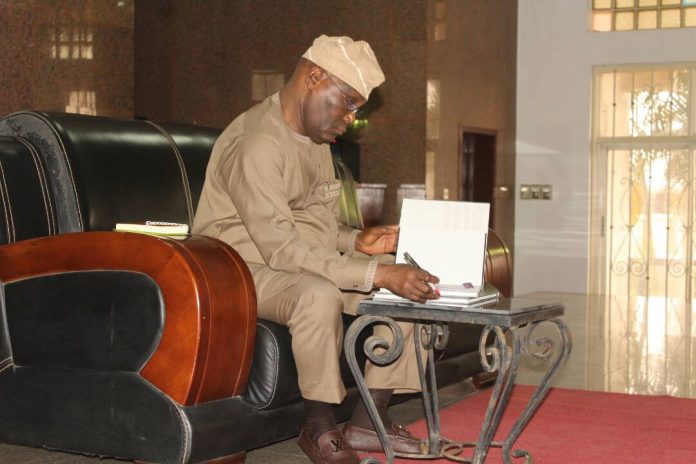 In a release personally signed by him, Atiku said Mr. Daniel would see to the day-to-day running of his campaign while he focuses on his nationwide consultation.
The statement reads in part: "I am pleased to officially notify you of the appointment of His Excellency, Otunba Gbenga Daniel ("OGD" as he is popularly known), as the Director-General of the Atiku Campaign Organisation.
"OGD is a former two-term governor of Ogun State, and a foremost engineer, businessman and astute politician. He has vast knowledge of the Nigerian political terrain and has a wide network of contacts and friends all over Nigeria, and these are a few of the assets he will be bringing to our campaign organisation.
"I am in no doubt OGD is a very positive and welcome addition to our campaign and I look forward to working with him as he leads over campaign to victory come February 2019.
"Otunba Daniel, a businessman, listed as one of 50 most promising Nigerians in a national newspaper in the 1990s, who started his political career as a young member of the Committee of Friends in the Unity Party of Nigeria, a political party founded by the late sage, Chief Obafemi Awolowo in the late 1970s was one of the major financiers of the Agbalajobi's aspiration to become the governor of Lagos State in the 1990s.
His Kresta Laurel office in Maryland in Ikeja also served as the campaign headquarters of the Senator Bola Ahmed Tinubu in 1999 where he also plays "The former Governor of Ogun State was involved so much in the politics of the South west Nigeria, supporting the socio-cultural associations like Afenifere and Yoruba Council of Elders (Y.C.E.) as well as various associations and groups."He surprised the political landscape of Ogun State in 2003 when he defeated an incumbent, Chief Olusegun Osoba, a feat described by many as almost impossible.
"As Governor of Ogun State, Daniel supervised and conducted various elections which returned all Peoples Democratic Party candidates which include 3 senators, 9 House of Representatives and 26 House of Assembly members.
"In 2011, Otunba Gbenga Daniel was the Southwest Coordinator of Jonathan/Sambo Presidential Campaign which returned the President in almost a landslide victory in the region.
He was also o
ne of the Chairmanship aspirants at the last Peoples Democratic Party's National Convention which was held in December 2017, during which he was reputed to have visited virtually all the states of the country campaigning and encouraging Party members, Leaders and critical stakeholders of the Party preaching hope and unity. He later stepped down to ensure the party's unity and cohesion."
We wish him all the best and big congratulations to OGD the man of the people