Stephen Walter, the man who supplied Mac Miller with deadly drugs, jailed for 17 years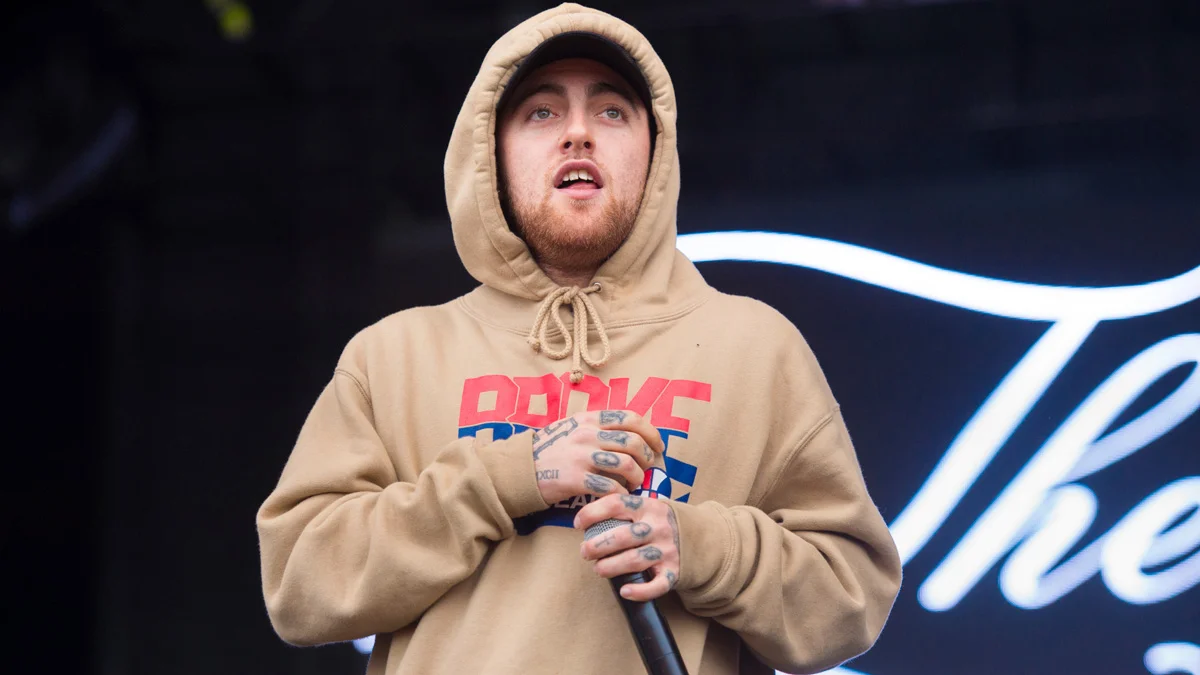 Stephen Walter, the California man, who was charged with supplying fentanyl-laced pills that led to Mac Miller's fatal overdose in 2018 has been sentenced to more than 17 years in prison.
Miller was found dead at his San Fernando Valley home in California on September 7, 2018.
He had passed on due to an accidental overdose of fentanyl, cocaine, and alcohol, according to the toxicology report released by the Los Angeles county coroner's office.
Walter is one of the three drug dealers charged with the deadly fentanyl overdose that claimed the life of the rising rapper.
According to ABC7 and CBS Los Angeles. the 49-year-old was sentenced on Monday after pleading guilty last year to a federal count of distribution of fentanyl. Speaking in court, Walter apologised to Miller's family, adding that his "actions caused a lot of pain."
"For that I'm truly remorseful," he said, according to ABC7. "I'm not the type of person that wants to hurt anyone."
Walter was charged in October 2019, alongside Cameron James Pettit and Ryan Michael Reavis.
According to prosecutors, Miller negotiated to buy oxycodone from Pettit, but the dealer sold him fake pills laced with deadly fentanyl.
Walter was said to have supplied the pills while Reavis allegedly delivered them to Pettit.
R. Kelly risks long prison term at sex trafficking sentencing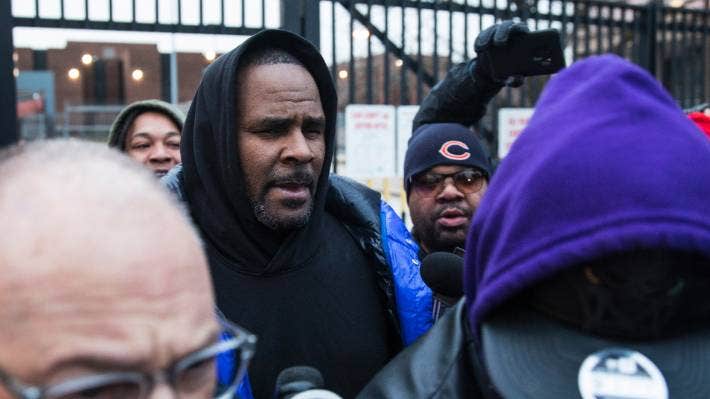 R. Kelly could face decades in prison when sentenced on Wednesday, US attorneys have speculated.
The embattled singer has been in detention for months, awaiting his June 29 sex trafficking sentencing.
He will be sentenced at the US district court in New York.
In September, a New York jury convicted the pop star of racketeering and eight counts of sex trafficking.
He was accused by multiple parties and found guilty of running a scheme to sexually abuse women and children.
According to BBC, US attorneys who spoke of the odds against him said he might spend at least 10 years in prison.
Some prosecutors speculated about 25 years behind bars, with the maximum possible sentence being life in prison.
His legal team argued that he deserves no more than a decade because he is "not currently a risk to the public".
His sentencing followed a six-week trial that heard how he trafficked women between different US states.
He was said to have been assisted by managers, security guards, and other entourage members for over two decades.
Prosecutors in the case were quoted as saying he showed a "callous disregard" and no remorse for his victims.
"Indeed, the defendant's decades of crime appear to have been fuelled by narcissism and a belief that his musical talent absolved him of any need to conform his conduct," they said.
"No matter how predatory, harmful, humiliating or abusive to others – to the strictures of the law."
Kelly is separately facing trial in Chicago on child sex images and obstruction charges.
He is also due to face sex abuse charges in Illinois and Minnesota.
Sanwo-Olu orders arrest of 'military officer' riding motorcycle against traffic in Ozumba Mbadiwe (Video)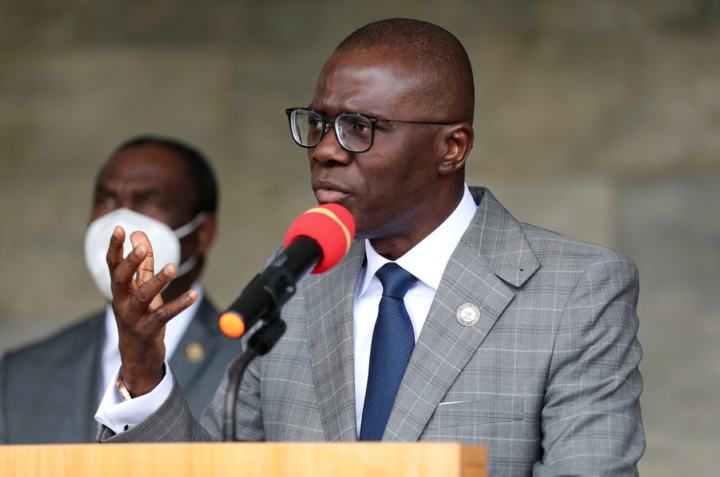 A video wherein Babajide Sanwo-Olu, governor of Lagos, ordered the arrest of a man riding a motorcycle against traffic along Ozumba Mbadiwe road, Victoria Island, has surfaced on social media.
Sanwo-Olu, while on his way to an event, came across the motorcyclist riding through one-way traffic along Ozumba Mbadiwe road and he ordered the security personnel in his convoy to arrest the rider.
The development comes weeks after the state banned commercial motorcycles, also known as okada, from six LGAs.
In May, Sanwo-Olu announced that from June 1, the ban on motorcycle operations in Ikeja, Surulere, Eti Osa, Lagos Mainland, Lagos Island and Apapa, will take effect.
The state had also warned private motorcycle owners against flouting traffic rules.
Speaking on the Tuesday incident, a witness, who did not want to be named, told The Press that while the security operatives attached to the governor were trying to effect the arrest of the rider, he resisted and tried to gain access to a military facility along Ozumba Mbadiwe road.
During the scuffle between the security personnel and the rider, some military officers who came to the scene, insisted that the motorcyclist was a colleague.
Sanwo-Olu was said to have insisted that the rider should be arrested for breaching the state traffic law — a development that led to heated argument at the scene.
In the video that surfaced on the social media, the unidentified military officer was seen carried by security operatives into a van.
EFCC arraigns self-styled PA to Oyo state Governor for internet fraud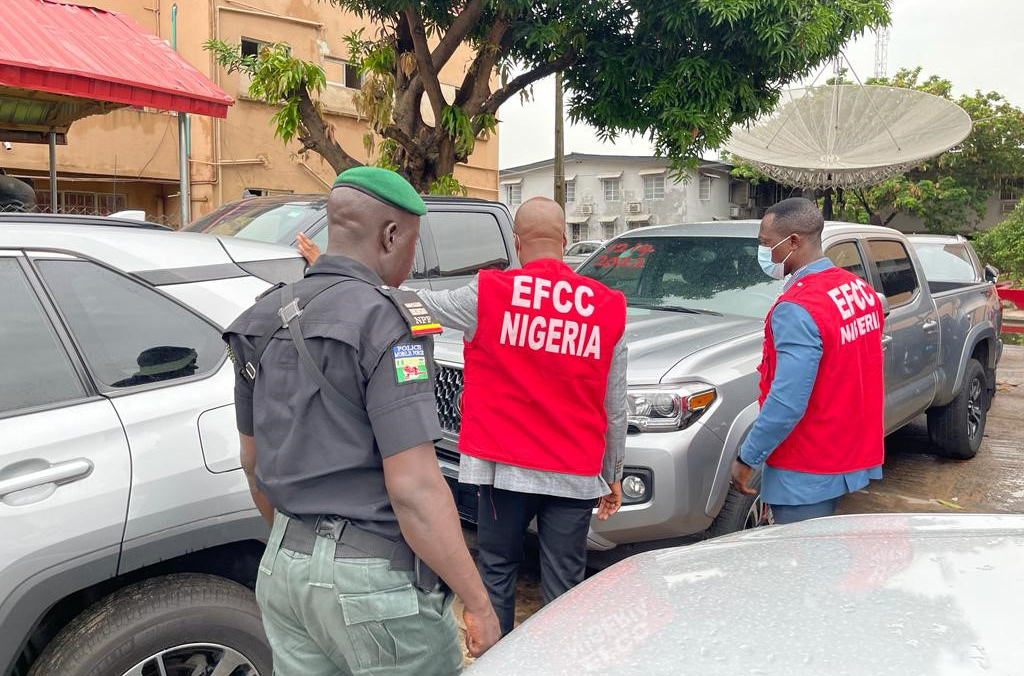 The Ibadan Zonal Command of the Economic and Financial Crimes Commission, EFCC, has arraigned one Babawale Daniel Olayinka before Justice Uche Agomoh of the Federal High Court sitting in Ibadan, Oyo State, on five count charges which borders on cybercrime.
An identity card recovered from the defendant at the point of arrest on February 11, 2022, introduced him as a "Personal Assistant to the Oyo State Governor on Media Matters."
According to a statement issued and signed by Head of media and publicity of the commission, Wilson Uwujaren, Olayinka was arrested alongside 25 others at Soka area of Ibadan.
The charge reads: "That you, Babawale Daniel Olayinka on 23rd of December, 2021, within the jurisdiction of this Honourable Court, not being a Visa Card issuer nor an authorized agent of Visa Card sold four Visa Debit Cards on Tiger Company Group via Telegram to another person who is neither the issuer nor the authorized agent of the issuer of the said card and thereby commit an offence contrary to Section 35 of the Cybercrime, Prohibition, Prevention, etc., Act and punishable under the same Section.
"That you, Babawale Daniel Olayinka between the 11th of February and 21st March, 2022 at Ibadan, within the jurisdiction of this Honourable Court, did make false statements to Chinedu Eneanya and his team, who are Officers of the Economic and Financial Crimes Commission, about the Identity Card of the Oyo State Government found in your possession, contrary to Section 39 (2) (a) and punishable under Section 39 (2) (b) of the Economic and Financial Crimes Commission Establishment Act, 2004."
The defendant, however, pleaded 'not guilty' to the charges filed against him by the EFCC.
Consequent, the prosecution counsel, Abdulrasheed Suleiman, asked the court for a trial date and remand the defendant in the Correctional Centre pending the determination of the case.
Counsel to the defendant, Mukhtar Aderogba and Nurullah Musa informed the court that application for the bail of their client had been filed and served on both the prosecution and the court. They asked that their client be admitted to bail.
Justice Agomoh, granted the defendant bail in the sum of N500, 000.00 and two sureties in like sum.