Police take over 3rd Mainland Bridge, issue warning to NANS (Video)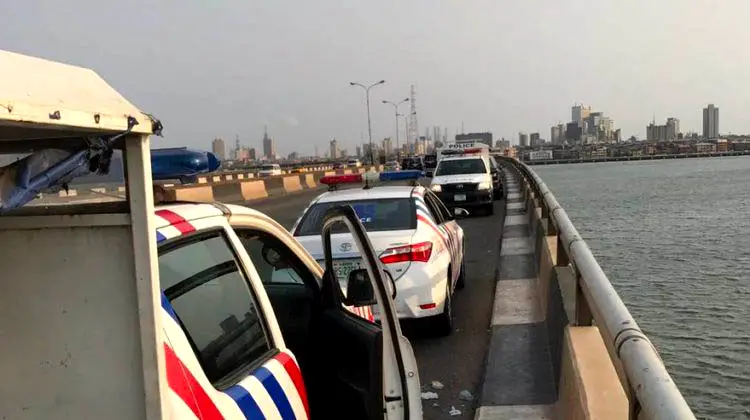 The National Association of Nigerian Students (NANS) has been warned by the Nigerian Police Force to steer clear of the third mainland bridge.
The police in the state on Wednesday deployed massive policemen around the bridge.
The spokesperson of the state police command Benjamin Hundeyin confirmed the deployment in a tweet posted on his verified Twitter handle.
Recall the students had some days ago grounded the activities at the Murtala Muhammed International Airport, Ikeja by protesting against the continued strike, embarked upon by the
Hundeyin said "I personally visited the 3rd Mainland Bridge this morning. Our officers, led by DOO Adeniji Adele, and CSP Lanre Edegbai are fully on the ground at that end of the bridge "
The image maker added that the same applies at other points.
He assured that "We will it allow any person or group of persons deprive Lagosians of their rights to freedom of movement. Everyone s rights must be respected.
Why we made Tobi Amusan brand Ambassador – Glo
Foremost digital and telecommunications services provider, Globacom has explained that the company's decision to make the current African, Commonwealth and World Champion in the 100m hurdles, Tobi Amusan its brand ambassador was not just to reward her for her sterling accomplishments, but also to promote the growth of sports in Nigeria and encourage the country's teeming youths to aspire toward realising their dreams by looking up to the new ambassador as mentor.
Globacom's Regional Manager, Sales, Lagos, Lawrence Odediran, made the remark at a ceremony held on Thursday September 29, 2022 at the company's headquarters, Mike Adenuga Towers, in Victoria Island, Lagos where Tobi Amusan was unveiled to the media.
Amusan set a new world record of 12.12 seconds in the semifinal of 100metres hurdles and followed this up with 12.06 seconds in the final event at the 2022 World Athletics Championships in Oregon, United States to take the gold medal, thus becoming the Nigerian world champion in an athletic event.
Odediran said " At Globacom, we are very proud of what Tobi Amusan has achieved in her athletics career. She is an embodiment of the Nigerian spirit of resilience, hard work and enterprise which enabled her to excel irrespective of the enormity of the challenges she encountered in her quest for success. These are qualities that Globacom identifies with",
He explained that Tobi Amusan has become a testimony to the famous saying by Malcom X that "the future belongs to those who prepare for it today", adding that "she prepared very hard in the previous years and today belongs to her."
Concluding, the Glo Executive said "Tomorrow is also waiting for other determined Nigerian and African youths who begin their preparations today. We, therefore, urge them not to be discouraged by present challenges, but to continue to strive to realise their dreams",
In her remarks at the event, a very elated Tobi Amusan expressed thanks to Globacom on her appointment as the company's ambassador, promising to be a good representative of the company and the youths at all times.
The new ambassador also assured the company that she would continue to project a positive image of the brand across the world.
According to her, "I am proud to be associated with Glo as its brand ambassador. It is a proudly Nigerian company doing great things and empowering Nigerians. I am grateful to the Chairman, Dr. Mike Adenuga, Jr., for giving me this amazing opportunity,"
Amusan, a two-time African Games champion in 100metres hurdles also won back-to-back African and Commonwealth titles in 2018 and 2022 in the 100m hurdles event, before wrapping up her long and successful 2022 campaign by competing in the 100m hurdles at the Zurich Diamond League event, which she won in 12.29 seconds.
The event was attended by top sporting personalities, the media and the management of Globacom Limited.
Nigerian doctor detained by Saudi police cries to FG for help
A Nigerian medical doctor resident in Saudi Arabia, Omafuvwe Jerome Ighowho has appealed to the Director-General of the Nigerians in Diaspora Commission (NIDCOM), Abike Dabiri-Erewa to come to his aid in the custody of the law enforcement agents.
Ighowho made the appeal following an incident of alleged assault levelled against him by his Sudanese colleague identified as Dr Adel Idris, over which he had been detained by the Saudi police.
According to a letter addressed to the commission and copied to the Nigerian Consulate General in Jeddah, the medical doctor revealed that he had only been in Saudi Arabia for 23 months before Idris developed a brawl against him.
As reported by Nigeria Abroad, they both work with Tabalah General Hospital, Tabalah, Bisha City, Aseer region of the country and had never fought before until an unfortunate incident where their play led to a minor injury on Idris's right knee.
He added that the incident has led to him being held in custody indefinitely with no help in view despite his failing health situation.
The letter read: "I am Omafuvwe Jerome Ighowho with passport number A12519900 and NIN 10418960616 Iquama 2492447301. I have been living in Saudi Arabia for about 23 months at Tabalah General Hospital, Tabalah, Bisha City, Aseer region.
"I am from Ughelli North LGA, Delta State and my permanent address is at House 28 Sheraton Estate Abule Oko Agbado, Ogun State. +966533818972 and ±2347067624826.
"On July 30, 2022, I had an incident with my fellow Sudanese doctor. After the resumption of duty, I decided to greet other doctors who were to work with me for the shift.
"Then I saw Dr Adel Idris and another Dr Isiah Awuri. I was explaining to Dr Isiah that Dr Adel Idris normally comes to work late and that day he also came late. Then Dr Adel Idris approached me and was saying why would I say he comes to work late.
"He said this with laughter and jokes but he held my two arms. I was laughing and also held him in the same manner as I was thrown off balance because of the firm grip from Adel (the Sudanese doctor) just to attain a good balance.
"We were both laughing and I then pushed him back to release myself from him as Dr Isiah (my Nigerian colleague) kept saying we should stop this rough play.
"Unfortunately, he struck his leg on the wall and fell down after which I assisted him up onto an examination bed. Thereafter, he said his knees were hurt and had an X-ray which showed he had a less than 2cm fracture on the right knee.
"Dr Isiah observed what happened and that we were not involved in a scuffle but a friendly encounter. Also, Dr Mai, a female Sudanese doctor, briefly saw we were joking and walked away.
"About some hours later, Dr Adel Idris came with the police, claiming that I assaulted him. I asked him did I assault you? He said No, then why call police?
"He never answered. This was on several occasions. On explaining to the hospital management, they understood the situation and pleaded with him not to go forward with his complaint, but he insisted."
The letter stated further: "The whole hospital management and Sudanese community have pleaded and even offered him financial compensation, change of hospital and job description, but he declined all.
"Moreover, the policemen at the station also pleaded with him to resolve this issue amicably, but he declined. At this point, everyone has been trying to get to him to plead with him. Yet he is nowhere to be found neither does he pick his calls nor respond to messages.
"I have been in police custody for days with no progress on the issue. My health has been affected and no one to assist me as I do not know anyone in the community and even Saudi as a whole.
"I am pleading with the Nigerian Government, Mrs Abike Dabiri-Erewa and the Nigerian in Diaspora Commission to intercede on my behalf so that I can have a quick resolution to this matter and attend to my health.
"I am frustrated with the situation, as I am deteriorating physically and mentally in the cell. Please assist me swiftly."
Troops rescue Chibok girl with four children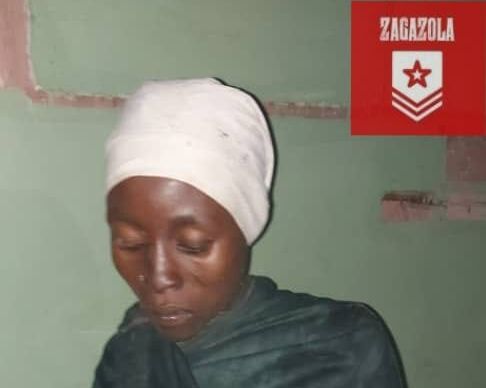 Troops of the Nigerian Army have reportedly rescued one of the Chibok schoolgirls abducted by insurgents in 2014.
The girl, identified as Yana Pogu, was rescued on Thursday in Borno by the troops of the Nigerian Army under Operation Hadin Kai.
Pogu, who was rescued with her four children, gave birth to a set of twins four months ago.
Speaking on the recent development, Zagazola, a publication focused on counter-insurgency operations in the Lake Chad region, said her twins were in an unhealthy condition when she was rescued.
Her rescue was achieved by troops of the Nigerian Army, backed by a column of the Civilian Joint Task Force(CJTF) when they stormed the enclave of Jamā'at Ahl as-Sunnah lid-Da'wah wa'l-Jihād, a terrorist group in Bama LGA, Borno.
According to intelligence sources, the troops engaged and overwhelmed the insurgents, neutralising scores of terrorists in the process, while several others escaped with fatal gunshot wounds.
"In the course of the encounter, troops successfully rescued Yana Pogu, a Chibok girl who was number 19 on the missing girl's list along with her four children," the source said.
"She was found with a four-month-old set of twins in a very unhealthy condition.
"Some of the fleeing insurgents also attempted to ambush their own troops but while acting on the intelligence, the troops responded swiftly with aggressive fire powers, forcing them to flee.
"More women were rescued after the encounter. They are transferred to 21 Armoured Brigade Bama, for medical attention.