Declare your assets before leaving office — SERAP tells Buhari
Socio-Economic Rights and Accountability Project, SERAP, has urged President Muhammadu Buhari to recommit to transparency, and demonstrate leadership by publicly committing to publish his asset declaration at the end of his tenure of office as well as encourage other cabinet members to do the same.
SERAP, also urged Buhari to direct the Attorney-General of the Federation and Minister of Justice, Abubakar Malami, SAN, to take immediate steps to expeditiously, diligently, effectively and fairly prosecute all outstanding high-profile corruption cases currently being handled by his office.
Buhari had stated in his address on the occasion of the 62 Independence Day anniversary of Nigeria,"I have promised to bequeath a country where all citizens have equal opportunities to achieve their lives. We have made significant progress in the eradication of deeply entrenched corruption that permeates all facets of our national development."
But in an open letter dated October 1, 2022, by SERAP Deputy Director, Kolawole Oluwadare, the organization said: "Contrary to your Independence Day address, grand corruption has continued to deny millions of Nigerians equal opportunities."
SERAP maintained that "Promoting transparency and combating corruption and ensuring full and effective respect for the rule of law would send a strong signal of your commitment to leave behind a legacy of transparency and accountability."
According to SERAP, "millions of people are falling into preventable poverty, and live in a continuing state of anxiety and insecurity."
The letter, read in part: "We hope that the next few months will show your administration's commitment to consistently uphold transparency and accountability, in order to create a rule of law-friendly environment that would make Nigerians safer.
"There remain longstanding and grave concerns regarding widespread cases of grand corruption involving high-ranking government officials, and systemic corruption in ministries, departments and agencies (MDAs), and persistent attacks on the rule of law."
"The reality today is that there is massive corruption at the highest level of government, and in ministries, departments and agencies, with a corrosive impact on Nigerians."
"The indicators of bad governance and mismanagement of the country's natural wealth and resources should serve as proof of the need for your government to reinforce and recommit to the fight against corruption.
"According to our information, details of about 103 high-profile corruption cases being handled by the Economic and Financial Crimes Commission [EFCC] were reportedly made available in 2017 to the Office of the Attorney-General of the Federation and Minister of Justice upon request.
"Also, the case files of 15 high-profile corruption suspects are allegedly missing. The missing files are among the 23 cases reportedly sent by the now defunct Special Presidential Investigation Panel on the Recovery of Public Property, [SPIP] in 2019 to Mr Malami, and include some charges of fraud involving some former governors and senators, non-declaration of assets and possession of foreign accounts cases.
"The rule of law crisis is illustrated by your government's persistent failure to obey decisions of Nigerian courts; failure to consistently combat corruption and push for transparency in asset declarations by high-ranking government officials, and the failure to protect Nigerians' right to life and security.
"There are several judgments that your government is yet to obey, including the judgment by Justice Hadiza Rabiu Shagari ordering your government to tell Nigerians about the stolen asset it allegedly recovered to date, with details of the amounts recovered.
"Another judgment, by Justice Mohammed Idris [as he then was], ordered your government to publish details on the spending of stolen funds recovered since the return of democracy in 1999.
"The judgment, by Justice Chuka Austine Obiozor, ordered your government to publish details of payments of billions of naira to allegedly corrupt electricity contractors and companies since 1999.
"Your government is yet to obey the judgment by Justice Oluremi Oguntoyinbo. The judgment ordered your government to challenge the legality of states' life pension laws and to recover pensions already collected by ex-governors now serving as ministers and members of the National Assembly."
Buhari's administration has saved Nigerians from hunger, says Lai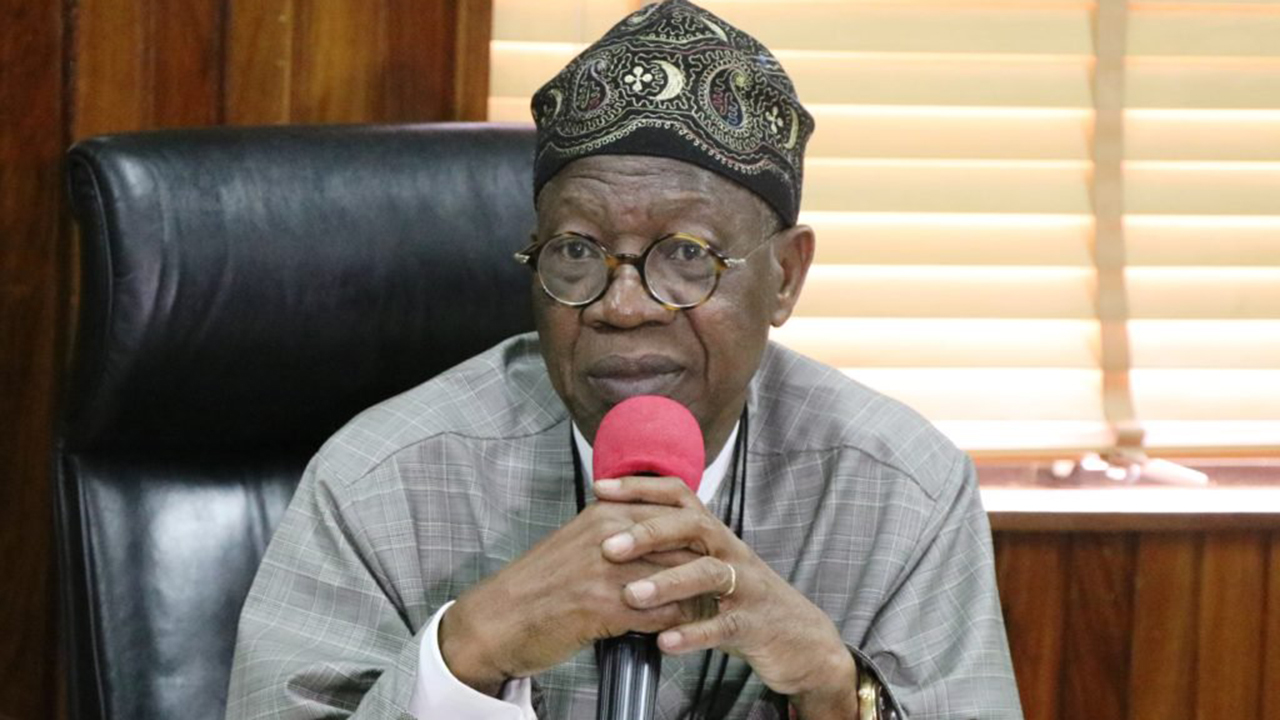 Lai Mohammed, minister of information and culture, says President Muhammadu Buhari's administration has achieved food security and the scaling up of made-in-Nigeria products.
The minister said this on Thursday in Abuja at the 9th edition of the "PMB administration; scorecard series (2015-2023)".
According to Mohammed, in spite of the crises affecting the cost of living globally, the administration had done well since assuming office in the area of self-sufficiency in most basic needs.
"I am sure many of us have seen video clips of empty supermarket shelves in the Western world, especially in the wake of the COVID-19 pandemic, Russia-Ukraine war and the economic uncertainty, which have all combined to disrupt global supply chains," he said.
"Long before these crises, however, President Muhammadu Buhari had, in a statement that has now turned out to be prescient, admonished Nigerians to grow what they eat and eat what they grow.
"Then, many neither understood the importance of that admonition nor appreciated its relevance.
"Well, it turned out that the consequence of that statement made Nigerians look inward and relied less on imports.
"This has saved Nigerians from hunger, especially during the prolonged global lockdown, when exporting nations shut their ports and borders and nations that relied on imports were struggling to meet their needs."
Mohammed also said the worst could have happened if the country had, during the period of the crises, relied on imports to feed itself.
The minister added that the presidential fertiliser initiative was a successful policy that made the production and distribution of fertiliser to the farmers effective.
According to him, the number of fertiliser blending plants in the country increased from 10 in 2015 to 142 and the increase in the number of rice mills also from 10 in 2015 to 80 integrated rice mills.
This, he added to have aided food sufficiency.
"Our farmers are now part of our economy. Companies and factories are coming up to manufacture, process and distribute food," he added.
"If you visit our markets and supermarkets today, what you will see mostly are 'made-in-Nigeria' products. This is a huge progress in such a short time."
Speaking further on the high prices of food items, the minister assured that as the country engaged more in local food production and moved closer to achieving food security, prices would begin to fall.
"For now, we must acknowledge the success we have achieved in the area of food production and in scaling up made-in-Nigeria products'' he said.
Military is under pressure to compromise 2023 polls, says defence chief, Lucky Irabor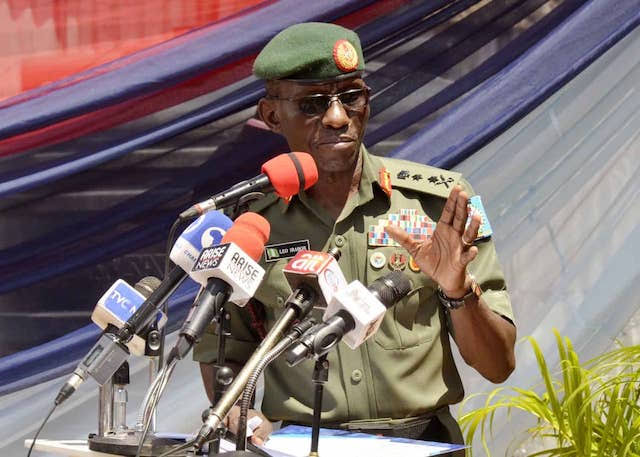 Lucky Irabor, the chief of defence staff, says the military is under pressure to compromise the 2023 elections.
The defence chief however said the military will remain neutral and assist the police in monitoring and securing the process.
Irabor spoke on Thursday at the ministerial media briefing organised by the presidential communications team at the presidential villa, Abuja.
INEC reacts to viral video of staff copying numbers on PVCs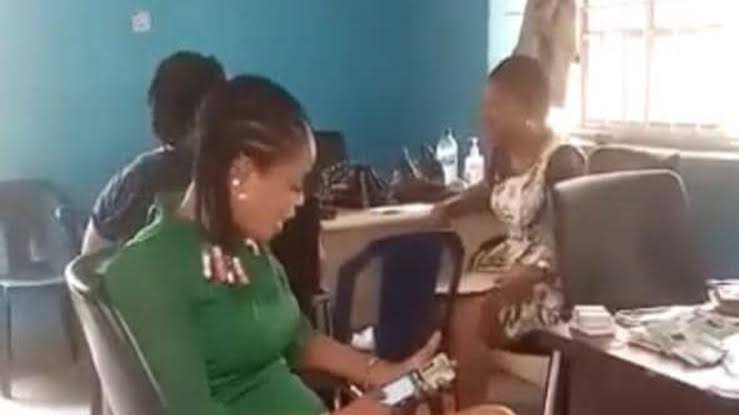 The Independent National Electoral Commission (INEC) has debunked claims accompanying a viral video that its workers were stealing voter information from permanent voter cards (PVCs) in Lagos.
Within the past 48 hours, videos have gone viral on social media platforms showing some persons copying information from PVCs onto their mobile phones.
There were also claims following the videos that INEC was trying to rig the 2023 elections.
In a statement on Wednesday, Festus Okoye, INEC national commissioner, said the commission was aware of the video.
While confirming that the persons in the video were INEC staff at an office of the commission in Festac, Amuwo Odofin LGA in Lagos, Okoye said the video shows the staff "harvesting" voter information numbers (VINs) from PVCs as part of an inventory process for older, uncollected cards.
"In its determination to enhance the rate of collection of PVCs, the Commission decided to establish a PVC collection process that includes an online component," the statement reads.
"The procedure entails that registered voters with access to the Internet could go to a dedicated portal to ascertain whether their PVCs are ready and to find their locations for subsequent collection.
"All they are required to do is to provide their details such as name, date of birth, state of registration or the last six digits of the VINs that they provided/received during registration, to locate their cards.
"This would improve the PVC collection process, but without prejudice to those who wish to go directly to the collection centres.
"For the newer PVCs, that is those from the Continuous Voter Registration (CVR) that took place between January and July 2022, the VINs were harvested automatically and made available online.
"However, for the older uncollected PVCs that predate the new guidelines, their VINs must be harvested manually and painstakingly for upload to the PVC collection portal (www.voters.inecnigeria.org). The portal will also improve the records of the Commission regarding collected and uncollected PVCs.
"While the Commission appreciates the vigilance of Nigerians and their determination to see the conduct of free, fair, credible and inclusive elections in 2023, it is exceedingly important that information such as contained in the said video is verified before sharing it with the public.
"A major threat to the upcoming general election comes from fake news and disinformation. The Commission appeals to Nigerians to remain conscious of this, even if the prior intention is worthy."