APC rally for Tinubu: Lagos state government to divert traffic in Surulere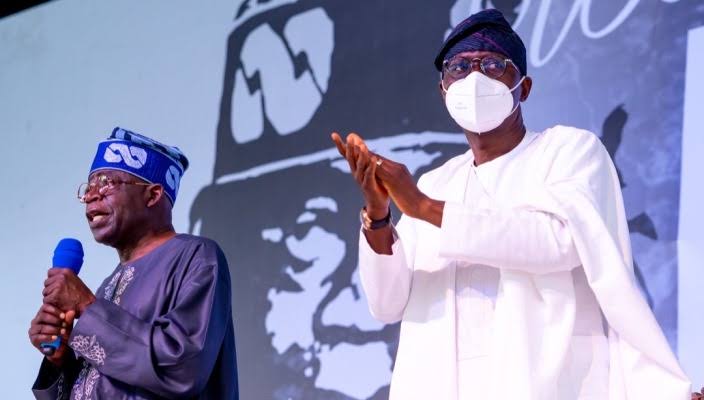 The Lagos State Government has concluded plans to divert traffic for the All Progressive Congress, APC, Presidential rally for Bola Tinubu, Kashim Shettima, scheduled to hold on Saturday, November 26, 2022 at Teslim Balogun Stadium, Surulere, Lagos State from 9.00am to 4.00pm.
Commissioner for Transportation, Dr Frederic Oladeinde announced made this on Wednesday, ahead of the event.
Oladeinde, therefore, urged residents to plan their movement around Teslim Balogun Stadium, Funsho Williams Avenue and Alhaji Masha areas in Surulere.
He warned that human and vehicular movement around the affected areas would be regulated as there would be series of traffic diversions for safety and security management purposes.
Oladeinde stated that traffic on Funsho Williams/Western Avenue inward Lagos Island would be diverted to the Express Lanes at Barracks Bus Stop for people going to Costain, Apapa, Ijora, Victoria Island, Lagos Island, and off to Olumegbon for people going to New Lagos/Surulere areas.
Explaining further, the commissioner said traffic on Funsho Williams/Western Avenue inward Surulere/Ojuelegba will be diverted to the Express Lanes/Stadium Bridge at Alaka bus stop for people going to Mushin, Palm groove, Ikeja, Ojota, Ikorodu areas, and off to Bode Thomas and Eric Moore at Iponri Estate for people going to New Lagos/Surulere areas.
He added that vehicular movement on Alhaji Masha road to Akerele/Shitta junction and Funsho Williams from Olumegbon junction to Alaka would be totally restricted for safety, as only human traffic would be allowed.
Oladeinde further explained that vehicles conveying party members and others with accredited stickers for the rally would be provided free parking with access at the National Stadium only via Alaka into the National Stadium stressing that those from Ojuelegba/Mushin/Palmgrove on Funsho Williams will access the National Stadium via U turn at Alaka. Also those from Surulere will access the Stadium via Adeniran Ogunsanya/Bode Thomas/Ogunlana Drive/Alaji Masha to connect Alaka inward the National Stadium.
Oladeinde, who stated that directional signs, tow vehicles, barricades would be made available, also assured that the traffic management personnel will be on standby to provide assistance and guide motorists/pedestrians during the rallies.
While reiterating that only accredited vehicles, security, emergency and essential services vehicles will be provided privileged access at the diversion points, Oladeinde, solicited for residents cooperation with all the law enforcement officials assigned to carry out their respective tasks.
The commissioner, in anticipation, expressed gratitude to residents for their patience and understanding.
Buhari's administration has saved Nigerians from hunger, says Lai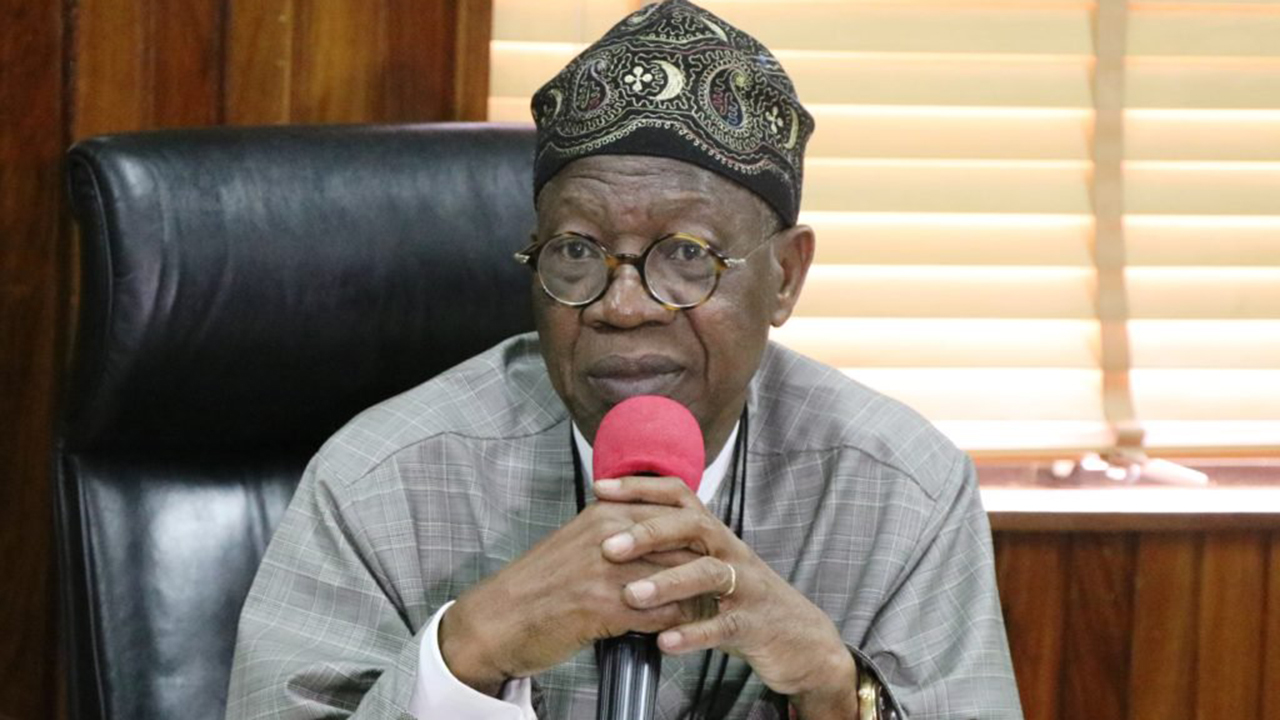 Lai Mohammed, minister of information and culture, says President Muhammadu Buhari's administration has achieved food security and the scaling up of made-in-Nigeria products.
The minister said this on Thursday in Abuja at the 9th edition of the "PMB administration; scorecard series (2015-2023)".
According to Mohammed, in spite of the crises affecting the cost of living globally, the administration had done well since assuming office in the area of self-sufficiency in most basic needs.
"I am sure many of us have seen video clips of empty supermarket shelves in the Western world, especially in the wake of the COVID-19 pandemic, Russia-Ukraine war and the economic uncertainty, which have all combined to disrupt global supply chains," he said.
"Long before these crises, however, President Muhammadu Buhari had, in a statement that has now turned out to be prescient, admonished Nigerians to grow what they eat and eat what they grow.
"Then, many neither understood the importance of that admonition nor appreciated its relevance.
"Well, it turned out that the consequence of that statement made Nigerians look inward and relied less on imports.
"This has saved Nigerians from hunger, especially during the prolonged global lockdown, when exporting nations shut their ports and borders and nations that relied on imports were struggling to meet their needs."
Mohammed also said the worst could have happened if the country had, during the period of the crises, relied on imports to feed itself.
The minister added that the presidential fertiliser initiative was a successful policy that made the production and distribution of fertiliser to the farmers effective.
According to him, the number of fertiliser blending plants in the country increased from 10 in 2015 to 142 and the increase in the number of rice mills also from 10 in 2015 to 80 integrated rice mills.
This, he added to have aided food sufficiency.
"Our farmers are now part of our economy. Companies and factories are coming up to manufacture, process and distribute food," he added.
"If you visit our markets and supermarkets today, what you will see mostly are 'made-in-Nigeria' products. This is a huge progress in such a short time."
Speaking further on the high prices of food items, the minister assured that as the country engaged more in local food production and moved closer to achieving food security, prices would begin to fall.
"For now, we must acknowledge the success we have achieved in the area of food production and in scaling up made-in-Nigeria products'' he said.
Military is under pressure to compromise 2023 polls, says defence chief, Lucky Irabor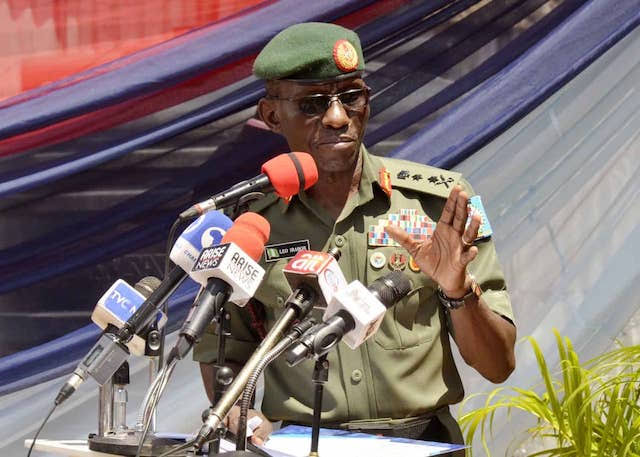 Lucky Irabor, the chief of defence staff, says the military is under pressure to compromise the 2023 elections.
The defence chief however said the military will remain neutral and assist the police in monitoring and securing the process.
Irabor spoke on Thursday at the ministerial media briefing organised by the presidential communications team at the presidential villa, Abuja.
INEC reacts to viral video of staff copying numbers on PVCs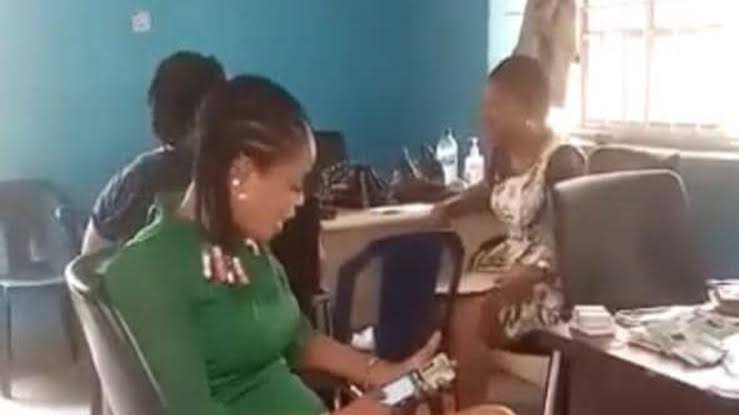 The Independent National Electoral Commission (INEC) has debunked claims accompanying a viral video that its workers were stealing voter information from permanent voter cards (PVCs) in Lagos.
Within the past 48 hours, videos have gone viral on social media platforms showing some persons copying information from PVCs onto their mobile phones.
There were also claims following the videos that INEC was trying to rig the 2023 elections.
In a statement on Wednesday, Festus Okoye, INEC national commissioner, said the commission was aware of the video.
While confirming that the persons in the video were INEC staff at an office of the commission in Festac, Amuwo Odofin LGA in Lagos, Okoye said the video shows the staff "harvesting" voter information numbers (VINs) from PVCs as part of an inventory process for older, uncollected cards.
"In its determination to enhance the rate of collection of PVCs, the Commission decided to establish a PVC collection process that includes an online component," the statement reads.
"The procedure entails that registered voters with access to the Internet could go to a dedicated portal to ascertain whether their PVCs are ready and to find their locations for subsequent collection.
"All they are required to do is to provide their details such as name, date of birth, state of registration or the last six digits of the VINs that they provided/received during registration, to locate their cards.
"This would improve the PVC collection process, but without prejudice to those who wish to go directly to the collection centres.
"For the newer PVCs, that is those from the Continuous Voter Registration (CVR) that took place between January and July 2022, the VINs were harvested automatically and made available online.
"However, for the older uncollected PVCs that predate the new guidelines, their VINs must be harvested manually and painstakingly for upload to the PVC collection portal (www.voters.inecnigeria.org). The portal will also improve the records of the Commission regarding collected and uncollected PVCs.
"While the Commission appreciates the vigilance of Nigerians and their determination to see the conduct of free, fair, credible and inclusive elections in 2023, it is exceedingly important that information such as contained in the said video is verified before sharing it with the public.
"A major threat to the upcoming general election comes from fake news and disinformation. The Commission appeals to Nigerians to remain conscious of this, even if the prior intention is worthy."