Dempsey Okereke, Zakirrah Muhaamad, Roxanne Stewart, Adrian Ogans, Chaste Inegbedion, John Amusan inspire Wakanda Forever Summit hosted by Cinergy Entertainment and Sanicle (Highlights from the Opening Day and Night of the Movie)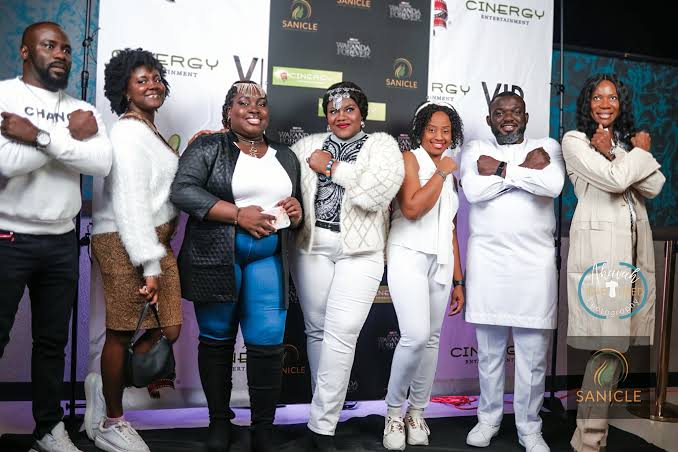 "On November 11, 2022, declare for the celebration of the Women of Wakanda Virtual Summit and Special Screening under the framework of Wakanda Forever let's recommit our energies to achieving true and irreversible gender inequality because we all benefit when women have the opportunity to lead and to rise for all by showcasing women innovation like Period Genie," Chaste Inegbedion, Principal Product Manager, Sanicle. 
Sanicle's innovative initiatives and campaigns, such as The Period Passport Book, Period Genie game, Period Genie Animated Short film, sets out to educate, raise awareness, and, most importantly, generate opportunities for dignified conversations about a young girl's journey from menarche to menopause.
The virtual event was hosted by Anitra Parish of National Women's Political Caucus.
The Goodwill remarks about Black infrastructure were from Lawrence Watkins of Atento Capital, Speakers from Apple, Thomas Reuters, Deloitte, Northrop Grumman, Tan TV and the US Department of State were present.
Faith Okereke, AVSON Nursing School opened and closed the virtual summit with a song.
"Storytelling allows us to really recount scenes from our own lives and share experiences with others across generations weaving together a tapestry of strength and a frailty an ease, boldness and timidity our Words really shaped the way our experiences are heard, and how they can transform various parts of our lives, whether it's the arts, education, science, medicine, or you know personal things in our lives that really help us chart our path forward as a society and as communities," says Hawa Taylor-Kamara Diallo, UN Dept of Global Communications.
"It is only with women and girls at the center of our efforts that we have the best chance to succeed in addressing our current and pressing global challenges; from the climate emergency to gender-based violence, political divisions and to a sustainable recovery from this global pandemic," said Hawa Diallo, Chief Civil Society Unit, United Nations.
"The SDGs reflect the commitment made by member states in this region over the past forty years thanks to the efforts and sacrifices of women activists and feminist movements.  
Adrian Ogan, Sales Manager, Cinergy, said, "Achieving all-round, sustained development in society requires achieving parity in every stratum of every organization – be it in government or private.
Women and men both have invaluable contributions to make that bear the unique imprints colored by gender characteristics and tendencies.
The point of impact investing is to use money and investment capital for positive social results."  
"I grew up in a house full of women, and I am one of five girls. My parents split up, and I went to live with my dad for a while. I was not going to talk to him about my period.
He was not going to talk to me about it except to get me pads when I needed it. Over the last few years there has been more spotlights put on menstruation.
Our plant based organic period box, A Plant-based Organic Period box, curated by Sanicle, is an excellent solution for that time of the month that is kind to the planet and people and includes items that help with symptoms girls and women experience during menstruation.
In addition, this care box helps girls understand the benefits of plant-based period products and addresses specific period-related concerns such as painful, heavy, or irregular periods and self-care techniques." – Roxanne Stewart, CEO Sanicle One panel was about the longevity of legacy through storytelling with Pamela D. Marshall, Zaakirah Muhammad, Lia Miller, Funmi Eko, and Adedayo Fashanu.
"Now these [social media] platforms that are allowing voices from all over the globe to tell our stories, to bring our magic forward, as Wakanda represents, we are able to not worry about whether or not somebody else is telling our stories; we're telling our stories today".
Zaakirah Muhammad, CEO Phocused Media Group, one of the Media panelists shared her childhood cancer story in honor of late Chadwick Boseman who died of Colon Cancer.
"Don't be afraid to be a narrative corrector, a narrative changer," says Lia Miller.
The Entrepreneurship panelists Tameca Johnson, Chi Ilochi, Shatora Adrell, Lisa Love of Tanoshi, and Anie Akpe of African Women in Tech, say "entrepreneurship is key in all our lives. It helps us not only create opportunities for ourselves, but for others."
Impact Investment panelists Patience Gitau, Adrian Ogans, Isoken Ibie, and Shawna Curran says, "women of color, and in particular black women, know that coming into the industry is one thing, but being able to stay in the industry and thrive in the industry is something different."
Tech Jobs/Remote Working panelists Shakira Monet Johnson, Nicole Evans, Amanda Peterson, Ruth Jeremiah, and Danielle Smith suggest, "If you want to transfer into tech, don't overlook those staffing agencies; having a network of people around you who will pour into you, can help validate your position."
Desiree Frieson, Director of Programming, BuildInTulsa was virtually present in a closing Keynote that chronicles the stories of Women who have shaped societies. 
She shares, "We learn from Wakanda, when the community is strong you can move even farther and so hopefully everyone is seeking to learn how they can develop their skill sets professionally and personally by leaning into new sources and new challenges."
The event wrapped with a HeforShe panel with Chaste Inegbedion of Sanicle, Yeves Perez of Workbnb, David Tollette of Typros, Chibueze Okereke, Olanrewaju Adewole, Stephen Oguntoyinbo and Wantoe Wantoe from UN. Some takeaways include.
"Be as strategic as possible. Find little things about your business that can work in the way of partnerships." and "women hold everything together, and as men we have to be of service to women at all times."
Special virtual guests included Audreya Williams of Tulsa Service Year, Kye Harris from Build in Tulsa, and Ashley Daugherty of Victory Tulsa as well as video messages from Tre Baker of Tulsa Techstars and Justin Harlan of Tulsa Remote.
Watch the replay of the Women of Wakanda Virtual Summit on YouTube, Linkedin and Facebook.
Wakanda: Black Panther on a Black Carpet – All the Dresses, Outfits, and Looks — See Photos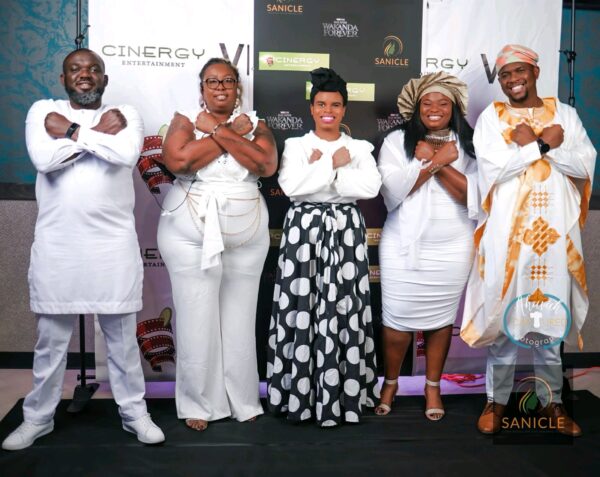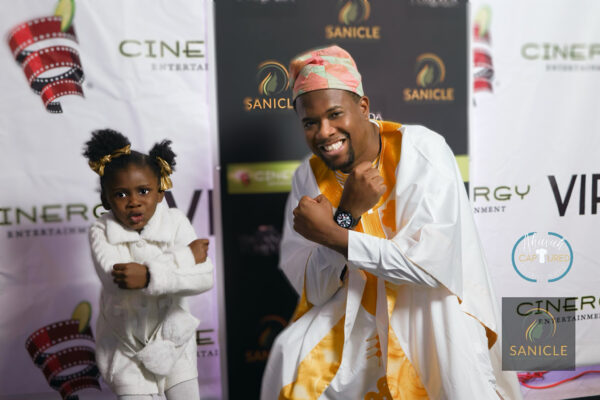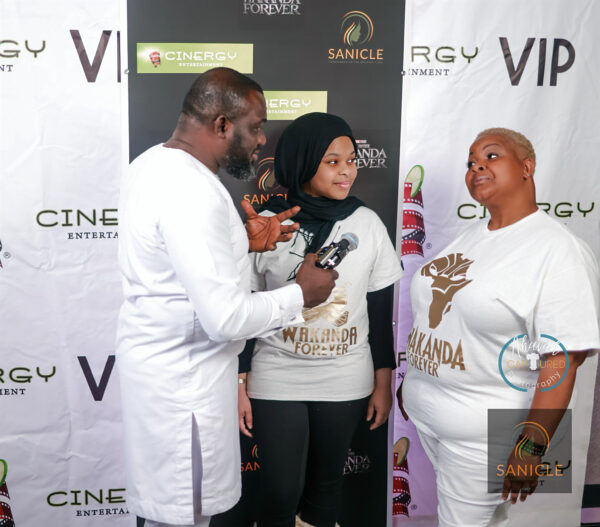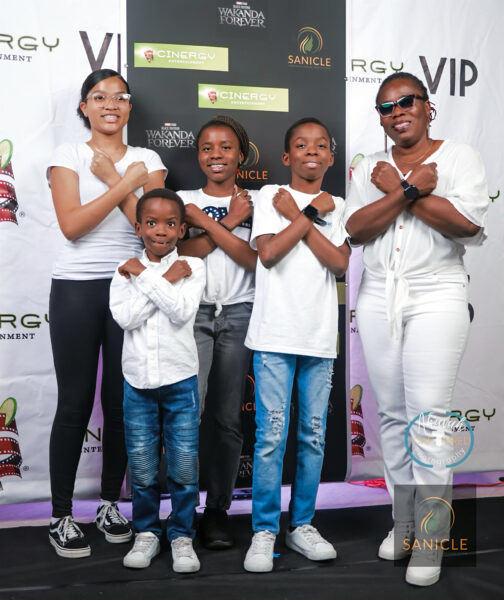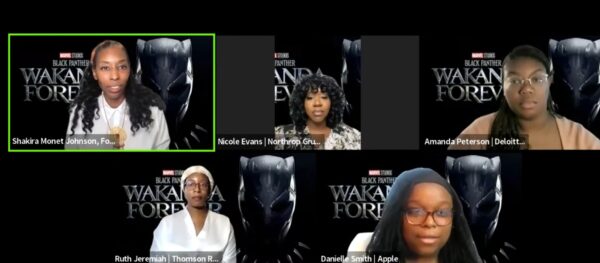 Take in all the beauty and elegance served at the Sanicle in Collaboration with Cinergy Entertainment Premiere of Marvel Studios' "Black Panther: Wakanda Forever" which took place in Tulsa, OK on Friday, November 11th, 2022, at Cinergy Tulsa.
The opening-night event, created especially for fans in Tulsa, featured amazing Black Panther-inspired costumes, special guests, Superhero stories and a few surprises! Bright, eye-catching white outfits were another major trend of the evening in honor of Late Chadwick Boseman.
The sequel to Marvel's Black Panther includes many of the original cast members with a few new faces, including Michaela Coel.
The storyline centers on the Wakandan warriors trying to protect their world after the loss of King T'Challa, played by the late Chadwick Boseman.
Whether you're looking for opening-day outfit inspo or want to take a trip to Wakanda via fashion, check out the looks from the Black Panther:
Wakanda Forever premiere at Cinergy in Tulsa below:
Click here to watch
Life coach Solomon Buchi weds lover, Arike Adeola (Photos)
Solomon Buchi, the life coach and relationship expert, has tied the knot with Arike Adeola, his lover.
Buchi took to his Instagram page on Wednesday to share photos from his wedding ceremony which took place over the weekend.
In the accompanying caption, he described the ceremony as the "most beautiful moment in our lives."
"The most beautiful moments in our lives yet. I got to be joined as one with Àríké Adeola, now Adeola Solomon-Buchi🥰," he wrote.
"Marriage is an institution so sacred, and in the presence of family and a few friends, we tied our nuptial vows and committed to forever.
"On this note, on behalf of my wife and I, we'd like to wish you a happy Wednesday."
How Peter Obi was attacked after rally in Katsina – LP Campaign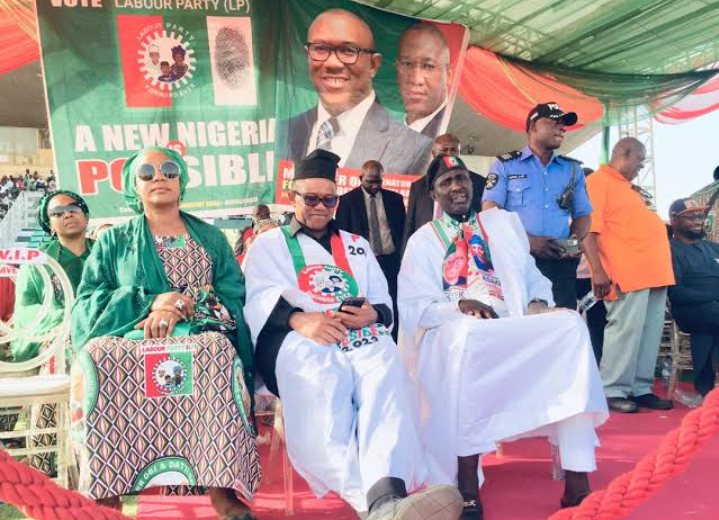 The presidential campaign council of the Labour Party (LP) says Peter Obi, its candidate, was attacked in Katsina state.
In a statement by Diran Onifade, its head of media, the campaign council said Obi's car was attacked by hoodlums when he was on his way to the airport after a rally in the state.
"Our candidate had met with women in a townhall and then held a hugely successful rally at the Muhammad Dikko Stadium," the statement reads.
"However, on his way to the airport, hoodlums attacked the car our candidate was riding in with heavy stones from his driver's side, causing substantial damage to the vehicle.
"To the glory of God, Mr Obi and other occupants of the car were unhurt.
"Subsequently, another set of thugs also threw stones outside the stadium which damaged several vehicles including that of our official stage crew."
The campaign council alleged that the attacks may have been orchestrated by "desperate politicians" over Obi's outing in the state.
It condemned the attacks and called on security agencies to investigate the incident and prevent future occurrences.
"The two incidents taken together make us suspect that the attacks may have been premeditated at the behest of desperate polititicians who had been deluding themselves with the false claim that they had the northwest locked up but are now shocked by the show of force of the Obidient movement in the region," the LP campaign added.
"While thanking the good people of Katsina who came out en masse to support our campaign yesterday, we call on security agencies to investigate this matter to forestall future occurrences."
Davido and Tems to perform at US festival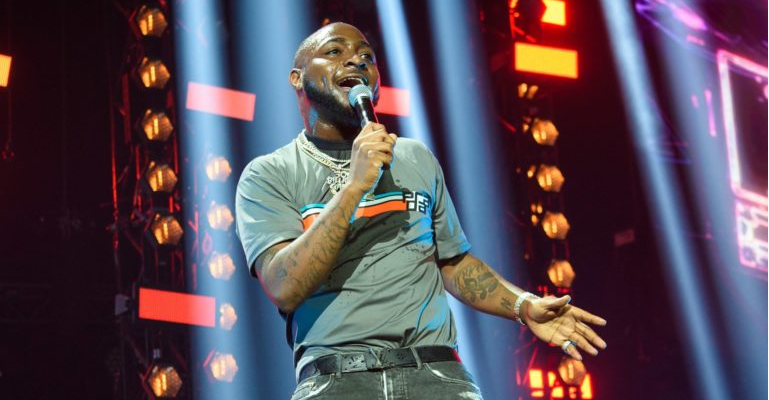 Davido and Tems are set to perform at the 2023 edition of the Governors Ball Festival.
Organisers of the annual event recently released the full list of the artistes expected to grace the event as well as its headliners for the 2023 edition.
The event is slated to run for three days — from June 9 to 11 — at Corona Park in Queens in the United States of America.
Davido and Tems are the only Nigerian artistes enlisted to perform at the festival.
The 'OBO' crooner is scheduled to perform on June 9, alongside Lizzo, Lil Uzi Vert, Haim, Diplo, Omar Apollo, Kim Petras, Joey Bada$$, 070 Shake, Tai Verdes, and PJ Morton.
Tems, on the other hand, will thrill the audience at the festival on June 11, with Lamar, Lil Nas X, Giveon, Sofi Tukker, Pusha T, Girl In Red, Pinkpantheress, Sabrina Claudio, Cat Burns, and Maude Latour
Other artistes expected to attend the annual event include Odesza, Lil Baby, Rina Sawayama, Lauv, Oliver Tree, Finneas, Kenny Beats, Snail Mail, Amber Mark, Syd, and Suki Waterhouse.