My husband introduced my underage niece to porn, oral sex – Femi Olaleye's wife tells court
Aderemi, wife of Femi Olaleye, managing director of Optimal Cancer Care Foundation, has testified before the special offences and domestic violence court in Lagos state.
At the court sitting on Monday, Aderemi appeared as the first witness.
She told the court that she married Olaleye in March 2011 and that they have two children, who are aged 10 and seven, respectively.
On November 30, Olaleye was arraigned by the Lagos state government on a two-count charge of defilement of a child and sexual assault by penetration.
Olaleye was accused of sexually violating a minor, said to be his wife's niece, for over 20 months.
However, the cancer care advocate pleaded not guilty to the charge against him and the court remanded him in Ikoyi prison pending the fulfilment of his bail conditions.
Speaking during the hearing, Aderemi said the victim was 15 years old when she moved to their house on December 19, 2019, following the death of a relative.
She said the victim stopped residing in the house in July 2022, adding that she was not aware of the alleged sexual assault until the victim confessed to another relative on November 28, 2021.
"What happened the day before November 28, 2021 and why did the victim confess to your aunt?" Babatunde Martins, the prosecution lawyer, asked Aderemi.
Responding, she said a nanny reported that the victim had started exhibiting "strange behaviour".
"When I called her (victim) upstairs to explain herself after the nanny's complaint, she gave me a long hiss and I disciplined her," she said.
"This incident happened when my husband was not around. He travelled to Abeokuta."
She added that when her husband returned, the children told him about the incident.
"He (Olaleye) did not have any discussion with me. He went straight to her room and started pacifying her (victim)," Aderemi added.
"When I challenged him, Femi Olaleye yelled at me and said I should do my worst. The worst I could say was that he was sleeping with her and he said he is sleeping with her. I told him not to say that. Immediately, he said he was taking her out of the home.
"After he left the victim in my aunt's house, my aunt, who is a retired school principal and psychologist, asked the victim what happened and she confessed.
"She told my aunt that since March 2020, Femi had been abusing her; that he introduced her to pornography. From there, he graduated to oral sex.
"He does this in places where there are no CCTV cameras, and around 2am almost everyday."
Aderemi alleged that her husband threatened to kill the victim if she told anyone about the incident.
Speaking further, Aderemi said it was confusing how she did not know about the alleged sexual abuse until the victim confessed.
"I didn't know about these allegations until everybody else in the family knew," she said.
"My lord, Femi, most nights, gives me a small tablet. When I looked at this incident, I wept. How was this incident going on in my home and I did not know?
"Femi gives me medication every night and he claims that it is junior aspirin that will avert blood clots because I'm turning 50 years old soon.
"My lord, maybe a medical examination should be conducted on me. I want to believe that I slept my way through all his atrocities. Sometimes, he also gives me phenergan; he will say I work so hard that phenergan will help me relieve my nerves.
"Our sex life was great. He told me that he does not like oral sex. Anytime I want to get down there, he will tell me he is getting old, that he does not like such thing."
She told the court that when the incident was reported at the Anthony police station, her husband "broke down in tears and confessed that he had carnal sex" with the victim.
She added that he signed an undertaking to stay away from her and the children.
"I don't want him around my children, and home. I told his lawyer that if he could sleep with my niece who calls him 'daddy', he could sleep with our daughter," she said.
She told the court that after signing an undertaking, her husband apologised via WhatsApp messages and emails, saying "it was the work of the devil".
Speaking further, she told the court that in December 2021, the defendant enrolled at a rehabilitation centre in Lagos.
"The psychologist at the rehab reached out to me and said that he had a diagnosis of sex addiction, and if not properly taken care of, my own child can be a victim," she said.
Rahman Oshodi, the presiding judge, adjourned the case till December 21 to hear more witness testimonies.
N5.2bn fraud: Ex-JAMB registrar, Jimoh Olabisi, used me to divert FG funds, witness tells court
Jimoh Olabisi, former deputy director, Joint Admissions and Matriculation Board (JAMB), says Dibu Ojerinde, ex-JAMB registrar, used him to divert federal government funds.
Olabisi said this on Wednesday when he stood as a witness of the Independent Corrupt Practices and Other Related Offences Commission (ICPC), at the federal high court, Abuja.
The ICPC arraigned Ojerinde on July 6, 2021, in a suit marked FHC/ABJ/CR/97/2021, on an 18-count charge bordering on alleged misappropriation of funds to the tune of N5.2 billion.
The commission alleged that the former registrar committed multiple frauds while heading JAMB and the National Examination Council (NECO).
Ojerinde pleaded not guilty to the allegations and was granted bail in the sum of N200 million.
Olabisi told the court on Wednesday, that he was in charge of opening accounts for JAMB and admitted to opening an account in the name of JAMB/J.O. Olabisi in a commercial bank on the instruction of Ojerinde.
He said it was through this account that funds were moved from the government's coffers.
"The authority to open the account — the letter to the bank — was jointly signed by Ojerinde and the then director of finance and accounts (DFA), Mallam Umar Yakubu, with specific mandate that I should be the operator of that account," NAN quoted him as saying.
"I explained in one of my appearances here that the account was opened following an agreement between the defendant (Ojerinde) and myself as a way of deviating from what we were using in National Examinations Council (NECO) to divert public funds.
"So, the defendant subsequently discussed the issue with the DFA, hence the letter."
The witness said the account was opened without approval from Jonah Otunla, the then accountant-general of the federation.
"However, the registrar convinced the then DFA. He told him that he had gotten approval of the AGF who happens to come from the same zone with the defendant," he said.
Olabisi also said Ojerinde owned a microfinance bank, Osanta Microfinance Bank Ltd, while serving in government.
He also admitted being a director at the bank.
"I was put there to ease the movement of government money to the bank. The defendant is the chairman, board of directors of the bank," he said.
The witness also said the ex-JAMB registrar used his position to award contracts to his private companies through the Zenith Bank account number, 1012411301, of JAMB.
Obiora Egwuatu, the judge, adjourned the matter until Thursday for continuation of trial after a motion by Ebenezer Shogunle, the ICPC lawyer.
NDLEA nabs blind grandpa, leper for drug trafficking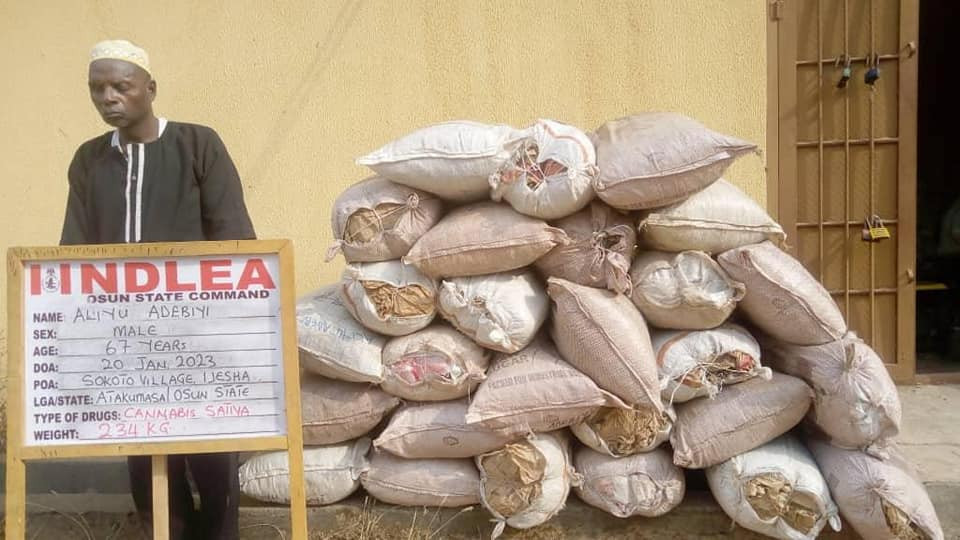 The National Drug Law Enforcement Agency has arrested a blind 67-year-old grandpa, Aliyu Adebiyi, and a leper, Haruna Abdullahi, for drug trafficking.
The Director, Media and Advocacy, NDLEA, Mr Femi Babafemi, in a statement on Sunday, said Adebiyi was caught with 234 kilogrammes of cannabis.
The statement read in part, "In Osun State, NDLEA officers on Friday took into custody a blind 67-year-old grandpa, Aliyu Adebiyi, in whose house they found 234kg of cannabis at Sokoto village, Owena Ijesa, Atakumosa East LGA. In his statement, he said a drug dealer kept the consignment with him for a fee of N6,000 per month and paid for three months upfront."
He noted that 45-year-old Abdullahi, notorious for drug dealing, was arrested at Garko town, Kano, on Thursday, while 2.2kg of cannabis and various quantities of diazepam and exol were recovered from him.
Fake police inspector arrested as NDLEA razes cannabis warehouses in Edo forest
Operatives of the National Drug Law Enforcement Agency (NDLEA) have razed over 317,417 kilograms of cannabis stored in warehouses across forests in Opuje, Edo state.
Femi Babafemi, the agency's spokesperson, announced this in a statement on Saturday.
Opuje is a community in Owan West LGA in Edo.
The agency said on January 18, hundreds of its men stormed the forests in Opuje community, in a two-day operation to destroy cannabis warehouses.
It added that during the operation, Omoruan Theophilus, a 37-year-old man, who parades himself as a police inspector, alongside three others, were arrested.
"At least, a police impersonator, Omoruan Theophilus, 37, who parades as a police inspector to convey the drugs from the forests to the cities and three others: Aigberuan Jacob, 42; Ekeinde Anthony Zaza, 53, and Naomi Patience Ohiewere, 42, were arrested in connection with the drugs," the statement reads.
The agency also said its officials "were ambushed with a bonfire by armed youths on their way out of the community the following day but were able to successfully leave the area without any casualty, except the heavy investment losses inflicted on the cartels".
In a similar operation, the NDLEA in collaboration with operatives of the Economic and Financial Crimes Commission (EFCC), busted a criminal syndicate involved in the trafficking of fake dollars in Lagos.
According to the statement, the operation, which took place on January 19, followed intelligence from the Drug Enforcement Administration (DEA) in the United States.
"During a combined operation carried out by NDLEA operatives with their EFCC colleagues, a total of $269,000 counterfeit US dollars were recovered from the syndicate at Oniru Shoprite area of Lekki, Lagos, where three suspects were arrested," reads the statement.
The NDLEA commended the efforts of the officers involved in the two special operations.
Buba Marwa, chairman and chief executive officer of NDLEA, has directed the transfer of the fake dollars and arrested suspects to the EFCC for prosecution.