I had sex twice last year… one of those moments was leaked says Moyo Lawal
Nollywood actress and producer, Moyo Lawal, has reassured her fans that she is still waxing strong following the unauthorised release of her sex tape in September.
Lawal made headlines when her private video was leaked on social media in September.
Although she had since stated that she planned to take legal action against whoever leaked the tape, Lawal also identified the man in the video with her as an ex-fiance.
"I want to emphasise that this video done with my ex I was to marry at that time was never intended for public consumption, and its unauthorised distribution is a breach of my boundaries."
In a new Instagram post on Sunday, the 'A Time To Heal' actress shed more light on life weeks after her sex tape was leaked.
The post partly read, "One thing I can tell you for a fact is that things are never what they seem to be. I only had xxx twice last year; one of those times was the video that I agreed to because he started recording after the fact he doesn't live in Nigeria.
"He put a lot of work into winning my trust over the years, and I mean a lot. So much so we were already working towards a house, marriage and all."
Lawal also addressed trolls who claimed she released the video herself.
"Meanwhile, to the set of unbelievers who thought I released that video because of a foolish narrative that started because I didn't point fingers or start trash-talking or blaming anyone and stayed quiet to end it all quickly, I honestly don't know what to tell you.
"They say what doesn't kill you makes you stronger and changes you. I pray I become carefree and outgoing because doing life the right way has shown my enemies shege.
"Whoever orchestrated this move to drive my enemy insane and end her career, I just said to tell you, I haven't lost my faith; I am still standing, striving, thriving, and well taken care of."
5 concert safety tips that should be on your mind for Detty December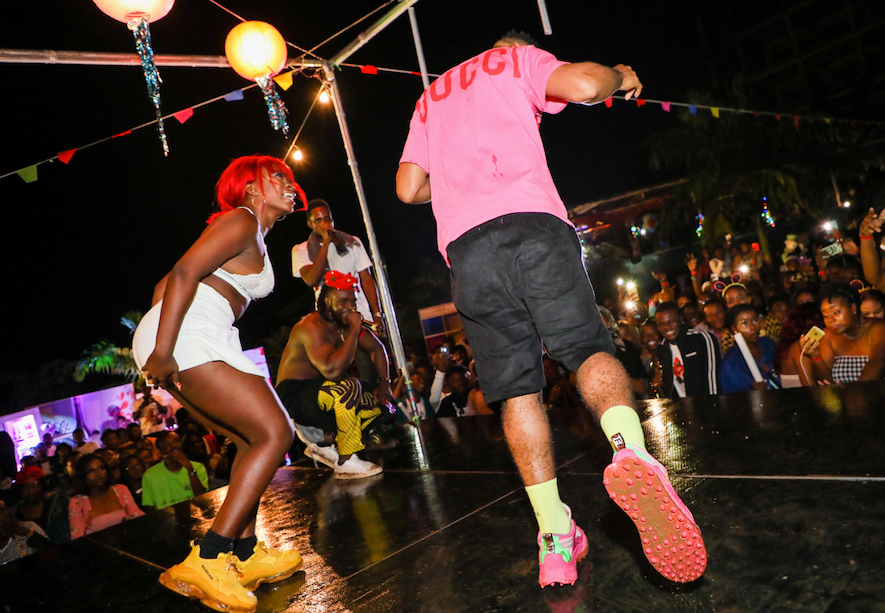 Every December, young Nigerians go all out for what is called a 'Detty December' filled with fun and a good time with the IJGBs – the Nigerians who say 'I just got back' from whatever overseas country they live in.
Having concerts in Nigeria is tricky and never easy because of the lack of good concert locations and security.
Concerts are also infamous for being unsafe with people losing their valuable items.
This doesn't always have to be the case. If you are going to a concert, here are some general tips for your safety.
You don't have to be high or drunk to enjoy the concert. Not being in control of your senses is a sure way to get into trouble.
Have a plan for how you will be going home, you cannot just leave your return trip home to vibes. Are you leaving before midnight, going in a car or carpooling in a friend's car?
Take good care of your personal belongings. Concerts are not the place to carry a backpack or a big bag, a simple fanny pack is enough.
Be vigilant. Take note of your environment and watch out for anything that seems out of place.
Don't go to a concert alone, ever. This last one goes without saying. So, next time you are buying tickets, buy two. It makes the entire experience more enjoyable and also for safety reasons.
Concerts promise a good time because you get to see your favourite artists in person and sing their songs along with them into the night, but it's always important to think about your safety too.
If you want to enjoy a great concert experience with your favourite artists like Shallipopi, Skales, Spyro, Dice Ailes and CDQ, buy early bird tickets for Pulse Fiesta here.
Actor Amaechi Mounagor is suffering from kidney disease, diabetes and stroke, says Cousin
Tony Muonagor, cousin to Nollywood actor, Amaechi Mounagor, says the actor is currently suffering from kidney disease, diabetes, and stroke during his three-week hospital admission.
In a Facebook post on Sunday, Tony stated that the actor has managed the condition for years, with his family shouldering the cost. He added that the actor suffered from a stroke recently, which has made his case more serious.
He said, "This picture was taken two weeks ago when I visited my cousin Amaechi Monagor (Aguiyi) at the Nnewi Teaching Hospital. I initially had wanted to quietly assist as much as I could but later decided to make this post to clarify some things so that my friends, fans, and Amaechi's fans, and indeed the online community can be better informed.
"Amaechi is currently down with kidney disease, diabetes, and stroke. He had been managing his diabetes over the years and living his life. He is presently undergoing weekly dialysis and other treatments at the Nnamdi Azikiwe University Teaching Hospital Nnewi.
"His family had been shouldering the costs for years, until the recent stroke made his case more serious and indeed more expensive to battle alone, hence the publicity. Within the limits of my capabilities, I have done and am still doing my best to assist as much as I can, even reaching out to well-meaning individuals who are donating to this cause.
"Contrary to most online publications, Amaechi is my first cousin. His father and my father are of the same father. We have had a wonderful relationship as members of the same industry, and I am proud of him as a 'brother.' Amaechi is so loved worldwide, and his fans, friends, and ndi Obosi have been wonderful so far. Many groups have been donating money for his hospital bills.
"As of today, there's some improvement. His blood sugar is under control, but he is still on admission, weekly dialysis, physiotherapy, and other treatments. His full treatments and recovery require sustained funding or donations."
Ladies floods Isreal DMW's DM asking for marriage proposals after divorce
Isreal 'DMW', the logistics manager to Davido, has claimed he has been receiving marriage proposals from women after his split from Sheila David.
On Saturday, Isreal announced the end of his one-year marriage to Sheila.
The logistic manager said Sheila "deceived me into thinking I could have peace with her".
Isreal alleged that Sheila wanted "to set standards for me," believing she had achieved status as a prominent figure on Instagram.
Isreal also accused Sheila and her family of extorting him.
Sheila, however, fired back at Isreal. She accused him of "physical and emotional abuse" while they were together.
She also asked the public to hold her estranged husband should any harm befall her or any of her family members.
Shortly after Sheila's post, Isreal shared screenshots of what appeared to be messages from women who took to his Instagram DMs to beg to be his wife.
In the screenshots, one of the ladies, simply identified as Joy, said she would like to be his "friend" because she understands what Isreal is "going through this period".
"I honestly think what you need now is a mature lady that understands life and your personality," the lady said.
"I live in Delta state, I would really appreciate if you get back to me. You will definitely not regret it as you will find a true friend in me".
Another lady, whose identity is unknown, told the logistics manager that "not all girls are bad".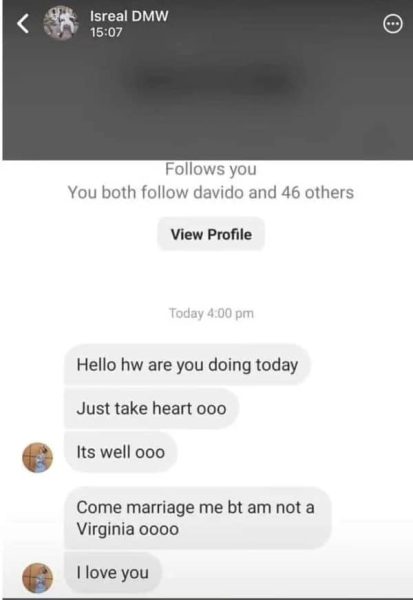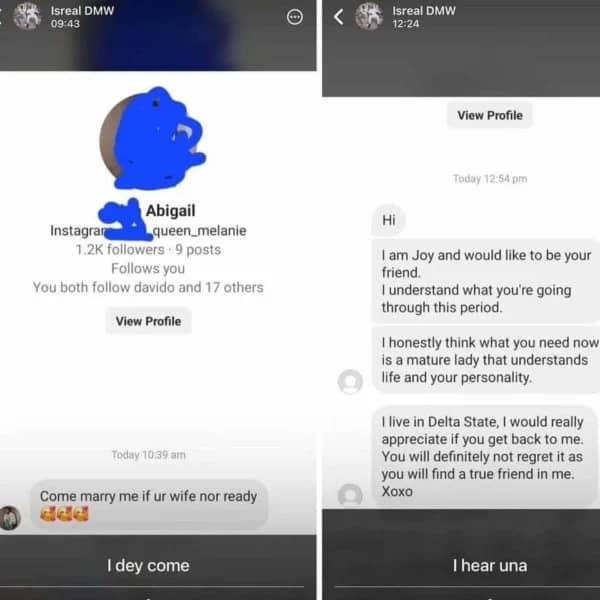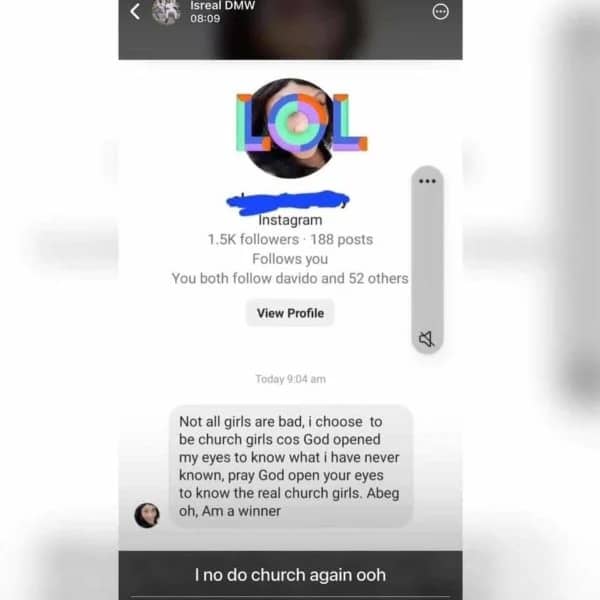 Isreal, however, responded by saying: "I no do church again oh".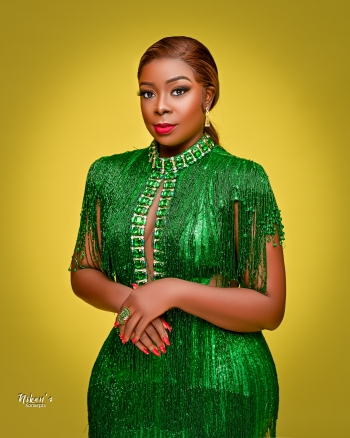 Bodex F. Hungbo, SPMIIM is a multiple award-winning Nigerian Digital Media Practitioner, Digital Strategist, PR consultant, Brand and Event Expert, Tv Presenter, Tier-A Blogger/Influencer, and a top cobbler in Nigeria.
She has widespread experiences across different professions and skills, which includes experiences in; Marketing, Media, Broadcasting, Brand and Event Management, Administration and Management with prior stints at MTN, NAPIMS-NNPC, GLOBAL FLEET OIL AND GAS, LTV, Silverbird and a host of others