Saudi Arabia cancels 264 Air Peace passengers' visas after arriving Jeddah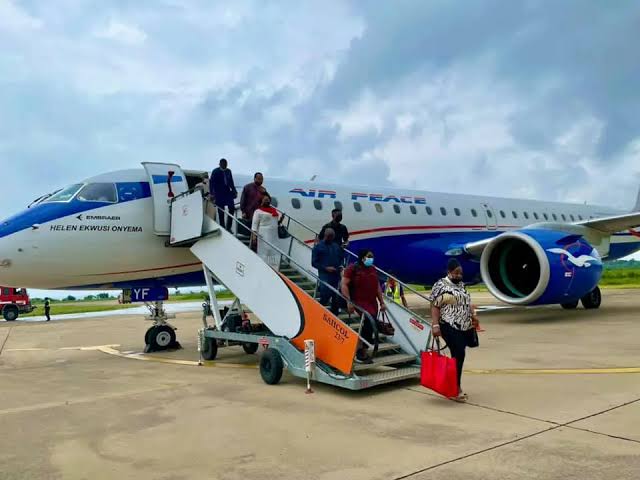 Saudi Arabia authorities have cancelled the visas of all 264 passengers airlifted by Air Peace upon their arrival in Jeddah, from Kano.
According to a source, the Middle Eastern nation asked the airline to return all 264 passengers to Nigeria, but later allowed 87 passengers to remain.
The flight, which took off from the Murtala Muhammed International Airport in Lagos, via the Aminu Kano International Airport in Kano, on Sunday night, was said to have arrived in Jeddah, Saudi Arabia, on Monday.
However, on landing, according to the source, Saudi Arabia authorities announced that all the passengers' visas were cancelled.
The source said the cancellation was a shock to passengers and airline personnel because they went through the advanced passengers pre-screening system (APPS) — which was also monitored by the Saudi Arabia authorities before the flight left Nigeria.
The source questioned whether the development was a plot to dissuade Air Peace from continuing its operations on the route given the carrier has been recording a high load factor, and also the flight expected to leave on Tuesday to Jeddah was already fully booked.
"Saudi Air has been operating directly from Nigeria to Saudi Arabia and since Air Peace started flight service to the Middle East nation at relatively lower fares, it has been receiving high patronage and as Nigerian carrier, it helps to conserve foreign exchange for the country," the source said.
It was understood that the Nigerian embassy waded in, forcing the Saudi authorities to reduce the number of passengers that would be returned from 264 to 177.
A source at the Nigerian embassy in Jeddah, said Saudi immigration personnel are unaware of who cancelled the visas, noting that the airline was already airborne to Jeddah when the passengers' travel documents were voided.
"The airline was exonerated in all this as the APPS, which is live between both countries would have screened out any invalid visa and its passenger. The system accepted all affected passengers and passed them on," the source said.
The source added that Air Peace is already returning the deported 177 travellers to Nigeria.
"They are on their way to Nigeria now," the source said.
'VISA CANCELLATION DUE TO GEOPOLITICS'
Speaking on the issue, John Ojikutu, the chief executive officer (CEO) of Centurion Aviation Security and Safety Consult, Nigeria, said the action of the Saudi authorities was due to geopolitics.
To prevent the situation from reoccurring, he suggested that the Nigerian government should designate domestic airlines with foreign operations as flag carriers as the United States did.
"There is geopolitics there and there is also diplomacy. There is the need for the Nigerian government to stand firmly with Nigerian carriers and also designate them as flag carriers; so that other countries will know that they represent Nigeria," Ojikutu said.
"Government must come out and intervene. The government must be behind Air Peace now to ensure that it is not denied its rights as contained in the Bilateral Air Service Agreement (BASA) between the two countries.
"The Ministry of Foreign Affairs must not keep quiet. Nigeria must not keep quiet. Ideally, the government is expected to stand behind any of the country's airlines that it designates to fly overseas."
5 tips to celebrate a low-budget Christmas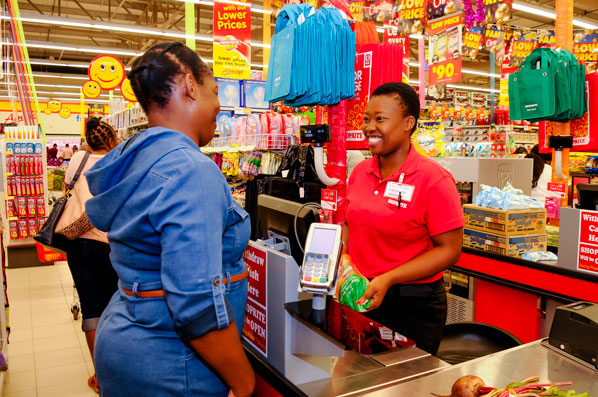 December is here again, but things are three times more expensive than they used to be, if you squander your money in December, January is going to be a long month for you.
There are ways to have fun and still not overspend and here are some ways to make that effective;
1. Eat before you go out
One of the easiest ways to avoid overspending during the holiday season is to eat before heading out. Going out on an empty stomach can lead to impulse spending on food and drinks.
By ensuring you're well-fed before leaving home, you can focus on enjoying the company of friends and family without succumbing to the temptation of unnecessary expenses.
2. Go out in groups
Sharing the holiday spirit is not only joyful but can also be cost-effective. Going out in groups allows you to split bills and transportation costs.
Coordinate with friends or family members to plan group outings, ensuring everyone contributes something. This way, the financial burden is distributed, making it a win-win situation for everyone involved.
3. Don't party too far from home
Transportation expenses can quickly add up during the holiday season. Instead of venturing too far from home for entertainment, explore local options within your neighborhood.
Whether it's a community event, a local park, or a neighbor's holiday gathering, staying close to home can save you money on transportation and make December a month that doesn't empty your savings.
4. If you won't need it in January, don't buy it in December
The allure of Christmas giveaways and promotions can be tempting, but it's essential to separate wants from needs.
Before making a purchase, ask yourself if the item is genuinely necessary. If it's something you won't use or need in January and beyond, resist the urge to buy, even if it's on sale. A discount is not a justification for unnecessary spending.
5. Learn to say no
The holiday season often comes with invitations to various events and shows. While it's natural to want to participate in everything, it's crucial to prioritize your budget.
If you don't have the financial means to attend certain shows or events, learn to say no.
Be unapologetic about setting boundaries that align with your budgetary constraints. Your financial well-being in January will thank you for it.
Celebrating Christmas on a budget doesn't mean sacrificing joy and merriment. By adopting these practical tips, you can navigate the holiday season without overspending, ensuring that January doesn't become a financially challenging month.
Embrace the true spirit of the season by focusing on meaningful experiences and cherished moments with loved ones.
NNPC signs two gas deals at COP28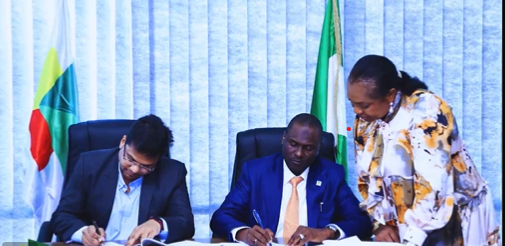 NNPC Limited says it has signed two gas deals at COP28. The deal covers a floating liquefied natural gas deal and a small-scale LNG deal at the ongoing COP28 in Dubai.
According to the company, the deal is both for Domestic, and International Markets.
There is an Agreement on 421 Tonnes Per Day Small-Scale LNG Project in Ajaokuta and MoU on Floating LNG.
Nigeria and Kuwait sign agreement for commencement of direct flights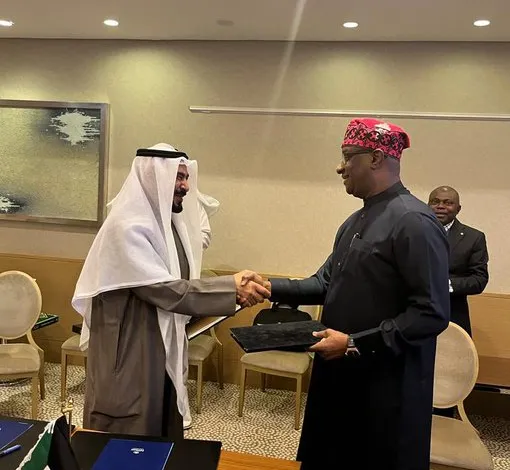 Festus Keyamo, minister of aviation and aerospace development, says the country has signed a bilateral air services agreement (BASA) with Kuwait.
BASA is an air transport agreement between two countries that allows designated airlines to operate commercial flights, covering transportation of passengers and cargoes.
The minister, in a post on Tuesday on 'X', said the agreement was signed at the ongoing international civil aviation negotiation (ICAN) event organised by the International Civil Aviation Organisation (ICAO), in Riyadh, Saudi Arabia.
He said the agreement would facilitate the commencement of direct flights (passengers and cargo) between both countries.
"Earlier today, at the ongoing International Civil Aviation Negotiation (ICAN) event of the International Civil Aviation Organization (ICAO) holding in Riyadh, Saudi Arabia, I signed the legal Instrument of Bilateral Air Services Agreement (BASA) on behalf of Nigeria with the State of Kuwait, for the commencement of direct flights (passengers and cargo) between both countries," he said.
"This will boost trade, tourism and economic relations between both countries.
"My team and I will continue the negotiations of different routes with different countries that are present here for this annual event of ICAO till later in the week."
On September 7, 2023, the federal executive council (FEC) approved the signing of the agreement between both countries.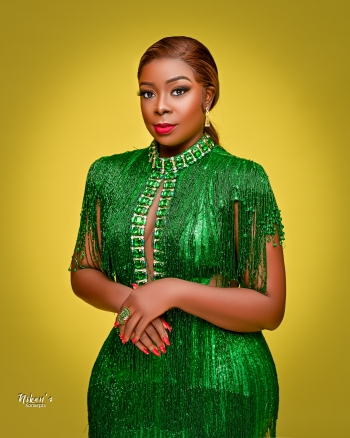 Bodex F. Hungbo, SPMIIM is a multiple award-winning Nigerian Digital Media Practitioner, Digital Strategist, PR consultant, Brand and Event Expert, Tv Presenter, Tier-A Blogger/Influencer, and a top cobbler in Nigeria.
She has widespread experiences across different professions and skills, which includes experiences in; Marketing, Media, Broadcasting, Brand and Event Management, Administration and Management with prior stints at MTN, NAPIMS-NNPC, GLOBAL FLEET OIL AND GAS, LTV, Silverbird and a host of others