Must Read: Sisters as reportedly to have issued a long written sexual encounter with Rapper Plies…
You guys are gonna be in shock after reading this long sex encounter with rapper Plies. Two sisters had threesome with Rapper Plies and out of excitement came out openly to thank him
My experience with Plies….
He had a show in Detroit on Saturday this weekend. Myself and my sister drove from Milwaukee to the D to see him. I've been a fan since "Shawty" so when I heard he was coming close, less than 6 hours away, it was an automatic YES to going to see him. His show was lit and had everyone was turnt up. After the show, we saw him at Erotic City. He was throwing a few one's, ordering some Henny bottles, and being/feeling himself.
I have to say he is much more attractive in person, his swag, that Florida accent is everything. My sister was approached by his security and then was invited to his VIP, she linked my arm and took me with her.
Plies was there with about 7-9 other people including a few dancers. He had offered us some drinks and was talking to us, asking us if we were twins, and if it would be possible to get us out our comfort zone. Basically he asked us indirectly if he could get a menage. We were in town for the night, so honestly who cares, girls can have a little fun right? My sister gave him her number and he said he would call later.
We left the club around 3 and got a call a little after. So after the leaving the strip he called from a private number and gave us the address. We were both lit so we got a uber ride to his MGM grand hotel room. The room was nice there was a few dudes in there when he got there but Plies directed them to leave. He asked us again if we wanted a drink, smoke, request a TV movie or room service, or anything being nice and presenting southern hospitality and what not. After that, he basically laid on the bed and told us what time it was.
My sister made the first move by grabbing his d*** and pulling it out his Versace boxers. She was sucking his d*** and I was on his neck sucking it and licking his chest tattoo while he was playing with my clit (I knew not wearing panties would come in handy one day.) After she sucked his d***, she started riding his d***. And he pulled my hips and directed my p**** to his face. I was riding his face while she was riding his d***. This tongue felt so good on me, I could c** instantly but had to hold myself back.
After a while we switched position, at this point I'm bent over and he's f****** me while my sister is masturbating on the side watching us. After that it was missionary for us, Plies has this technique were he will eat your p**** and finger you with one hand and play with your nipple with the other and if that doesn't make you c** after, you have issues I knew he had done that a lot of times before cause he smiled when my body was shivering like he knew that would do it.
After we all get our nuts in, we all hop in the shower together, I'm bathing Plies with the small wash towel and my sister doing the same but with the soap bar and her hands. I loved touching him so I could only imagine how he felt. After that shower, Plies invited us to spend the night but I think that night was enough, my sister gave him her Twitter name, he said he would follow her but we didn't spend the night, we left back to our room with memories and closer bond as sisters. I just wanted to thank Plies for an unforgettable night.
These girls are funny. If this is the way people come out to thank people after secret sexual intercourse, I think lots of guys would have stopped anything that has to do with secret lovers. Lol
I never asked Mo Bimpe sex for movie role, Yomi Fabiyi insists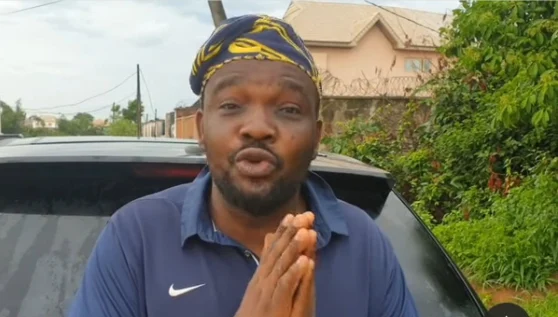 Yomi Fabiyi, the actor, has once again dismissed claims of sexual harassment against Adebimpe Oyebade.
In 2021, the actress — better known as Mo Bimpe — accused Fabiyi of subjecting her to "constant harassment, bully and threats."
Her claim had come as a response to the release of 'Oko Iyabo', a movie by Fabiyi on the sexual assault allegations against Baba Ijesha.
"I didn't make myself available for his sexual needs despite how much he tried. Yomi Fabiyi needs to be stopped. Thank God for grace, I would have given up on this dream because of his constant harassment, bully and threats," she had said.
But in a recent interview, Fabiyi denied claims that he demanded sex from Mo Bimpe before enlisting her in his movie.
"I starred her in my movie when nobody knew her and I never asked her for sex before I put her in the movie," he said.
"I always tell her that whenever she is chanced, she should come to Lagos so that I can brush her up and keep her up to speed before shooting.
"We shot the movie and we were there together, I didn't say before I give you this role I must have sex with you. People who do such things, that will be their first condition before they even give you that kind of role.
"I didn't demand anything from you, I didn't say come and have sex, I just wanted to help you. After we finished shooting and she noticed I didn't ask her for anything, she came to tell me she's following another man, Gabriel to Lagos.
"Why is she saying that I sexually assaulted her when many men have slept with her before she settled down with who she's with today."
Fabiyi had previously addressed the allegation against him.
Rita Dominic and Omoni Oboli call out INEC for moving polling units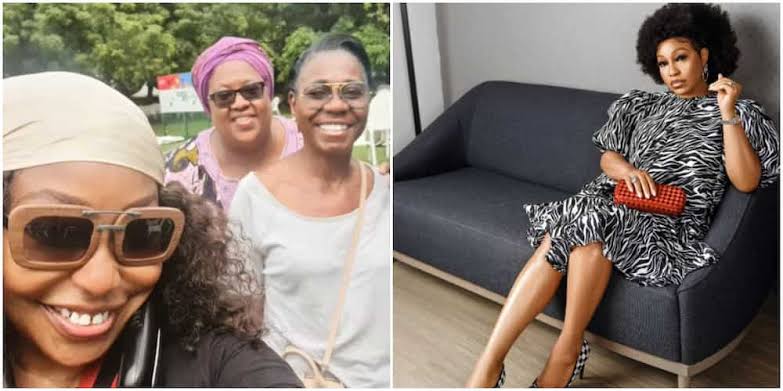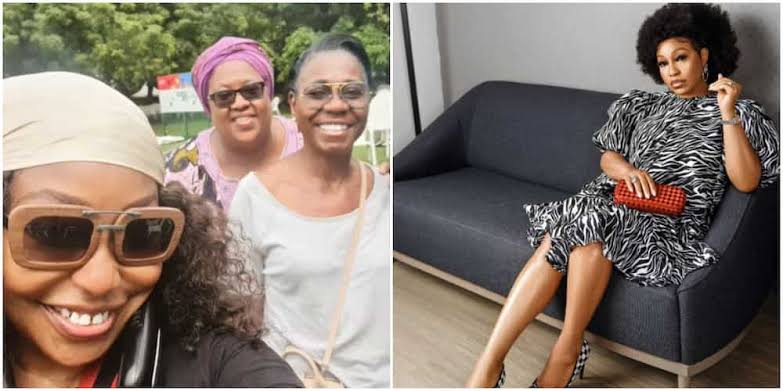 Rita Dominic and Omoni Oboli have called out the Independent National Electoral Commission (INEC) for allegedly moving their polling units.
The movie stars took to their social media pages to express their shock over the decision by INEC officials.
Dominic took to Instagram to state that she had been voting inside Victoria Garden City (VGC) for the last 10 years.
The actress, however, wondered why "the INEC staff came to move the centre outside the gate."
She lamented that the decision has denied several people the opportunity to cast their votes.
"At my polling unit in VGC with fam but @inecnigeria @ineclagos decided to move our polling unit and set up outside the estate on the main road without prior notice," she wrote.
"I have voted in the same polling unit for over 10 years and did so just about 3 weeks ago for the presidential election. I can't fathom why INEC officials will decide to move this outside?
"There are many senior citizens who live inside the estate, who want to exercise their civic duty but as it stands now might not be able to do that because of this decision.
"What reason would you move thousands of voters from somewhere that is organised to a chaotic place that would obstruct traffic? I just can't wrap my head around it!"
Similarly, Oboli claimed that their polling units have been reduced to three, instead of eight. She also alleged that they were asked to vote outside VGC.
"INEC has come to set up outside. There's an uproar going on here. It is a mess. There's some sort of military outside. But guys I don't think it's safe. I just said I should come outside. I am just gonna go right back into VGC. It is what it is. INEC, is this what we've reduced ourselves to?" she asked.
"We voted the last time and everything went reasonably okay. Why are we voting outside? There are eight polling stations inside. And you set up three canopies out here."
Poco Lee reacts to Tolani Baj's comment about men who dance in clubs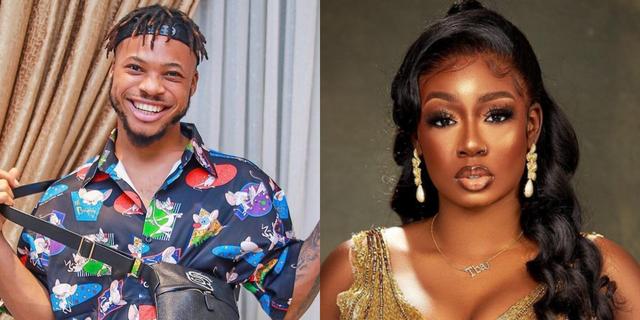 Popular Nigerian dancer, Iweh Pascal Odinaka, better known as Poco Lee, has thrown shade at BBN Tolanibaj over her recent comment.
The influencer and hypeman Poco Lee recently visited Asaba for a performance at a well-known club. He performed at the occasion with DJ Funkybee, the official DJ for Quilox, an opulent club in Lagos, and delighted the audience by showcasing his dance talents.
Later, Poco Lee posted on Snapchat videos of his performance and took a jab at Tolanibaj. He wrote, "Na wetin Tbaj no like be this."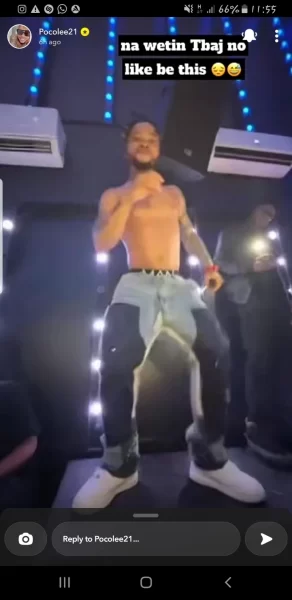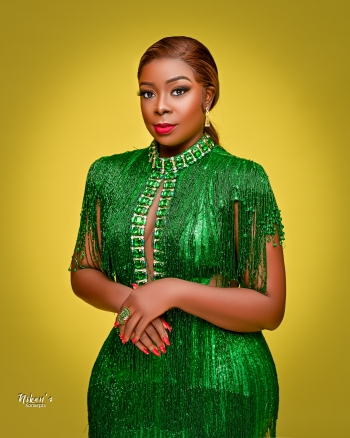 Bodex F. Hungbo, SPMIIM is a multiple award-winning Nigerian Digital Media Practitioner, Digital Strategist, PR consultant, Brand and Event Expert, Tv Presenter, Tier-A Blogger/Influencer, and a top cobbler in Nigeria.
She has widespread experiences across different professions and skills, which includes experiences in; Marketing, Media, Broadcasting, Brand and Event Management, Administration and Management with prior stints at MTN, NAPIMS-NNPC, GLOBAL FLEET OIL AND GAS, LTV, Silverbird and a host of others