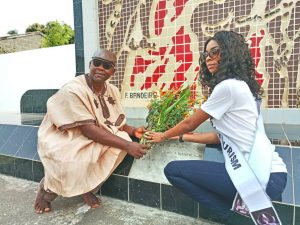 Morning after, which is the day two of the test tour, Benin Royal Hotel woke us up to sumptuous breakfast which translated from bread rolls to croissant, coffee and variety as you would have wished for. Our dishes kept filling up with food at very instance. One of us even said jokingly that the first he would do when he gets back to Nigeria is to check his weight as he suspects he must have added a few pounds. From the appetizer, to the main course itself, and even to the dessert, spelt for us the true royalty that we exude. We were treated to a mesmerizing buffet that left people going back for more to have their fill.
A quick survey revealed somewhat that apart from French as the major language of the Beninoise, another widely spoken language there is Egun, from Nigeria. Those that could communicate in the language and comprehend all what is being said feel like they are in charge.
Meanwhile, we came in company of Prince Adekunle Adeyemo, the Executive Assistant to the Ambassador of tourism in Africa and President of Motherland Beckons/ La Campagne Tropicana beach Resort, Otunba Olawanle Akinboboye, Otunba Niyi Babade of CNN Africa, Mr Wale Ojo of Tribune and the Most Beautiful girl in Nigeria, Tourism, Miss Winfrey Okolo.
After breakfast and all, we set out on our destination to Quidha. We left at about 11:55 am in a convoy up until we got to the place where pythons are worshipped ( Les Temples de pythons) at about 1:00pm. Though we didn't stop there immediately, we made a down payment of 20,000Franc CFA for our visiting expenses.
We headed to the slave mausoleum where several slaves were buried on a daily basis.  Some slaves were even buried alive because slave masters felt they couldn't continue on the journey. Historical estimates run to about 40 million souls buried there. We paid our homage to the lost souls by observing a minute's silence. The African Ambassador of Tourism, Otunba Olawanle Akinboboye gave a heartfelt speech on the sufferings and pain the souls of the departed are languishing in.
While we were in motion with this, we were met and greeted by the representatives of the honorable minister of tourism, to appreciate our efforts and visit, in line with destination Quidah. A memorial bouquet of flowers was presented and lain by the Most Beautiful girl in Nigeria, Tourism, Miss Winfrey Okolo, on behalf of Nigeria in remembrance.
We proceeded on the journey to the point of no return, where slaves if taken to this point, were rest assured to never see their countries or families. This point served as a major exchange point and port for slave trade on the African continent. Destination Quidah opened the eyes of many to the culture and sounds of the people of Benin republic.
Meanwhile, as we left the slave mausoleum, little did we know we were going to have an encounter with strong believers and practitioners of voodooism (voodun) right on the same route. They were receptive and approachable and as well gave a little insight into what they do and how they do what they do.
In rounding off our tour for the day, we made a final stop at the temple of pythons. Most people from the stop earlier made were excited, a few apprehensive and others non-different. Here, the facilitator informed us that the pythons don't bite, as they were royal pythons and that is what people in that locality worship. Ironically, the first Catholic Cathedral in West Africa is situated directly opposite this temple.
The snakes, we were told, are released once every month to go into the neighborhood to feed and be worshipped, after which they return to the temple on their own accord, whilst some are brought back by faithful worshippers. They feed on small livestock and rodents each time until their next release. Mind you, they are never killed!!
Things spiced up momentarily as we took turns to touch, carry and wear the live python as a muffler round our necks. Though some tourists were freaked out and barely had the nerve, it all boiled down to stepping up your fear game, just as the saying "what doesn't kill you, makes you stronger."  Even Bodex herself, was scared to the bones as the sight of the snakes gave her the hives. She screamed and almost took to her heels when it was her turn to wear the snake as a muffler.
We weren't alone on this journey as white men from different nationality were seen taking a tour of the different places we visited. It showed to us that if we as Africans do not appreciate the tourism elements we carry, foreigners from other continents actually do.
At 3:35pm we were back at the Benin Royal Hotel. The journey this time seemed shorter and a lot faster. This time, we resumed at the VIP restaurant for the humongous lunch awaiting us. Though it was a fun journey, we were pretty exhausted from the heat of the scotching sun. Resting a while, we set out again at 7:15pm for the high point event of the night.
There was a blend of Nigerian and Beninoise music with performance from Motherland's very own Olo – omidan bata, Anu – the lady Ekwe, and many more with models and multi instrumentalists serenading all to pleasant sounds of jazz and pure African music.
The major highlight of the event this evening was by Nigeria's very own Remilekun Abdulkalid Safaru, popularly known as Reminisce, a.k.a Alaga Ibile. His performance was off the hook, with blaring hit songs to his title. He is a man of few words, but left fans bedazzled all night out.
See pictures: