Volt media unveils plans for Bodex Social Media Hangout, announces Gbenga Adeyinka, Derenle Edun as Host and Green Carpet Host respectively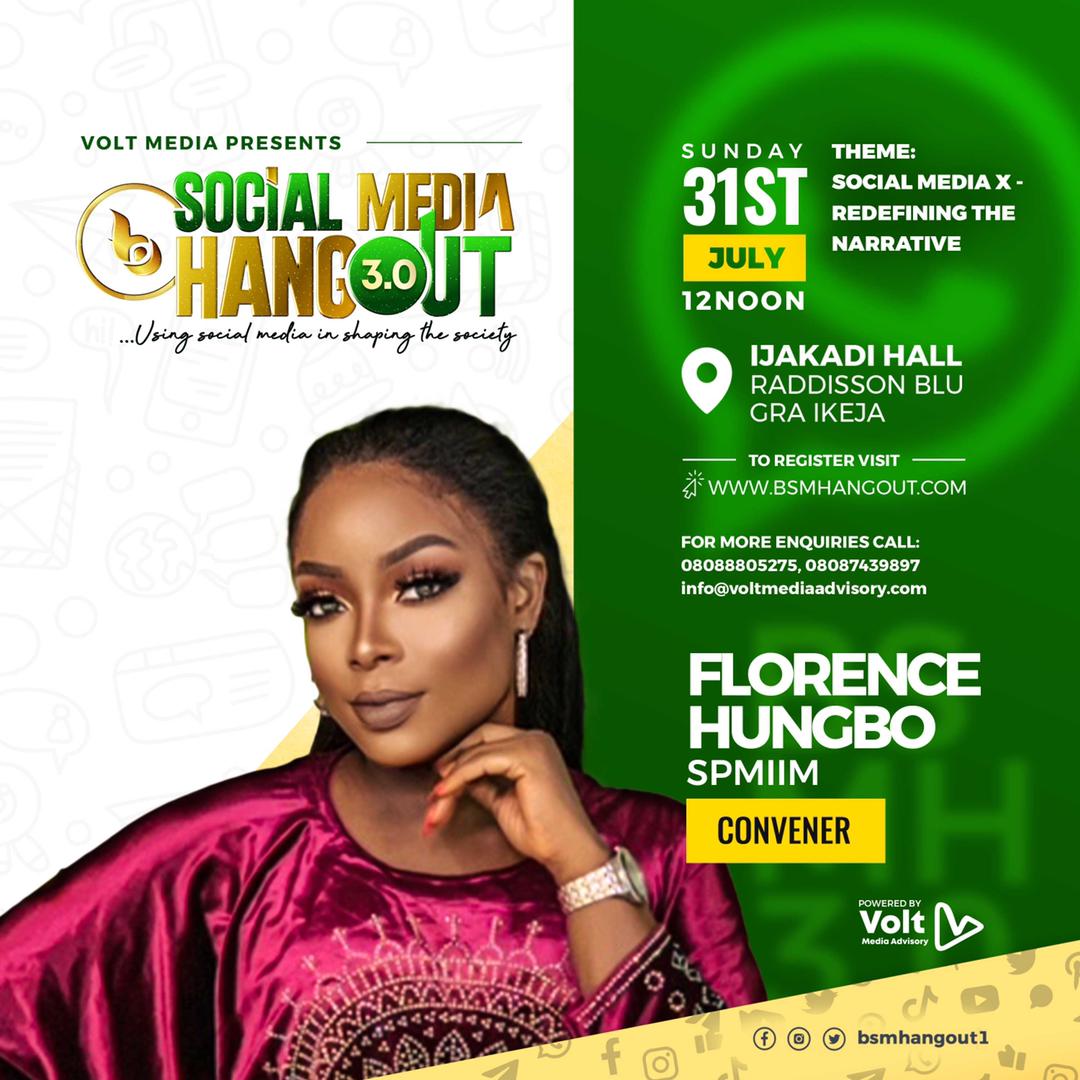 Volt Media, one of Africa's leading communications and media agencies, is pleased to announce the date and details of the 2022 edition of the Bodex Social Media Hangout, an annual event designed for the celebration and recognition of principal actors within the digital media space and their many awe-inspiring acts in the past year.
Volt Media Advisory, the organisers of the media hangout, formally announce that plans are already in top gear for the third edition holding at Radisson Blu Hotel in Ikeja, Lagos on the 31st of July 2022, with the theme, 'Social Media X- Redefining the Narrative'.
The annual multi-city digital movement seeks to celebrate, amplify, aggregate and recognise the efforts and achievements of Nigerian Social Media Users & practitioners by coming together to have deep discussions, appreciate one another and network.
Since the advent of the event in 2019, save for a brief hiatus in 2020 due to the Covid-19 pandemic that almost crippled the global economy, the organisers annually bring together media stakeholders under one roof to discuss salient issues affecting the use of social media as a tool for creating stability in the environment, curbing the spread of fake news, which is currently a menace, and tapping into the boundless resources embedded in the use of social media as a means of generating income through content creation and enterprise enrichment.
Lead consultant of Volt Media Advisory and Convener of the Bodex Social Media Hangout; Miss Florence Hungbo, disclosed that this third edition had a lot of varieties to make a difference.
Speaking further, she announced a glittering cast of celebrity anchor & comedian extraordinaire, Gbenga Adeyinka De 1st, as the event host, and media personality, Derenle Edun, as the green-carpet host for the Bodex social media hangout season 3.0.
She added that the choice of Gbenga Adeyinka and Derenle Edun as the event host and green carpet host respectively was borne out of the duo's dexterity and creative prowess over time.
She stated, "After deliberations with our team, we eventually settled for the duo because of their pedigree in show business and the entertainment industry. They both will bring that glitz and glamour to the event. They are a perfect fit for what we are trying to project.
Gbenga Adeyinka is a unifier and blends with both the young and old generations, Derenle is not a greenhorn when it comes to hosting the green carpet at events. They are both ready to bring their experience to play and ensure we have a smooth, dramatic and fun-filled event."
On the uniqueness and excitement surrounding this year's edition, she stated, "This year's edition is strictly by registration and invitation and its power-packed.
We have varieties of speakers, moderators, panellists, and observers like Aproko Doctor, Efe Omorogbe, Iyabo Ojo, Omojuwa and other celebrities and media personalities. We will also have in attendance stakeholders like NDLEA, EFCC, LAMATA, Entrepreneurs, Ministry of Information, Nigeria Police Force and other stakeholders to discuss the 'Impacts Of Social Media On Law Enforcement'.
To add fun to the event, we have artistes like Wale Thompson, Aralola Olamuyiwa 'Ara' (First Female Drummer) Humblesmith, Skales, and others while DJ Kexzy would be on the wheel.
There are other side attractions as well.
To be part of this unique digital media event, kindly register via our website at www.bsmhangout.com to secure a seat and an invite.
To make the night more memorable, we hope to have in attendance the Governor of Lagos State, Mr Babajide Sanwo-Olu; Brig. Gen. Mohamed Buba Marwa (Retd), OFR
Chairman/Chief Executive of the National Drug Law Enforcement Agency, NDLEA, representatives of other government parastatals and other invited guests from all walks of life.
Bodex F. Hungbo bags New Media Personality of the Year Award, 2022
Congratulatory messages are in order again as the Badagry born multiple Awards-winning damsel Bodex F. Hungbo, SPMIIM bags Prime Excellence New Media Personality of the Year Award.
The award which was presented to her in November 20, 2022 by Yeye (Barr) Mrs. Caroline Adeneye, CEO Sierra Global at Airport Hotel Ikeja was in recognition of her massive contributions to the growth and outstanding impact in the digital media space using Bodex Social Media Hangout as a tool in shaping the society and our country at large.
Recently, the Serial Entrepreneur, Cobbler, Multi-Media Expert, Brand/Event Expert, and PR consultant also, bagged an International Award and Regcognition for Excellence in Data and Information Management 2022 by the Institute of Information Management Africa presented by Dr Oyedokun A. Oyewole, President Institute of Information Management Africa for her enormous contribution and using her unique media talk- shop called Bodex Social Media Hangout that is designed to create consistent awareness and engagement on the need for social media good and while curating practical solutions through the engagement of professionals making positive impact across platforms.
During the presentation, Bodex Social Media Hangout was awarded Best Digital Program of the Year 2022 Bodex has become a reputable brand influencer/blogger and social media strategist with enormous influence in Nigeria and has been at the forefront of using digital/ traditional entrepreneurship to create value, engage the youth and deliver communication objectives for partner organisations.
In her appreciation speech, Bodex thanked the organizers of these awards for deeming her fit for the awards and also recognising the impact of Bodex Social Media Hangout in the country.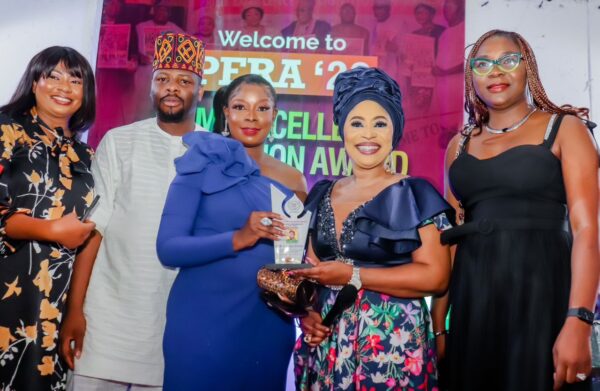 She also thanked all the media personalities present while dedicating the awards to all digital and tradition media entrepreneurs in Nigeria and beyond and promised to make everyone who has supported her on this journey proud.
Bodex is the Chairperson of Bodex Group International which comprises of Bodex Media, Bodex Footwear, Bodex Beauty House, House of Bodex and lead consultant at Volt Media Advisory.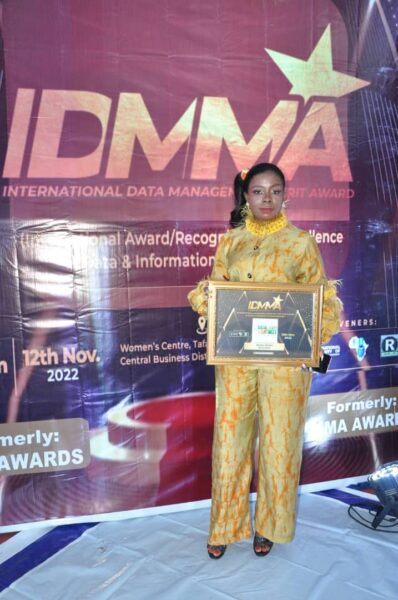 She is the founder, Bodex Exceptional Women Initiative Africa (BEWIAFRICA)- an initiative that empowers women in men's dominated field, amongst others.
I learned to play talking drum myself as men refused to teach me, says Ara the drummer
Ara, the Nigerian drummer, has revealed that she learned how to play the talking drum by herself.
The self-acclaimed "queen of drums" spoke about her career in an interview with Channels TV.
She said she learned how to play the drums by watching the men perform, adding that they "refused" to teach her.
Ara said she listened to Nigeria's veteran singers and learned how to play the drums to their sounds.
"I learned how to play the talking drum by watching the guys play because they refused to teach me. So I watched them play. I bought the music of people that I look up to in the industry," she said.
"My father had a huge collection from Fela to Ayinla Omo Wura to Yusuf Olatunji to King Sunny Ade and everybody. So I learned to play with them.
"I listened to even Lagbaja when I was learning how to play because I love Lagbaja a lot. So I listened to all of their music and I trained my ear to listen differently and play differently."
Ara is regarded as the foremost female drummer in Africa with a career that spans over two decades.
Ara the Drummer narrates her grass to grace story
Nigeria's foremost female drummer, Aralola Olamuyiwa popularly known as Ara, has made more revelations about her journey of life, recalling how she lost almost everything she laboured for in life, after things went from bad to worse for her.
The goddess of drums made these revelations during the week, while unveiling her pet project, a reality TV show tagged, "Eko Inspire Me By Ara", and an academy for "Area Boys and Girls."
Sharing her bitter experience at the unveiling ceremony, which was held at the EbonyLife Place, Victoria Island, Lagos, Ara said God took her on a journey to prepare her for what she's doing today.
"In 2019", she began, "I lost everything. When I say I lost everything, I lost everything I laboured for in life."
She continued: "I sold all my cars and I was homeless. Nobody knew about my predicament except my family."
"As at that time, I was somebody who used to give, not receive. I didn't want to reach out to anybody. My landlord sent me packing because I couldn't pay my house rent. On the day I was ejected from my house, I moved into a hotel with my child. While I was in the hotel, I reached out to one or two people whom I felt I could talk to.
"Sadly, I ended up staying in that one-room hotel for almost a year. I could not afford to feed myself and my child. In fact, I was eating the food that was meant for the kitchen staff. I moved from grace to grass and I started questioning God, why me?
"Everything I tried to do wasn't working out for me. God practically cut everyone off me. When my mum knew what I was passing through, she reached out to me, but I told her I didn't want to bother her. I started going to shows again. But the show that I normally charged between N3 million and N5 million, they started offering me between N100,000 and N150,000. I said to myself, what's this?
"One day, I got a revelation and I said to God, is that the reason you are taking me on this journey? I prayed about it and I was told that nothing was wrong with me. This is God teaching me a lesson for a greater purpose. Nobody knew about what I was passing through because I am not a social media kind of person. Eventually, I picked the project again because I dumped it before now.
"I got frustrated trying to get people to key into the project. I went from organization to organization, but nothing seemed to be working out. So I dumped the project and God dumped me. I realized that He wanted me to feel what it feels like not to have a roof over your head, not to know where your next meal will come from.
"I cried profusely when they told me they were going to shut down the hotel where I was staying with my child because of COVID-19. I begged God to forgive me if I have done anything wrong. Later, they called me and said they weren't going to shut down the hotel because of me. So, the moment I picked the project again, doors started opening for me. I said to God is that why you took me through this journey. Everything I lost gradually started coming back. I went from 100% to zero %. That's why I said this project is the beginning of the beginnings for me," the celebrity drummer, who was emotional, narrated.
Ara further explained that the initiative was borne out of her experience with some hoodlums over 10 years ago when she went to visit a friend at Oshodi area of Lagos. She said she made a promise to return to them in future, which she never fulfilled.
According to her, the experience changed her mentality about the street urchins. The drummer said she and her team were poised to make life better for over 2,000 area boys and girls in the next 10 years.
"Eko Inspire Me was conceived in my heart about 10 years ago due to a personal experience I had with some area boys in Oshodi," she added.
Ara, however, thanked the Lagos State Governor, Babajide Sanwo-Olu, for his support to make the initiative a dream come true.
On the reality show, the celebrity drummer said "Nigerians will vote 100 of them, 20 out of the 100 into the reality show. The academy will run throughout the year while the reality TV show is once a year.
"We cannot take more than 20 people for the reality TV show, but the Academy can take as many as possible. We also want volunteers.
"If anyone has touched your life, it's time to pay back by helping these guys."
Also speaking at the event, the Lagos State Commissioner for Information and Strategy, Gbenga Omotoso, said the initiative was in line with the Sanwo-Olu-led administration's vision and pledged that the government will continue to offer support to ensure that more area boys and girls are kept out of the streets.
Former President Olusegun Obasanjo, who spoke via a recorded video, also pledged to pick 20 area boys for mentorship.