Osun state government directs Oyetola, wife, former appointees to return official cars
The asset recovery panel set up by the Osun government has directed Gboyega Oyetola, immediate past governor of the state, and his wife, Sherifat, to return official vehicles in their possession.
The directive was announced on Friday in a statement by Olawale Rasheed, spokesperson to Ademola Adeleke, the governor.
According to the statement, Tokunbo Salami, the chairman of the asset recovery panel, said the directive also applies to former appointees of the state.
Oyetola is said to have 11 vehicles in his possession, while his wife has "several" brands of government vehicles in her possession.
Salami added that there is no law in the state that authorises any elected or appointed officials to leave with state vehicles after the completion of their tenure.
"The Assets Recovery Panel of the Osun State Government has directed former Governor Gboyega Oyetola, his wife, Hajia Kafayat Oyetola, and other former appointees to immediately return assorted vehicles valued at N2.9 billion presently illegally in their possession," the statement reads.
"Due diligence has been conducted and the committee has concluded that the affected past officials should return government vehicles in their possession.
"This is the first batch of vehicles to be retrieved. We will soon come up with the second batch.
"All affected officials should return the vehicles in their possession immediately to avoid coercive procedures for recovery of state assets.
"In the list of affected officials, Governor Oyetola alone has 11 vehicles ranging from Lexus Jeep, Toyota Prado jeeps and assorted models of costly vehicles. The wife, Mrs Kafayat, also has in her possession several brands of government vehicles which were taken away against provisions of the law."
The panel also directed Benedict Alabi, the former deputy governor; Charles Akinola, former chief of staff; and Abdullahi Binuyo, former deputy chief of staff, to return the official vehicles in their possession.
Other affected persons include those who served as special advisers, local government caretakers, board chairpersons, commissioners, and secretary to the state government.
"The former Deputy Governor has more than seven government vehicles in his custody contrary to the provisions of the law," the statement reads.
"A serving Senator, Oriolowo, is also directed to return to the Osun State Agricultural Development Programme five machines, namely motor grader, bulldozer, soil compactor machine, among others.
"All affected ex-officials are to urgently comply with the above request or risk enforcement procedures."
PDP accuses APC of hoarding new naira notes for vote-buying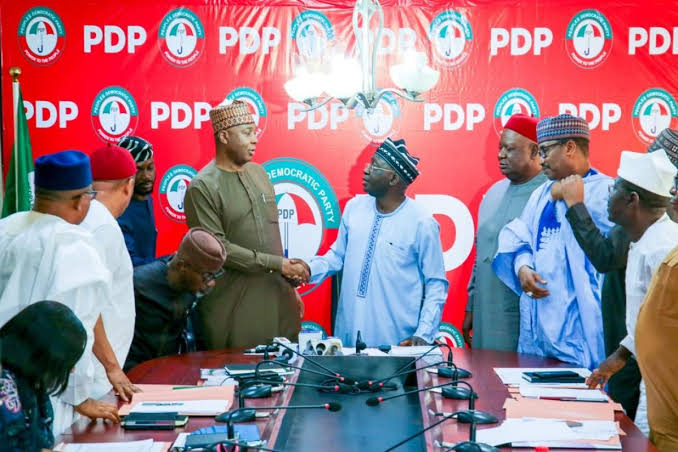 The Peoples Democratic Party (PDP) has accused the All Progressives Congress (APC) of hoarding the newly redesigned naira notes for vote-buying in the forthcoming elections.
In a statement on Sunday, Debo Ologunagba, national publicity secretary of the PDP, said the hardship brought upon the country by the APC will be forgotten when Atiku Abubakar, standard bearer of the PDP, is elected into office.
The PDP called on the Central Bank of Nigeria (CBN) to be mindful of the suffering being experienced daily by Nigerians.
The opposition party also asked banks to take urgent measures to arrest the situation by ensuring adequate protection and effective monitoring of cash distribution process.
"The Peoples Democratic Party (PDP) expresses optimism that the hopelessness and anguish brought upon our nation by the All Progressives Congress (APC) administration will be a thing of the past when the PDP Presidential Candidate, Atiku Abubakar assumes office as president come May 29, 2023," Ologunagba said.
"The PDP decries the excruciating pain and distress being faced by Nigerians arising from their inability to access the new naira notes occasioned by the reported nefarious activities of corrupt APC leaders who are compromising the system to intercept and hoard the new bank notes for their selfish vote-buying plans ahead of the February 25, 2023 presidential election.
"Our party is, however, saddened that the cash crunch had persisted due to the sabotage of corrupt APC leaders, including the APC presidential candidate, Asiwaju Bola Ahmed Tinubu, who are alleged to have masterminded the intercepting and hoarding of the new notes for their selfish agenda.
"Nigerians now know the truth and hold Asiwaju Tinubu and the APC directly responsible for the anguish they have been subjected to in the face of this excruciating cash scarcity; another reason they will deal Tinubu a humiliating blow with their votes at the February presidential election.
"The PDP calls on President Buhari to protect Nigerians by going after these felonious APC leaders as well as the saboteurs in the system who are reportedly working with the APC presidential campaign to mop up cash meant for distribution to our citizens.
"Our party stands with Nigerians; the artisans, traders, drivers, "keke" and "okada" riders, labourers, food vendors, students and all hard-working citizens at this time of distress."
Adebayo Adedeji: Winning Edge of Travels and Leisure Mogul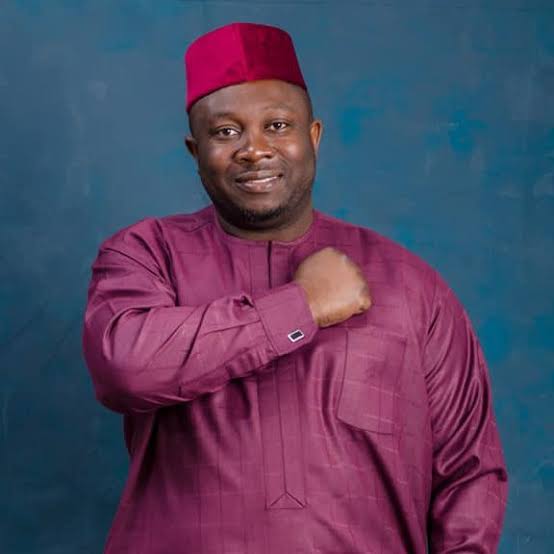 In almost four years since he joined Wakanow, Adebayo Adedeji has transformed it into a leading travel tech company in Africa, sealing deals, recording astounding growth and expanding to more regions.
This year, he restructured the company and stepped into the new role of Group Chief Executive Officer. Vanessa Obioha unravels the humanness of the business leader that empowers Adedejito lead one of the most loved travel companies in Nigeria.
Be prepared. This is one of the notes you may likely get on a first encounter with Adebayo Adedeji, the Group Chief Executive Officer of Wakanow, the leading travel tech company in Africa. Given the fact that he is nicknamed Lion, one may wonder if he/she is at risk of being devoured. Certainly, you will be, but by his large chest of nuggets of wisdom and knowledge. In the one hour-long conversation at his pristine office in Lekki, one couldn't help but count the number of quotes he shared. "The library of hearts," "The lucky brand," "Sales cures all", and "If you have no fear of losing, you are playing in the wrong league," are some of the wise sayings that reeled from his lips.
On the white wall of his office hung two portraits. One is a frame covered in words he often drums into the ears of his employees. They include "Let nobody write your story for you," "Wisdom roars," "In God we trust, all others pay cash," "Who is number 1? The customer," and so many others.
The other is a portrait of a lion. Everyone calls him a lion because of his approach to problems. The moniker is copious in his social media accounts; even his employees once made a T-shirt with a lion emblem to describe him. In fact, he said the employees even wanted to post a lion image on the door of his office. Interestingly, both portraits are gifts from his employees.
Explaining the meaning behind the sobriquet, Adedeji said: "I think it's my approach. I like the quest of the lion. The lion wakes up, looking to eat and in the process of eating, it has to devour and in the process of devouring, it has to kill. For me, it's the notion that when a lion is chasing a meal, it's not thinking of anything but that meal, it removes all the extremities out of its way and focuses. It is purpose-driven.
"I like the aggression and God already gave me a husky voice. Even when I'm calm, my voice always comes out this way."
Notwithstanding, he sees fear as a great motivation to be successful.
Accompanying his bubbling mien is that infectious and convincing spirit. As a salesman, Adedeji is gifted with words and he spews these with such an admiring conviction. It is one of the traits he said made his late mother never engage him in an argument any time he had an issue with his older sister.
"I will always win the argument," he said, chuckling.
Adedeji is affable and approachable. The last child of a family of six, he does not subscribe to the description of one's background as humble or wealthy. He counts himself lucky to have a mother who prioritised education, having lost his father when he was a toddler.
"I'm from a lucky background. We are not rich or extremely poor. We were in a place where my mother understood the value of education so she sent me to Lagos Modern College, Meiran. My mother figured out that I needed a better education than she could afford so she sent me to a free school that was intended to make me stand out from my peers. So I was lucky, even though the school was free. Though we didn't have money, she was intentional enough to send us to the best free schools and universities. I went to the University of Ife (now Obafemi Awolowo University), and when we were on strike, somebody suggested to her that she enrolled me in a private university but she said she could not afford it."
Adedeji is still grateful for that luck today.
"We didn't have a tonne of money. She was a single mother with six children and a true leader. I saw a woman struggle through life to raise us to get the very best education we could get in the country. I remember when I would come back from school, my mother might not have all the time but when she did, she would look through my entire books. She would look at how I write, and speak, and encourage me to debate. She never stopped me from competing in debates and trained me for my first debate. Those things are why I say I'm lucky. It's not humbleness or wealth, it's the fact that somebody actually dedicated that part of their life to make sure that I was well trained."
Adedeji has an MBA in Finance from Clark Atlanta University and has lived abroad and worked with international companies such as Walmart. He came back in 2019 to pick up a role in Wakanow as Head of Transformation and climbed the rungs to become Group Chief Executive Officer last month. His mantra is "serve the customer, lead the people and grow the bottom line."
Different things make CEOs tick. Many things make Adedeji tick. First is his sense of fashion: simple and easy. He does not belong to the 'suit and tie' group. He has about 30 denim (Ralph Lauren is his lucky brand) of different colours and alternates them with native attires. He admitted that his wife buys most of his stylish clothes. Left to him, he would buy the same outfit every day.
Therefore when he posted on Instagram that he intends to wear more tux this year, not a few encouraged him to do so. Adedeji explained his choice of wardrobe this way:
"Sometimes I feel like the smarter you are, the less hindrance you want in your life. You just want to be comfortable because sometimes you wake up with that frame of mind where you want to get stuff done. You got a new idea. You just want to wear a t-shirt and jeans."
He added this nugget: "If we change the ideology that what you wear makes you smarter, what will happen is that you will attract better people because the smartest of us don't like to wear corporate clothes all the time. And as human beings, we have the capacity to do more if we can remove those hindrances."
Secondly, he is a teacher. He teaches his leaders every Monday morning for about two hours whenever he is in town. His topics are varied and include math, retail, P&L (profit and loss statement), as well as data and guts.
He gave an insight on data and guts:
"Do you make gut-based decisions or data-based decisions? Sometimes what we call guts is a result of data that was consumed in the past. So there are no real guts; you've consumed so much data in the past that they're framing your gut feeling for data but the data is forming the baseline of your decision-making because it's not just emotion. It is data consumed subconsciously. If you consume data regularly, you become a stronger leader to make better decisions. It's not about the conscious effort of consuming data but the subconscious effort. When you fill the library of your heart with good information, you will be able to make better gut-based decisions as a result of the data you have subconsciously consumed. I'm encouraging my leaders to be conscious of what they consume in that data library. If you consume a lot of irrelevant stuff, your guts will only be suggesting that we do skits."
Thirdly, all he knows is hard work.
"I don't know any other way to achieve success than hard work."
Given the astounding turnaround of Wakanow, a company that was almost struggling to pay salaries and stay afloat in 2019, everyone sees Adedeji as a superhuman, the businessman with the Midas touch or a magic wand that transforms things with the speed of superman. The businessman however is not cocky about his achievement.
The secret of his leadership success perhaps lies in an attribute he inherited from his mother: leading with empathy.
"When you have employees that you're empathetic about and you understand that the position you have is a privilege, it's not a right, and what you have is not permanent; it's only temporary. You understand that you didn't get here only by merit, that there's a bit of luck and God's ordinance on your path. It humbles you. You don't get cocky," he said.
He continued: "I believe that my background has helped me to not get caught up in a title or a position. It allows me not to even be driven by the hunger of my belly, but by the hunger of my heart, which means that I am not easily rattled by what people have or material things because there's this inner desire for bigger success outside of wealth. To watch Wakanow succeed is a joy for me. It is more than a joy actually. It is a success for me to see a company that did not pay salaries for nine months to see you come into that company, and do a full turnaround to a place where we are profitable is a success to me.
Indeed, it is his empathy that made the employees stand by him during the pandemic in 2020, less than a year after he joined the company. The travel industry was badly hit by the capricious coronavirus as countries stayed locked down to prevent further spread. A visionary leader, Adedeji saw the opportunity to lead the industry. One of the few things he did to restructure the company when he joined was to deal with the salary backlogs, followed by reorganisation of employees. Although some were retrenched, those who were retained were willing to give it their all to put the company back on its feet. Therefore when the pandemic began to bite, the employees were willing to work freely but Adedeji insisted on paying them. Throughout that period, they took home 20 per cent of their salaries but did their work wholeheartedly. Adedeji also got the shareholders to put more money into the company as he began the process of innovating the business.
"We pushed this business during that period. And it gets me emotional when I look back. I saw people that were dedicated to the company because of my leadership. Even though they were not getting paid full salary, they were willing to do the work."
Today, employees are spread across the world and are paid salaries on time. They also get quarterly bonuses. Last December, they were paid their 13th and 14th salaries. The workers are given free breakfast and lunch every day and those stationed at the headquarters are conveyed to the office. There is no employee that Adedeji is not familiar with and relates to them in a genial manner. It is difficult to differentiate the boss from the employee in Wakanow because of the way he embraces them. Even though he is the helmsman, he can sell tickets to a customer.
"Leadership is earned and not given. If leaders can come down from their high horse and understand the people they work with, they will realise very quickly that the realities of life are different from theirs and will be grateful for the life that they have."
In his four years helming the company, Adedeji has recorded outstanding growth. Between 2021 and 2022, the company recorded 154% growth.
"I didn't do the work, they did. Wakanow's success is driven by its people," he said.
Ticketing remains the biggest source of revenue for the company. Adedeji revealed that he has a sales team that makes about N300-N500 million every month from ticketing. Wakanow is also into other lifestyle and travel packages such as hotels, local transfers, airport services, visa services and other vacation adventures for tourists.
Last year, the company served about 500,000 customers.
This year, Adedeji is steering Wakanow into other countries such as Sierra Leone, Liberia, the Gambia, Francophone Africa, and the United Kingdom and the U.S. These destinations were informed by the number of Nigerians living in the diaspora that still buy their tickets from Wakanow. The expansion would allow the citizens of these countries such as Sierra Leone which does not have an online travel agent to access Wakanow services. Understanding that transactions are local, Wakanow is adding more indigenous languages to its platform.
Adedeji is always looking out for opportunities where the company can grow and that is not limited to the travel industry. He foresees a future where Africa will be a solutions provider.
"I believe only Africa can fix Africa. If Africa starts creating things for all Africans, we will move forward," he said.
By Adebayo Adedeji
Emefiele introduced naira redesign because he failed in his presidential bid, says Ganduje
Abdullahi Ganduje, governor of Kano, says Godwin Emefiele, governor of the Central Bank of Nigeria (CBN), introduced the naira redesign policy because he failed in his presidential bid.
Speaking with BBC Hausa on Friday after a meeting of the governors elected on the platform of the All Progressives Congress (APC) with President Muhammadu Buhari, Ganduje alleged that the CBN governor and those around the president did not want elections to hold.
In October 2022, Emefiele announced the plan to redesign the N200, N500, and N1,000 notes, and asked Nigerians to deposit their old notes before January 31, 2023, when they would cease to be legal tender.
Although the deadline has been shifted to February 10, many Nigerians have found it difficult to obtain the new naira notes.
The governor of Kano said the naira redesign policy was not part of the agenda of the APC.
"The naira redesign is not the agenda of the APC, it is the agenda of those who are around the president and the governor of the Central Bank of Nigeria, who wanted to run for president but wasn't successful," he said.
"They don't want the elections to hold or want another party to win. But we in our states we have to ensure that things don't go out of hand and if the president is listening to them then we (governors) must show our capacity just as we've done now."
Responding to a question on whether the governors will part ways with the president on the naira redesign policy, Ganduje said, "No. We are against this policy of naira redesign by the governor of the Central Bank and those who the president is surrounded by."
Also speaking with BBC Hausa after their meeting with Buhari, Nasir el-Rufai, governor of Kaduna, said they met with the president to resolve issues caused by the naira redesign.
"Our fear is if this issue is not resolved, it may bring chaos in the country and may even disrupt elections or lead to the elections not holding," el-Rufai said.