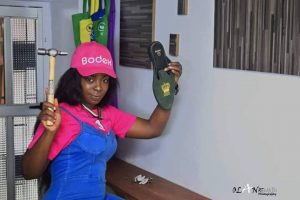 TRAINING! TRAINING!! TRAINING!!!
Are you tired of being idle? Are you doing any business you aren't happy with or don't have passion for? Do you want to be a business owner in footwear making with immediate income? Have you been dreaming or passionate about learning how to make footwears but money is the problem then, this training is for you as House of Bodex is organizing a special slippers and sandals training for the first 10 to register as a way of giving back to the society and also sharing her creativity…
If you want to be a Boss Lady Or Boss Man…
THIS IS AN OPPORTUNITY YOU DON'T WANT TO MISS.
SMALL MONEY WITH PLENTY OF VALUE…
With just N30,000 the world will recognise and identify with your brand….
Learn how to Make beautiful, standard and Quality Slippers and Sandals in just 3 weeks….
In this training,

You will learn how to design and cut pattern

You will learn how to identify original leathers or synthetic leathers

You will learn how to know sizes and use the right lass for them

You will learn about different lasses

You learn how to make Slippers and sandals (Total Package)

You learn how to utilize your footwears making online… Bonus and lots more
Save the date… Nov 26th, 2018
Time: 9am-3pm
Venue: 43,Alhaji Masha Road, Surulere Lagos
Phone: 08088805275
Email: houseofbodex@gmail.com
#bodexslippers #bodexsandals #bodexfootwears #houseofbodex