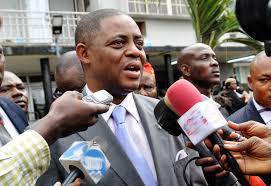 Femi Fani Kayode has come out to publicly say that Magu is not the target, that the people that are been targeted are the ones he works for which is Tinubu and Osinbajo, when they are done with Magu, they will face them.
Femi Fani Kayode hinted that this matter is not a new matter, he said that it has been planned for many years now, that the Buhari lead administration is planning on taking down a lot of the members in the APC cabal and it is a step by step plan.
Nigerians had called for the prob of Tinubu after a bullion van drove into his compound with what is suspected to be cashed filled in the bullion van during the elections. When asked about the bullion van, Tinubu reacted that it is no one's business what gets into his house and what comes out, which triggered many Nigerians, insisting that Tinubu be probed and questioned.
This should clearly tell Nigerians that there is so much problem going on in the APC party, there is no unity among members and a house that is not together, cannot stand together. The leadership quality in the APC party has added to the misery caused by the past government and Nigerians should have a rethink and make sure they take the right steps to make this country become a better one come the next elections.