JUST IN: Ngige pulls out of presidential race, says he wants to focus on his job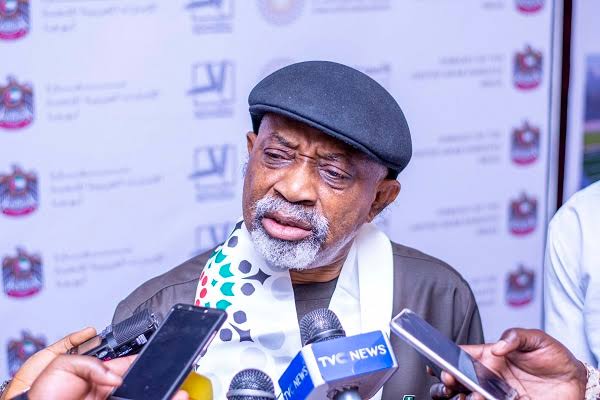 Chris Ngige, minister of labour and employment, has announced his withdrawal from the 2023 presidential race.
The minister said he took the "momentous decision" in the interest of the nation and to enable him to concentrate on his job.
Ngige was one of the presidential hopefuls of the ruling All Progressives Congress (APC).
His withdrawal comes less than two days after the president directed all members of his cabinet seeking elective office in the 2023 elections to resign on or before May 16.
Buhari may have signed Electoral Act amendment bill — Aide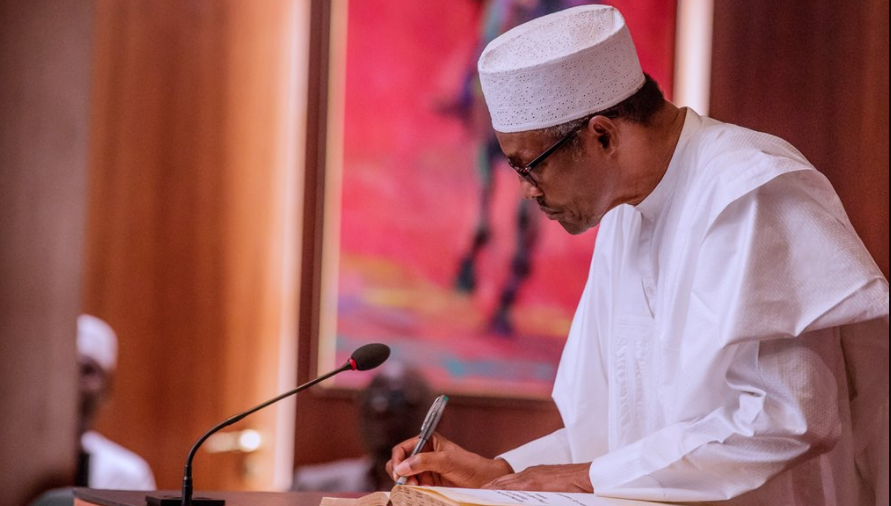 Indications emerged on Saturday that President Muhammadu Buhari may have assented to the Electoral Act amendment Bill recently transmitted to him by the National Assembly.
The amendment is crucial to the participation of statutory delegates at the primaries and national convention of political parties.
They have been excluded from voting and being voted for during the exercises in the previous amendment signed into law by the President.
This caused the National Assembly to hurriedly passed the latest amendment as the political parties in the process of conducting their primaries and convention to elect their state, national assembly, governorship and presidential candidates.
The statutory delegates of political parties stand the risk of exclusion from the exercises if the President does not sign the amendment bill by Sunday.
Since they are required by the Electoral Act to submit the lists of their delegates to the Independent National Electoral Commission (INEC) seven days to the national convention, the parties can only make do with elected delegates.
This may have been averted going by the assertion of the Special Assistant to the President on National Assembly (Senate), Senator Jide Omoworare, had hinted that the President "should have signed."
He had been asked to confirm whether or not President Buhari had indeed assented to the latest amendment.
If I become president, I will live in Sambisa forest, says Al-Mustapha
Hamza Al-Mustapha, former aide to the late Sani Abacha, says he will end Boko Haram in six months and will stay in Sambisa forest, if he becomes the president of Nigeria.
Al-Mustapha who is running for president on the platform of the Action Alliance (AA) pledged that his administrstion will do whatever it takes to tackle insecurity in the country.
Al-Mustapha said this during an interview with BBC Hausa on Friday.
He said he will rework how the military operates and responds to security threats.
"There will be a military with renewed vigour and committment under his admunistration," he said.
"If I become the President, I will live in Sambisa; I will stay there during weekends, holidays and see if anyone will touch me. I will deal with the problem of insecurity no matter whose ox is gored.
"Look at the silly act of Boko Haram, I swear if it is not possible in 6 months to deal with them, I will demote all these senior officers and send them home. They would be prosecuted and must return the money given to them. I will probe them.
"Nigerian soldiers have now become policemen and you know how corrupt our police are. So, within these six months, I will bring sanity into the way the Nigerian military operates to be able to confront emerging security threats with renewed vigour and commitment."
Support groups to hold 'one-million-citizen march' for Peter Obi, asks PDP delegates to vote him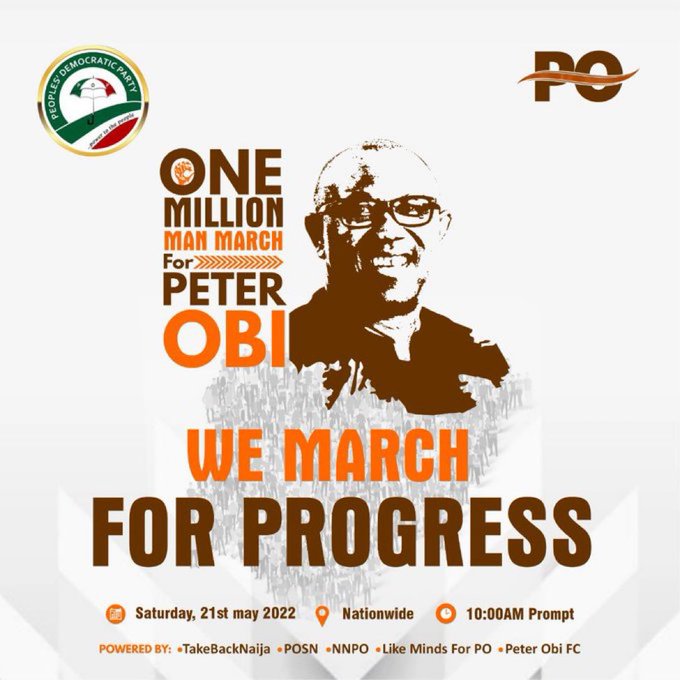 A coalition of Peter Obi support groups has fixed Saturday to hold a one-million-citizen march for the former governor of Anambra and presidential hopeful.
In a statement on Friday, Marcel Ngogbehei, chairman of the coalition, said the exercise is to show solidarity and support for "our principal's divine mandate" and to ask Peoples Democratic Party (PDP) delegates to vote for him.
Ngogbehei said the march would be held across the country, adding that they have obtained the necessary permission for the event.
"We as support groups for Peter Obi are organizing a One-Million-Man March on Saturday, May 21, 2022, across the 36 States of the federation and FCT in a bid to show maximum solidarity, love, and support for our principal's divine mandate for the 2023 presidency," he said.
"The one million man march is to ensure that Nigerians of like-minds come out en masse in all the states of the federation and FCT in solidarity with the presidential aspirant.
"The one million-man-march is anchored by Coalition for Peter Obi (CPO), which is made up of more than a dozen different support groups for Mr Peter Obi.
"All supporters of Peter Obi will participate fully in the march all over Nigeria. The one-million-match is a show of solidarity and love for the credible candidature of Mr Peter Obi.
"Various routes have been chosen for the march in all the 36 States and FCT. The march will start by 10:00 am prompt and we have obtained police permits to ensure security.
"The take-off points for all states have been shared on various social media platforms, and all great supporters of Peter Obi should reach out to their respective coordinators and WhatsApp group admins to ensure familiarity and easy locations to the routes.
"This is a peaceful solidarity march, and all are encouraged to portray a patriotic spirit, be of good conduct and avoid actions that will give us bad names, neither should we allow hoodlums to hijack our peaceful march. Let's be very conscious and alert in the exercise."
Some of the groups include Peter Obi Support Network (POSN), Like Minds for Peter Obi (LMPO), Nigeria Needs Peter Obi (NNPO), TakeBackNaija (TBN), Women for Peter Obi (WPO), Associates of Peter Obi (APO), Peter Obi FC (POFC) and Peter Obi movement for president (POMP).