Obasanjo laments high cost of diesel on fish farming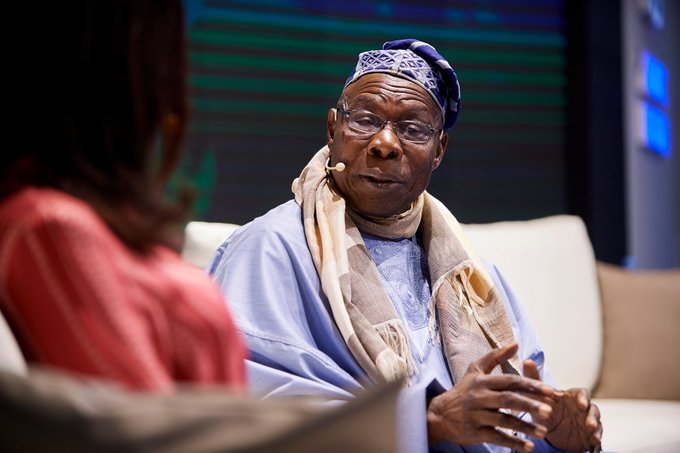 Former President Olusegun Obasanjo says the rising cost of diesel has adversely affected his fish business.
Obasanjo spoke on Tuesday during a south-west fish farmers' congress held at the presidential library (OOPL) in Ogun state.
He said the high diesel price may turn fish farming into bankruptcy, adding that he is "already sweating" over the high cost.
According to Obasanjo, with the current price of diesel at N800 a litre, the production of a kilogram of fish is N1,400.
He said farmers must not sell less than N1,500 as anything short of that would lead to "outright loss".
"If we don't come together as an association, nationally, we will sink individually. If we come together, we will swim and survive together," he said.
"And while we are working on coming together, I thought that the situation has arisen whereby we have to do something urgently.
"The price of diesel has gone sky high because the management of this country is not what it should be. And it is as simple as that.
"Then, what will happen is that particularly those of us who have to use a bit of diesel in producing fish, we will completely go bankrupt, and when that happens, Nigerians will still have to eat fish."
He added that fish production would be out of reach, and "then people will be producing fish outside Nigeria and dump it here".
"And you will go jobless, poor and indigent. So, what do we have to do? To come together… we want to sustain fish production, and we must be able to take care of those who are going to eat and those of us who are producing," the former president added.
Obasanjo asked the farmers "how many of you are using diesel in your production? Because I use diesel, and I'm already sweating. I'm already sweating."
Angry motorists and passengers attack armed robbers with stones and planks on Lagos-Ibadan Expressway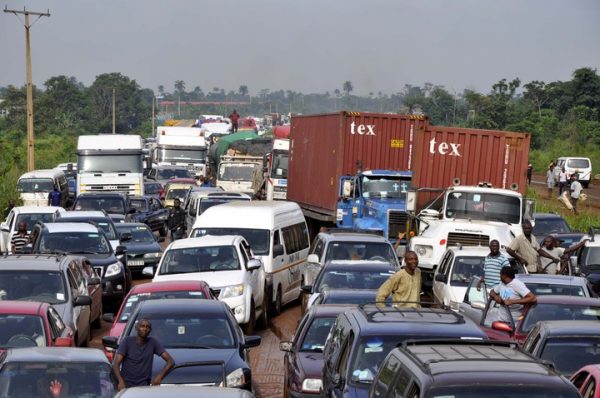 A four-man robbery gang was shocked into beating a retreat after road users heeded the rallying call of a motorist to attack the armed men — with stones.
There was apprehension on Long Bridge, inward Lagos State, opposite Mikano/Karameh City, along Lagos/Ibadan Expressway, at about 5.55a.m., on Wednesday. Four gun-wielding men in black had taken advantage of the traffic jam and started robbing motorists.
However, some brave passengers and motorist disrupted their operations by pelting them with pebbles.
Narrating his experience to Vanguard, a passenger said he was in a Mazda car that took off from Mowe, Ogun State.
According to Owokunle, seven passengers were on board the Mazda car, when the armed men were sighted in black cardigans, robbing unsuspecting road users.
He said: "The journey was very smooth from Mowe, but as we approached the Long Bridge, the driver was advised to be alert because of the perennial gridlock ahead.
"Shortly after, the driver sighted the suspects on the bridge stopping and robbing road users.
"People were scared and many drivers and passengers abandoned their vehicles and fled in different directions."
He continued: "Fortunately, one of the road users shouted at the top of his voice, advising co-road users to stop running and to face the suspects.
"This was how the road users pelted the suspects with stones, while some drivers brought out cutlasses and rods to face the suspects.
"Sensing danger, the suspects descended the bridge and disappeared."
Another road user, who simply gave his name as Gabriel, corroborated Owokunle, saying two car owners were robbed in his presence before the road users began a counter attack.
"This angered us and we faced the suspects with pebbles, cutlasses and rods," he added.
Another road user, Aramide, said out of fear someone jumped from the bridge and this may lead to serious injuries.
"But nobody could wait to attend to him as people continued their journey after the nasty experience," he said.
JUST IN: Bandits release seven more kidnapped train passengers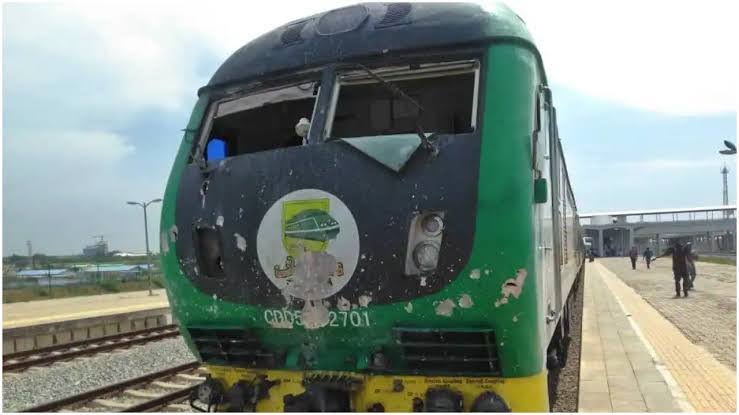 Seven of the passengers abducted in an attack on a train in Kaduna have regained their freedom.
The seven victims were released on Wednesday morning by their abductors.
Tukur Mamu, publisher of Desert Herald, who had been involved in the negotiations, told Channels Television that six of the released victims are members of the same family.
Since 1966, millions have died to keep us together — Nigeria will remain one, says Buhari
President Muhammadu Buhari says the millions of Nigerians, who have died for the country to remain united, is a pointer to practical experience on "hard-earned patriotism".
Buhari spoke on Tuesday when he received former state chairpersons of the defunct Congress for Progressive Change (CPC), at the state house, Abuja.
According to a statement by Femi Adesina, presidential spokesman, Buhari said the passion for improving the livelihood of Nigerians, which culminated in the creation of the political party, had not dwindled.
The president said the self-centeredness that led to the loss of about a million lives between from 1966 — just before the Civil War — till date, must not be allowed to repeat itself.
The president called for more steadfastness among Nigerians, and urged political leaders to stay focused and uphold the ultimate objective of promoting the interest of the country.
"Our main objective is the Federal Republic of Nigeria. We are human beings. We have our weaknesses, but I can assure you that the patriotism in us is hard-earned," he said.
"We have gone through all the troubles from 15th of January 1966 to date. You know what I mean by this. We have killed a million of ourselves in order to keep this country together.
"I don't think there can be any practical experience more than that. We are Nigerians. God willing, we remain Nigerians and Nigeria will remain one."
The president also urged members of the defunct CPC and political leaders to work towards preserving the unity, peace and integrity of the nation.
Buhari thanked the former chairpersons of the CPC for always highlighting the achievements of the government.
"I am delighted to welcome the forum of state chairmen of the former Congress for Progressive Change to the State House today. I accord great significance to this visit as it demonstrates a determination and commitment to identify with our administration," Buhari said.
"I commend members of this forum and all members of the legacy party, CPC, for their continued dedication to the ideals of democratic governance that we all believed in.
"I am particularly grateful for the unalterable belief the members of CPC and, by extension, the Nigerian electorate, had and still have in me as demonstrated in their unalloyed support for our electoral struggles, which reflected in the results that we consistently recorded at the polls over the years."
He said the "solid credentials" that the CPC possessed gave the party a prime place in the merger that led to the formation of the All Progressives Congress (APC).
Describing Buhari as the "patriarch of the CPC", Umar Shuaibu, chairman of the forum, commended the president for providing strong leadership over the years, particularly in his ability to remain "balanced, fair and above board" in electoral issues.