JUST IN: Nigeria's inflation rate surges to 20.52% — highest in 17 years
The consumer price index (CPI), which measures the rate of change in prices of goods and services, surged to 20.52 percent in August 2022, up from 19.64 percent in the previous month.
The rate is the highest since October 2005
The National Bureau of Statistics (NBS) said this in its consumer price index (CPI) report for August 2022, released on Thursday.
According to the bureau, the rate is 3.52 percent higher compared to 17.01 percent recorded in August 2021, indicating a rush (year-on-year) in August 2022.
In the report, increases were recorded in all classifications of individual consumption according to purpose (COICOP) divisions that yielded the headline index.
"On a month-on-month basis, the Headline inflation rate in August 2022 was 1.77 percent, this was 0.05 percent lower than the rate recorded in July 2022 (1.82 percent). This means that in August 2022 the headline inflation rate (month–on–month basis) declined by 0.05 percent," the report reads.
Exchange Rate Between Naira And Dollar Falls At The Black Market
The exchange rate between the naira and the US dollar fell further to a record low of N735/$1, recording a dip of 0.68% on Friday morning, 30th September 2022 on the black market, compared to N730/$1 recorded on Thursday.
This is according to information obtained from black market traders who spoke to Nairametrics.
Meanwhile, the exchange rate at the Investors and Exporters window fell by 0.15% to close at N437.03/$1 on Thursday, 29th September 2022, when compared to N436.37/$1 recorded in the previous session. This is despite a surge in the amount of traded FX in the window.
Total forex turnover stood at $223.3 million, representing an 86.9% increase from $119.49 million that exchanged hands in the previous trading session.
The local currency, on the other hand, at the cryptocurrency peer-to-peer FX market, traded at a minimum of N736.8/$1 on Friday morning, recording a slight depreciation of 0.25% as against N735/$1 traded at the same time on Thursday, 29th September 2022.
Nigeria's external reserve stood at $38.32 billion as of 28th September 2022, a decline of 0.1% from $38.36 billion recorded the previous day.
The nation's foreign reserve has been on a downward trend due to the continuous intervention by the CBN in the official market to maintain the stability of the local currency.
Drama as man causes commotion in bank after his N180k disappeared from his account (Video)
A man has been captured on camera causing a scene at a popular bank after a huge sum of money was deducted from his account.
It was gathered that N180,000 mysteriously disappeared from his account so he stormed the bank to lay a complaint.
He lashed out at the bank security and customer service officer as they tried to calm him down while he was shouting in the banking hall.
The security man has asked him to make way for another customer to be attended to by the bank staff but he continued ranting.
He went as far as challenging them to get him arrested because he was not going to leave the bank until the N180k was fully refunded.
CBN begins deductions from states, farmers' accounts to recover outstanding loans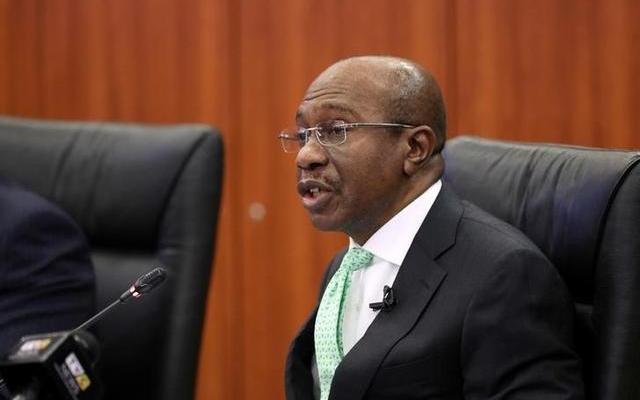 The Central Bank of Nigeria (CBN) says it has commenced deductions from accounts of defaulters under its development finance interventions to recover outstanding loans.
Yusuf Yila, director, development finance of the CBN, said this during a post-Monetary Policy Committee (MPC) in Abuja on Wednesday.
Yila said the apex bank is determined to recover loans from states and farmers who were beneficiaries of any of its interventions.
Although he did not mention the debtor states, Yila said state governments' monthly federation account allocation committee (FAAC) accruals are already being debited directly every month.
This deduction, he said, will last six months.
According to him, the Anchor Borrowers Programme (ABP) and Commercial Agric Credit (CAC) are part of the intervention programmes.
"Every person(s) or state that took that loan (ABP) is going to pay. We have their BVN," he said.
"These persons are smallholder farmers, who received funds for farming from state governments via the ABP, but have yet to pay them back."
The CBN director further said the apex bank has started making plans to work with the Economic and Financial Crimes Commission (EFCC) to ensure that the loans were recovered.
Yila said while the ABP loan repayments were particularly low, CAC was almost excellent.
"Under the ABP, the CBN gave out about N1 trillion but recovered only N400 billion. But under the CAC, the bank lent out about N800 billion and recovered N700 billion," he added.
"We have started recovering loans from state governments. We have been doing a loan workout programme with them, and we are debiting their monthly FAAC accruals directly for the loans.
"If a state government has taken N1 billion and is already in default, over six months, we debit them N150 million every month. So, we've started that programme.
"So, every single loan that has been given out through any of our intervention programmes must be paid back.
"There is absolutely no mercy. We have started; we are in recovery mode. At the development finance department, we have begun to recover the loans.
"There is the ABP which is a primary consumption element of our interventions. We lent out N1 trillion for the ABP, of which we have gotten over N400 billion back.
"Every single person or state that took that loan (ABP) is going to pay. We have their BVN. In fact, we have started implementing the Global Standing Instruction (GSI).
"We will continue to pull the account in the bank that they lent to or whichever bank that they have. Anytime we see money in that account, we will recover it.
"We are working with the EFCC. The CBN governor has approved the collaboration with the EFCC on loan recoveries."
Yila also said that credit facilities extended to businesses and individuals have not performed poorly, adding that out of the N9 trillion intervention fund to instigate economic growth, about N5 trillion is still under moratorium.