Empire star, Bryshere Gray arrested again
American actor and former Empire star, Bryshere Gray has been detained again for allegedly breaking the terms of his probation after pleading guilty to aggravated assault last year.
Following a standoff with a SWAT team at his home the previous year, according to TMZ, Gray pleaded guilty to felony aggravated assault in 2021.
As part of his plea agreement, Gray received a sentence of 10 days in county jail and three years of probation.
A woman in Arizona last week phoned the police after Gray allegedly threatened her safety.
She claimed they had been seeing but "his behaviour was escalating and she was concerned for her safety."
Gray, on the other hand, failed to tell his probation officer about a number of run-ins with law enforcement, including a domestic disturbance call last month, according to the police.
He was then arrested after a judge issued a warrant, and he was charged with violating his probation.
Senator Sani Musa escapes assassination, four suspects arrested (Video)
Chairman, Senate Services Committee, Senator Sani Musa, All Progressives Congress, APC, Niger East has narrowly escaped an assassination attempt by unknown gunmen in his Minna residence, the Niger State Capital.
It was gathered that the incident happened on Saturday night, just as the suspected assailants were said to have trailed the Senator who is seeking his second term into the Senate in 2023 from Abuja to his residence along the popular old Alheri Clinic road, Tunga area in Minna.
Unknown to the assailants, Senator Musa had returned to Abuja in the afternoon before they invaded the house in the night.
Although the state police command was yet to issue a statement on the development as at the time of filing this report, it was gathered that the suspected assailants secured the services of two people, fully armed and in Military uniform who accompanied them to the residence of the Senator at about 8:00pm.
According to the source, the two suspects in Military uniform had mounted surveillance at the entrance gate to the Senator's house while the four others in civilian dresses entered the house after they had identified themselves to the Policemen at the gate that they were from the office of the National Security Adviser (NSA) Abuja on a search mission.
According to a source close to the Senator's house, the suspects had told the policemen at the gate that they received information that there were stockpiled arms and ammunition, including some foreign currencies in the Senator's house.
They immediately dispossessed the Policemen of their mobile phones, attempting to enter the house before luck ran out of them when information got to a close ally of the Senator who is the Special Adviser to Governor Sani Bello on political matter, Alhaji Nma Kolo that some armed men had stormed the Senator's house.
On receiving the distress call, the governor's aide immediately alerted the APC Governorship Candidate in the state, Alhaji Umar Bago who mobilized and bravely stormed the house that night where the suspects were rounded up.
It was also gathered that the suspects had lodged in a hotel in Minna ahead of the attack on the law maker's house as the motive for the action was still unknown as at the time of filing this report.
Saturday's episode is the second of such attack on the Senator Musa 'a house targeting him. The first was attack in his Minna residence and that was about two years ago when some armed men, in a similar manner invaded his residence but did not meet him.
The State Commissioner for Internal Security and Humanitarian Affairs, Emmanuel Umar who confirmed the incident, said that the Police was on top of the situation and some arrests have been made to that effect.
He however appealed to the public to remain calm, saying that further details on the incident would be made public by the Police.
Grandma, pregnant woman, others in NDLEA's net over 5,527.15kg Meth, Skunk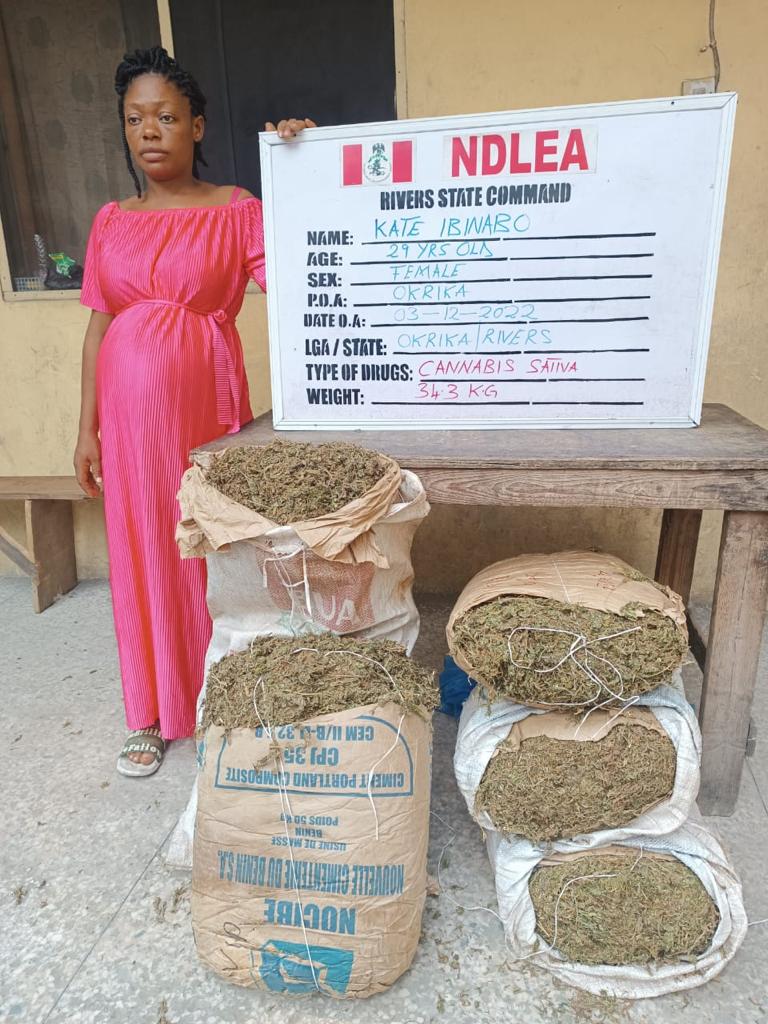 ..As Agency declares Abuja drug lord, 'Ibrahim Bendel' wanted
A 60-year-old grandmother and a pregnant woman were among those arrested during interdiction operations in which 5,527.15 kilograms of methamphetamine and cannabis sativa, as well as 132,090 tablets of tramadol and 2,000 bottles of codeine were recovered by operatives of the National Drug Law Enforcement Agency, NDLEA across five states and the Federal Capital Territory, Abuja in the past week.

The grandma, Mrs. Ibinosun Sandra Esther was arrested in Ibadan, Oyo state in a follow up operation following the seizure of 5.5kg Loud variant of cannabis imported into the country from South Africa.
The consignment, which she claimed was sent to her by her daughter was concealed in two giant Speakers as part of a consolidated cargo that arrived the NAHCO import shed of the Murtala Muhammed International Airport, Ikeja Lagos on board an Airpeace Airline flight.

In a related development, NDLEA operatives also on Saturday 26th November intercepted 1.4 kilograms of methamphetamine concealed inside custard tins packed among cosmetics and foodstuffs going to Brazil via Doha on a Qatar Airways flight.
A cargo agent, Salako Omolara Fausat who brought the bag containing the illicit drug to the airport and an intending passenger to Brazil, Anyanwu Christian who was to travel with the consignment were promptly arrested.

Another attempt by a freight agent, Adebisi Aina Hafsat to export 3,000 tablets of tramadol concealed in motor spare parts to Banjul, Gambia through the NAHCO export shed was equally thwarted by operatives who seized the consignment and arrested her on Monday 28th Nov, while a follow up operation to Ebute-Meta area of Lagos the following day, Tuesday 29th Nov led to the arrest of the actual owner, Afam Chibuke Stanley, who is a spare parts seller.
This was followed by the seizure of 100,000 tablets of Royal brand of Tramadol 200mg with a gross weight of 68.90 kilograms imported from Karachi, Pakistan on Ethiopian Airlines at the SAHCO import shed.

In Abuja, operatives stormed the warehouse of a notorious drug lord and an ex-convict, Ibrahim Momoh, alias 'Ibrahim Bendel' who escaped from prison custody to return to his criminal trade and recovered 81 jumbo bags of cannabis weighing 1,278kgs.
Though the fleeing drug dealer is still at large and is wanted by the Agency, his warehouse keeper, 55-year-old Ghanaian, Richard Forson Gordon was arrested.

Ibrahim Momoh was first arrested on 27th November, 2014 with the same substance weighing 385.1kgs, prosecuted, convicted and sentenced to seven and a half years in prison on 22nd of April, 2020 but escaped from jail after three months.
Meanwhile, no fewer than 2,000 bottles of codeine-based syrup were seized in a commercial bus by operatives on Friday 2nd December along Lokoja – Abuja expressway.

In Rivers state, operatives on Saturday 3rd Dec arrested a 29-year-old pregnant woman, Kate Ibinabo with 34.4kgs cannabis sativa in Okrika area of the state. The Chairman/Chief Executive of NDLEA, Brig. Gen. Mohamed Buba Marwa (Retd), CON, OFR, has however directed that she be granted administrative bail pending when she's delivered of her baby and thereafter return for her prosecution because at the time of her arrest, she's in her ninth month of pregnancy.
In Ondo state, 241 bags of the psychoactive substance with a gross weight of 3,133kg were recovered from a building at Ilale Cashew, Ehinogbe, Owo, on Tuesday 29th Nov. At least, 507.9kgs of cannabis were also seized during a raid at the hideout of a fleeing drug dealer in Mushin area of Lagos on Thursday 1st Dec.

In Cross River, 53 jumbo bags of C/S weighing 567.05kgs were seized from three suspects: Bassey Boniface Eyibio, 38; Effiong Akiba Etim, 30 and Ngbong Raymond, 45 at Mpara junction, Odukpani LGA on Thursday 1st Dec while conveying the consignment in a bus marked CKK 74 AA. Operatives equally arrested another suspect, Ali Mohammed along Potiskum- Damaturu road after they found 29,090 tablets of tramadol in his personal Honda car marked ABC 914 RW coming from Gombe to Damaturu, Yobe state.

While commending the officers and men of the MMIA, Rivers, Ondo, Lagos, Cross River and Yobe Commands of the Agency for the arrests and seizures, Gen. Marwa charged them and their counterparts across other formations to continue to step up their offensives against drug cartels.
Indonesia to punish premarital sex with jail time
Indonesian residents could face up to one year in prison for engaging in sex before marriage owing to a new law.
Edward Hiariej, Indonesia's deputy justice minister, told Reuters that the new criminal code is expected to be passed on December 15.
Hiariej said the new criminal code is in line with Indonesian values.
"We're proud to have a criminal code that's in line with Indonesian values," BBC quoted him as saying.
The law permits the parents of unmarried people to report them for having sex. It also intends to ban cohabitation before marriage, and those convicted could face a six-month prison sentence.
It also includes a maximum of three-year imprisonment for insulting the president — a charge to be reported by the president.
A previous draft of the code sparked nationwide protests in 2019.