Leke Adeboye and wife welcome fourth child
Leke Adeboye, son of the general overseer of the Redeemed Christian Church of God (RCCG), and Titilope, his wife, have welcomed their fourth child together.
The lovebirds announced the baby's arrival via their separate Instagram pages on Wednesday.
In the post accompanied by maternity photoshoots, Leke expressed his gratitude to God for the bundle of joy.
"Thank you, Jesus. For all, 40 special, TRA. 8 seeds, I'm done," he wrote.
On her part, Titilope, also appreciated God for the child, while praying for families who are looking up to God for the fruit of the womb.
"Miracle working God, plan rearranger and perfecter. My heart is so full of thanksgiving, you have added to us. So much to share, I will keep the story for another day," she wrote.
"For all families believing God for children, the Lord will visit you this year and grant your heart desires in Jesus' name."
Lady slams Nigerian men abroad who go to village to find wives, calls them abusers
Chidera Ochuagu, a Nigerian lady has made a bold claim about Nigerian men abroad.
She claimed that Nigerian men who leave their countries of residence and travel to their villages to find wives are "creeps and abusers."
Ochuagu, who described herself as a 'feminist, queer, atheist', stated this via Twitter on Sunday, December 4, 2022.
"Men who leave their countries of residence and go to other countries specifically to find a woman to marry are creeps, abusers, and highly misogynistic.
"You can say that about Nigerian men who live abroad coming back to their village or villages in Nigeria to find a wife because the women in the UK or Germany Or America are "too eye open".
"Those men are abusers and creeps and they have NOTHING but hate and violence to offer women," she tweeted.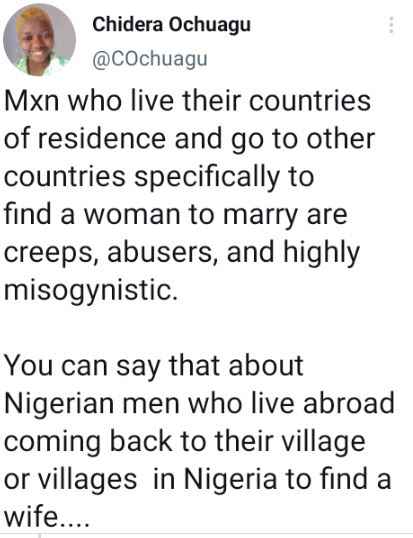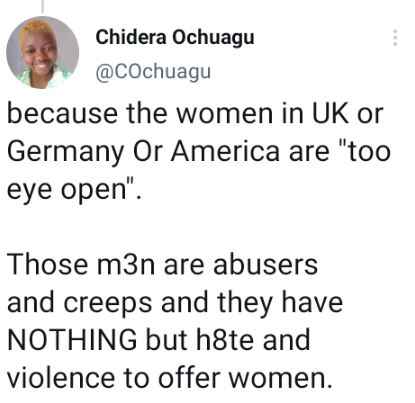 DJ Cuppy shares lovey-dovey moment with Ryan Taylor (Photos)
Florence Otedola, the Nigerian disc jockey better known as DJ Cuppy, and Ryan Taylor, the UK boxer, were out on a date together.
The duo have been in the public eye in the past weeks since a video surfaced of Cuppy getting a ring from Taylor in what is believed to be a marriage proposal.
They also shared a kiss in the midst of a crowd and in the background of 'Marry You', a song by Bruno Mars.
In a post on her Instagram page on Monday, the 'Gelato' crooner shared pictures of herself and Taylor having fun in the United Arab Emirates.
The pair shared intimate moments while having drinks and dancing.
In the caption of the posts, the DJ described Taylor as her "soulmate".
"Soulmates are two people who bumped into one another and said, 'There you are'," she wrote.
Ryan also shared the pictures on his Instagram story with the caption: "CertiCuppyDatttt".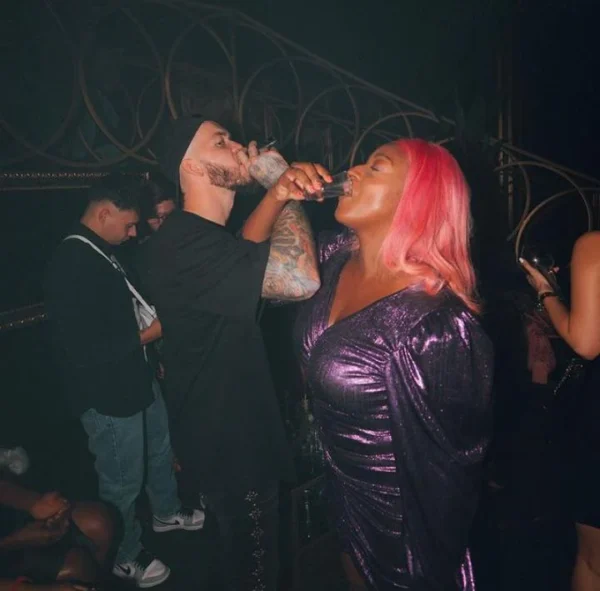 Study shows that women can spot a cheating man just by looking at him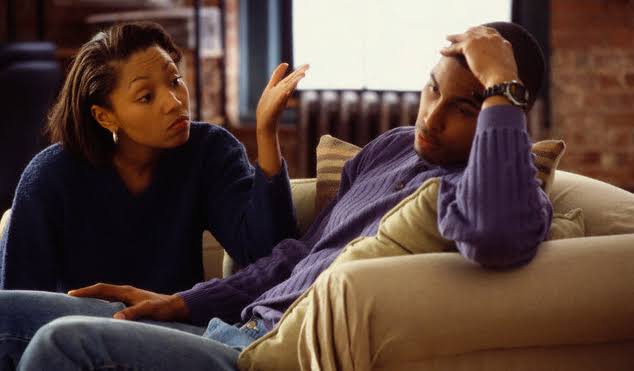 Infidelity and cheating are a big deal in most relationships and marriages, but how can you tell that your spouse is cheating on you?
According to a 2012 study, women are likely to gauge correctly when a man is unfaithful.
34 men and 34 women participated in the study and were asked to score the faithfulness of 189 Caucasian adults from their pictures.
The researchers found that the female participants were better able to distinguish between those who were faithful and those who weren't when they compared their responses to the 189 people's self-reported sexual histories.
They noted in the paper," We provide the first evidence that faithfulness judgments, based solely on facial appearance, have a kernel of truth."
According to a study that was published in the journal Biology Letters, Men, didn't seem to know anything. The researchers discovered that men frequently assumed attractive, feminine women were unfaithful.
Women, on the other hand, based their judgment on how masculine – not attractive the men looked.
The conclusion of this study is in relationships, women are more likely to know when their partners are unfaithful than men.