Tensions rise as North and South Korea exchange missiles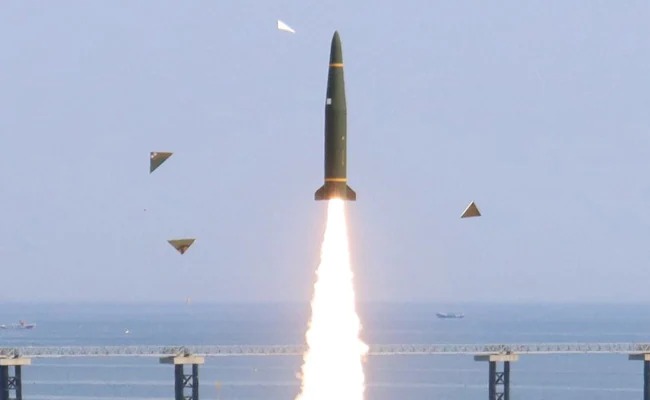 North Korea and South Korea, on Wednesday, recorded a series of missile exchanges near each other's coasts in a marked escalation of hostilities.
North Korea had fired at least 23 missiles and a barrage of artillery shells while South Korea replied with three air-to-ground missiles over the disputed maritime demarcation line.
According to South Korea's military, one of the first 17 missiles flew in the direction of a South Korean island before it landed near the sea border between both countries.
The development prompted South Korea to issue an aerial raid alert on the island.
Seoul's Joint Chiefs of Staff (JCS) has said North Korea is "fully responsible" for the escalation of the situation.
"Our military's precise strike showed our will to firmly respond to any North Korean provocations including short-range ballistic missile, and our capability and readiness to precisely target the enemy," JCS said.
The North Korean missile launch came as Pyongyang, its capital, threatened to retaliate against ongoing South Korea-US military drills that it views as an invasion rehearsal.
North Korea had also threatened to use nuclear weapons to get the US and South Korea to "pay the most horrible price in history".
The White House had maintained that the US has no hostile intent towards North Korea and vowed to work with allies to curb the country's nuclear ambitions.
Malawi begins world's first large-scale malaria vaccination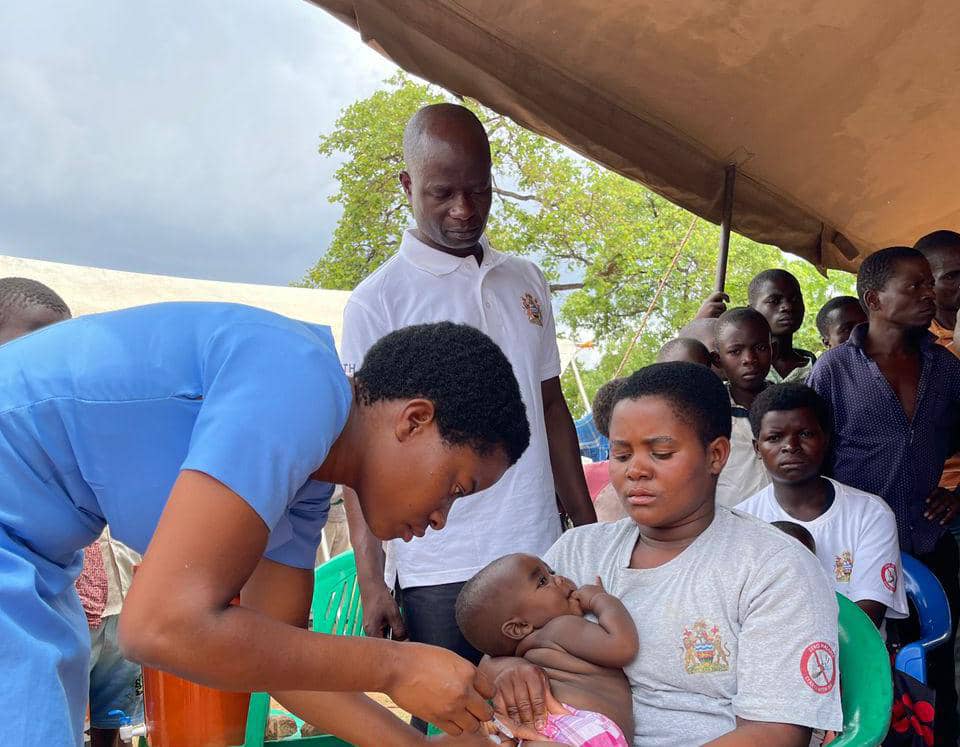 Malawi has begun large-scale vaccination of children against malaria.
This is the first large-scale malaria vaccination campaign since the World Health Organisation (WHO) endorsed the widespread use of the RTS,S/AS01 (RTS,S) malaria vaccine in October 2021.
The endorsement followed a two-year vaccination programme, which involved more than 800,000 children in Ghana, Kenya and Malawi.
The vaccine, which is recommended for children from five months of age to around 18 months, has an efficacy of 39 percent.
The first phase of the vaccination in Malawi is expected to cover 11 of the country's 28 districts.
In a tweet on Tuesday, the WHO in Malawi said the expansion of access to the malaria vaccine will enable more children at risk of malaria to benefit from an additional prevention tool.
"Malawi has expanded access to the first malaria vaccine! The expansion of the RTS,S Malaria vaccine, into the 11 districts that participated in the malaria vaccine implementation program (MVIP) has been launched today. The vaccine offers a glimmer hope for Malawi," WHO wrote.
Michael Kayange, Malawi's national malaria control programme manager, told the BBC's Focus on Africa that although the vaccine has low efficacy, "in malaria control, there is no single intervention that does it all".
"We're not saying that the malaria vaccine has come to eliminate malaria but it's one tool towards malaria elimination," he said.
Kayange added that the new immunisation campaign will ensure that all children under five, even in the remotest parts of the country, are covered.
Apple is threatening to remove Twitter from App Store for no reason – Elon Musk raises alarm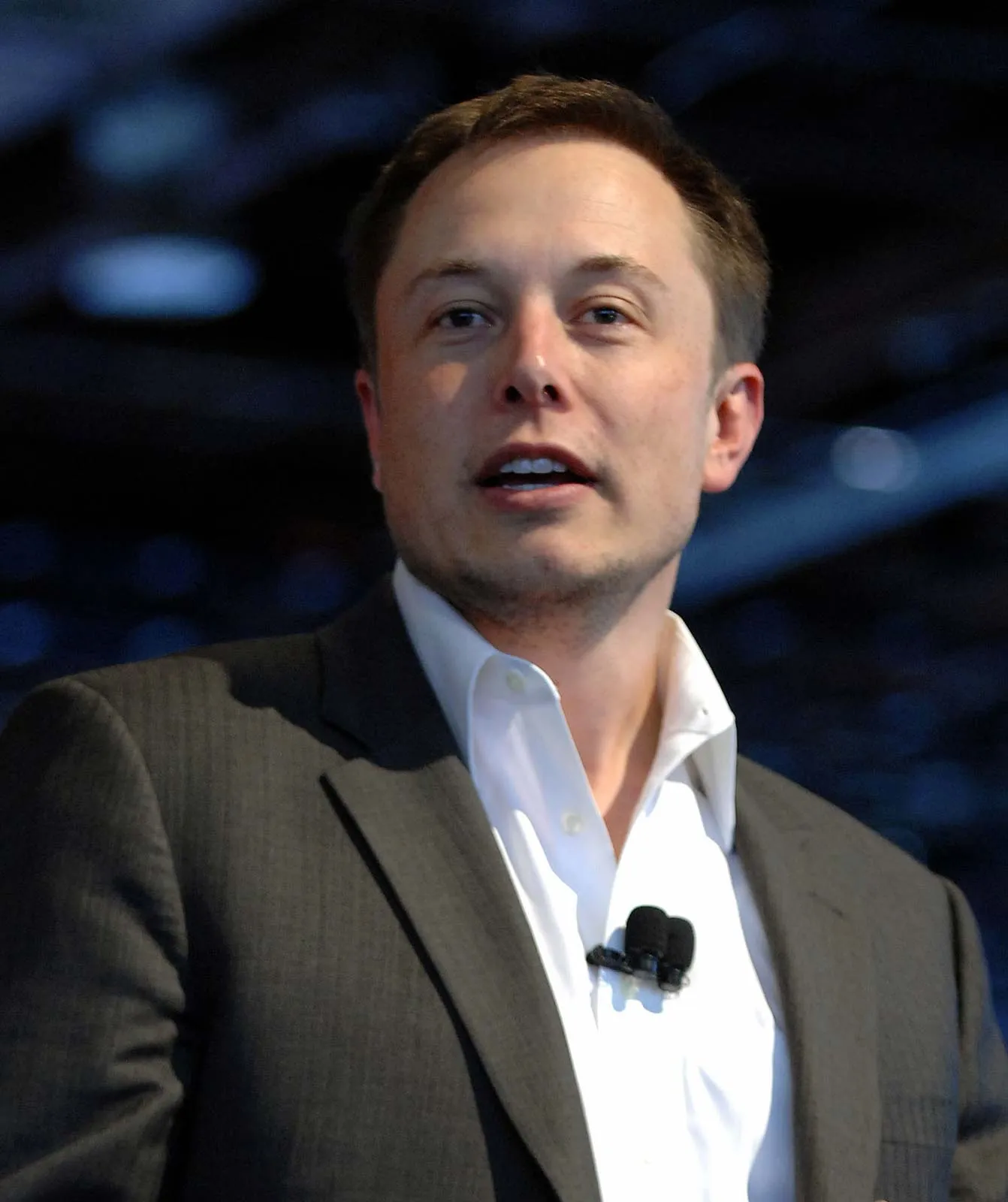 Elon Musk, owner and chief executive officer of Twitter, has accused Apple of threatening to remove the microblogging app from its Store.
Musk said this in a tweet on Monday evening.
His allegation comes amid social media discussions on the possibility of Apple and Google kicking off Twitter from their app stores over content moderation issues.
"Apple has also threatened to withhold Twitter from its App Store, but won't tell us why," the tweet reads.
Apple has also threatened to withhold Twitter from its App Store, but won't tell us why

— Elon Musk (@elonmusk) November 28, 2022
Musk also replied "yes" to a user question on whether Apple was threatening Twitter's presence in the App Store or making moderation demands.
Yes

— Elon Musk (@elonmusk) November 28, 2022
In another tweet, the billionaire said that Apple had cut back on its advertising on the platform.
"Apple has mostly stopped advertising on Twitter. Do they hate free speech in America?" he tweeted.
He then tagged Tim Cook, Apple's chief executive officer, asking, "What's going on here?"
What's going on here @tim_cook?

— Elon Musk (@elonmusk) November 28, 2022
Musk went on to publish a poll asking if Apple should "publish all censorship actions" taken that impact customers and he began retweeting content from companies that Apple has had discussions with on moderation.
Who else has Apple censored? https://t.co/lZculFIkAX

— Elon Musk (@elonmusk) November 28, 2022
Apple should publish all censorship actions it has taken that affect its customers

— Elon Musk (@elonmusk) November 28, 2022
US extends drop box eligibility period for non-immigrant visa renewals in Nigeria
The United States has extended the eligibility period for drop box or interview waiver for non-immigrant visa renewals in Nigeria.
The waiver, which began in March, had an eligibility period of 24 months.
In a statement on Friday, the US embassy said the eligibility period has now been extended to 48 months.
Non-immigrants whose US visas expired within the last 48 months or will expire in the next three months may now qualify to renew their visas without an interview.
"The US mission is also opening thousands of visa renewal appointments to assist applicants who wish to renew their visas," the statement reads.
To be eligible for a no-interview visa renewal, your application must for a B1/B2, F, M, J (academic only), H, L or C1/D (combined only) visa.
You must also meet the following criteria:
Your previous visa was issued in Nigeria
Your previous visa is in the same classification as your current application
Your previous visa was a full validity, multiple entry visa
Your previous visa expired within the last 48 months or will expire in the next 3 months from the date of application
You have all your passports covering the entire period since receiving the previous visa and the passport with the most recent visa

You have never been arrested or convicted of any crime or offence in the US, even if you later received a waiver or pardon
You have never worked without authorisation or remained beyond your permitted time in the US
"Please note that processing times for the program are expected to be up to two months and you will not be able to retrieve your passport during that time," the statement reads.
"Each applicant must individually meet the criteria; minors can apply without an interview only if they meet the eligibility criteria on their own."
The embassy warned against dubious entities seeking to scam unsuspecting persons with false visa offers, and advised applicants to fill out forms themselves via the official websites.
Qualified candidates can visit https://www.ustraveldocs.com/ng to start their application, while further information is available at https://ng.usembassy.gov/visas/nonimmigrant-visas/.
"As future opportunities for interview waiver appointments become available, they will be communicated via our website," the statement reads.