Lizzo sued for weight shaming and sexual harassment by former backup dancers
American popstar and body positivity crooner Lizzo has been served a lawsuit by her former backup dancers for alleged weight shaming and sexual harassment.
The Guardian reports that three of her former backup dancers; Arianna Davis, Crystal Williams, and Noelle Rodriguez allege in the lawsuit that the singer created a hostile work environment through sexual, racial, and religious harassment.
They allege that this occurred in several incidents between 2021 and 2023, according to a lawsuit filed on Tuesday. They also allege that the singer pressured staff at afterparties into acts of a sexual nature.
The lawsuit filed in Los Angeles states that Lizzo allegedly pressured one dancer to touch a nude performer at a club in Amsterdam. It also stated that she also subjected her dancers to an 'excruciating' 12-hour audition after falsely accusing them of being drunk on the job.
Her dancers also claimed that Lizzo, a well-known proponent of body positivity and self-love, had reprimanded one dancer for gaining weight recently before berating, then firing, that dancer for filming a meeting.
According to the lawsuit, the singer allegedly "began inviting cast members to take turns touching the nude performers, catching dildos launched from the performers' vaginas, and eating bananas protruding from the performers' vaginas" during an incident at an Amsterdam club earlier this year. Lizzo is accused of pressuring Davis to touch one performer's naked breasts and then provoking her when she declined.
The suit reads, "Plaintiffs were aghast with how little regard Lizzo showed for the bodily autonomy of her employees and those around her, especially in the presence of many people whom she employed,". The singer is also accused of pressuring her security staff to take his clothes off.
She is yet to respond to the heft claims levied against her.
Ibadan chef, Peniel Idowu attempts to break Hilda Baci's cooking record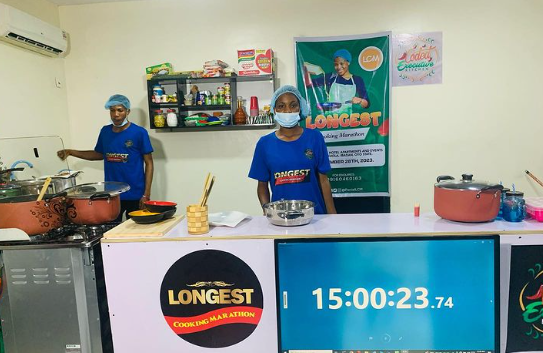 A Nigerian chef simply identified as Peniel Idowu is attempting to break the Guinness World Record (GWR) for the longest cooking marathon by an individual.
The Ibadan-based cook shared a flier on her Instagram page to announce the attempt.
Peniel, who is assisted by another chef, however, did not state how long she plans to cook.
She also did not reveal whether she got approval from the GWR before embarking on the cooking stint.
The cooking marathon commenced at Omooke Hotels Apartments and Events Centre, Kuola area of Ibadan, Oyo state, on Thursday.
As of the time of this report, Peniel has surpassed 29 hours of cooking.
"Neat and Highly cautious. Peniel has been preparing for a long time," she wrote in one of her posts.
Burna Boy tops Apple Music's biggest Nigerian artistes of all time
Nigerian music is enjoying huge commercial success as Nigerian superstars are appearing on international charts, selling out concerts in multiple countries, and reaching millions of listeners globally through streaming platforms.
In the list of the most streamed Nigerian artists of all time on Apple Music, international megastar Burna Boy tops the list.
The Grammy-winning hitmaker has enjoyed a speedy ascension to the top since breaking into the international scene in 2018.
Here are the top 5 biggest Nigerian artists of all time on Apple Music.
Burna Boy
The number one (No. 1) most-streamed Nigerian artist of all time on Apple Music, has smashed record after record with his blockbuster albums, and his latest was no exception: 'I Told Them'… not only broke the African record for first-week streams but also topped the albums chart in 69 countries simultaneously worldwide, a new record for the genre.
Wizkid
The Grammy winner still holds the record for the most-streamed African song of all time with 'Essence' featuring Tems, which has reached the Daily Top 100 in more than 100 countries worldwide and continues to reach the charts three years after its release.
Davido
Africa's foremost hitmaker, Davido enjoyed a record-breaking release with his 2022 album Timeless which shattered multiple streaming records on Apple Music. He continues to be a force to be reckoned with as his hit single 'Unavailable' is enjoying international success.
Rema
The superstar has had one of the biggest songs of the summer on Apple Music worldwide with the Afrobeats hit 'Calm Down,' which now holds the record for the African single with the longest run in the top 15 of the Global Daily Top 100.
Asake
Asake's surreal rise to the top has made him one of the biggest stars in Nigerian music. The talented superstar has seen an impressive 11 songs reach the Global Daily Top 100.
Police detain Sam Larry amid probe into Mohbad's death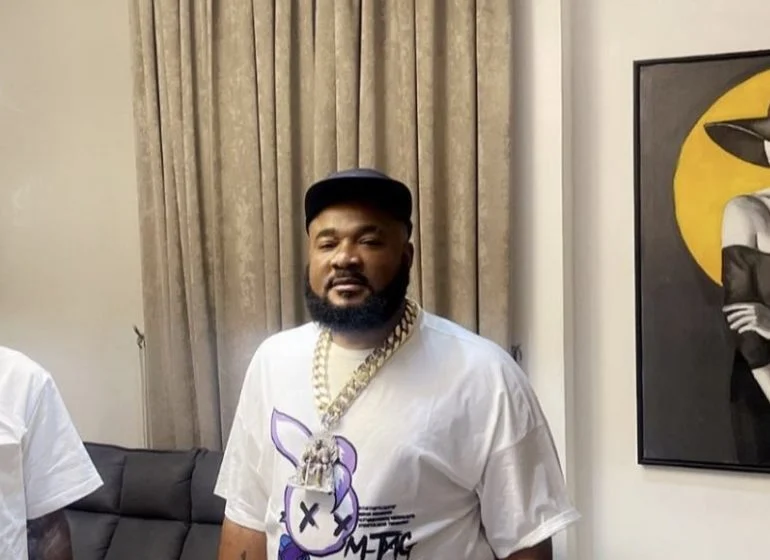 The Nigeria police say they now have Sam Larry, the music promoter, in their custody — amid an investigation into the death of Mohbad.
The law enforcement agency broke the news in a short statement on Thursday night.
"Balogun Olamilekan Eletu aka Sam Larry is now in our custody. He is currently assisting with ongoing investigation," the statement reads.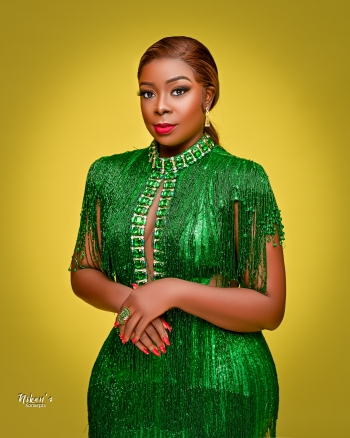 Bodex F. Hungbo, SPMIIM is a multiple award-winning Nigerian Digital Media Practitioner, Digital Strategist, PR consultant, Brand and Event Expert, Tv Presenter, Tier-A Blogger/Influencer, and a top cobbler in Nigeria.
She has widespread experiences across different professions and skills, which includes experiences in; Marketing, Media, Broadcasting, Brand and Event Management, Administration and Management with prior stints at MTN, NAPIMS-NNPC, GLOBAL FLEET OIL AND GAS, LTV, Silverbird and a host of others